You might be a dive bar if you: have a group of regular customers (typically locals), often host darts, bean bags, and/or pool competitions, have neon signs all over your walls, have generous & friendly bartenders, are only dimly lit inside, offer free popcorn or peanuts, display antiques lined across wooden shelves, or have a frequently-used jukebox. The true definition of "Dive Bar" isn't easily defined, but rather experienced. Here in Eau Claire, we take pride in our quirky, vintage, and truly one-of-a-kind drinking dens we call dive bars. Let's dive in!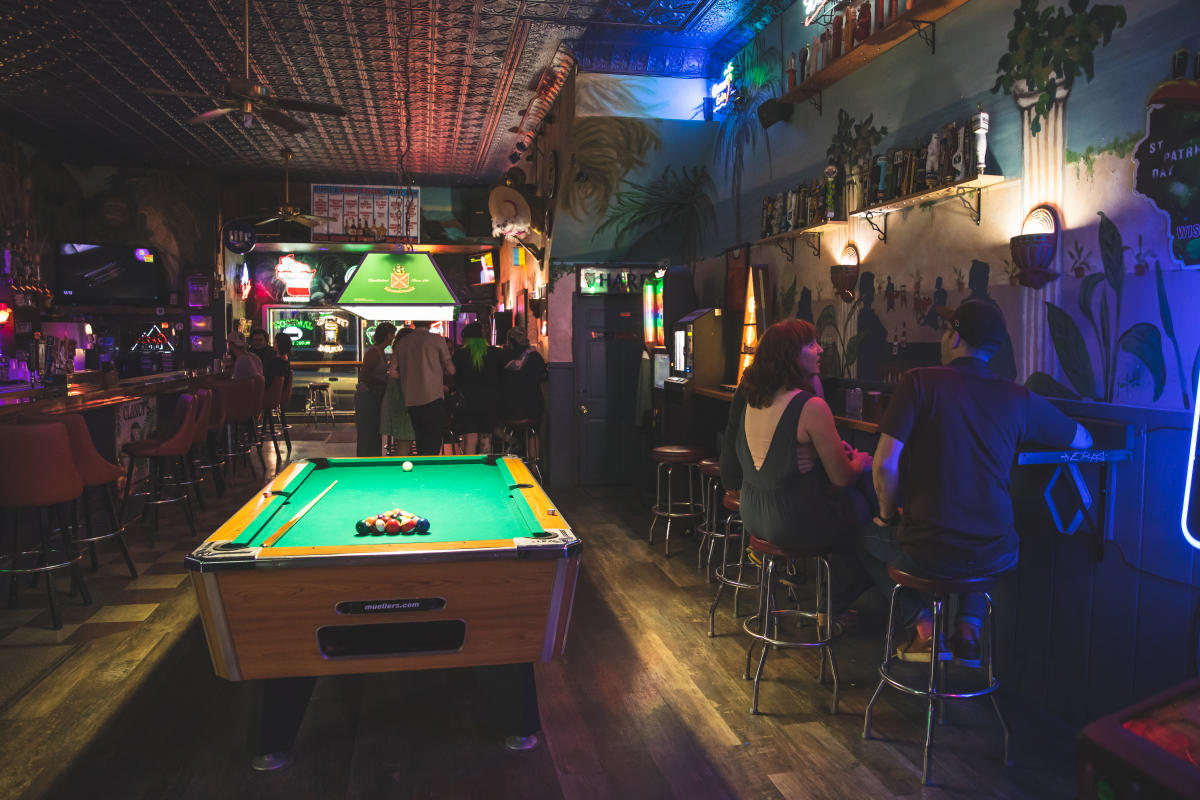 Eau Claire, WI
These fish fry experts know a thing or two about running a bar in the Midwest. Find all the Wisconsin classics at 4 Mile Restaurant & Bar including Old Fashioneds, tap beers, prime rib specials, homemade meatball dinners, and, of course, a delicious Friday fish Fry. 
It's always five o'clock at the 5 O'Clock Club in Eau Claire! This bar has happy hour 7 days a week from 3 - 7 PM, and they keep the party going every Monday, Wednesday, Friday, Saturday, and Sunday with karaoke. This bar was featured on Wisco Dive Bar Reviews, so you know it's the real deal!
If you're looking for a good Bloody Mary in Eau Claire, you can't skip the Alibi! On Saturdays and Sundays, get delicious loaded bloodies at this Eau Claire dive bar. Some may say they have the best bloodies in town! 
It doesn't get any divey-er than Amber Inn. This establishment was built in 1881, and its true character still shines through to this day. The wood paneling, neon signs, and laid-back atmosphere check all the boxes of a classic dive bar!
Big T's Saloon is the Bloody Mary master of Eau Claire; at least that's what the locals say! Every Sunday, order a loaded bloody filled with veggies, cheese, meat, shrimp, sliders, and even a little candy for dessert. Did we mention these giants are only $7?!
Clancy's Irish Parrot Bar brings the dive bar scene to downtown Eau Claire and is known for their jukebox collection! Find daily happy hour, billiards pool, darts, mixed drinks, and specialty beers at Clancy's on Barstow Street.
Treat yourself to some of the local's favorite burgers, Bloody Marys, cheese curds, and fish fries at Court'n House. This bar has held onto its diner vibe and charm throughout the years and continues to impress Eau Claire's locals and visitors!
Do Dodge Inn is known for their affordable food and drink prices, pool table selection, and friendly service. They've been serving the Eau Claire area since 1986, so they've had time to master the art of a dive bar ambiance!
You're sure to run into a few dive bars on Water Street in Eau Claire, and Grand Illusion passes the dive bar test! This funky bar feels like a warp with its checkered floor and ceiling and eclectic wall decor. The loft inside the bar is the cherry on top!
The Joynt is truly a gem in Eau Claire. Some of the notable features that make them stand out are their "No Light Beer" neon sign, their colorful tile windows, unique bar stools, and the many musicians' photos along the walls. Bring your furry friends along to check out The Joynt– they're dog friendly!
Located at the Maple Manor Motel, you'll find a lounge with a dance floor, tap beers, and specialty dinners, At Maple Manor, they believe in an 8-hour happy hour from 11 AM - 7 PM. Enjoy breakfast in the morning and trivia at night at Maple Manor in Eau Claire!
This tavern on Barstow Street is the hub for live music in downtown Eau Claire. Check out Mousetrap Tavern for drink specials, Wisconsin sports games, and open mic events every Sunday!
Home of the infamous roast beef sandwiches, Ray's Place is a must-visit dive bar and grill when visiting Eau Claire. Ray's is located on Water Street and has been a staple to the area since 1949. Stop in for trivia and a delicious meal & drink at Ray's!
There's a good chance you'll walk into a sea of Green Bay Packers fans at the Welcome Matt. This dive bar dits right alongside the road just outside of Eau Claire, and it's the perfect place to cheer on the green and gold with tap beers over a game of pool!
The Wigam Tavern has been around since 1939, making it one of Eau Claire's oldest, and certainly divey-est, establishments. Find the locals getting their grub on with lunch specials at the Wigwam like roast beef sandwiches, Creamed Turkey over Biscuits, shrimp baskets, fish fries, and more!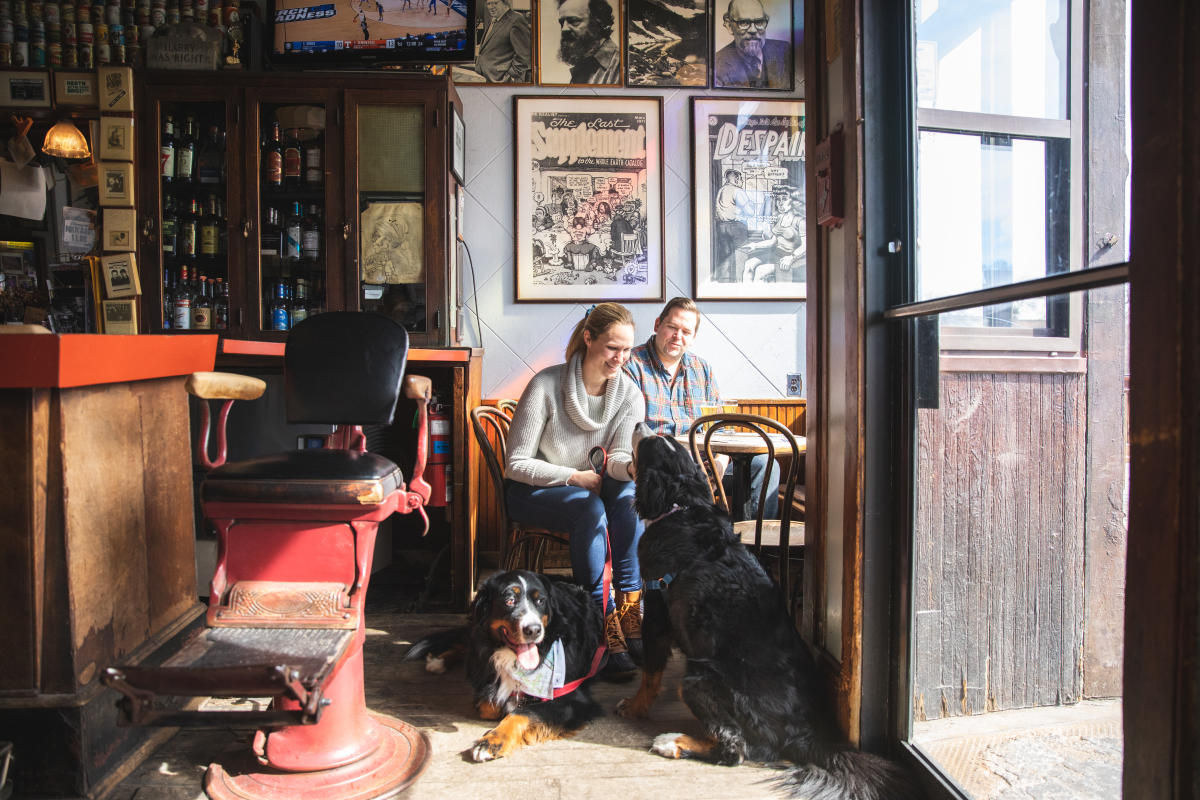 The 400 Club is your typical hometown, friendly bar in Altoona. You know it's a dive bar with the club's pool table, darts, and cold beer always on tap. If you're looking to spice up your weeknights, stop in on Tuesdays for karaoke!
Head to Altoona for a small-town, local hangout spot at Golden Spike Bar & Grill. Order daily specials like wings, tacos, smash burgers, wraps, fish, and many appetizers. Be a part of the darts, pool, and bean bag competitions happening at this dive bar in Altoona!
This iconic tavern has been around since 1942 and continues to be a popular hangout for pool, drinks, and food! Happy Hollow offers nightly dinner and drink specials every day of the week.
The Pabst Blue Ribbon sign out front is a dead giveaway– Rolly's Coach Club is a dive bar! The drinks are always flowing and the pool tables are always racked up for some friendly competition at Rolly's.
On your drive out to Osseo, be sure to pull over for a dive bar experience at Brackett Bar. They've been the neighborhood bar for over 70 years serving up daily food and drink specials. Get your hands on burgers, pizza, wings, cheese curds, and beer at Brackett Bar– the perfect menu for a dive bar dinner!
Gail's Inn is the type of place to find friendly folks that call Osseo home. You're guaranteed to get a good deal on beers and a delicious lunch served daily. Get all the small-town vibes at Gail's Inn in Osseo!
The Wander Inn is a country bar in Wheaton, WI, and it perfectly fits the dive bar criteria with their friendly staff, cheap beer, and classic appetizer options like cheese curds, Mac & Cheese Bites, mini tacos, and more. Wander over to Wheaton for a true Wisconsin dive bar experience!
Dive in! Show us your dive bar adventure using #CaptureEC!