Frequently Asked Questions
Are you curious as to what types of services Visit Eau Claire can provide your organization when planning a meeting or convention? This is the place to get all of your questions answered!
A Destination Marketing Organization or Convention and Visitors Bureau is a not-for-profit organization that markets the community in which it serves travelers interested in meetings, sports and leisure travel and is largely funded through hotel occupancy taxes. Visit Eau Claire gives planners access to a wide variety of services that include but are not limited to: proposal gatherings, site inspections and amenities to enhance meetings such as welcome bags, names badges and folders.
Learn more about Visit Eau Claire
What is the advantage of working with Visit Eau Claire?
Visit Eau Claire assists planners and helps them save time and money when looking for their next location for a meeting or convention. Visit Eau Claire's sales team is comprised of experts in our region and team members who will find the best options for planners while keeping their personal logistics and budgets in mind.
Is Visit Eau Claire only interested in my large meetings?
No, the Eau Claire area has much to offer when it comes to meeting space for parties of any size - meetings from 5 to 750 people and everything in between. Planners will experience high-quality work from the Visit Eau Claire sales team no matter the size of your party.
Explore our different meeting venues
Will Visit Eau Claire send my lead to all their partners?
No, Visit Eau Claire will work with you to determine the best way to meet your needs and contact the partners which best qualify to serve you. Our organization offers additional hotel rates from multiple properties and many more features to add to your visit. In addition, Visit Eau Claire holds contact information to ensure a confidential and professional relationship. We are your one-stop-shop for high-quality planning assistance.
Will Visit Eau Claire only assist professional meeting planners?
Visit Eau Claire will assist committees, volunteers, professionals and planners of all levels. Our organization has the ability to assist with reunions, weddings, workshops, conventions, conferences, board meetings and any other event that is associated with an overnight stay.
Why are meetings and events important?
Meetings and events enhance the quality of life for our local community by providing jobs and a positive economic impact on the city of Eau Claire. Events also draw new businesses such as attractions, shopping and restaurants that benefit both residents and visitors. The travel and tourism industry is one of the largest employers in the United States and brought $320 million to the Eau Claire area alone in 2013.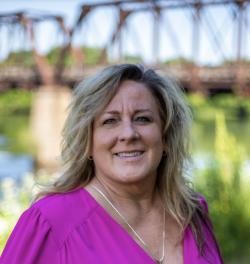 Let's Chat!
Dana Crosson
Senior Sales Manager
715-829-2685
dana@visiteauclaire.com