Eau Claire Itinerary for Parents
Whether parents like it or not, there comes a time when the little birdies must spread their wings and fly far from their nest. If your kid(s) ended up landing in Eau Claire, chances are you might have to make a trip here once in a while too. This itinerary is for you - the parents that come to Eau Claire to visit their kids no matter what stage of life they are in - university students or full-fledged adults who have come to call Eau Claire their home. Explore the best places to stay, things to do and places to eat with this itinerary curated just for parents.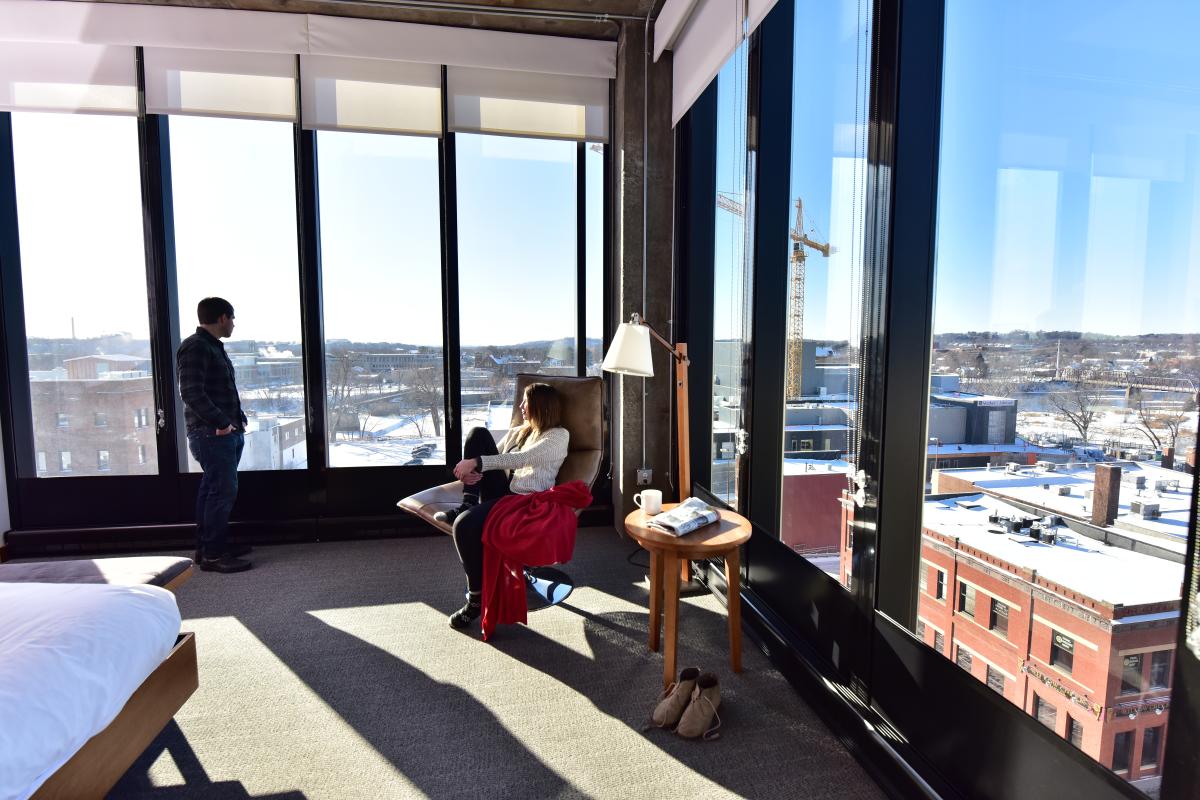 The Lismore Hotel, situated in the very heart of downtown Eau Claire, offers some of the best sights of the city along with unique accommodations that will make your stay in a small-ish town feel more like you're in a big city. Not to mention, this hotel is conveniently located only 1 mile from UW-Eau Claire if you are in town visiting your college student. You'll find several dining options along Barstow St., but you don't need to go far for a cup of coffee, a bite to eat, or a nightcap. ECDC, The Informalist, and the Dive, are all located within the hotel, and each offers one-of-a-kind eats and drinks.
If you're looking to book a room at a hotel close to the university but also not too far from where all the fun is, Holiday Inn Express Eau Claire West is your place to stay. This hotel opened in 2020 and has a bright and vibrant ambiance from the moment you carry your bags through the front door.
Right across the road from Holiday Inn is another great hotel in a fantastic location - Hampton Inn by Hilton. It's easily accessible as it's located right off I-94 and Hwy 37 and numerous attractions and restaurants are located nearby so you don't have to worry about traveling far for all the activities you have planned.
While this hotel is slightly further away from the university area, it is certainly not to be overlooked because the area that it is in is pretty rad! Staybridge Suites is located in River Prairie, a business district that is just 3 miles from downtown Eau Claire. River Prairie offers several different restaurants within walking distance of this hotel and a scenic trail that runs right along the Eau Claire River. That's not all; there are many different things for you to do here as you look forward to spending some quality time with your family.
There are many more wonderful and accommodating hotels in Eau Claire. See the full list of hotels in our area here and book your stay!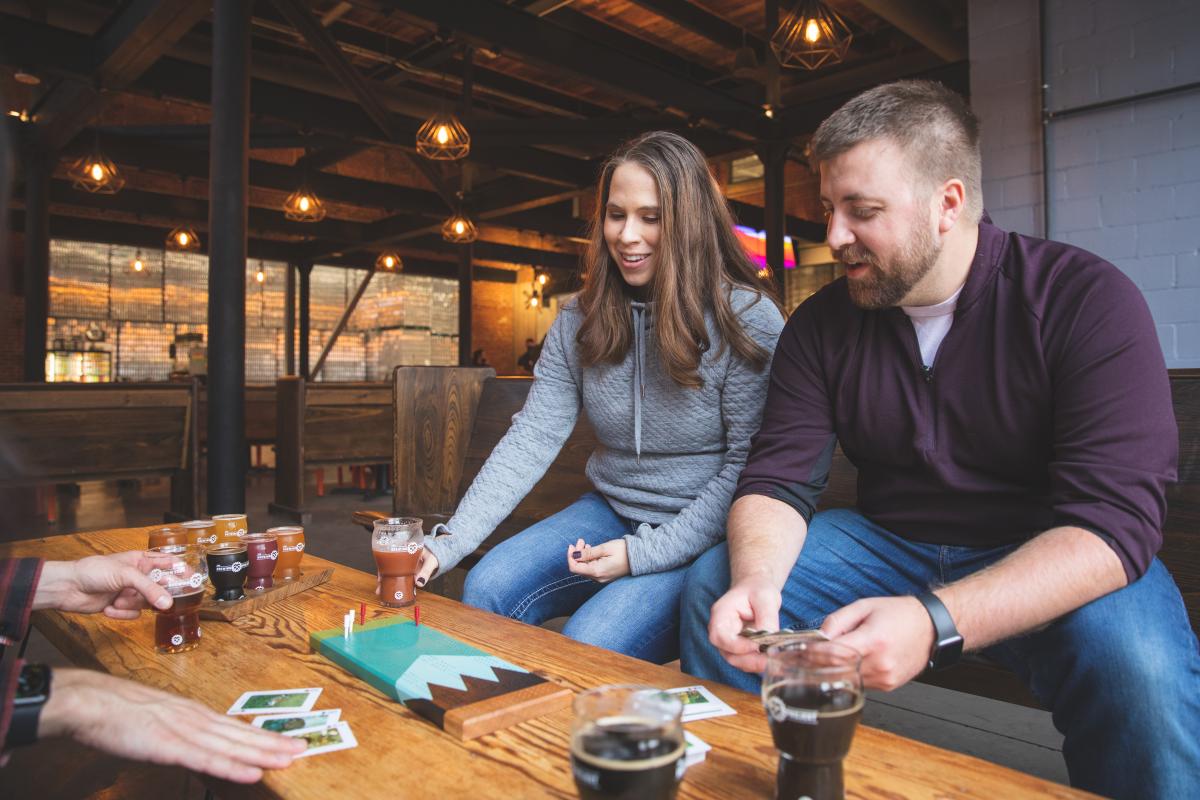 If your kids are of age, head out on a mission to experience the variety of craft beers Eau Claire has to offer. While each brewery has its own look, feel and taste for beer, they are all great places to slow down, catch up and bond over a glass of good brews. Maybe even play some card games too! The infamous Leinenkugel Brewing Company is also located in Chippewa Falls, just about 20 minutes north of Eau Claire. An interactive and historic brewery tour might just be the perfect way to spend some time with the fam.
The Downtown Eau Claire Farmers Market kicks off every May and is open several days throughout the week through the summer. Spend your morning strolling through Phoenix Park getting to know Eau Claire's local growers, artisans, and makers all while snacking on a sweet ice cream cone and taking in the sounds of local musicians playing at the pavilion.
It's an art hub, an entertainment hub, and just a really beautiful building to stare at from both inside and out! Pablo Center at the Confluence opened its doors in 2018 and ever since then, our already "artful" city has been booming with even MORE art! Depending on the date, you could see a play here, walk through an art gallery or even sit front row for a concert you've been dying to go to. 
Did you know that Eau Claire, WI is home to the second-largest sculpture tour in the nation? There are a plethora of different reasons why you should do the tour, but just to keep it simple, taking this FREE self-guided public art tour is a great way to get a first look at why some call Eau Claire, WI one of the public art capitals of the world. Find a digital map of the tour here to help guide your way!
If beer isn't your family's thing, then wine it is! The Chippewa Valley is home to several wineries that offer distinct flavored wines that are hard to find anywhere else. Kick back and raise a glass as you wind down and relax together. 
Add some thrill to your visit by doing some ax-throwing! The experts at Ironside Axe Club will coach you to make sure each throw is on target and most importantly, SAFE! Let your competitive spirits go as you play different games and enjoy the feeling of chucking an ax into a wall! 
No matter the season, Big Falls County Park is one of those places that's fun to visit whether the sun is beating, there are leaves on the ground or if snow is falling from the sky. Big Falls is an ideal place for an easy hike or even a dip in the river during the warmer months. 
Take the kids out to a ball game! The Eau Claire Express kicks off each season on Memorial Day weekend in May in Carson Park, the place where Hank Aaron, Bob Uecker and Joe Turre once used to play! While you're here, might as well take advantage of the other great things to do nearby: visit the Wisconsin Logging Museum and the Chippewa Valley Museum, go for a nice stroll on the trails or play a game of horseshoes! Pro-tip, if you have young kids/grandkids tagging along with you on the trip, Carson Park has a super cool playground that young kids RAVE about!
Maybe you packed your golf clubs for the trip! If that's the case, Eau Claire has many different golf courses for you to spend the day on. See the list of courses in our area and call to set up your tee time!
We'll scream it from the rooftops if we have to get the point across, but when you shop local, your dollar goes much farther than shopping at the mainstream big retailers. Eau Claire has some pretty unique local shops: The Local Store, Raggedy Man, and Tangled Up In Hue are just a handful of the ones you must stop into while you're in town.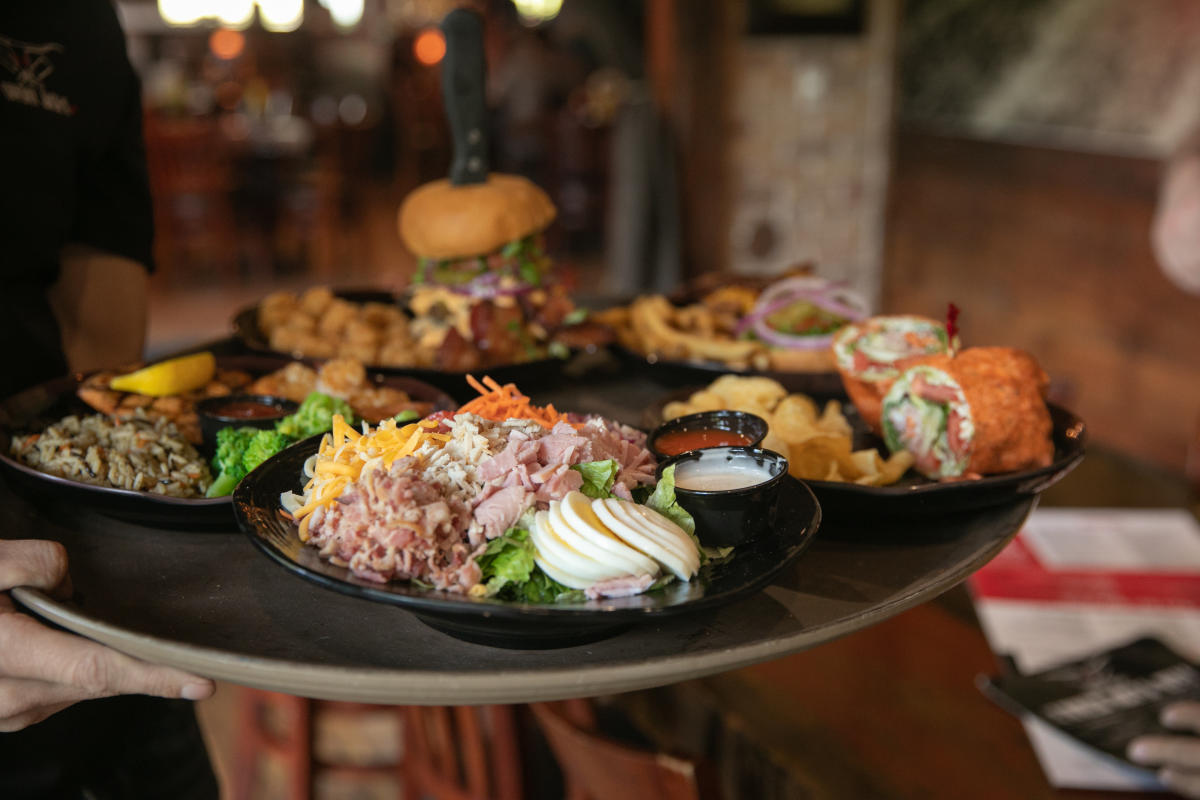 When it comes to the university students in town, this is definitely one of the restaurants they love to go to most. Cowboy Jack's in River Prairie is well known for their happy hour, their outdoor patio and their western-themed ambiance.
There's no going wrong ordering from The District's menu. Their burgers, wings, and pizza all fight to be the star of the show, but seriously, you CANNOT go wrong! Did we mention they also have over 30 beers on tap?
Apart from the evolving menu, made-from-scratch food and savvy bartenders, The Livery has a unique atmosphere. Making your dinner reservation here may not be a bad idea!
If you're looking for a quick place to stop for a cup of morning coffee, check out SHIFT! It's not only a coffee shop but a cyclery too. There's one more thing we have to say about this place... try their waffles. You will not regret it!
Calling the Thai food lovers! Thai Orchid is definitely the place you'll want to gather for a delicious lunch or dinner with the family. Apart from the amazing food on your plate, you're guaranteed speedy service and go-above-and-beyond staff at this family-owned restaurant. 
When the fam is craving pizza, Foster's Fireside in Osseo will not fail to satisfy. Their wood-fired pizza is unlike anywhere else in the Chippewa Valley. From the moment you step through their doors, just the sweet aroma in the air will have you melting for this place.
While we're talking about Italian food, we might as well drop in one more recommendation. Draganetti's Ristorante has been cooking family recipes since 1951! When you're craving meatballs, pasta, and all the things that make you wanna say, "Mamma Mia!", plan a family dinner at Draganetti's!
The Nucleus is one of the BEST breakfast joints in town. Fair warning, it can get a tad bit busy on the weekends because 1) it's amazing and 2) it's a short walk from the UW-Eau Claire Campus. Hence, it's definitely not uncommon to see parents taking out their kids to breakfast here. Consider it a must-try during your visit to Eau Claire!
Since we are on the topic of breakfast, we might as well talk about The French Press. Quite honestly, dining here makes you feel like you're the main character of a Hallmark movie. It's one of the best places to go in town for a nice and quaint brunch. Did we mention that their pastries are to die for?!
There's so much one could say about Northern Tap House, but overall, any local you speak to would tell you that this place never fails to exceed their expectations. Northern Tap House has an extensive menu and everything you order is guaranteed to be tasty. If you haven't gotten your beer fix, this is the place to go. I mean "Tap House" is in its name! 
Dooley's, located right on Water St and just a short walk from UW-Eau Claire, is the place to go when you want to eat but you don't want to miss out on catching the game. Great food, great drinks, and an even greater atmosphere can always be found at Dooley's!