Kayaking in Eau Claire
Exploring Eau Claire, WI by foot is one thing, but exploring it by water is a whole different experience. "Eau Claire" literally translates to "Clear Water" in French. For a city that has "water" in its name, you can expect a variety of different areas to explore whether it's rivers, lakes, or ponds.
Safety Tips: use caution when assessing water levels, use/have flotation safety devices on your canoe/kayak, and pick waterways to explore that are appropriate to your kayaking skill level.
Chippewa River
The Chippewa and Eau Claire Rivers are pivotal to Eau Claire's history and heritage. That's why a float down the Chippewa River is far more than just a fun way to explore Eau Claire's great outdoors. It's a neat way to learn about Eau Claire's historic landmarks and see the city's natural beauty from a different perspective. The best spot to launch your kayak is in Phoenix Park at the confluence of the Eau Claire and Chippewa Rivers. Use the Chippewa River Water Trail Map to help guide your float. 
Eau Claire River
The Eau Claire River is just as iconic and important to the city of Eau Claire as the Chippewa River and it's a nice, slow easy river to kayak on. Find a launching point in Harstad Park in Augusta and float northwest towards Fall Creek. If you don't want to run into Big Falls County Park (where waters begin to get a little rougher), hop off at the East Eau Claire Canoe Landing at the County road KK bridge. (Google Map)
The Eau Claire river also runs through River Prairie in Altoona, WI. River Prairie has its own canoe/kayak launch that sits under the HWY 53 bridge. If you're up for a short-distance kayak route, this would be a good one. The ideal place to get out would be at Phoenix Park at the confluence of the Eau Claire and Chippewa Rivers. However, be aware that the waters tend to move a little faster on this route once you get about halfway down your float and are near Banbury Place. (Google Map)
If kayaking down rivers isn't your style, give Half Moon Lake a shot. This lake surrounds Carson Park and forms an "oxbow shape" when you look at the view from above. You'll discover scenic views on this lake, different aquatic plant species, and maybe even a few critters in the water. 
Dells Pond is considered Eau Claire's hidden gem. It is a man-made lake created by a paper mill dam. Launch your canoe/kayak at Mt. Simon Park and paddle upstream to enjoy the peaceful nature scenes and sounds out here away from the hustle and bustle of urban city life.
Little Falls to Big Falls
This ride is for the experienced kayakers since you are guaranteed to run into some rapids on this route. Launch your kayak at the East Eau Claire Canoe Landing and paddle northwest up to Big Falls County Park. Once you've braved the journey, you'll be greeted by beautiful waterfalls and sandy beaches. If it's a steamy summer day, hop in the water at Big Falls as it is one of Eau Claire's most popular places to go swimming. (Google Map)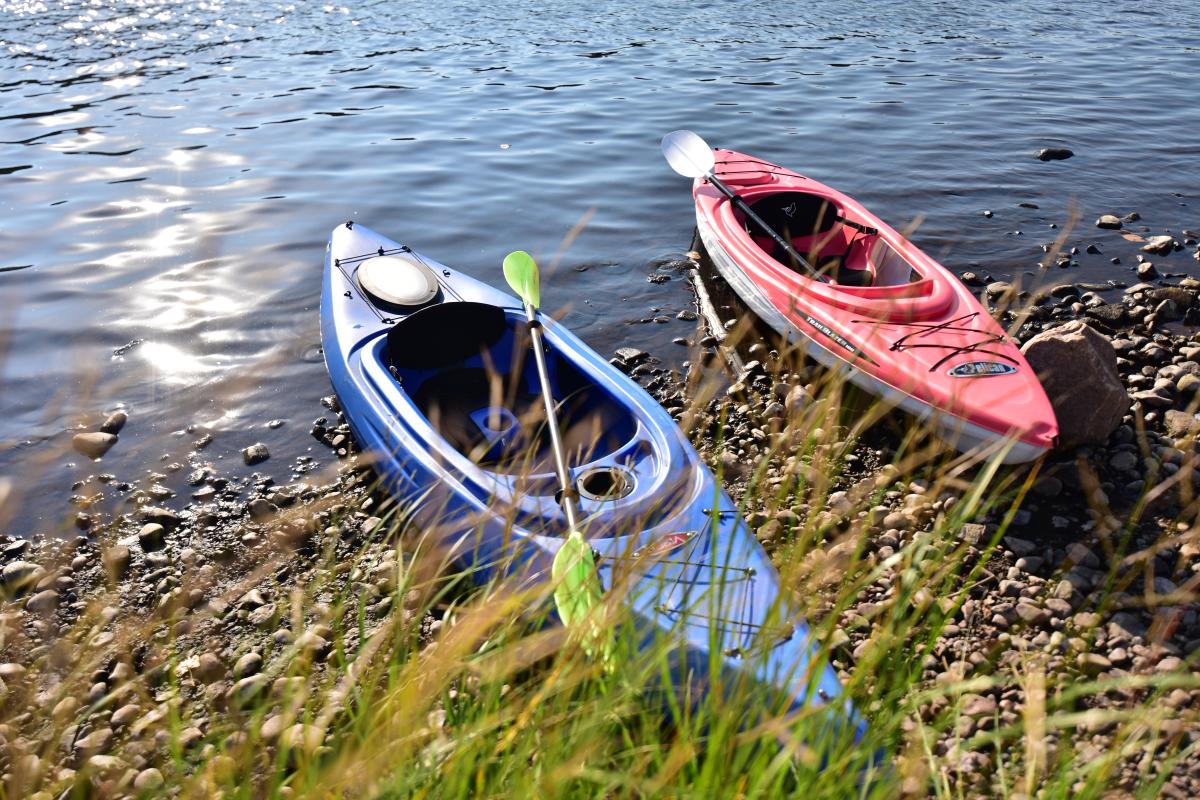 Kayak Rentals in Eau Claire
In need of a kayak? Check out UW-Eau Claire's Environmental Adventure Center located on upper campus in the Hilltop building. While they primarily serve the college students, they do offer their equipment rentals to locals and visitors for an affordable community rate. 
Located over in Chippewa Falls, Loopy's offers a wide variety of river rentals that include canoes/kayaks. They also offer a shuttle service that will get you back to your starting point in a breeze. Loopy's is also a great resource if you want to explore the waterways over in the Chippewa Falls area.