10 Iconic EC Eats
Written by Kathy Wright
Edited by Abby Reimer
The Eau Claire eat scene is in a constant state of change. Amazing new places are opening at an unfathomable rate. Even though the city is expanding horizons and trying new things, it's also important to celebrate the old school things that still, after all these years, make taste buds rejoice.
1.The Mel Burger - Court 'n House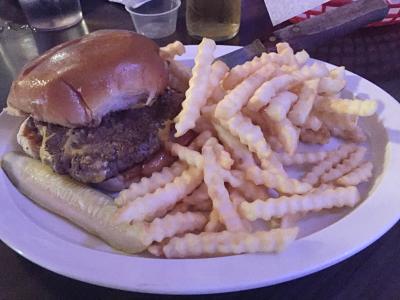 Or, any burger, for that matter. Or the fish fry. Or the wings. The Court 'n House is a great little bar on historic Grand Ave (a quick walk across the bridge from downtown and close to campus). The Mel Burger is a ridiculous combination of mushrooms, olives, American and Swiss cheese and, of course, bacon. Your beer will be served cold, in a frosty mug, and I highly suggest you start with one of their famous Bloody Marys.
2. The Grasshopper - Connell's Supper Club (Fall Creek and Lake Wissota)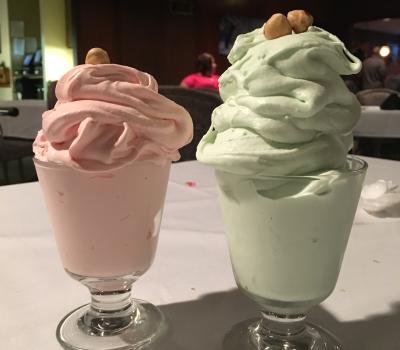 A traditional supper club in Northern Wisconsin, the list of what is on the 'must order' list at Connells is long and distinguished. However, something they do especially well is the "after-dinner ice cream drink." The Grasshopper and the Golden Cadillac are their staples. They are mixed to order in a KitchenAid mixer and are big enough to split with four people. And although it's perfectly fine to order only dessert, eating is kind of important, too. Try the Lyonnaise potatoes (hash browns, butter and onions), onion rings (one order could feed a small nation), ANY steak on the menu, and their Perch Fingers (yum!).
3. Hot Beefs - Ray's Place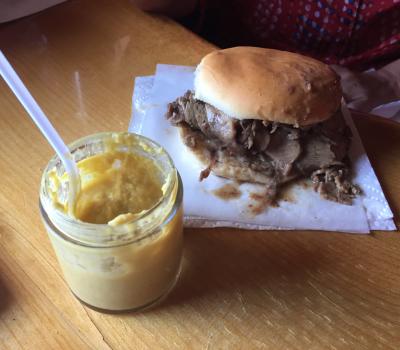 While located on Water Street, this is not a college bar. Frequented by locals after hockey and baseball games, Ray's is like the Cheers of Eau Claire: laidback, great drinks and everyone is welcome.  The menu, posted on a Pepsi menu board circa 1987 features the popular Hot Beef Sandwich.  Served on a piece of parchment paper (who needs plates?), the tender meat is dripping a light gravy, served on a fresh bun.  Top it off with a very (and I mean VERY) light layer of Ray's famous hot (and I mean HOT) mustard, and you may just fall in love. Honorable mentions include the Hot Ham Sandwich, Spanish Stew and Split Pea Soup.
4. Popovers - Local Lounge
The legend is real… These have been famous in Eau Claire for years, but with several popover staple restaurants closing, the tradition of the popover almost fell into extinction. Fortunately, the Local Lounge revived them. The amazing light, eggy texture, dripping with butter, is the perfect beginning to any meal.  I have also heard amazing things about the brussel sprout side dish, as well as the scallops, and I guarantee that if you order dessert, you will not be disappointed.    
5. Gyro - Olympic Flame
No need for reservations or dress clothes! This classic, casual restaurant has hands down the best gyros in town. I don't need to make any additional suggestions, because (1) it's all you'll need and (2) order the gyro.  
6. Cheese Curds - Milwaukee Burger Company
I would be remiss if I skipped curds on this list. Many restaurants in town serve them, and most do them well. While any 'native Eau Clairian' would tell you "The Cam" has the best curds, they will also bow their heads and whisper "Rest in Peace." (It burned down in the early 2000's). Many have tried to duplicate, but MBC comes the closest. And while I consider myself a purist when it comes to curds, I have to admit the bacon ones are good too.  Oh, and the burgers aren't bad either.   
7. All things Italian - Draganetti's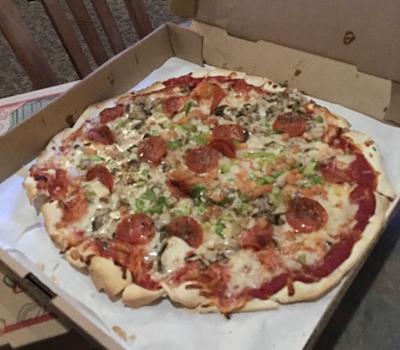 A classic Italian supper club. With knockout Old Fashioneds, a hefty wine list and great apps, Drags is one of Eau Claire's favorite places.  For a casual night, grab a table in the lounge and dive into their amazing pizza.  It's crisp, thin crust, sauce from a generations-old recipe and just the right amount of toppings and cheese. Every menu item is made from scratch, from old family recipes.  If you are lucky enough to go during Garlic Fest (first weekend in March), you'll be treated to garlicky menu items, including their famous Chocolate Garlic Devil Cheesecake, and all dinners come with complimentary roasted garlic appetizer. You won't be disappointed, or need to be worried about vampires anytime soon.
8. Prime Rib - Albertville Tavern
Craving a steak? Albertville Tavern's got you covered with their delicious prime rib. As a side note, it is best to make 'reservations' for your meat.  Yes, your meat, not your table.  Call ahead and reserve your piece, as they will sell out.  I'm serious.  Your name, approximate time you'll be there and how many Queen or King cuts your table will be ordering.  It's that good.
Honorable mention:  The Pork Steak and Dumplings.  It is equally as amazing, but there is something to be said about a piece of meat you need to make reservations for.  
9. Peanut Butter and Bacon Burger - Amber Inn
Contrary to its name, this is not a hotel, but one of the oldest bars in Eau Claire. They serve up great burgers, an inexpensive menu, and, you guessed it….the Peanut Butter and Bacon Burger.  Don't knock it til' you try it. Also worth mentioning (should you not have enough guts to order the PB&B burger) is their signature ½ pound, all-beef burger, served on a toasted bun.  Perfection.  
10. Breakfast - Chick-a-Dees
Just down the street from downtown, this Eau Claire institution can be described in many ways, but "hidden gem" may be the best.  Highly suggested by many are the eggs benedict, accompanied by their always-crispy hashbrowns.  Add to the list their delicious omelettes, fluffy pancakes and eggs and sausage, and you have a cornucopia of breakfast awesomeness.  For those who need to do some carb-loading, the biscuits and sausage gravy is a perfect choice.  This cool joint is not fancy, it's just really good.  And, let's face it, who wants to get dressed up for breakfast?  
So there it is your list of where the locals go and have gone for years. Don't get me wrong, we have some great new things happening in town, but sometimes you just need to go old school.