Day Trip to Menomonie, WI
Located just 20 minutes west of Eau Claire, find Menomonie, WI, a vibrant city bringing beer, cuisine, outdoors, and entertainment to Dunn County and the Chippewa Valley. Explore the various breweries, restaurants, farms, trails, and more attractions on your day trip to Menomonie!

Food & Restaurants
Get a taste of Mexican food while on your day trip to Menomonie! Cancun Mexican Grill has a huge menu filled with tacos, burritos, enchiladas, nachos, margaritas, and more. Grab a seat indoors at the door for happy hour, or enjoy your dinner on the patio at Cancun!
Feast your eyes on some of the best cheese in America's dairyland at Ellsworth Cooperative Creamery! Get an inside look at the cheese factory and see the production process. Be sure to pick up your favorite cheese curd flavors at the store, and try some of Ellsworth's finest including dill pickle, taco, ranch, and more! If you've really built up an appetite, there's a menu full of delicious cheese pizza, sandwiches, soups, ice cream, and, of course, cheese curds. Don't forget to check in on your Eau Claire Curd Crawl mobile pass while you're here!
Jake's Supper Club is constantly raved about by locals and visitors in the Eau Claire/Menomonie area. This iconic spot is located on Tainter Lake and has been one of Wisconsin's premier supper clubs for decades. Over the years, they've had time to perfect their hand-cut steaks, pastas, and famous prime rib. Bring your family on out to Jake's Supper Club for a lovely Friday fish fry, supper club dinner, and outdoor dining experience!
One of the best places to find pizza that's always homemade and fresh? Ted's Pizza Palace in Menomonie! This pizza shop has been around since the 1970's and has been a crowd favorite since the beginning. Choose from specialty pizza options, or go the Greek food route with a Gyro or pasta! Ted's is located on Main Street in Menomonie by Lake Menomin. 
If you're looking for a dreamy, outdoor dining location in the summertime, check out the Waterfront Bar & Grill. Their menu has everything including fish fries, wings, burgers, salads & sandwiches, and more American favorites! Check out their daily specials Tuesday-Sunday, and get ice-cold drinks to enjoy on the patio overlooking the lake in Menomonie.
Bring your fine-dining crew to the incredible Wilson Creek Inn in Menomonie. This unique spot was inspired by the finest supper clubs throughout the Midwest, and Wilson Creek puts an elegant twist on it. Everything on their menu is known to be delicious including the ribeye steak, seafood options, Filet Mignon, pastas, chicken dishes, and even their appetizers. Sip on Old Fashioneds and other tasty cocktails at Wilson Creek Inn!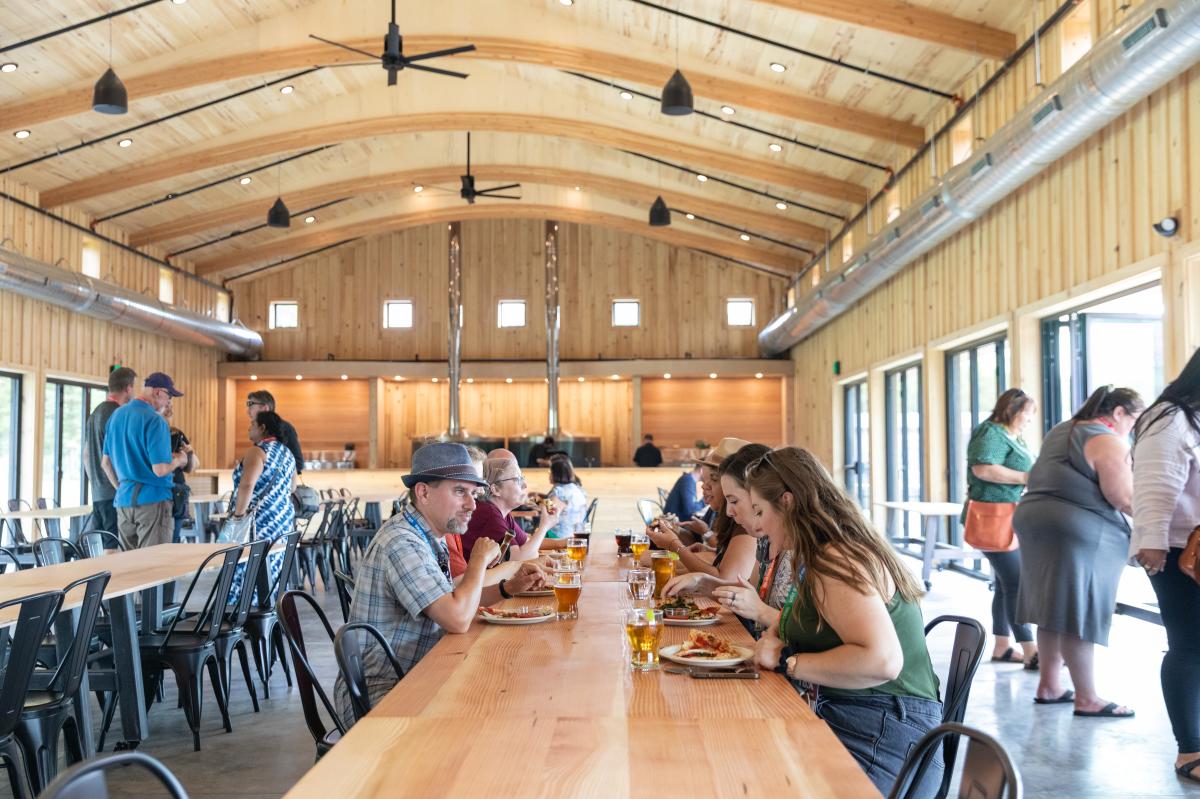 Bars & Breweries
Enjoy the indoor and outdoor brewery scene in Menomonie, starting at brewery nønic! Try from 8 tap and 2 cask beers, and watch out for frequently changing specialty beers. Every Sunday, May 21st through September, sip on brews while listening to live music on the patio while Chef Stacy makes up tasty dishes in the food truck.
Your craft beer and wood-fired pizza haven can be found at Lucette Brewing Company in Menomonie. Choose from their highly raved-about pizzas and pair it with their suggested craft beers, ciders, or wines. 
Stout Craft Co. is the hub for dining and entertainment in Menomonie, WI. Not only do they offer a large American menu with burgers, sandwiches, pizzas, appetizers, and 18 beers on tap, but the bowling alley and axe-throwing areas make Stout Craft Co. and wildly fun experience. Find arcade games, pool, darts, and more activities for you and your gang at Stout Craft Co.!
Another taproom worth the visit is Zymurgy Brewing Company, located right in downtown Menomonie on Main Street. Here, you're sure to find quirky-named craft beer, wild events, and craft drinks waiting for you that have been barrel aging for years. 

Attractions & Outdoors
Devil's Punchbowl
This hidden gem in Menomonie is a preserved area and is known as Devil's Punchbowl. Catch stunning views of a waterfall falling down a rock wall in the warmer months, and see how Mother Nature creates an ice masterpiece on the wall in the winter. This beauty is meant to be enjoyed and explored all months of the year and should be appreciated on a hot summer day, a colorful fall morning, in the fresh spring season, and even on the coldest days of the year!
Govin's Farm is one of the area's cutest, family-friendly places throughout the year! Each spring, meet the new farm babies at Govin's and get a chance to hold goat kids, piglets, lambs, and chicks. In the summer, Govin's is open for Strawberry picking and more fun on the farm. Once fall comes around, bring the family out for the Corn Maze & Haunted Trail and pick the perfect pumpkin at the pumpkin patch! Explore all the ways to enjoy Govin's Farm here. 
Take a hike at Hoffman Hills for stunning views of the Chippewa Valley. This spot consists of 700 acres of preserved and restored wooded hills, wetlands, and prairie filled with hiking and cross-country ski trails. As another location that is meant to be visited at all times of the year, you can experience Hoffman Hills each season with a trip to the top of the 60-foot-high observation tower.
Lake Menomin Park is a great way to spend an afternoon during any season!  In the summer you'll find its visitors fishing and hiking or bring a picnic lunch to its many shelters and picnic tables.  In the winter this location is ideal for snowshoeing and exploring along its many trails!
Thousands of visitors each year enjoy this outdoor recreational area for biking, birding, walking, running, and even cross-country skiing.  The trail runs along the Red Cedar River for 14 miles from Menomonie to the banks of the Chippewa River.  Open for recreation and enjoyment all year round, the Red Cedar State Trail reveals unsurpassed natural beauty in every season.  Picnic areas and benches are located along the trail and there is little interruption from highway crossings for optimal safety.  Relax and enjoy the great outdoors in the greater Menomonie area!
Pack your lunch and beach bags for a day spent at Wakanda Park! Enjoy a day at the family-friendly waterpark, or take on the 18-hole disc golf course, nature trails, or even the Dunn County Historical Society and Russel J Rassbach Museum.