Cyclists Itinerary in Eau Claire
Strap on your helmet because it's time to explore Eau Claire with pedal power. Eau Claire offers 70+ miles of interconnected trails that weave along rivers, wooded bluffs, prairies, and towns. With strong legs and eyes wide open, you'll see some of the best parts of Eau Claire on wheels. Plan your pedaling trip with this bike-themed itinerary and Chippewa Valley Trail Map & Guide.

Have you ever been to a cyclery that ALSO serves coffee? Before you set out for your cycling adventure, stop by SHIFT. They'll supply you with a cup of joe to fuel you for your ride AND make sure that your bike is ready to go for the journey ahead. Before you leave, try their light and airy but also sweet and tasty waffles. You don't want to do your cycling trip on an empty stomach, right?
Photo Credit: Shane Opatz
UW-Eau Claire Environmental Adventure Center
If you're in need of some biking gear, head over to the UW-Eau Claire Environmental Adventure Center to rent a bike! The staff and students there will get you hooked up with some wheels that will make fore a smooth ride. For those that love to ride in style, check out Riverside Bike & Skate and ERIK'S - Bike Board Ski for other cool biking gear and apparel. Riverside is also located right along the Chippewa River State Trail so you won't have to stray far from your path. FYI: Rentals are not currently available due to COVID-19.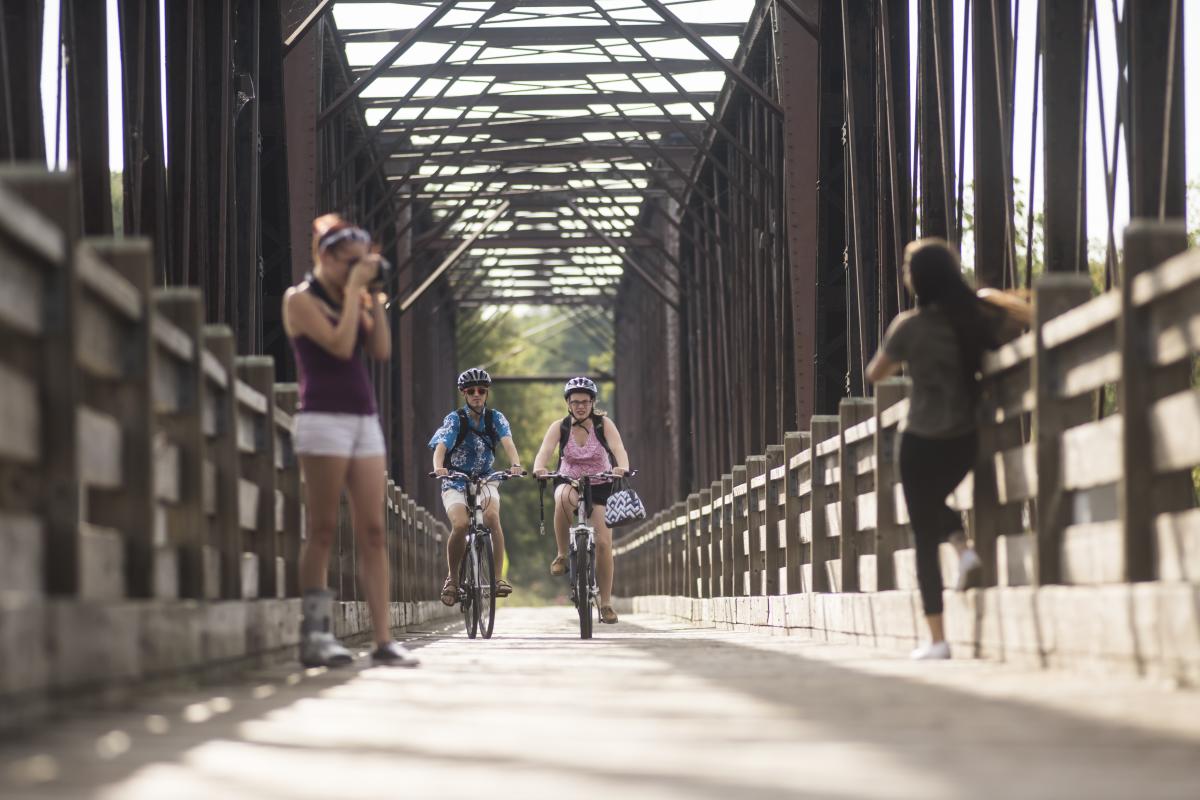 The Chippewa River State Trail runs for 30 miles through Eau Claire, Dunn, and Pepin Counties. Throughout your ride you'll pass through some pretty neat places and get familiar with the Eau Claire, Caryville, Meridian, and Durand communities. If you and any riders in your group are 16 years and older, make sure you all self-register and purchase a state trail pass. You can find a self-registration box and an information kiosk on Short Street in Eau Claire which is the dividing line between city and state trails. Once you've got the pass, you're all good to roll!

The Old Abe State Trail runs through Eau Claire's neighboring county, Chippewa. The trail system runs 20 miles and passes through Cornell, Jim Falls, and Chippewa Falls. If you choose this trail for your cycling trip, you'll get to see all of what northwestern Wisconsin offers between the scenic natural landscapes and the cool culture. Make sure you don't forget your state trail pass and look at the map before you go!
Staybridge Suites has the ideal rooms for travelers bringing their bikes. Each room accommodates for space to store your bike and has all the amenities you may need to make your trip to Eau Claire a comfortable and relaxing one. Plus, Staybridge Suites is located in the River Prairie district of Altoona, WI. You won't need to go far for places to eat and things to see and do. Downtown Eau Claire is also just a short drive (or bike ride ;)) from this hotel. Another perk? Staybridge is dog friendly! This makes travels with your furry best friend a whole lot easier. 
Eau Claire celebrates Chippewa Valley Bike Week every year in August! Will you get your cycle on and celebrate with us?
See you on the trails!