Don't be fooled, we're more than just cheese curds around here... While we love our deep-fried cheese on gamedays in Eau Claire, we do like to switch it up with other options. With some crispy, some cheesy, and some fairly spicy shareables, we've got something for everyone. Check out some of the best appetizers to split with your crew in Eau Claire!
With 17 different sauces at various heat levels, it's no wonder Larry's wings are legendary! Check out Burly N Bucks in Osseo, WI, for some of the best chicken wings around. Sauce flavors like "Scary Larry," "Bleeding Ulcer," and "Funky Dust" are sure to give you a unique wing experience.
While you're almost guaranteed to find cheese curds at most restaurants in Eau Claire, you can't even compare them to Court'n House's. To be honest, they're pretty simple, but they're utterly delicious. Pair the curds with a Bloody Mary and burger at Court'n House, and you've hit the Eau Claire trifecta!
It was only a matter of time before an order of chips and queso made the list. Cowboy Jack's offers their signature Cowboy Queso as a widely popular appetizer option in River Prairie. For the ultimate experience, this must be eaten on the dog-friendly patio with a beer or mojito!
Downtown Eau Claire's ideal spot for drinks and appetizers is The District. They serve up some mean Spicy Breaded Cauliflower Bites with spicy ranch amongst many other tasty appetizers and lunch/dinner options. With over 30 beers on tap, it's a no-brainer– The District is the place to be!
If you're looking for the Eau Claire pub to catch a game at, make it Dooley's Pub. Whether it's basketball, football, or baseball season, splitting a plate of Totchos (the incredible combination of tater tots and nachos) with your crew is always a good idea. Find many more notable appetizer options at Dooley's on Water Street!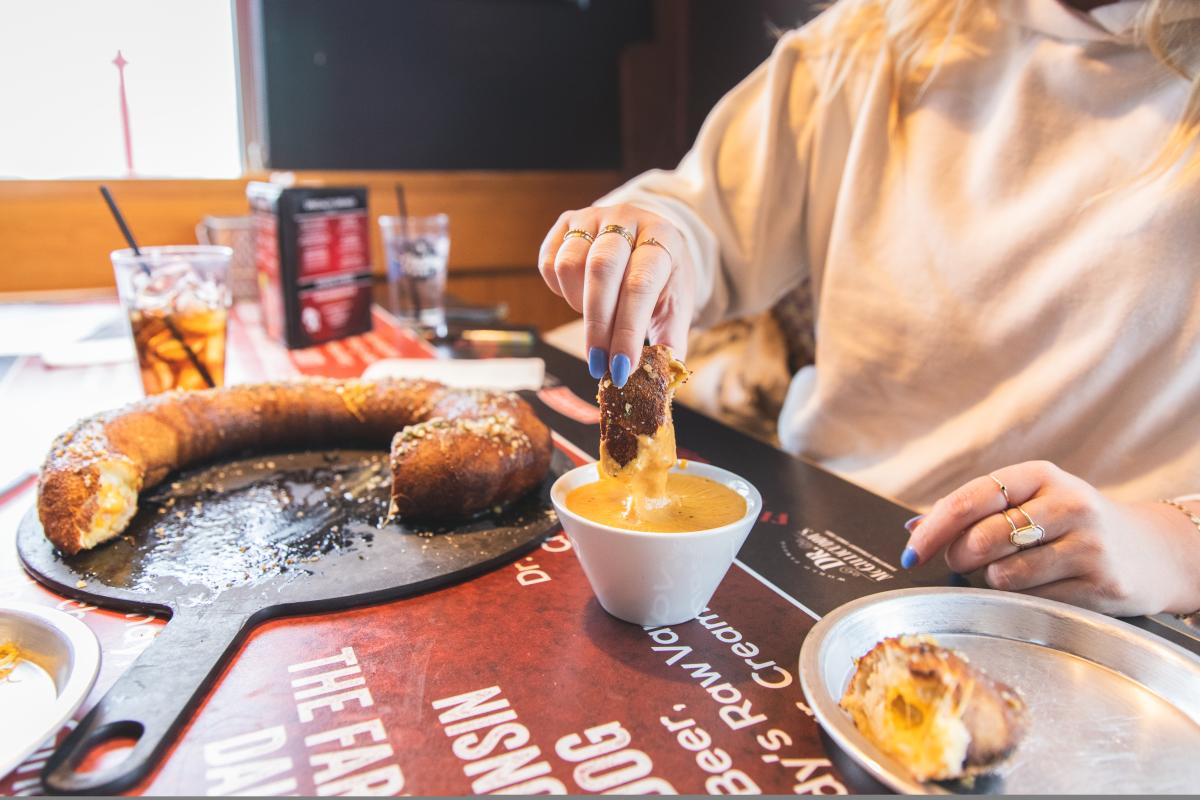 For all the pickle connoisseurs seeking out deep-fried pickles in Eau Claire, check out Hangar 54! This restaurant is located at the Chippewa Valley Regional Airport, and they serve a wide array of tasty food from the grill. Hangar 54's Fried Pickles are hand-dipped in buttermilk batter, fried until golden brown, and served with Hangar-made Cajun ranch. YUM!
The best way to end a float down the Chippewa River is with an order of Loopy's World-Famous Nachos at Loopy's Grill & Saloon. The appetizers are usually calling after a friendly game of beach volleyball at Loopy's, too! Beware: this is a heaping order of nachos!
A true Hall-of-Fame appetizer in Eau Claire is the widely beloved Spuds O'Plenty at Mogie's Pub. Think cheesy, salty tater tot goodness dipped in delicious ranch dressing. Is your mouth watering yet?
Northern Taphouse is another perfect spot for gameday in Eau Claire. For your starting dish, grab an order of Crisp Brussels Sprouts made with garlic, parmesan cheese, & truffle, served with house aioli. Try not to fill up just on brussels sprouts, though. Save room for the rest of the delicious menu!
Although it's delicious, you may want to bring a team with you to help you devour the mighty Stuffed Pretzel at Wisco's. This beast is made with ham and cheddar cheese rolled into homemade pretzel dough and is served with beer cheese, pepper jack queso, sriracha ranch, or ranch. If you want to eat like a true Wisconsinite, we'd recommend the beer cheese dip.
Mmmm... That's tasty! #CaptureEC