Girls Weekend in Eau Claire, WI
Beyoncé once said, "Okay ladies, now let's get in formation!" and that is just what we are going to do because it's time for a girls' weekend. Eau Claire is for the women who love to shop, who love to eat and drink, who love to take selfies, and who love having a good time. What will you and your girls do in Eau Claire?

Things to Do
What is a girls' trip in Wisconsin without a little bit of beer? Chippewa Falls, only a short drive from Eau Claire, is home to Leinenkugel's Brewery. The brewery's rich history is taught while on a tour of the brewery. You and the girls can learn and see right before your eyes the entire process behind brewing a bottle of beer. Afterward is the best part; you get to taste it! Leinenkugel's has a beer for everyone whether it's dark, light, or fruity. They even mix their beers at the Leine Lodge (a little something they like to call "Brewology") to create different refreshing flavors. Cheers, ladies!
Are selfie sticks a thing anymore? It seems like these days the friend with the longest arm is the chosen one. Well, step right up long-armed friend because it's time to take pics at Eau Claire's most insta-worthy murals. Being a city that is serious about its art, our murals are big photo monuments here. The pop of color on each one will be a fresh addition to your Instagram grid. Use the hashtag #CaptureEC so we can see your cute pics too!
Maybe your girls' getaway needs some entertainment. Pablo Center has a line-up filled with broadway shows, comedy shows, concerts, or local events. You are sure to find something that you and all the girls want to see or do. Eau Claire has events year-round that you'll want to mark your calendars for. Check out what's on our event calendar so you can plan your getaway ASAP!
If your girl gang is up for some shopping, you're guaranteed to find some one-of-a-kind local shops in Eau Claire. You can get some souvenirs to commemorate the girls' strip, some trendy clothing, or even some art to hang up in your home. Some places we highly recommend for a girls' shopping trip are The Local Store, Tangled Up In Hue, Hello Adorn, Raggedy Man, Seven Suns Vintage and Token. To find a full list of where to go shopping in Eau Claire, click here!
For the wine-loving girl gangs out there, the Chippewa Valley has a handful of wineries for you to visit. Infinity Beverages Winery and Distillery is located on the south side of Eau Claire and offers a large variety of wines and other spirits that you are bound to love. Other popular wineries in the area are Autumn Harvest and River Bend. Don't spend too much time picking which one you want to go to - they're all pretty great.
The Eau Claire farmers market is the perfect place to be with your girls on a sunny Saturday morning. It is located at the Phoenix Park pavilion in the heart of downtown Eau Claire and is hosted at various times throughout the week, but Saturdays are the best times to go if you want to explore a large variety of vendors. Come for baked goods, fresh produce, bright flower bouquets, and ultimate good vibes.
No girls' trip is complete without a night out on the town. Eau Claire offers some great nightlife bars that make you feel like you're in a big city but don't have the overcrowding and expensive menu prices that typically come with bigger destinations. Check out places downtown like The Dive, Firehouse, or The Lakely! Another great option that other gals rave about that's on the south side of Eau Claire is The Red Mixer.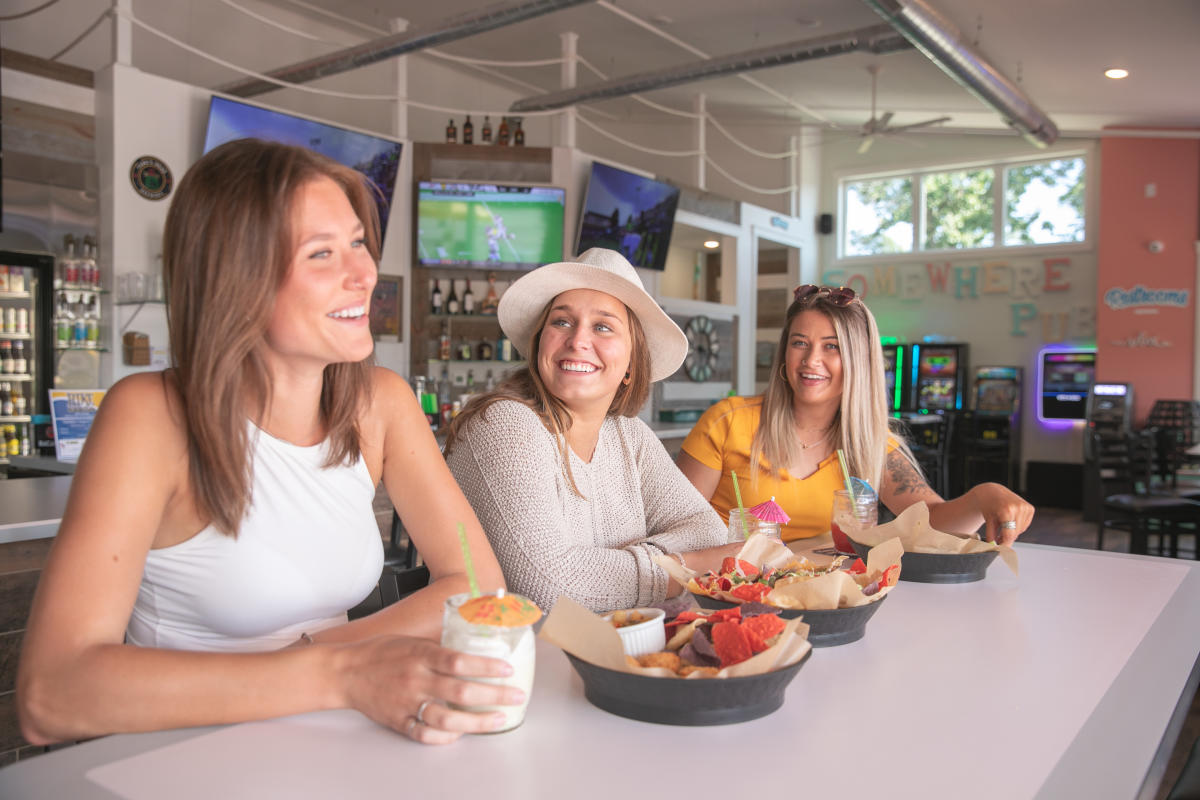 Places to Eat
Located in Altoona, WI  a short drive from Eau Claire), River Prairie Park is a getaway in and of itself! It is home to restaurants like Cowboy Jack's, 44 North, The Island Parkside, Cabin Coffee and Helix. Here are some insider tips. The happiest of hours pass by at Cowboy Jack's and their outdoor seating near fireplaces under twinkly lights is more than picture-perfect. 44 North is the place to go if you want to eat, drink, and play. You can dine on the second floor and play at the arcade on the first floor. Which friend in the group can shoot the most baskets in a basketball hoop? Head to 44 North to find out. The Island Parkside is where you go when you want to transport yourself somewhere warm and beachy. Their tropical drinks will make you feel like you're sitting on the beach! You can also get your morning cups of joe at Cabin Coffee. 
Another great place for pizzas in the Eau Claire area is Foster's Fireside down in Osseo, WI. Osseo is about 20 minutes south of Eau Claire, but this place is definitely worth the drive - for the food and the hospitality. Our neighbors in Osseo are some of the nicest midwesterners you'll ever meet, and boy do they dish out some tasty wood-fired pizzas. 
When the crew wakes up hungry for a good breakfast, check out The French Press. This charming little cafe in Eau Claire puts a lot of heart into all of its menu items and baked goods. Did we mention that it's just so stinkin' cute inside too?
You can't do a girls getaway in Eau Claire right without some coffee to fuel your adventures. SHIFT Cyclery and Coffee Bar is a super neat place. They pour a variety of different coffees and serve some of the best waffles you'll ever have in your entire life, and not only that, but they fix and sell bikes here too. 
Did someone say... MARGARITAS?! Oh yes. When you're craving some international flavors, go to Cancun. And we're not talking about the city in Mexico. Cancun Mexican Restaurant has two locations in Eau Claire and they know what they're doing when it comes to traditional Mexican food favorites. 
Everyone needs a little charcuterie in their lives. 3rd & Vine in Eau Claire makes elegant and delicious charcuterie boards made with local and regionally made goods and cheeses. They also have a small menu of other food items along with beer too. 
You can't go wrong with one or two fine dining experiences on your girls trip. Mona Lisa's in Eau Claire is a great option for when you want more of an upscale dinner. It's located on Water St., just a short drive from downtown Eau Claire and is a popular spot for foodies. 
If you're isn't from Wisconsin, this place is a must-do for your itinerary. And if you're group IS from Wisconsin, we still recommend coming here because it's midwestern gold. Together Farms is a farm in Mondovi, WI that is dedicated to sustainable farming practices. In the summers, they host their burger nights right on their farm. Trust us when we say these burgers are guaranteed to knock your socks off. It's pretty easy to run into some live music here on the weekends too. 
For some old-school, nostalgic feels, come dine at Reboot Social. This restaurant opened its doors in Eau Claire in 2022 and is a serious "WOW". It has 2 floors - the first floor being the main dining area with a miniature bowling alley and the downstairs essentially being an arcade equipped with tons of old arcade games. You could definitely have some serious fun here with a pocketful of tokens!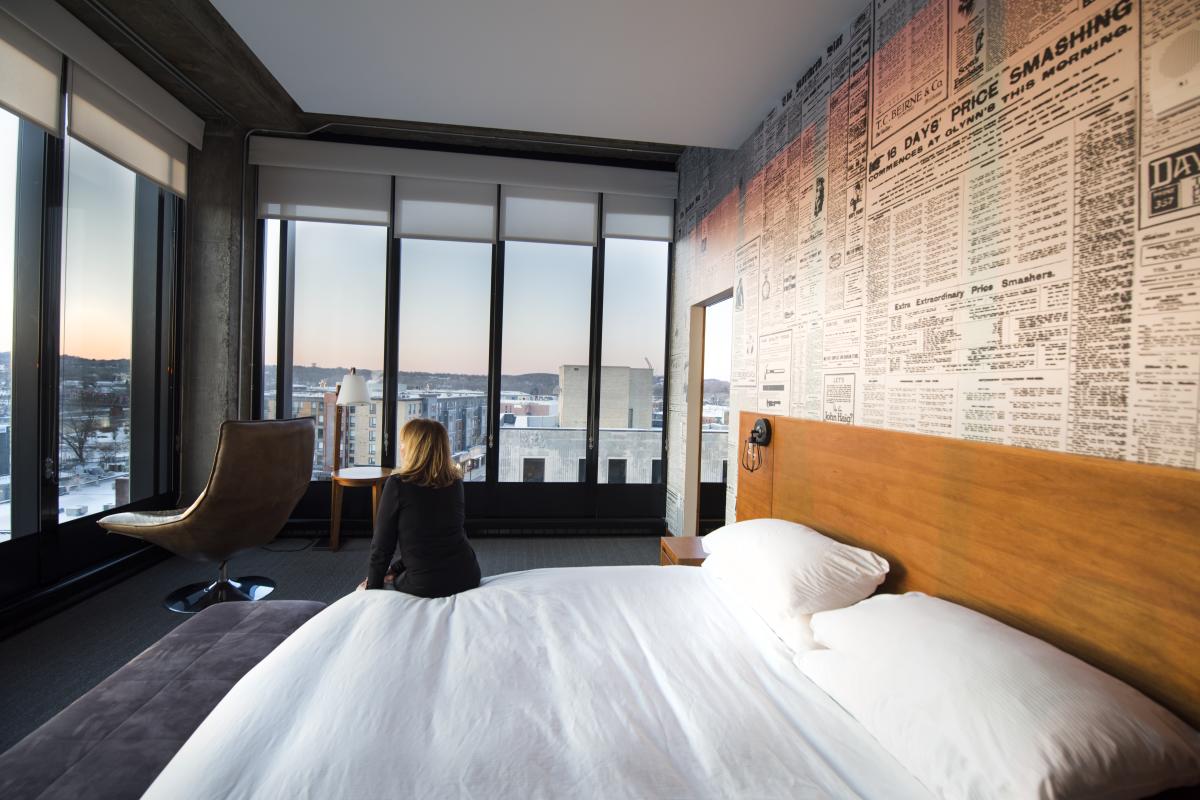 Places to Stay
The Lismore Hotel is a fantastic accommodation option for your girls' getaway to Eau Claire. It's conveniently located in the heart of downtown Eau Claire making it close to other popular attractions. Not to mention, its location offers some beautiful city views. ECDC, The Dive, and The Informalist are located at this hotel as well making your trips for coffee, cocktails, or delicious cuisine super short from your hotel room. 
Another hotel we recommend booking with your girl gang is the Residence Inn by Marriott. It's located on the north side of town right off Hwy 53. Being close to the interstate, your travel time to other Eau Claire areas will be no longer than 20 minutes. Not to mention, they have a long list of amenities that the group will love to have at their fingertips.
If you are looking for a hotel in an easily accessible location, Holiday Inn Eau Claire South easily checks off that piece of criteria. It's located right off I-94 and is nearby to several different attractions and restaurants. There's even a restaurant located on their first floor - Johnny's Italian Steakhouse. It's an upscale dining experience that you and the girls are bound to love.