Veteran's Parks in Eau Claire
Throughout the Eau Claire area, grounds have been dedicated to honor veterans from communities in Wisconsin and those currently serving in the U.S. military. Each park is crafted in a unique manner to pay respects and express gratitude for their city's servicemen and servicewomen. Here at these stunning parks, you're invited to pause, reflect, and pay homage to those who have given their all in service to their country. Discover the Veteran's Memorials in Eau Claire and surrounding areas below.

Take a walk along the Veterans Tribute Trail in River Prairie. This stunning memorial overlooks the pond and large U.S. flag in River Prairie and holds granite benches, military flags, and sentinel statues around the perimeter. Along the trail, you can view Legacy Stones, an eagle monument of Old Abe, and more. After visiting this beautiful memorial, grab some lunch and drinks at 44 North, Cowboy Jack's, or other restaurants in River Prairie.

Osseo Veterans Memorial Park can be found in Stoddard Park in the heart of Osseo, Wisconsin. The mission of the park is to honor past, present, and future veterans and to provide a place of reflection, restoration, and celebration for Osseo's, and all, veterans. The Veterans Memorial Park is located next to the Osseo Golf Club– the perfect park to gather and celebrate with a round of golf!
Roadside Veteran's Memorial
This memorial is located in the yard next to the Roadside Ice Cream & Diner in Eau Claire. Here, you'll find flags representing various military forces and mottos, informational signs highlighting Vietnam Veterans, and even a vintage police motorcycle. This tribute is also located right along the Chippewa River State Trail and is a wonderful place to pull over for a sweet treat and pay respects at this Eau Claire memorial.

The Wisconsin Veterans Tribute is located off of Highways 27 & 29 in Cadott, Wisconsin. This tribute holds 5 known memorials, including replicas of army tanks, mountain cannons, a helicopter, and more. See the flags flying in the sky on your drive along Highway 29.

Lake Wissota Veteran's Memorial
Overlooking the beautiful Lake Wissota, you can view a memorial dedicated to Lafayette veterans and all who served. This tribute is located right off of County Highway X, across the road from the iconic Wissota High Shores Supper Club. Enjoy a relaxing view of the lake on the benches at the memorial, and take time to appreciate the military flags flying over the Chippewa Falls region.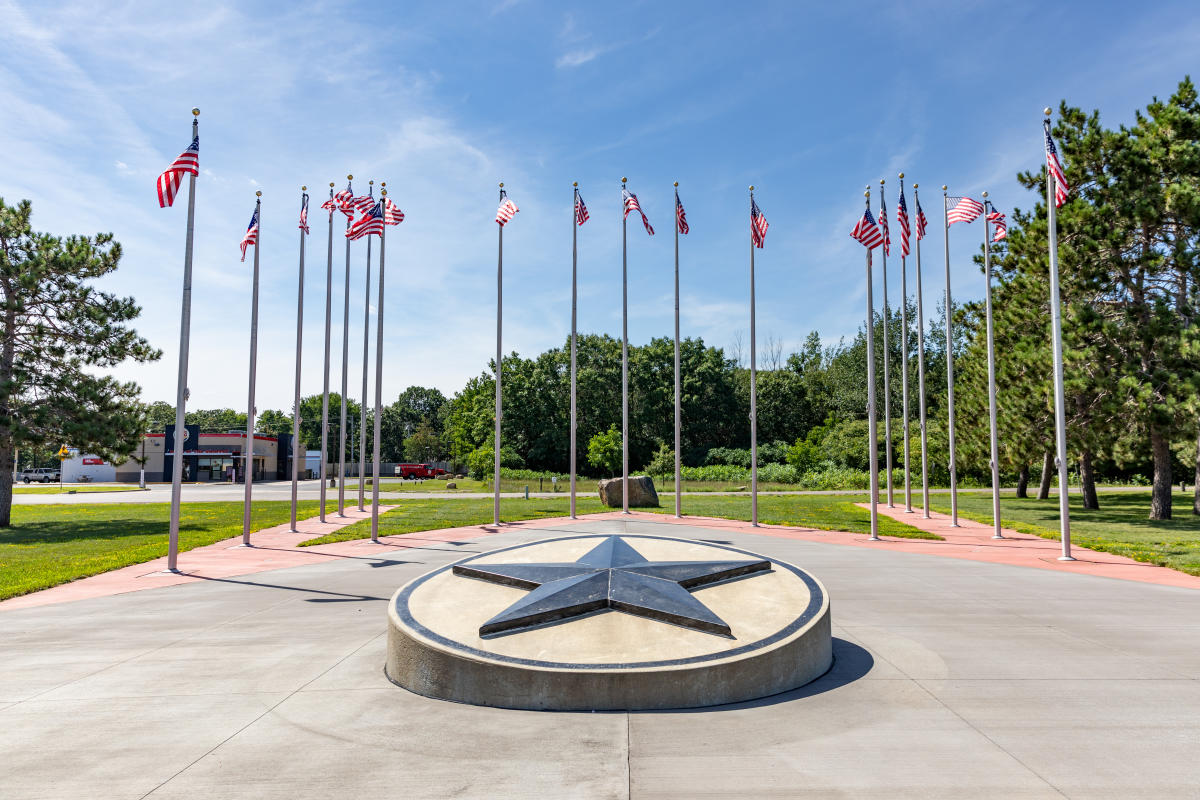 The Lake Hallie Peace Memorial Park is located off Highway 53 and 120th Street. Here, 25 flags fly high to honor service members, both past and present, from all U.S. military branches. If viewed from above, the flags would create the shape of a "W."