Let us just make one thing clear... You don't have to wait until Tuesday to find tacos here in Eau Claire. There are more than enough taco shops around the city for every day of the week! There's something so special about going out for Mexican food, whether it's a first date, a family get-together, a celebration, or even those burritos you grab on your way home from a late night out. No matter what the occasion is, Eau Claire has an abundance of taquerias whipping up some of the best street tacos, burritos, enchiladas, and more Mexican goodness! 
Photo: Juanita's Mexican Restaurant
If you're looking for a classic Mexican restaurant with a delicious menu, you can't go wrong with Tacos Juanita. This restaurant relocated to River Prairie in the summer of 2023 and now offers an awesome outdoor patio. Stop in the mornings for their tasty Mexican breakfast options, or fill up on tacos for lunch and dinner. If you're feeling thirsty, Tacos Juanita also serves a mean margarita.
Some may say Taqueria La Poblanita has the best Mexican food and margaritas in Eau Claire. It's no surprise! Their cuisine techniques are followed by those in Puebla, Mexico, creating authentic dishes for every meal. Try out their breakfast omelets or burritos, and make it back for their tacos for dinner!
Casa Margarita is as close as it gets to experiencing a colorful city in Mexico. This restaurant is completely decked out in immaculate murals, and every piece of furniture is painted in rainbow colors with cultural imagery. Not to mention, they have a HUGE food menu and tasty frozen cocktails. Casa Margarita is neighbors with Metropolis Resort, making it the perfect place to end a day at Chaos Water Park and Action City!

Photo: California Tacos
We understand, your mouth is probably watering by now. The birria tacos at California Tacos have that effect! This taco-food-truck-turned-storefront is located on Water Street, and its menu is a bit smaller with fewer options to concentrate on the quality of each item. Pop in for their daily specials on your lunch break, walk to class, or for dinner out with friends!
There's nothing silly about how good the food is here at Silly Serrano Mexican Restaurant! Here, you can find a variety of breakfast options, hot drinks, and a menu full of street tacos, quesadillas, salad bowls, desserts, and so much more. They, too, add to the artwork around Eau Claire with their funky sunset murals outside!
After a night of dancing and a few drinks on Water Street, you're going to be grateful that El Patio is within arm's reach to satisfy those late-night cravings. Let El Patio's burritos be the debrief meal for you and your friends at the end of the night at an affordable price. Find some of the best fresh guacamole and salsa here at El Patio!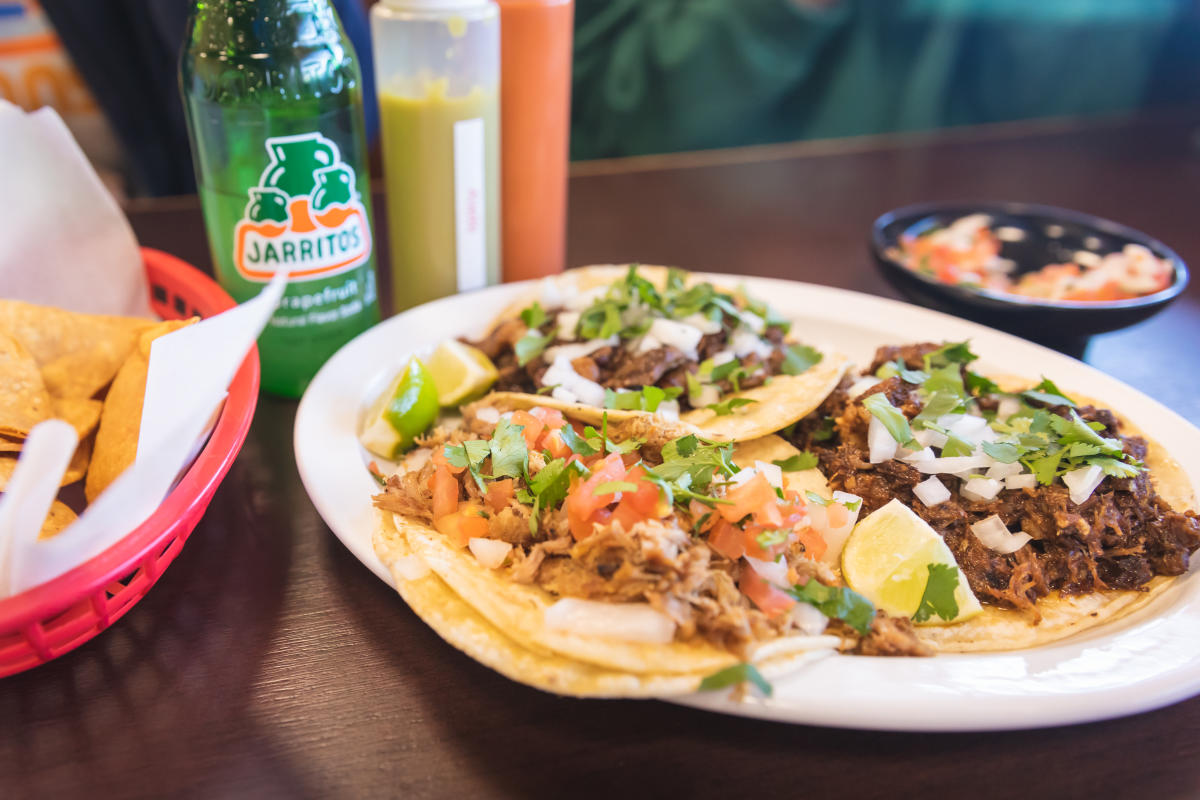 Photo: Tierra Caliente
If you're staying on the north side of Eau Claire, Tierra Caliente is right in your neighborhood. This family-owned business serves unbeatable chimichangas, street tacos, fajitas, and more. The locals absolutely rave about the authentic Mexican dishes here at Tierra Caliente!
Here at Manny's Cocina, an ornate ambiance meets flavor with authentic Mexican cuisine. Spend a date night or family dinner at Manny's for a fancier dining experience, and explore their menu filled with seafood dishes from the Pacific Coast region and hearty steaks for fajitas and tacos. Manny's is located right next to Oakwood Mall, so grab some grub here after a day full of shopping!
Azul Tequila has everything you could ever need at a Mexican restaurant with its al-a-cart style menu building. Create your own plate of burritos, tacos, tostadas, enchiladas, and tamales. Find plenty of vegetarian plates, kids' options, and desserts to complete your meal at Azul Tequila!

Photo: Casa Vallarta Mexican Restaurant
Casa Vallarta Mexican Restaurant
Another festive choice in Eau Claire is Casa Vallarta, a colorful and vibrant Mexican Restaurant that makes you feel like you're somewhere warm and tropical! Choose from a menu filled with burritos, street tacos, steak and seafood specialties, kids' menus, and more. Get the full Casa Vallarta experience on their patio in the spring and summertime!
A classic, go-to spot that the locals love is Cancun Mexican Grill. Fill up on frozen margaritas, chips and salsa, tacos, enchiladas, and more Mexican staples on their never-ending menu. Enjoy their weekday lunch specials, or stop in after work for drinks; the tequila is always flowing! If someone in your party isn't craving Mexican food, you can also find plenty of Americanized options on Cancun's menu.
Get tacos on Barstow Street in downtown Eau Claire at Guac N' Roll! These taco masters started out in a food truck and expanded their operations to a downtown restaurant in the summer of 2023. Find delicious tacos, burrito bowls, tortas, and more!
Let's see your take on tacos! Share yours using #CaptureEC!
Find more flavors from around the world in Eau Claire!