Tubing in Eau Claire, WI
Floating down the Chippewa River is arguably one of the most fun things to do in Eau Claire on a hot summer day. Quite frankly, as soon as you see someone else hauling their tubes into the water, you're overcome with a feeling of envy thinking, " I wish that was me right now." Well, it can be you. When it comes to floating down the Chippewa River, the locals have it down pat. That's why it's our job to pass over this knowledge to our visitors who may or may not be first-timers. Here's what you need to know before you take a float down the Chippewa River in Eau Claire. 
Where to Get a Tube
Many locals have their own tubes to use and the city makes it incredibly easy to blow them up by offering a pump right at Eau Claire's most popular tube launch spot, Phoenix Park. If you'd like to use your own tube, stores in town like Walmart, Scheel's or Blain's Farm & Fleet have a variety on sale. But, keep in mind that you don't need a large fancy tube to have a fun float. Locals oftentimes just use air mattresses! 
Where to Get In & Get Out
Eau Claire's most popular tube launch point is Phoenix Park, right at the confluence of the Eau Claire and Chippewa Rivers in downtown Eau Claire. Before you get in the water, head over towards the Jamf building. You'll find a pump here with which you can blow up your tube and make sure you're all set to go for your float. Then, head down to the rocky area down by the water and set out on your floating adventure! 
During your float, you will get a completely different view of the city that you can't get from any other vantage points. A designated place for getting out of the water is Hobb's Landing. It is a short way down the river once you pass the UW-Eau Claire campus. The longevity of your float from Phoenix Park to Hobb's Landing largely depends on how high the water in the river is and the speed of the current. Your float can be anywhere from 45 minutes to over an hour, but there is no exact science to that. 
How to Be Safe
Whether the river is flowing fast or is completely mellow, it is always important that floaters are safe and cautious on the water. Make sure you and your group have personal flotation devices on hand, are wearing sunscreen, and follow the water route. To help you navigate and practice all the safety precautions, use the Chippewa River Water Trail Map to help guide your float. 
How to Get Back 
Well, there's no exact science to this either. There are people that walk back to downtown Eau Claire from Hobb's Landing,  some groups call an Uber or driving service to take them to their next destination, or some even use two cars to leave one at the ending point (Hobb's Landing) so they have something to drive themselves back with once their float is over. Visit our page to learn more about transportation options in Eau Claire.
A Map to Guide Your Float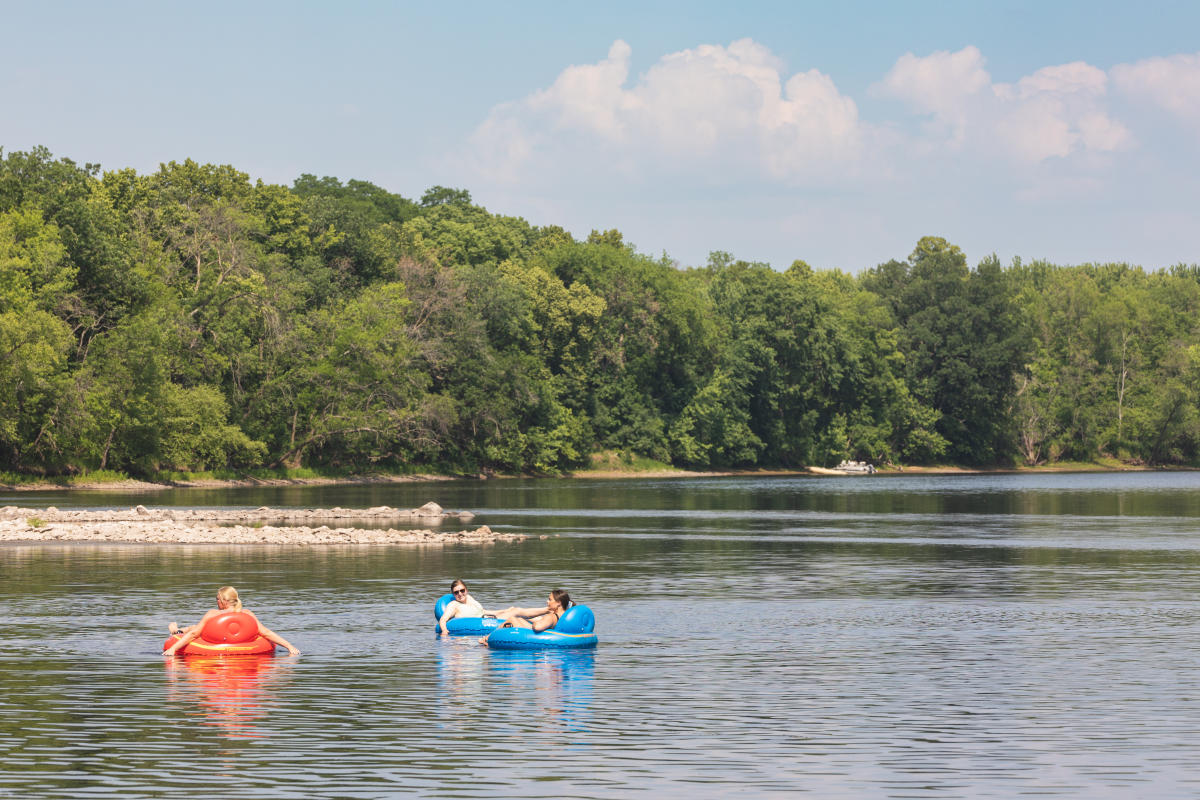 For a different type of tubing adventure in the Chippewa Valley, take a day trip to Wheaton, WI, for a relaxing trip down the Chippewa River with Loopy's tube, kayak, and canoe rentals. Loopy's rental service makes it easy for your crew to rent different styles of tubes and drops you off at a convenient entrance to the river, all to ensure you have a relaxing afternoon on the water! Loopy's invites both adults and children to float the beautiful river route.
The duration of the float depends on water flow conditions and how long of a trip your choose to take, but on average, the float takes about 2.5- 3 hours. Tube, kayak, and canoe rentals are great for any size group and are available every day during the summer. All rentals include a shuttle service to the entrance point in Chippewa Falls, WI, where you will then end back at Loopy's. That way, you can enjoy a worry-free float and end up back at your vehicle after your river adventure!
River Rental Rates
Deluxe Tubes (Cup Holder & Backrest): $16
Deluxe Tubes (Bottom & Backrest - Ideal for Children): $16
Standard Tubes: $13
Floating Coolers with Ice: $10
Cooler Carrier Tube: $10
Shuttle Only with Your Tubes: $10
Single Person Kayaks: $30
Canoes: $40
Clip Ties: $1 (You get $1 Loopy's Buck to use on any item Loopy's sells any time you choose when you return the clip)
A Map to Guide Your Float