About Eau Claire and the
Chippewa Valley
Eau Claire, Wisconsin, located 90 minutes east of Minneapolis, MN, could probably lay claim to being "The Indie Capital of the Midwest," but trademarking that would be far too corporate a move for this independent-minded university town. Instead, our city, situated at the confluence of the crystal clear Eau Claire and Chippewa rivers, goes its own way and encourages everyone who visits to come along for the ride. Locals stage huge music festivals, devote resources to public art, honor the wit of local writers, egg on chefs and brew masters to bring it on, and host sports competitions happily outside the mainstream. A thriving downtown gives way to a hip uptown, both surrounded by a natural beauty that inspires creativity. Eau Claire is where farm kids grow up to be artists and entrepreneurs. Where alternative is a positive. Where attitude is more important than age. Where hospitality is legit. Where originality is celebrated. In other words, indie.
Eau Claire Fun Facts!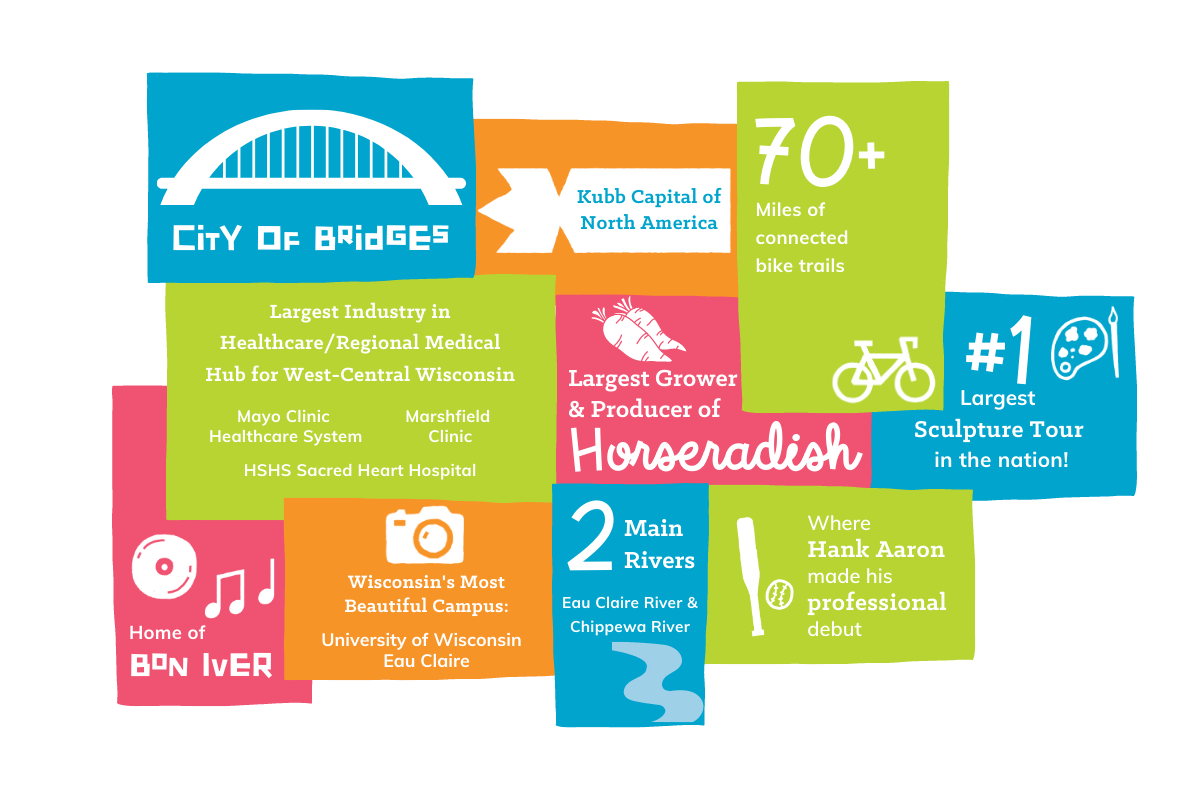 1. City of Bridges: As soon as you arrive in our city, you'll see how Eau Claire got this nickname. It feels as if there's a bridge every which way you look. It makes sense considering two large rivers run through the city (The Eau Claire River and The Chippewa River). Browse the list of must-see bridges in Eau Claire here. If you find yourself strolling through Eau Claire at night, you'll see that some even light up.
2. Kubb Capital of North America: You heard it here first. Eau Claire, WI is indeed the Kubb Capital of North America. Kubb is a Scandinavian lawn game where the object of the game is to knock over wooden blocks by throwing wooden sticks at them. It's a lot more fun to play than read about. But if you must, you can learn more about it here and find some of the suggested places to play in Eau Claire.
3. 70+ Miles of Connected Bike Trails: One of the best ways to explore Eau Claire is by bike. The 70+ miles of bike trails in the Eau Claire area connect you to scenic landscapes, downtown life, and everything in between. Hit the trails and see for yourself.
4. Regional Medical Hub for West-Central Wisconsin: At the heart of Eau Claire's medical hub are world-class hospitals and medical centers that are equipped with state-of-the-art technology and highly trained physicians, specialists and surgeons. That's just one of the reasons that makes Eau Claire, WI one of the best places in the United States to live. Seriously; Eau Claire, WI ranked #3 on smartasset's "Most Livable Small Cities in the U.S." list in 2022.
5. Largest Grower & Producer of Horseradish: Eau Claire, WI is home to Silver Spring Foods, Inc. - the world's largest grower and processor of horseradish. There's a good chance you've come across Silver Spring products at your local grocery store, but if not, find it and try it in Eau Claire. Expect it in some of our restaurant's Bloody Marys, sandwiches, or dipping sauces. 
6. #1 Largest Sculpture Tour in the Nation: Yep - that's right: #1! Eau Claire claimed that title in 2022 after the Eau Claire Sculpture Tour had over 80 sculptures scattered throughout our Midwest indie streets. The Eau Claire Sculpture Tour continues to grow today; so much so that we've been dubbed "ART Claire".
7. Home of Bon Iver: Originating in Eau Claire, Bon Iver is the brainchild of singer-songwriter Justin Vernon. Bon Iver's music is often described as ethereal, introspective, and evocative. Justin was an integral part of the cultural revival of our city as he co-founded a music festival in the area and is an investor in several developments throughout downtown Eau Claire. Safe to say we're big Bon Iver fans.
8. UW-Eau Claire - Wisconsin's Most Beautiful Campus: Our city sure is pretty. So pretty that the University of Wisconsin Eau Claire has been nicknamed as "Wisconsin's Most Beautiful Campus". From the surrounding hilly landscapes to the Chippewa River running right through it, it is clear how this nickname came to be. 
9. 2 Main Rivers: Speaking of rivers, this brings us to our next fast fact. Two large rivers run right through the city of Eau Claire: The Chippewa River and The Eau Claire River. They are the reason behind Eau Claire's name. "Eau Claire" in French translates to "clear water". The more ya know! Back then, the rivers played a huge role in the Eau Claire lumber industry. Today, they are a great way to explore Eau Claire's great outdoors. Pro tip: Tubing on the Chippewa River should be on every visitor's bucket list. 
10. Where Hank Aaron Made His Professional Debut: Back in 1952, a young Hank Aaron took the field as a member of the Eau Claire Bears right here in Eau Claire, WI at the infamous Carson Park. Little did anyone know that this humble beginning in our city would launch the career of a future Hall of Famer. Today, Carson Park is home to the Eau Claire Express, a Northwoods League team, and you can catch a game from Memorial Day through August.