Health & Wellness Itinerary in Eau Claire
Don't get us wrong— we love a good time filled with beer and cheese curds here in Eau Claire. But on days when you want to reset, eat clean, and give time to your mind and body, explore all the ways you can experience Eau Claire through healthful and nourishing activities. Check out ways to connect with nature in the Chippewa Valley, move your body through exercise, clear your mind, and fuel your soul in Eau Claire!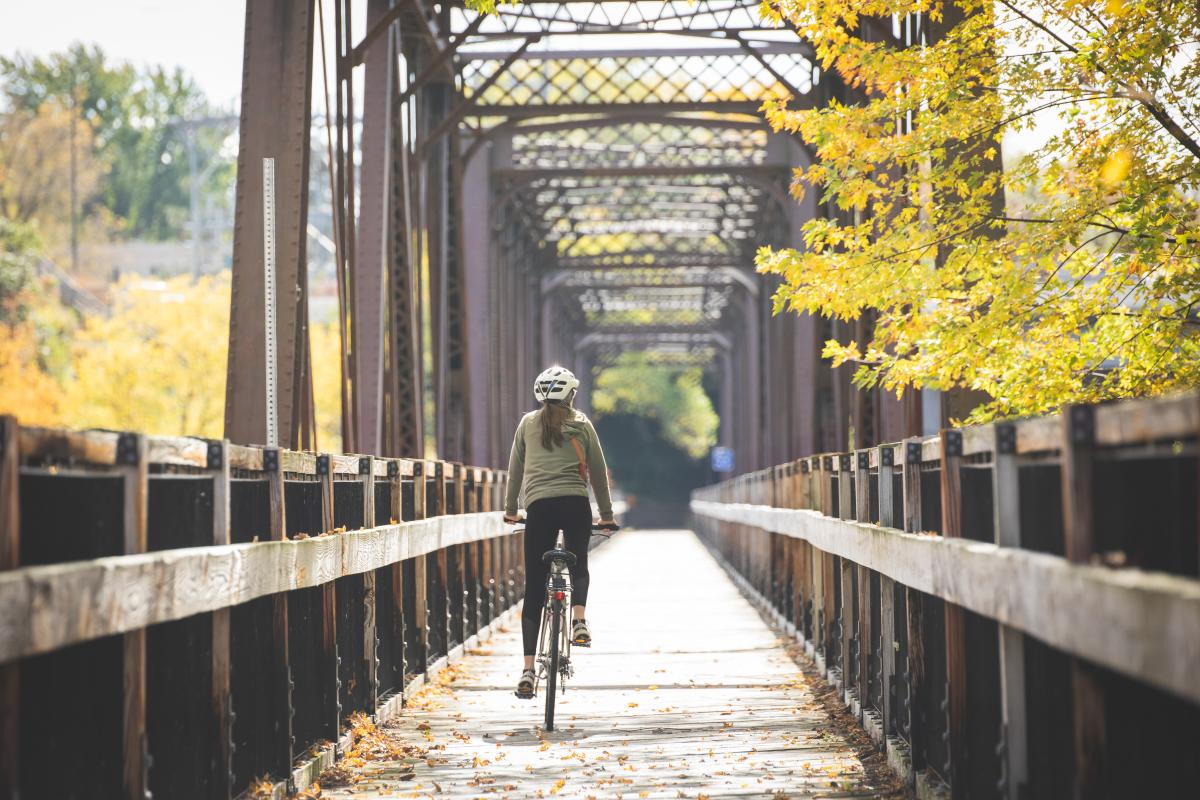 Beaver Creek Reserve is located just outside of Eau Claire, and it's the perfect place for nature lovers and wildlife enthusiasts to connect and explore the outdoors of the Chippewa Valley. Get some exercise with a view of the walking trails, or embrace the surrounding bird calls on the bird-watching deck. Have a whimsical experience in the Butterfly House each July, or learn about the animals of Wisconsin in the Nature Center. If you're visiting in the winter, you can even rent snowshoes and cross-country skis and adventure through the trails of the reserve!
Explore Eau Claire and the surrounding area on two wheels while riding the Chippewa River State Trail. This 28-mile stretch lies along parts of the Chippewa River and passes by many of Eau Claire's most scenic views, best restaurants, favorite breweries, hotels in the area, and more! Check out some of Eau Claire's most iconic footbridges, and even get a glimpse at the Eau Claire Sculpture Tour along your ride. 
Our furry friends want to be active, too! Bring your puppy pals along for a wellness walk downtown, through the city's parks, or let them run off their energy at Otter Creek Off-the-Leash Dog Park. To reward them for their good behavior, treat your pups (and yourself!) to a pup cup from Olson's Ice Cream. Click here to see more ideas on how to spend time with your dogs in Eau Claire with our dog-friendly itinerary! 
Sometimes, wellness means giving your body a break and taking a moment to simply relax! Spend an afternoon swaying with the wind, and hang your hammock in Owen Park! Be among the trees and connect with nature, or soak in music in the park on Tuesday nights with Tuesday Night Blues. Click here to see more places that are perfect for hammocking in Eau Claire.
Experience a slice of serenity at Big Falls County Park, just a short drive outside of Eau Claire! Explore the park's hiking trails and picnic areas, and enjoy a refreshing dip while wandering through the waterfalls. Pack your beach towels and hiking shoes, and explore the falls and trails at Big Falls County Park!
Take a new route to explore the Eau Claire area, and take a kayak trip down the Chippewa River! This is the perfect summer activity to get an upper body workout while getting to see some of the best views in Eau Claire. Start at the Chippewa River and Eau Claire River confluence in Phoenix Park, and float downstream past the UWEC campus, Water Street, and beyond! 
Pickleball is America's fastest-growing sporting activity, and you can find outdoor courts in McDonough Park in Eau Claire! This game is a mix of tennis, ping pong, and badminton, and it is meant to be enjoyed by all ages. Try sprinkling pickleball into your summer evenings— it may be your new favorite pastime!
Discover relaxation at its finest at the stunning Lotus Spa in Eau Claire. Put your body first, and treat yourself to Lotus's many services including facial treatments, body massages, pedicures, and more. This moody oasis will make you feel like you're on vacation at a luxury resort! 
Every spring, put your body to the ultimate test in the Eau Claire Marathon. Be a part of the weekend's different races including a 5k, 10k, half marathon, full marathon, and even a kids' fun run! Put all of your training to work here in Eau Claire, and take on the challenge of Eau Claire's various races— all while getting to see every part of Eau Claire!
Fuel your mind with a new book from Dotters Books. Dotters relocated to downtown Eau Claire, adding to the shopping scene on Barstow Street. Spend a cozy morning with a drink from one of the coffee shops downtown, and browse the bookshelves at Dotters. Take your book with you to Phoenix Park for a picnic, or relax in your hammock with your new readings!

Winter brings on all new possibilities in Eau Claire, and one of the best is a cross-country skiing adventure at Tower Ridge County Park. Here, you'll find 15 miles of trails with unbeatable views of the Chippewa Valley. Click here to see more places to cross-country ski in the Eau Claire area.
Don't let the snow be your excuse to stay indoors in the winter! Eau Claire has a designated, 4-mile route that is plowed with high priority after snow events to ensure that you can stay active outdoors, even in the wintertime. This recreation path passes through the UWEC campus, the amazing restaurants on Water Street, Phoenix Park, and more! You're encouraged to walk, jog, or run the route around Eau Claire each winter.
Add an extra element to your winter walk with snowshoes at Lowes Creek County Park! After a fresh snowfall, the views of snow-covered pine trees are unbeatable on your snowshoe hike in this Eau Claire park. Take your winter adventure to Lowes Creek for a nature connection and outdoor workout!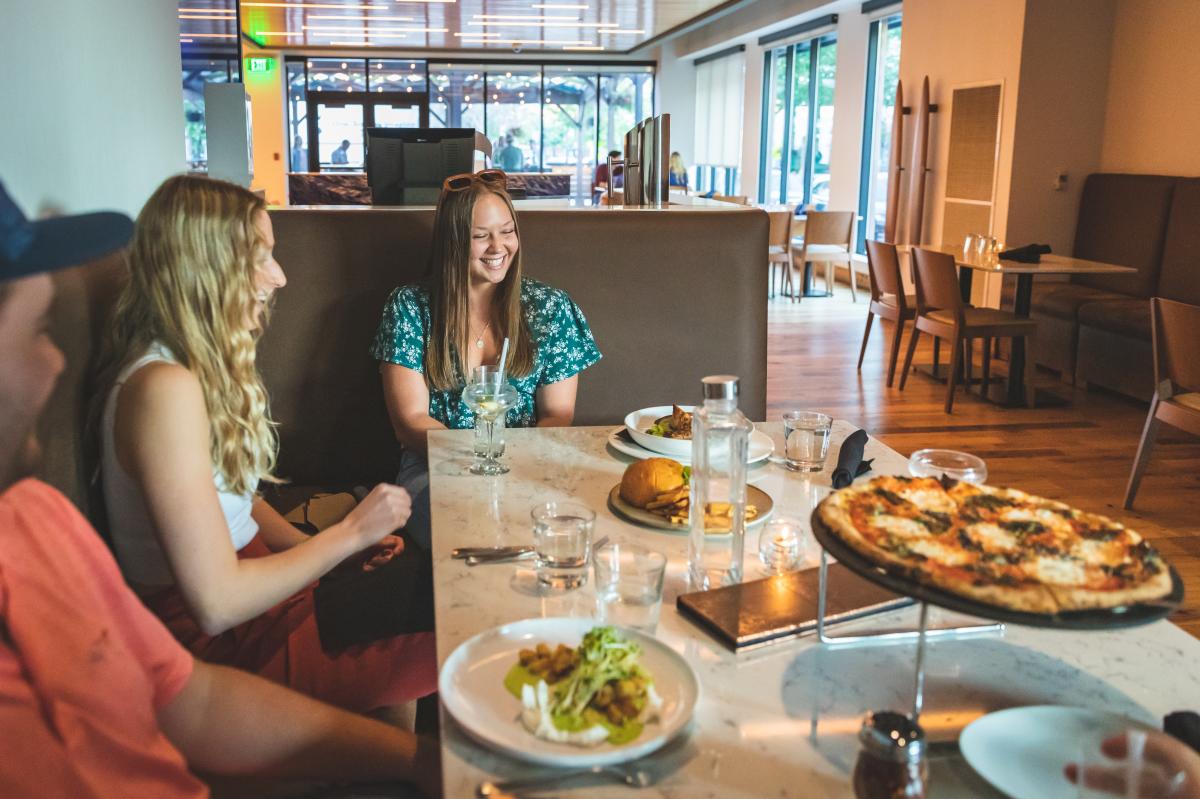 This little coffee shop is located in downtown Eau Claire, connected to the Lismore Hotel. ECDC proudly serves a breakfast and lunch menu with locally-sourced, fresh ingredients. Get a good base for your day with fresh produce smoothies, sandwiches, toast, and more. Caffeinate with a coffee or tea, or grab a quick bite to-go from the Grab 'N Go section if you're in a rush to activate your day in Eau Claire!
Located right next to ECDC at the Lismore Hotel, The Informalist offers a wide-ranged menu in downtown Eau Claire. The Informalist is well-known for its wood-fired pizzas but also serves various salads, salmon, steaks, duck, and a weekend brunch, and they incorporate locally-sourced ingredients as much as possible. Find plant-based, vegetarian, and gluten-free options on the menu at The Informalist!
The local foodies have voted The Nucleus as the best place for breakfast in Eau Claire, and you'll understand why after one bite of their phenomenal breakfast and lunch dishes. Get your protein fix in the morning with an omelette, skillet, or breakfast sandwich, or have a lunch date filled with fresh fruit and more mid-day sandwiches, all made with fresh, local ingredients. The Nucleus is also located on Water Street, conveniently right along the Chippewa River State Trail. Grab some tasty brunch at The Nucelus, and then head out for a walk on the trail!
If you find yourself in River Prairie, grab a healthy lunch at Xavier Artisan at the River Prairie Wellness Center. This bistro-style cafe offers artisanal sandwiches, gourmet salads, fresh fruit parfaits, and more. Dine on the outdoor patio in the summertime, and treat yourself to a cup of their delicious gelato and sorbeto!
If there's one place you're sure to find fresh, locally-grown produce, it's at the Eau Claire Downtown Farmers Market. Spend your Saturday mornings in Phoenix Park browsing through the local vendors and choosing the perfect batch of berries, vegetables, meats, breads, salsas, honey, and much more. Nothing beats a morning in Phoenix Park with your farmers market finds!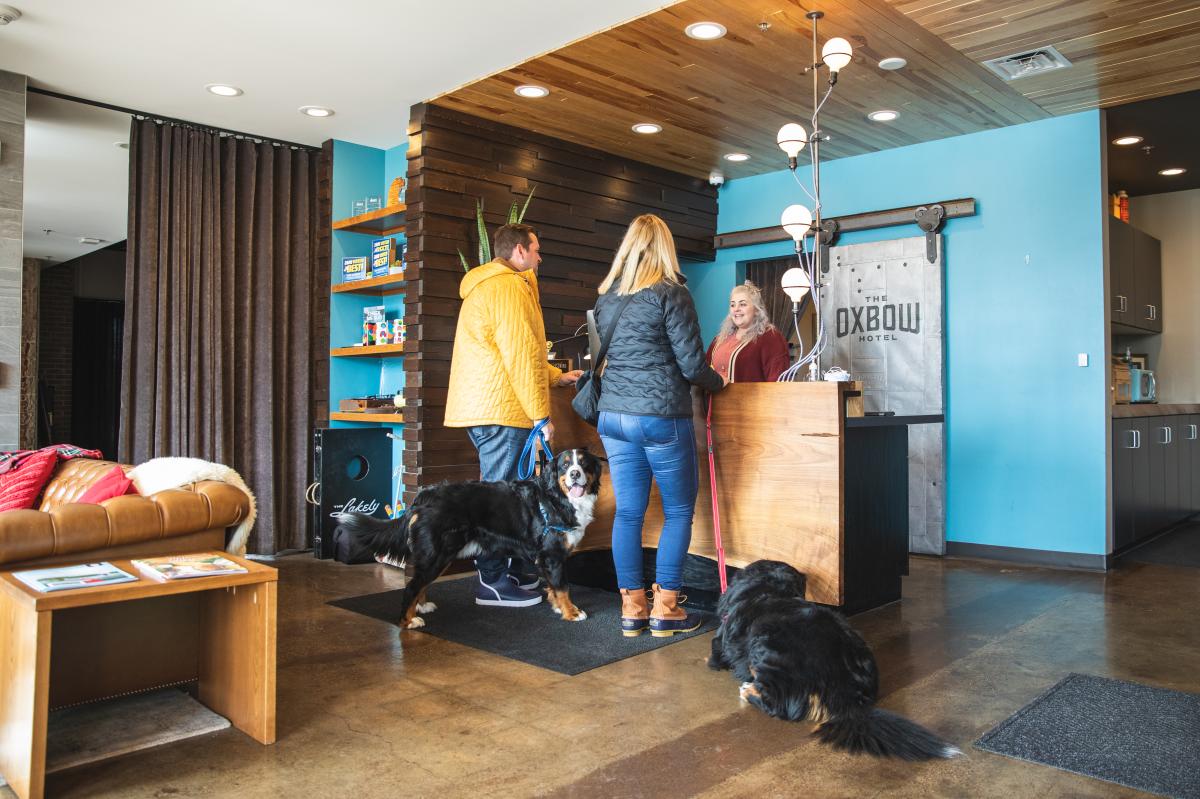 Retro, modern, urban, and hip— these are a few words that come to mind when describing the Oxbow Hotel. Located in the heart of downtown Eau Claire, the Oxbow is the ultimate boutique hotel experience. Guests have access to bike rentals, and the hotel is conveniently located right next to the trail systems to easily hop on for a bike ride. Take in the nightlife at The Lakely cocktail lounge connected to the hotel, and then cozy up for a relaxing stay in the various suites. Don't worry about finding a pet sitter when traveling to Eau Claire— the Oxbow is pet-friendly!
Enjoy a relaxing hotel stay away from all the downtown action at the Residence Inn by Marriott, just outside of Eau Claire. This hotel is located next to the main highways and interstates in Eau Claire, making it the perfect spot regardless of what direction you're traveling from. Find yourself a little closer to the great outdoors in the Chippewa Valley here at the Residence Inn!
Spend your wellness weekend in Eau Claire at the Staybridge Suites in River Prairie! This slice of town is the perfect place to wake up, walk to Cabin Coffee for your morning cup of joe, and go for a walk through River Prairie Park and on the trails along the Eau Claire River. Hop on the bike trail for a biking workout, or spend a morning bird-watching in the park. Click here to see all the things you can do while staying in River Prairie!