Outdoor Itinerary in Eau Claire
The Eau Claire outdoors are calling! Whether it's the dog days of summer, the fall colors are at their peak, there's fresh snow on the ground, or the trees are starting to bloom again– there are endless outdoor activities for everyone all year round. Check out our curated outdoor itinerary when visiting Eau Claire, WI!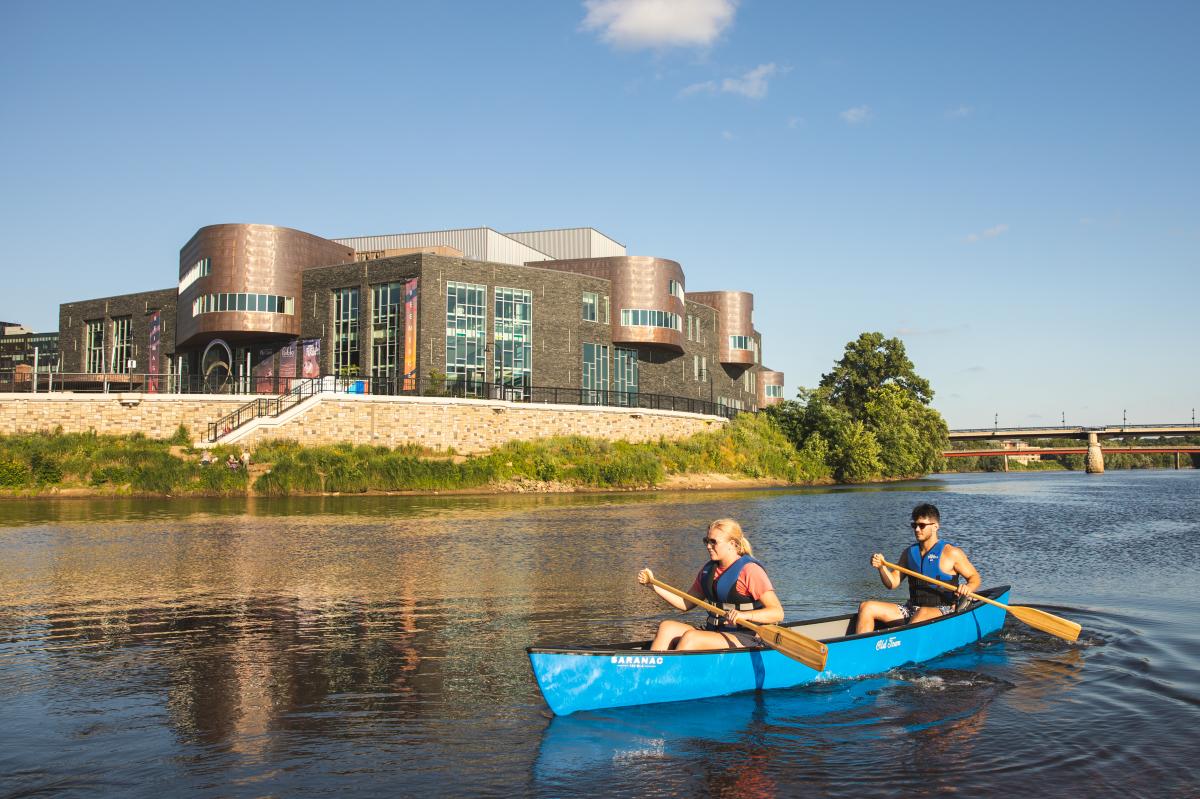 Things to Do
Beaver Creek Reserve is the epitome of outdoor adventure in the Eau Claire area with walking trails, a nature center, workshops, and more. This reserve is located along the Eau Claire River and is perfect for outdoor activities in every season. Click here to see all the ways to explore Beaver Creek Reserve.
This hidden gem is the ultimate place to enjoy the outdoors in Eau Claire! Big Falls County Park is a swimming hole filled with walking trails, sand beaches, beautiful waterfalls, and giant rocks to climb. Come out to Big Falls County Park on a hot day for swimming, picnicking, and exploring nature in the park!
Take a day trip to Osseo, WI for an adventure on the Buffalo River State Trail. This trail is built on a former railroad corridor and passes by farmlands, woods, hills, and wetlands throughout Buffalo County. Hit the trails on ATVs, UTVs, snowmobiles, horseback riding, biking, and walking.
Exploring the city of bridges is one of the many easy and free ways to spend time outdoors in Eau Claire. Start right in downtown Eau Claire, and check out some of the most iconic bridges in Phoenix Park, the S Bridge by Banbury Place, or get unbeatable views at the High Bridge!
The Local Store introduced electric bike and scooter rentals in the spring of 2023, and now, there's no better way to get around Eau Claire in the warmer months! Hop on the trails with e-bikes or scooters and ride around through Eau Claire's parks, Sculpture Tour, and Color Block murals, and see the city in a speedy fashion!
Load up your tackle boxes and fishing poles, and find the fishing hot spots around Eau Claire! Spend the day at Half Moon Lake, Big Falls County Park, Lake Wissota, Elk Creek State Fishing Area, or the Eau Claire River, and see if you can catch the various fish that inhabit Wisconsin waters! Many fishing experts try for bass, walleye, northern pike, sturgeon, and more.
Take a swing at golf courses around the Eau Claire area! Find some of the finest courses at Wild Ridge, Mill Run, Hickory Hills, Princeton Valley, or Pine Meadow, or venture to Osseo, WI for a round at the Osseo Golf Club. View more golf courses around Eau Claire here!
In the summer months, spend a day at the beach or on the water at Half Moon Lake! This beach is typically packed on hot summer days, and the water is filled with swimmers, kayaks, and other water recreation.
For one of the greatest views of Eau Claire, make a stop at Mt. Simon for a short hike to the "Top of the World." Get stunning views of the Chippewa River, and see stunning fall colors each autumn once looking out at the top. If you're feeling brave, you can even go to Mt. Simon for a fun afternoon of cliff-jumping into Dells Pond and the Chippewa River!
If there's one way to soak in the outdoor scene, it's spending time in parks around Eau Claire. In the summers, tune in to music, farmers markets, food truck events, and other activities in Phoenix Park. Visit Owen Park for an afternoon of hammocking, tennis, or walking along the Chippewa River. For outdoor dining, concert series, and relaxing trails, check out River Prairie for a little outdoor oasis!
For a full weekend of outdoor activities, book your camping adventure at Stoney Creek RV Resort in Osseo, WI! Spend the summer days at the make and beach at the resort or playing mini golf. If you only have a free afternoon to visit, you can still purchase day passes to swim and play on the WIBIT.
Take your Eau Claire mornings slow with a self-guided Sculpture Tour around Eau Claire! The rotating Sculpture Tour holds over 150 unique pieces in parks, along Barstow Street, on biking trails, and outside businesses throughout the city. This free activity is one of the easiest ways to spend time outdoors and take in local art!
There's no better way to spend a warm day in Eau Claire than tubing down the Chippewa River. Some start their river adventure in Phoenix Park and end their route at the UWEC Campus. If you're looking for the most convenient set-up, head to Loopy's for tube rentals, and they'll shuttle you to their drop-off point in Chippewa Falls for you to float back to Loopy's! Click here to see more about tubing opportunities in Eau Claire.
Experience some of the best views of the Chippewa Valley by visiting the Town of Union Conservancy. Spend the day on the hiking trails and see incredible views of the Chippewa River. Pro-tip: get the most stunning views of the conservancy during the fall months when the leaves are at their peak!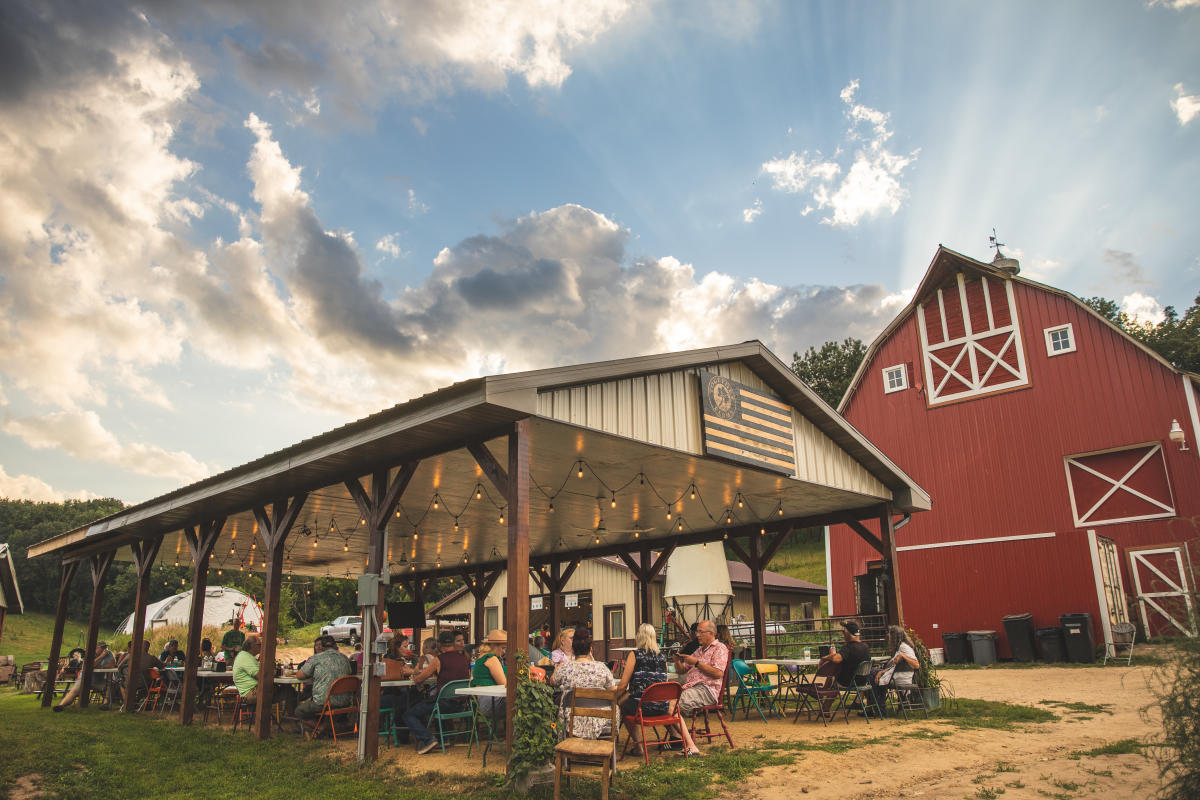 Photo: Together Farms
Places to Eat & Drink
One of the locals' favorite places to hang out in the summer is on the patio at The Brewing Projekt. This brewery is located along the Chippewa River State Trail and overlooks the Chippewa River. Come here for a flight of seasonal craft beers, games, and bonfires outside!
When in downtown Eau Claire, meet up with friends at the Dive patio bar at the Lismore Hotel. This bar is located on the second level of the hotel and is a gorgeous spot to enjoy craft cocktails, snack plates, and even heated igloos in the wintertime!
Get a taste of some of the best wood-fired pizza in the Eau Claire area at Foster's Fireside. This restaurant is located right off of I-94 about halfway from Eau Claire to Osseo, WI, and they offer a lovely outdoor patio to try their specialty pizzas on!
Take your wine ventures to the patio of Infinity Beverages in Eau Claire! Infinity is a winery and distillery with outdoor seating available in the warmer months, and they create their own delicious craft beverages from their on-site distillery. 
If you're looking for a spot to grab a morning coffee and enjoy the cool morning air, head to Kahvi Coffee House for some of the best coffee in town. Kahvi is a cozy yet modern coffee shop with a lovely patio option, and the patio is even dog-friendly!
Head to The Lakely at the Oxbow Hotel for a groovy cocktail lounge in downtown Eau Claire. The Lakely has mastered their seasonal cocktail list and regularly hosts open-mic nights, live music, and other entertainment at the lounge. Step it up a notch by sitting by the fires at The Lakely in the evenings with drinks and tasty food!
Another popular brewery in downtown Eau Claire is Lazy Monk Brewing, and the deck outside cannot be beaten! This European-influenced beer house serves a variety of craft beers, and they often host food trucks on-site for the perfect lunch or dinner combo on the patio.
Loopy's is the epitome of outdoor dining in Wheaton, WI with their sand volleyball courts, tube rentals, and tiki bar overlooking the Chippewa River! This is the ultimate summer hangout in the Eau Claire area with delicious grill food, seasonal Leinenkugel's beer, and an array of outdoor activities.
Find a menu filled with phenomenal food options at Northern Tap House! In the summer months, dine on the patio with delicious pizzas, burgers, fish, tacos, appetizers, bloodies, beer, and more.
River Prairie is packed with some of the best outdoor dining options in the area. Find amazing Mexican food at Juanita's Mexican Restaurant, get Bloody Mary, margarita, or mojito flights at 44 North, grab drinks on the rooftop at Helix, or enjoy one of the best patios in town at Cowboy Jacks. Click here to see more restaurants in River Prairie.
Get a taste of some of the finest cheese, meats, and charcuterie board additions at Third & Vine in Eau Claire. Pair your boards with various craft beverages, and enjoy your dishes outside on the patio with games at Third & Vine!
Try some of the best burgers in town at Valley Burger Company. This restaurant opened in early 2022, and ever since, the burgers and fries have won the hearts of locals and visitors in Eau Claire. Valley Burger has a little patio outside with a giant Jenga to pass the time!
CLICK HERE TO SEE A COMPLETE LIST OF OUTDOOR DINING RESTAURANTS IN EAU CLAIRE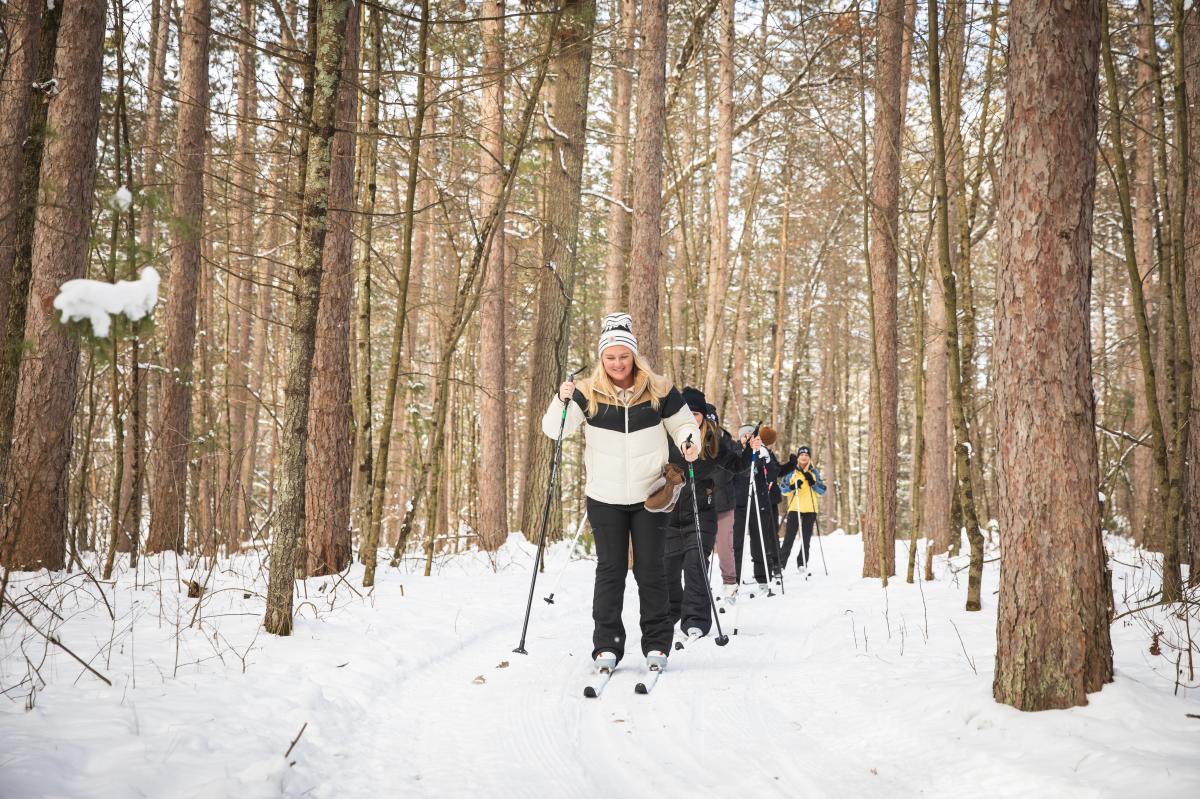 Photo: Beaver Creek Reserve
Winter
While Beaver Creek Reserve is beautiful all year round, the winter season is extra special. Take on the cross-country ski trails around the reserve, and even rent equipment right at the nature center! Take in beautiful views and various trail difficulty levels throughout the area.
Tower Ridge is a multi-use park perfect for many winter recreation activities, but many outdoor enthusiasts love visiting this spot for the fat-tire bike trails. Get breathtaking views after a fresh snowfall while on the trails at Tower Ridge!
If you're looking for the best place to go ice fishing in the Chippewa Valley, Lake Wissota may be your spot. Every year, the lake even hosts a big fishing contest with fishers from all over the area!
Lowes Creek is one of the hubs in Eau Claire for all things winter-related. Locals and visitors love the county park for snowshoeing, cross-country skiing, and winter biking through the pine tree trails. It's especially beautiful after a heavy snowfall!
Find one of the best spots in Eau Claire sledding and snowboarding at Pinehurst Park! This huge hill is typically packed with families during the winter season for days filled with sledding, ice skating, snowshoeing, and more exploring around the park.
Take a drive out to Wheaton Park for a fun-filled winter day! With snowshoeing and skiing trails throughout the park, this is the perfect place to get some exercise outside in the winter months. You can even plan a sledding party at the sledding hills in Wheaton Park!
The Winter Route is a 4-mile recreation path that is plowed with high priority after snow events to ensure that there is a clear route for walking, running, and biking in Eau Claire. This route passes through some of the iconic areas of Eau Claire like UWEC campus, Water Street, Phoenix Park, and more!
More Ways to Get Outdoors in Eau Claire