Wisconsin Cheese Itinerary
If there is one thing that everyone knows Wisconsin does well, it's cheese. You can get some of the best cheese in Wisconsin from Eau Claire! There's plenty of cheese to pass around whether it's from one of our cheese stores or served up with some of our favorite foods at our local restaurants. 

It'd be wrong to not kick off this list by talking about one of the best places in Eau Claire to go for cheese curds. Northern Tap House serves some of the most unique curds in the city. Their menu offers two different types: the Signature Curds and the Ellsworth Curds. The signature curds are their giant, beer-battered curds that come with a side of house ranch. Their Ellsworth Curds are made "State Fair Style" and come with a side of sweet chili sauce. Sweet chili sauce with cheese?! Yes... don't knock it 'til you try it.
3rd & Vine captures every Wisconsinite's heart as soon as they enter through the door. You may be wondering why. It's because they've successfully paired two things the state of Wisconsin loves most: beer and cheese. 3rd & Vine is equal parts taproom, restaurant and retail space. They offer a variety of local craft beers, charcuterie boards, and other tasty menu items. They even have their own cheese club!
If it has "cheese" in its name, you have to plan a visit there! Eau Claire Cheese & Deli is a great place to go shop for artisanal cheeses, grab a quick but delicious sandwich, or get a creamy scoop of ice cream! 
For those that like their cheese on pizza, we highly recommend trying Foster's Fireside in Osseo, WI! It's about a 20-minute drive south of Eau Claire but their wood-fired pizzas are some of the best in the Chippewa Valley. At their restaurant, they also have a cheese store that sells cheese that's only made in Wisconsin. Likewise, they have fresh cheese curds for sale every Friday that come in a variety of flavors like Buffalo, Ranch, and Bloody Mary!
The Coffee Grounds has the largest selection of not only artisan cheeses in northwestern Wisconsin, but micro-brewed beers, chocolates, gifts, kitchenware, and a walk-in humidor too. It's also a fantastic place to come grab a nutritious breakfast or lunch. Right next door is K Point Brewery if you want to grab a beer while you're here too!
This one is for our mac and cheese lovers. One of the best places to get a nice big, warm bowl of loaded mac and cheese is 44 North is River Prairie. Their menu includes Chicken Bacon Ranch Mac, Vegetarian Mac, Nashville Hot Chicken Mac and Smothered Steak Mac. Tough choice, huh?!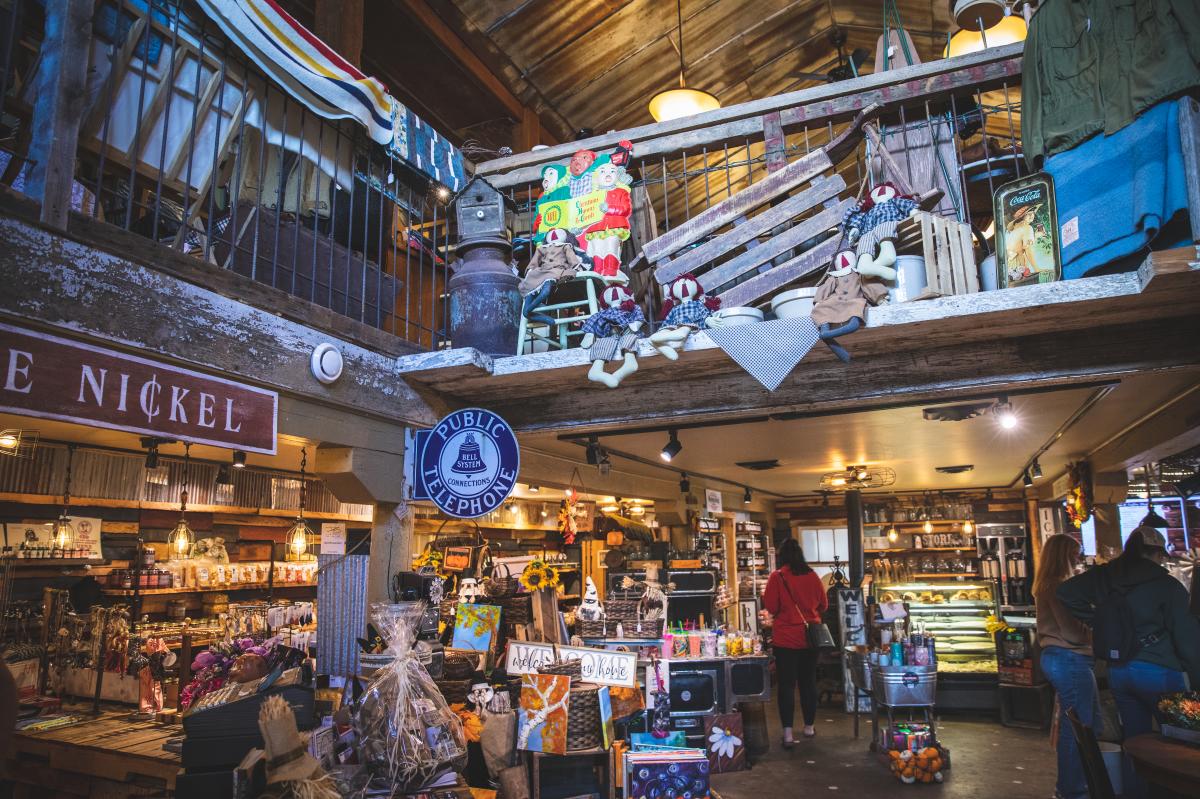 Some of the smallest towns have the biggest charm. That definitely is the case for Osseo, WI. Plan a visit to the Osseo Nickel Barn & Coffee Shop to see exactly what we mean. As soon as you walk through the doors of this antique store and coffee shop, you'll be greeted by a sweet coffee bean aroma and a big warm welcome from the locals. Apart from locally sourced cheese, this cute little barn sells lots of other locally made items and valuable antiques. On the weekends, they also serve coffee flights!
If you're curious about the cheese-making process, you have to plan a trip to the Ellsworth Cheese Factory in Menomonie, WI. Menomonie is just under a 30-minute drive west of Eau Claire. Any 30-minute drive for cheese is totally worth it in our book. When you enter the Ellsworth Cheese Factory, you'll be able to see cheese being made through viewing windows from every angle, shop for cheese to take home with you, and eat some of the tasty cheese-filled offerings from their menu! If you haven't gotten enough dairy yet, they serve real dairy ice cream here too!
Take your sweet tooth out for tasty treats at Casey's Creamery! They will scoop you up a cone of ice cream as high as you'd like it or pop up a bag of popcorn with some really fun flavors. Here's the real treat, though. They make the ice cream about five feet from where they scoop it! That's how you know you are getting the freshest of the fresh! The sweets don't stop there; they have a variety of different goodies that give kids that good ole sugar rush. But, no surprise, this place also sells... you guessed it... CHEESE! With its extensive offerings, Casey's Creamery is a great place to go to make the whole family's taste buds dance with glee. 
You need some cheese slice up yourself at home; maybe even some quality meats to pair with it. This is when Rump's Butcher Shoppe comes in. Rump's has some of the best locally sourced meat and cheese in Eau Claire County. You can throw some cold cuts in your cart to make your own charcuterie board with local cheese or pick up some chicken or beef for your next home-cooked meal. Rump's also sells delicious craft beers, wines, and spices. Sounds like this is the one-stop shop for all the ingredients you may need for your next dinner!
Some prefer their cheese with a nice glass of savory wine. For you wine lovers out there, it may be the opposite way around. Either way, Infinity offers a cheese platter on their menu to nibble on while you sip on your glass of sunshine. Cheese, wine, what more can you ask for? Maybe some good company? Grab your friends for a good time at Infinity!
Helix is a new wine, craft bar and cafe located in the River Prairie business district in Altoona, WI. Their new space is designed to bring people together over good drinks and food. Their small plates menu includes a "boards" option. Guess what kind of board they offer? A CHEESE board! It comes with four artisanal cheeses, a demi-baguette, cornichons, rosemary walnuts and raw honey. Make plans with some friends and try it out!
House of Gouda, a woman-owned and operated business, opened its doors in Eau Claire in 2023 and has had cheese fanatics screaming from excitement ever since. House of Gouda sells awarded winning Gouda cheese that is made at Penterman Farm over in Thorp, WI (not far from Eau Claire). Browse through their Gouda offerings and other dutch goods they sell and find something scrumptious to bring home with you!

Holiday Inn Eau Claire South is centrally located in Eau Claire right of I-94. With a handful of restaurants and attractions nearby, its proximity to I-94 and HWY 53 also makes it easy for you to get to wherever else you go in Eau Claire in less than 15 minutes. Holiday Inn is also home to Johnny's Italian Steakhouse which offers an upscale dining experience for both visitors and locals. Explore their other amenities and book your stay!
Fairfield Inn & Suites by Marriott is located on the north side of Eau Claire right off HWY 53. Their rooms are equipped for a beyond comfortable stay for an exceptional value. After eating lots of cheese, this is the perfect place to come back to relax and unwind. We know that devouring dairy is hard work!
Another great hotel in an incredibly accessible location is Best Western Plus. Their property is located right off I-94 and is nearby several area restaurants and attractions. You won't need to travel far for your cheese fix! 
Find a full list of hotel properties and lodging in our area here!

Day Trips Near Eau Claire, WI Featuring Cheese
If your love for cheese is stronger than anything in this world and you're willing to take a little bit of a road trip, check out Nelson's Creamery in Nelson, WI, Ellsworth Cooperative Creamery in Ellsworth, WI, Marieke Gouda in Thorp, WI, Ellsworth Cheese Factory in Menomonie, WI, and Eau Galle Cheese in Durand, WI.
More Cheese & Dairy in Eau Claire!
Plan your cheese-filled getaway to Eau Claire, WI!