Eau Claire Itinerary for Grandparents & Grandchildren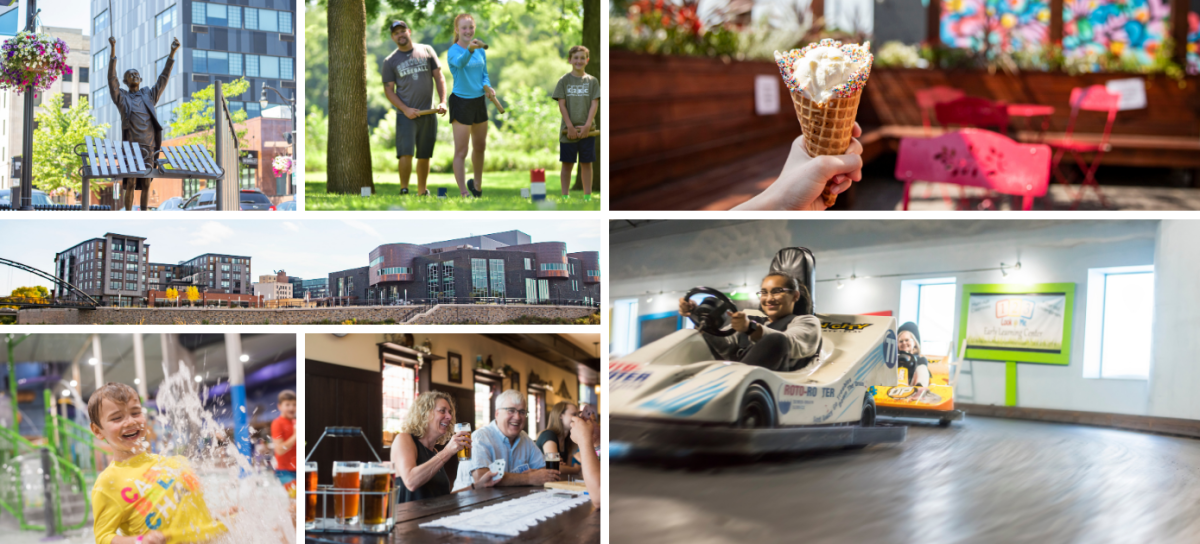 The Eau Claire, WI area is the perfect destination to spend some quality, fun time with your grandchildren or special little ones in your life. Located in the northwestern part of Wisconsin, just 90 miles east of the Twin Cities and a quick road trip from the Madison, WI area, Eau Claire is the ideal location for a getaway that will not only be lots of fun but will also create memories that will last a lifetime too. 
While many of these places are open and operating in the midst of COVID-19, they operate with safety in mind and follow best practices to prevent the spread of COVID-19. While enjoying Eau Claire, we recommend wearing a mask, wash hands, and practice social distancing.
Metropolis Resort & Conference Center: Book your stay at the Metropolis Resort & Conference Center. It is THE place for kids to play in Eau Claire. Metropolis is home to both Chaos Water Park and Action City. The kids can enjoy laser tag, a trampoline park, an arcade and much more at Action City for a day of non-stop fun. When they aren't playing on dry land, they can be making a splash at Chaos Water Park. To keep the party going, throw your very own pizza party with eats from Monkey In The Middle Pizza. All this is right on site, making Metropolis the one-stop-shop for all things family fun.
Ifs & Buts Candy & Nuts: When you want to treat the kids to something sweet, bring them over to Ifs & Buts Candy & Nuts in downtown Eau Claire. This candy shop has sweets from worldwide that you and the kids have probably never even heard of! 
Express Baseball Game: If you have grandkids that live and breathe all things "sports", take them to an Eau Claire Express baseball game in Carson Park. Buy them some peanuts and crackerjacks and sit back to enjoy a perfect summer afternoon with your family. 
Olson's Ice Cream and Ramone's Ice Cream Parlor: Sweet treats don't stop at just candy in Eau Claire. Satisfy those sweet tooth cravings with some ice cream! If you're out walking and exploring downtown Eau Claire, stop into Olson's Ice Cream or Ramone's Ice Cream Parlor for a cone filled with real deliciousness. Each ice cream parlor offers a little bit of something different and plenty of flavors for the crew to choose from. Keep an eye out for some of Eau Claire's iconic murals too!
Beaver Creek Reserve: This one is for the nature lovers! Beaver Creek Reserve is a premier environmental, educational, and recreational complex that is open year-round and is home to many different activities for any age. The reserve has an interactive nature center, 9 miles of trails, a seasonal Butterfly House and much more to add to a long list of things to see here. Make your trip to Eau Claire one filled with discovery and wonder!
Irvine Park & Zoo: Irvine Park & Zoo is just a short drive away over in Chippewa Falls, WI and is definitely worth the visit. While many zoos tend to be busy and crowded, that is not the case here. You and the kids will love a picnic and an afternoon of learning about animals here.
Children's Museum of Eau Claire: If you have younger grandkids, they would love a visit to the Children's Museum of Eau Claire. Currently, they are in a temporary location as their new building is getting built in downtown Eau Claire. Nonetheless, there is so much for the kiddos to see, do and learn here. Plus, once you experience it once, you'll have to plan another trip to Eau Claire when their new building is complete so you can do it all again!
Carson Park: A visit to Carson Park at any season is nothing short of pure fun! There's so much to do! You can play a game of horseshoes with the kids, let their imaginations fly while they run around the playground, or you can even catch a small train ride on the Chippewa Valley Railroad. 
Wagon Ride at Cabin Ridge Rides: Take the little ones on a horse-drawn wagon ride through the woods at Cabin Ridge Rides! You all will enjoy some quality bonding time while taking in the natural sights of northwestern Wisconsin as you weave in between trees all while being lead by a beautiful horse. 
Traditional Tea Ceremony at MingXin Chinese Cultural Exchange: Add some culture to your trip to Eau Claire! MingXin Chinese Cultural Exchange is a tea room that offers tea tastings and tea ceremonies. You'll get to taste some delicious teas while also learning quite a bit about Chinese culture. Before you leave, browse through their pots, wares, and authentic teas they have for sale too!
Chippewa Valley Museum and Wisconsin Logging Camp: When you want to learn more about the history of Eau Claire and even the whole state of Wisconsin, pay a visit to the Chippewa Valley Museum and the Wisconsin Logging Camp. They both are located in Carson Park adjacent to one another. The Chippewa Valley Museum will teach you and the kids why Eau Claire is the city it is today while the Logging Camp will show you how large of an impact the logging industry had on our city and our whole state way back when!