Things to Do in Eau Claire, WI for Students
Your time at school is more than just research, presentations, essays, and exams; it also includes exploring your new environment, making new friends, and getting to know who you are! When you log off and put the textbooks away for the day, there's a whole other side of Eau Claire that's waiting for you to experience. So grab your roommates, classmates, teammates, and friends, and set off into the Eau Claire area for local food, shopping, outdoor adventure, and more ways to explore the culture surrounding Wisconsin's most beautiful campus.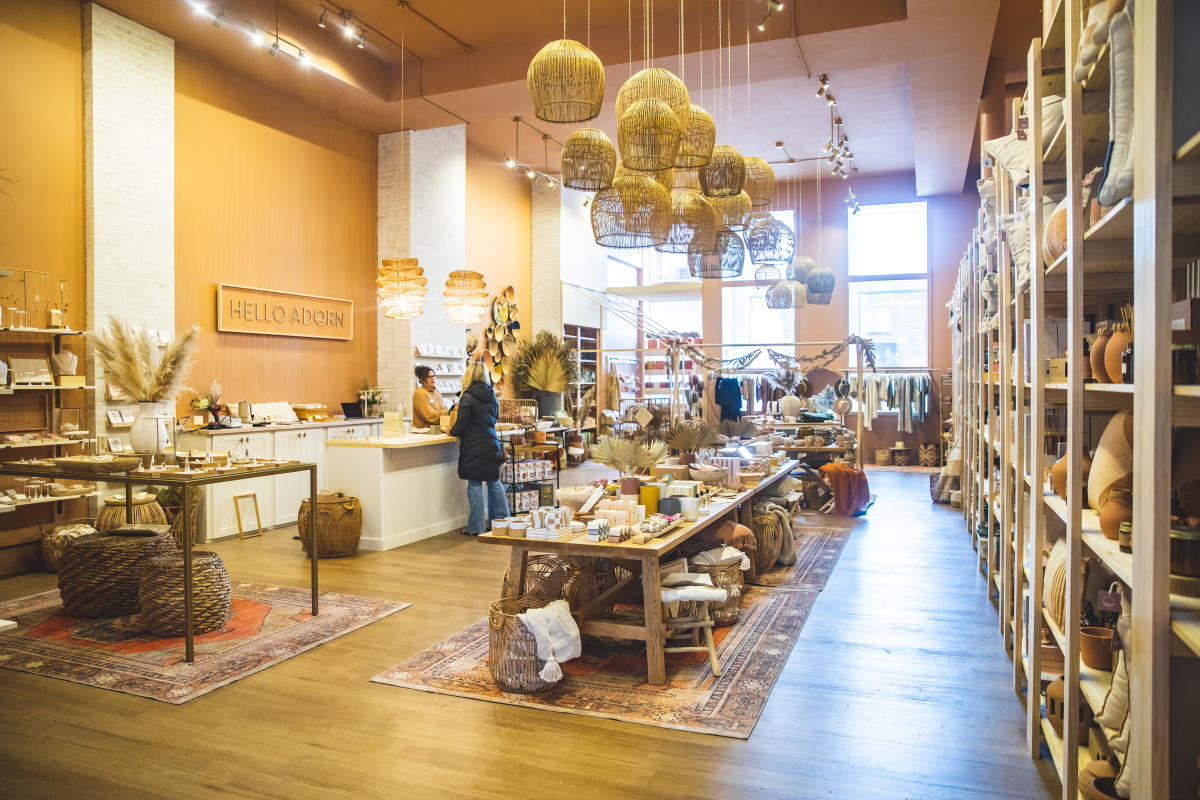 Find keep-sakes to remember your college experience at Eau Claire's unique shops! Pick out matching bracelets with your roommates or friends at Hello Adorn or Token Jewelry. Get trendy Eau Claire-themed gifts and souvenirs at The Local Store, or add to your vinyl collection at Revival Records downtown. Click here to see the full list of places to shop in Eau Claire!
What better way to spend warm days than on the river?! Explore the city by water, and bring your tubes to float down the Chippewa River. We recommend starting your journey at the confluence in Phoenix Park and floating downstream until you reach the UW—Eau Claire campus. If tubing isn't your thing, kayak with your crew throughout the city, and take in the beauty along the way!
There definitely is such a thing as a "good pair of hammock trees," and Owen Park is filled with them! Relax among the trees after class, or spend your summer Tuesday nights in the park at the Tuesday Night Blues concert series. For more epic places to hang your hammock in Eau Claire, click here!
Channel your inner farmers market character at the iconic Eau Claire Downtown Farmers Market. From early May to late October, spend your Saturday mornings in Phoenix Park filled with local vendors, live music, food trucks, and the best vibes that always fill the soul. For a complete list of local vendors and dates for the season, click here.
Take a break from the city, and pack your towels, hiking shoes, and fishing poles, and explore the beauty of Big Falls County Park. Located just a short drive outside of Eau Claire, this hidden gem is filled with walking and hiking trails, beautiful waterfalls, sandy beaches, places to picnic, and more. Spend the afternoon fishing, wading in the water, or taking in the views at Big Falls.
Need to spice up your Instagram feed? The murals throughout Eau Claire can help you out! Stroll through downtown, and pose in front of some of Eau Claire's most iconic murals including "Cascade," "Bon Iver 22 a million," or "Sanctuary." If you can't get enough of the mural art, check out the work from local and visiting artists on Color Block or the murals at Artisan Forge Studios. Visit our blog highlighting all the Insta-worthy murals in Eau Claire, here!
Located at the heart of downtown Eau Claire, the Pablo Center at the Confluence hosts music, theatre, and art events year-round. Stay in touch with acts coming to Eau Claire each season, and secure your tickets ahead of time. Spend an evening having dinner at one of Eau Claire's downtown restaurants, and catch a concert with your friends!
Explore all that Carson Park has to offer in the hub of Eau Claire! In the spring and summer, cheer on the Express team at an Eau Claire Express baseball game. Spend an afternoon on the water at Half Moon Lake by fishing or kayaking. Visit some of the most-loved sculptures on the Eau Claire Sculpture Tour, or learn about the history of Eau Claire and the Chippewa Valley at the Chippewa Valley Museum and Wisconsin Logging Museum. Click here to see every way to experience Carson Park in Eau Claire!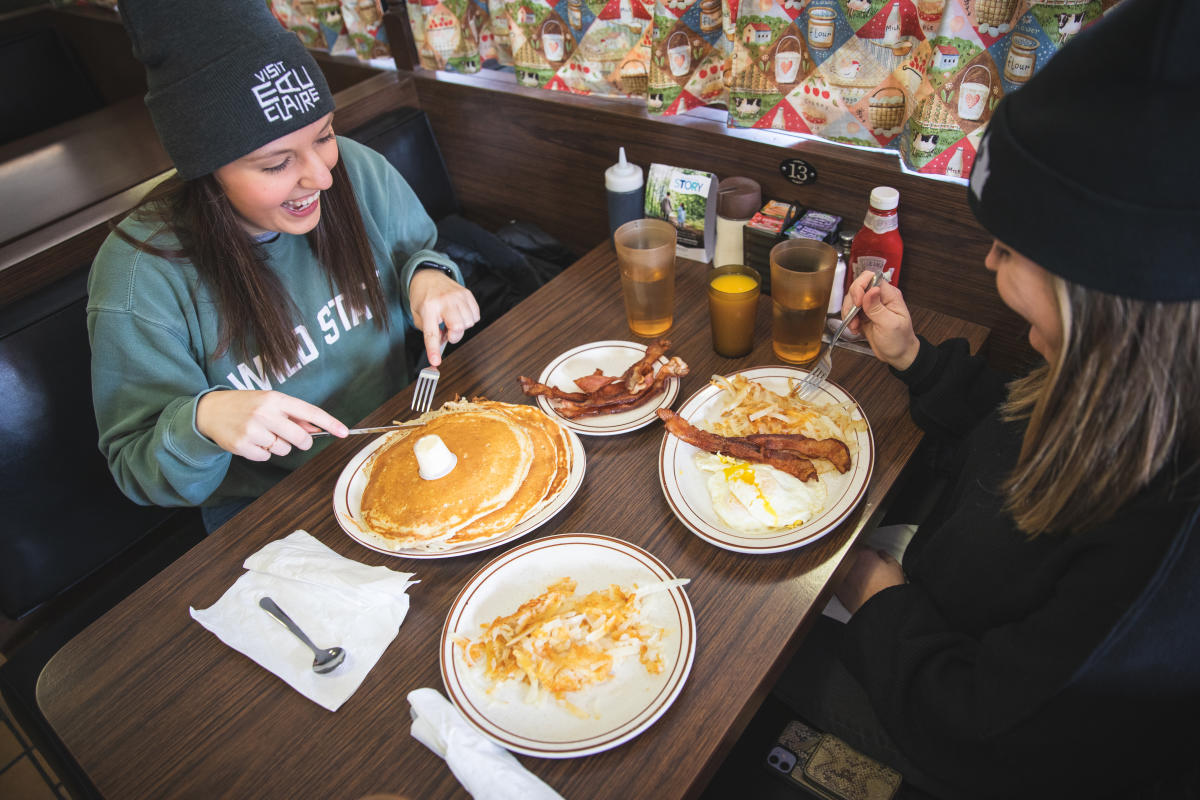 Affordable Options
Court'n House is located on West Grand Avenue and has been a long-time favorite to Eau Claire's locals and students. They're known for some of the best burgers and fish fries in town and is just a short drive or walk from campus. Celebrate making it through another week of classes with friends on a Friday night at Court'n House!
When you're in need of a cozy, home-cooked breakfast, look to Chick-A-Dee's Family Restaurant. This cute little cafe is casual, delicious, and truly a hidden gem in Eau Claire. Start your day off with crispy-on-the-outside and fluffy-on-the-inside pancakes, tasty omelets, and some of the best hashbrowns in town— all at an affordable price. 
This restaurant serves some of the area's best Thai, Hmong, Vietnamese, and Chinese food, and it is not one to skip out on. Known for their crispy egg rolls, stir fry dishes, and Pho, Egg Roll Plus satisfies all your Asian food cravings. Egg Roll Plus is take-out only, so take your grub over to Phoenix Park, and have a picnic in the park overlooking the Chippewa River! For more international foods in Eau Claire, click here.
Nothing compares to eating a sub sandwich at the beach or in the park! Jay Ray's Deli is one of Eau Claire's favorite local spots to get unique sandwiches to-go. On a warm, sunny day, pack a beach bag, grab a sandwich from Jay Ray's, and spend the afternoon with friends at Half Moon Beach!

Water Street Faves
What once was just a food truck, California Tacos opened its storefront on Water Street in 2022 and serves authentic Mexican food. They keep it simple with a 10-item menu and are known for their birria tacos, ramen, tortas, and other daily specials. Celebrate taco Tuesdays on your way home from class at California Tacos!
Another location that is close to campus and has a great atmosphere is Dooley's Pub on Water Street. While they are a classic Irish pub serving traditional Irish dishes, Dooley's is a prime location to watch sports games and enter to win Wisconsin sports teams gear like Milwaukee Bucks jerseys, Wisconsin Badgers swag, and even UWEC clothing! 
Who said fast food isn't healthy?! Fast Fuel has relocated to Water Street, and they offer juices, protein bowls, salads, wraps, and more, all made with locally-sourced, fresh ingredients. This shop is designed to get quick grab-and-go meals that are filling and convenient. When you're running short on time on your walk to class, count on Fast Fuel to find nutritious options that you don't have to wait for!
If you're looking for a chill spot to wind down after a week of classes, take your friends to Mogie's for tasty food within walking distance of campus. We recommend ordering a few appetizers to split with your crew— the Spuds O' Plenty and Cheese Curds will not disappoint! 

ECDC (Eau Claire Downtown Coffee) is the ultimate place to get into study mode in downtown Eau Claire. Fuel up with their full coffee, breakfast, lunch, or grab 'n go menu, and even receive a student discount when showing your student ID! Take advantage of their communal workspace, and switch up your study spot to ECDC!
Kahvi is a modern, Scandinavian-style coffee house located on the south side of Eau Claire. Their delicious coffee menu, outdoor patio, and stunning interior make Kahvi the perfect place to take a break from campus and reset with your coffee-loving friends. They even have a dog-friendly patio so that your furry friends can keep you company!
Nothing says vintage and charm like Racy's Coffee Lounge on Water Street. Racy's is connected to The Nucleus Cafe, and together, they serve the local's favorite breakfast and coffee options in Eau Claire. Located close to campus along the Chippewa River State Trail, stop in for a steady session, and say hello to Earl the turtle at Racy's!
If you're an avid bike rider, Shift may be your new favorite place in town. This coffee bar doubles as a bicycle repair shop, creating the grooviest, coziest lounge in downtown Eau Claire. Shift makes delicious coffees and latte art that's almost too pretty to drink! If you're craving a study snack, order one of Shift's tasty waffles to power you through your homework.
The Goat Coffee House is located close to campus on Water Street and is the hub for students needing a cup of joe on their morning walk to campus. This cozy little shop is filled with friendly baristas serving various brewed coffee drinks, breakfast options, lunch sandwiches, salads & soup, and more. The perfect coffee shop within walking distance to UW–Eau Claire!

Beyond Campus
Take a break from all the on-campus action, and get a taste of Eau Claire's true cuisine at Northern Tap House! You can't go wrong with any of the choices on their menu. The Eau Claire local foodies have voted Northern Tap House as the best place for wings AND cheese curds. Other honorable mentions to order at Northern Tap House include their specialty pizzas, burgers, and walleye fish fry! 
Escape from the downtown and Water Street hot spots, and experience a whole new slice of the Eau Claire area in River Prairie. Get a taste of summer at The Island Parkside or find traditional American menus at 44 North and Cowboy Jack's, and get a relaxing, casual dining experience on their outdoor patios. For a complete list of restaurants in River Prairie, click here. 
Located in the heart of downtown Eau Claire, The District has a menu full of delicious options like pizzas, wings, burgers, and more! The District is located right next to the Haymarket Landing bus stop, making it an easy restaurant to travel off campus to if you don't have a car!
#CaptureEC #EauClaire #UWEC