Phoenix Park
Phoenix Park, located at the heart of downtown Eau Claire, is the hub for all things "Eau Claire". It stands right along the banks of the Chippewa River and is the place to go when you want to soak in some of the best natural sights in the entire city and have a variety of different things to experience. Make Phoenix Park a part of your time in Eau Claire with this list of all the things you can do here. 
Things to Do
The Eau Claire Downtown Farmers Market takes place at the pavilion in Phoenix Park each summer and it is the perfect way to explore the park. From May through October, Phoenix Park is the place to go for bright blooms, fresh fruits and vegetables, and your traditional Farmers Market fun. 
Phoenix Park is the place to be when it comes to going floating down the Chippewa River. That's because the confluence of the Eau Claire and Chippewa Rivers happens to be in Phoenix Park making it the perfect spot to launch your tube in the water. Phoenix Park even has a pump for you to use if you need to give your tube a good pump before you get your float on. 
Did you know that Eau Claire is called "The City of Bridges"? A trip to Phoenix Park will prove why. If you stand in Phoenix Park and face south (towards the Pablo Center at the Confluence), you'll be able to see 4 bridges; the Phoenix Park Bridge, The Haymarket Plaza Pedestrian Bridge, Grand Avenue Bridge, and Lake Street Bridge are all visible from here.
While Eau Claire's Sculpture Tour sculptures are scattered throughout all of downtown Eau Claire (and other locations throughout the city), a handful of them can be found in Phoenix Park. See how many you can spot! 
Have a picnic
As we said, Phoenix Park is home to some of the best scenic views in Eau Claire. That means these views are the perfect setting for a little picnic! Whether you're going for a romantic candle-lit picnic vibe or just want a place to sit down with your buds and eat some sandwiches, Phoenix Park is the place to bring your picnic blanket and basket. Discover some of the other ideal places to picnic in Eau Claire with our "Best Places to Picnic in Eau Claire" blog. 
Do the Eau Claire Planet Walk
The Planet Walk is a model of the solar system (but much, MUCH, smaller in distance than in actual outer space) and it starts in Phoenix Park. There is a 16-inch sun near the kiosk in the Farmers Market area and this marks the spot where the walk begins. Continue your walk along the river and you can visit each planet by reading each planet plaque you see. The entire planet walk will take you near the Haas Fine Arts Building on UW-Eau Claire's campus (approximately a 1-mile walk).
Both the Chippewa River State Trail and the Old Abe State Trail pass through Phoenix Park. Hit the trails by foot or by bike to explore Eau Claire further or even our neighboring counties. Both trails extend for miles, so if you're really up for it, you can get pretty far! Keep in mind that if you use the trails to bike, you must have a state trail pass. 
You can't visit the Kubb Capital of North America and not play the game. Yes! Eau Claire, WI is indeed the Kubb Capital of North America. The open, grassy areas in Phoenix Park are a great place to set up your pitch and play during any season. Learn more about Kubb here!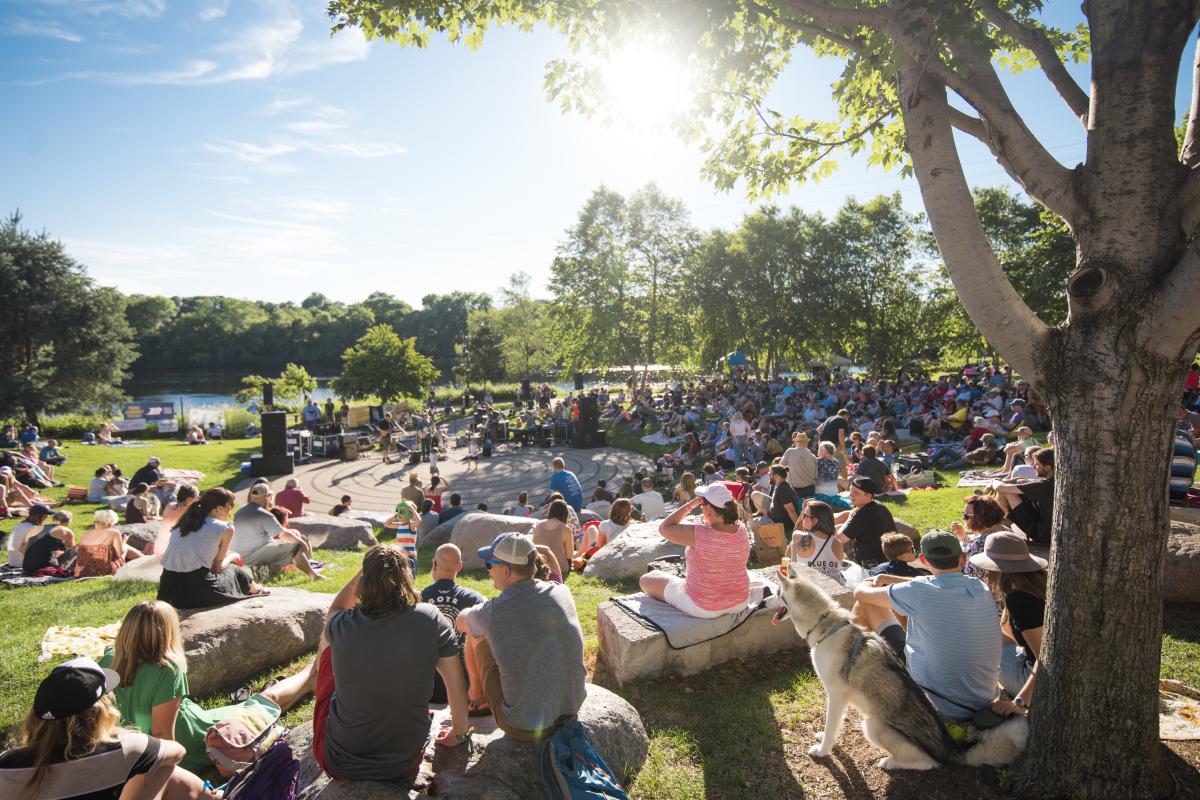 Annual Events
Dig In at Food Truck Fridays
Food Truck Friday is exactly what it sounds like: a bunch of food trucks lined up in a row at Phoenix Park and a bunch of hungry people ready to dig in. Find what's cookin' and when at Volume One and come hungry!  
Every Thursday night from June-August is a party down at Phoenix Park. Volume One's Sounds Like Summer Concert Series brings people together from near and far to enjoy live music by local artists right along the Chippewa River. Grab your friends, a blanket to sit on, and some comfortable shoes to dance in because Thursdays are a real party down at this park. 
Watch the fireworks on the 4th of July
When it comes to watching the fireworks on Independence Day, you don't exactly need to spend a long time searching for the perfect spot to lay down your blanket or set up your lawn chairs. There are quite a few REALLY good spots to watch the fireworks from in Eau Claire and Phoenix Park happens to be one of them. Find out why with our "Top Five Places to Watch the Fireworks in Eau Claire" blog. 
Explore Phoenix Park!
Tag us in your photos @visiteauclaire or use #CaptureEC!