Vacation Like A Local Itinerary
If there's anyone out there that is an expert on the best things to do in Eau Claire, it's the locals. Eau Claire's people are the heart of our community and they have made Eau Claire into the city it is today. This Eau Claire itinerary encompasses all the activities locals know and love and would recommend that you experience on your trip to get an authentic taste of our city. Browse through the different things to do, places to eat and recommended places to stay to keep close to all the action.
The downtown Eau Claire farmers market is open from May through October every year and takes place at the pavilion in Phoenix Park. Find weekday and weekend hours here. Come chat with our local vendors and farmers and fill your bag with some fresh produce! 
Find live music
One thing there is no shortage of in Eau Claire is live music. During the warmer months, you can find outdoor concert series almost any night of the week in our area. Eau Claire is home to Tuesday Night Blues in Owen Park and Volume One's Sounds Like Summer Concert Series on Thursday nights. River Prairie hosts Kickin' It Country, Rock'n On The River, and Music at the Plaza on different weekday nights at their park too. On top of all that, stumbling upon a band at a local restaurant is a common occurrence. Browse our event calendar to help find where you can find live music in our area.
Did you know that baseball legends Hank Aaron, Bob Uecker and Joe Turre once dominated the field right here in Eau Claire's very own Carson Park? Today, Carson Park is home to the Eau Claire Express and attending one of their home games is always a summer bucket list item for the locals. Their season kicks off every Memorial Day Weekend and wraps up in August. Find their home schedule here and plan a game or two to attend!
Tube or kayak down the Chippewa River
In French, Eau Claire translates to "clear water". Our city got its name based on the rivers that surround our community. Being that water is a large part of our culture, we put it to use! One of the best things to do in Eau Claire during the warmer months is tube/kayak down the Chippewa River. Find out how locals float the river here and explore all the kayaking opportunities in our area here.
Eau Claire is home to the #1 largest sculpture tour in the nation and our locals help us spread that message with pride! When strolling our streets, you'll spot several different sculptures made by both local and international artists. Sculptures do get rotated and switched out each year (minus the People's Choice sculptures) so you can always expect to see something new every May after the annual installation date. Find a map of the tour here and vote for your favorite piece!
What's more local than sipping on a locally crafted beer? Spend some time exploring some of our local breweries! Rain, snow or shine, the breweries in Eau Claire offer a great atmosphere for catching up with friends or spending quality time with family. Just 20 minutes up the road is also the infamous Leinenkugel's Brewery in Chippewa Falls. If you're looking for a great brewery tour, Leinie's has it!
Eau Claire takes this leisurely lawn game pretty darn seriously. We are the Kubb Capital of North America after all. So obviously, you can't spend some time in Eau Claire without learning how to play. You can borrow a kubb set for free at a variety of Eau Claire hotels and establishments (find a list here). If you get super good at it, come back and visit us in July when we host the annual U.S. National Kubb Championships. 
Our city is home to over 70+ miles of connected bike trails that can take you from Eau Claire into our surrounding cities like Durand, Chippewa Falls, Menomonie and several others. If you're a big biking enthusiast, explore all of our different trails here. We are a very bike-friendly community, so if you're looking for a nice leisurely ride while exploring the city, get ready to strap on your helmet and be ready to roll!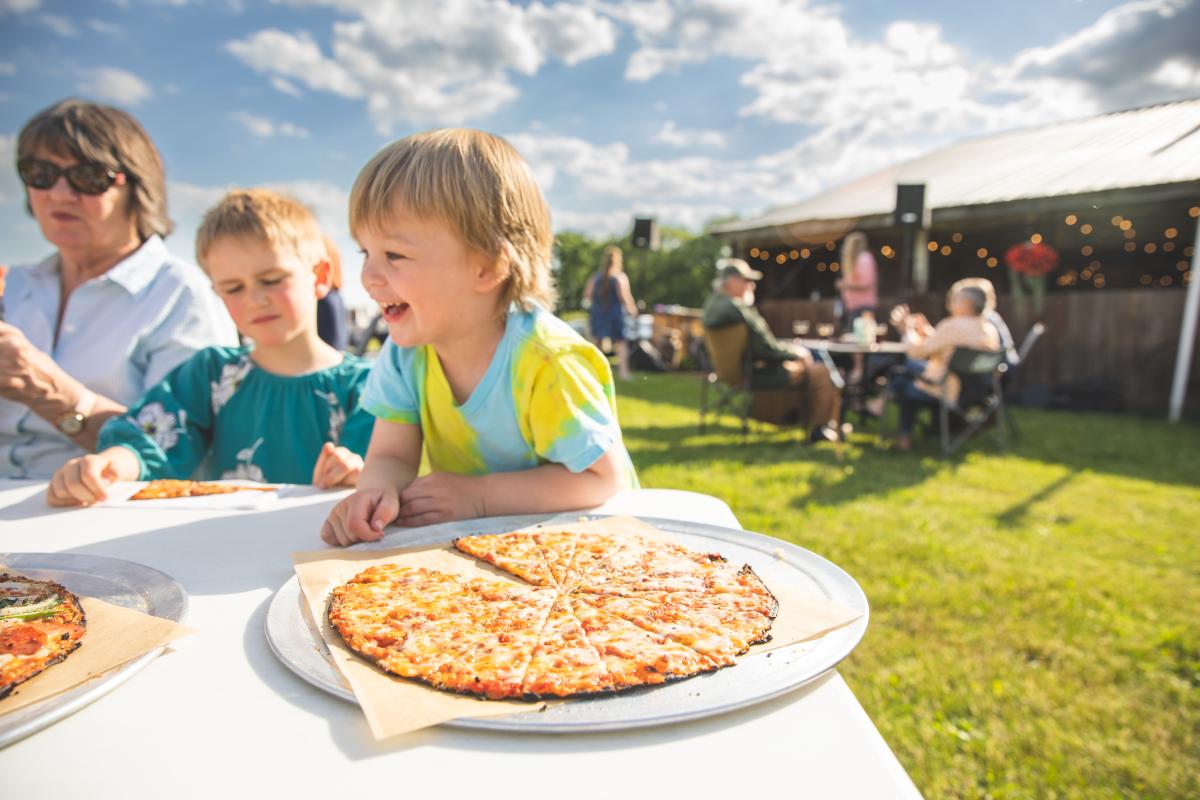 Coffee & Breakfast
Kickstart your morning in Eau Claire with a hot (or cold) cup of coffee. The locals love to grab a quick cup from places like SHIFT and ECDC in downtown Eau Claire. The French Press and The Coffee Grounds are great places to sit down with your coffee and enjoy a delicious breakfast. Randy's Family Restaurant is packed with hungry customers all the time because locals love their all-day breakfast menu. Check out the Nostalgic Bean in Altoona, WI for authentic french pastries that will leave you in a sweet mood for the rest of the day. Explore more coffee shops in our area here and see a long list of recommended restaurants for brunch here!
Lunch
The possibilities are endless when it comes to choosing where to get a good lunch in Eau Claire. If you're unsure of what you're craving and everything sounds good, go to Northern Tap House. Locals rave about everything on their menu. Pizza, burgers, wings... it's all good here! When you can't get your mind off a juicy burger, try Court'n House or Valley Burger. Looking for lunch with a nice outdoor patio and scenic view? Grab lunch at 44 North in River Prairie! Sometimes you want a quick to-go option but that doesn't mean you should be pigeonholed into fast food chain restaurants. Order a tasty sandwich from Jay Ray's or Eau Claire Cheese & Deli or indulge in some Asian cuisine by placing a to-go order from Egg Roll Plus. 
Dinner
That brings us to dinner! Head to The District for dinner and follow up with drinks just around the corner at The Fire House. Find an incredible happy hour, fantastic atmosphere and tasty dishes at the Cowboy Jack's in River Prairie. Satisfy your Mexican food cravings with dinner and perhaps a margarita at Cancun! Keep things simple with dinner at Eau Claire's oldest bar, the Amber Inn, or treat yourself to a fine dining experience at Mona Lisa's. Discover our area's local farms with burger night at Together Farms or pizza at Farm to Fork at Dancing Yarrow! Browse through all the different restaurants in our area here.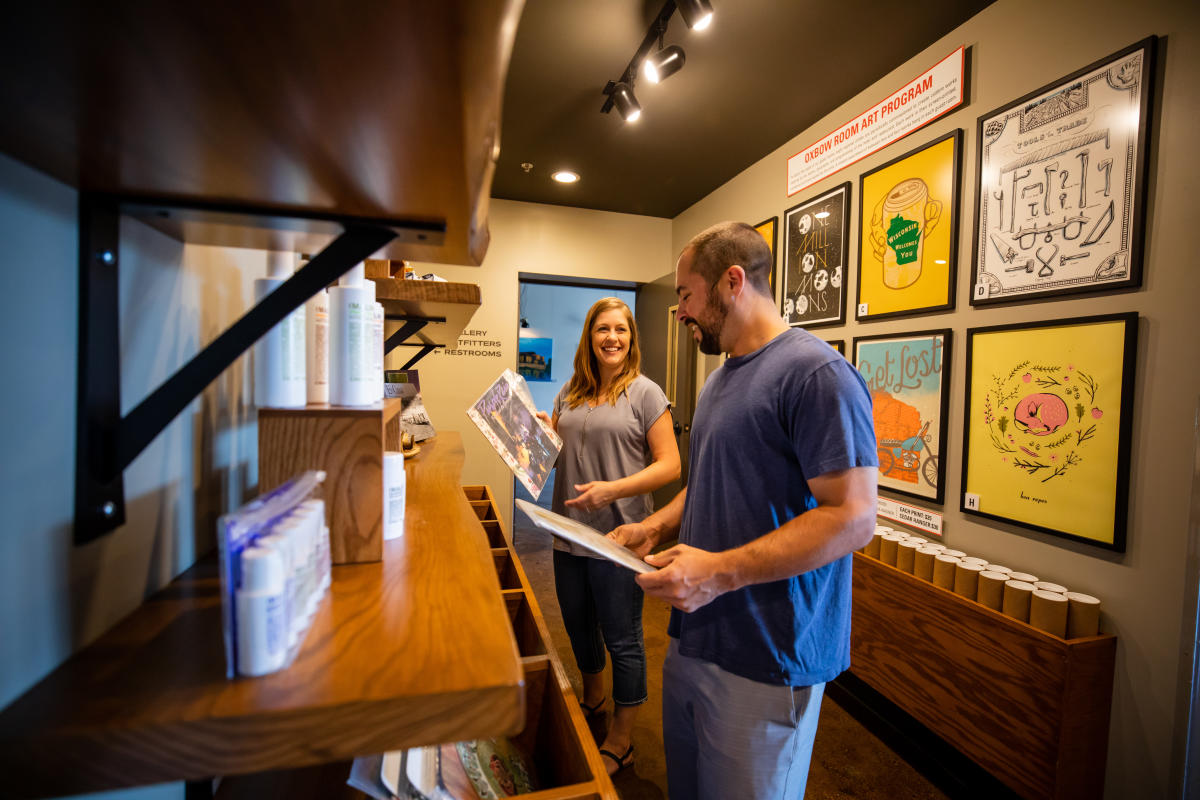 The Oxbow Hotel in downtown Eau Claire is a great place to stay if you want a taste of what our locals value. Art is very near and dear to Eau Claire's heart. At the Oxbow Hotel, you'll see a vinyl library in the lobby and a record player in your room along with midwest art adorning the room walls. The Lakely, a cocktail lounge and restaurant, is also located right on site and serves as a hub for live entertainment and social gatherings. 
The Lismore is another hotel located right in the heart of downtown Eau Claire. While you'll be close to all the action, the Lismore is also home to a handful of other properties that locals frequent often. Expect to find students and business professionals studying or working at ECDC, foodies dining at The Informalist, and friends and family gathering for drinks at The Dive. 
One place you can always expect to find locals loving is River Prairie. Located in the River Prairie business district is Staybridge Suites. A stay here will leave you close to all the wonderful things River Prairie Park has to offer from incredible restaurants to fun things to do outdoors. 
#CaptureEC #EauClaire #VisitEauClaire