Winter Bucket List
What Eau Claire winter lacks in warmth, it makes up for in beauty and adventure. With an abundance of outdoor ice rinks, lively events like Let it Glow and the Silver Mine Ski Invitational, as well as plenty of land to explore on snowshoes, Eau Claire is the perfect haven for winter family fun or just a weekend getaway. Here are the top things you have to try in Eau Claire this winter:
1. Sip on some hot cocoa during a Christmas tree lighting
Eau Claire looks like a scene from all of your favorite Christmas movies during the holiday season. Get into the holiday vibes by attending one of the Christmas tree lightings in the area, such as Chirstmastime in the City. Of course, Eau Claire doesn't just leave it at lighting a tree. There is also entertainment, hot cocoa to keep you warm and, of course, tons of Christmas music to really get you in the holiday spirit. Luckily, it'll still be early enough in the season that you won't be sick of the music just yet!
2. Shop for presents in Downtown Eau Claire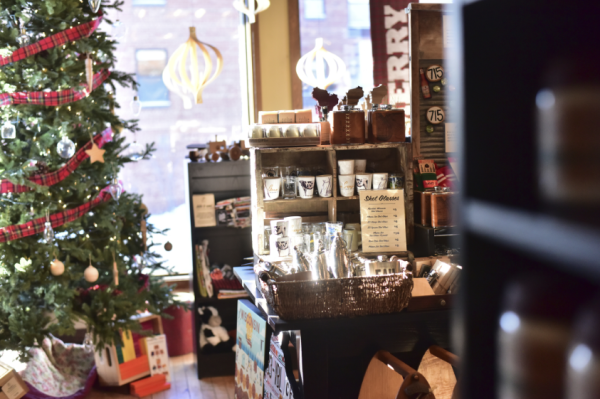 Downtown Eau Claire is the prime place for present shopping. There is sure to be a local gift that everyone on your list will love, and you will never have to risk getting your loved ones the same thing as someone else. For the music lovers, grab a record from Revival Records. For the art lovers, find an original piece of work at Tangled Up In Hue. For the gamer, Eau Claire Games and Arcade will be perfect. If you're just looking for a great variety, The Local Store is guaranteed to have everything you need. If you just want to spend the day browsing around, Banbury Place has a huge variety of shops that will be sure in inspire.
3. Have a "lit" night in Phoenix Park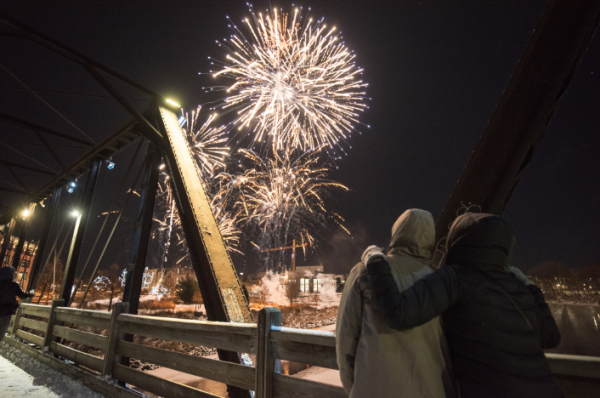 Head downtown to Phoenix Park to see the annual event, Let It Glow! Witness the trees become magically lit as you sip on free hot chocolate while waiting for a horse-drawn carriage ride. Immediately after the lighting of the trees, head over to Grand Ave to watch the festive floats of the Clearwater Winter Parade go by. Just wait, the night gets even better! After the parade, light up the rest of your night with the fireworks set off on the Grand Ave walking bridge. It may be a chilly night, but all of these wonderful festivities will warm your heart. 
4. Take on a sledding hill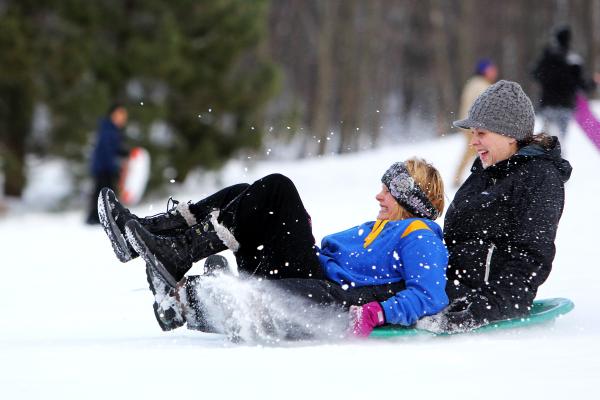 Let out your inner-child at one of the many sledding hills in Eau Claire. Brave it down the huge hill at Pinehurst Park at Winter After Hours or take on a smaller one to get started. Either way, if you're looking for a day full of laughter, sledding is the way to do. Just don't forget your snow pants. 
5. Master ice skating
Sledding and ice skating? You bet. There are plenty of parks that offer outdoor ice skating rinks, and this is the perfect way to spend a winter day in Eau Claire. By the end of the season, you'll be twirling circles around the rink. Disclaimer: there may be a few small slips in between.
6. Go on a winter hike with some snowshoes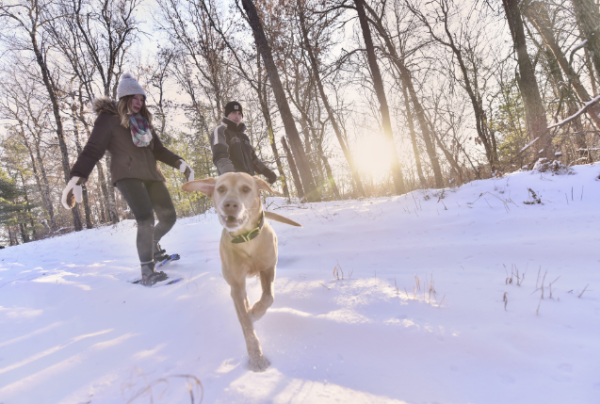 Just because there is snow on the ground doesn't mean all of the trails in the area close down! If anything, they're the best in the winter months. All you have to do is grab your snowshoes and start exploring. Plus, your furry friend is sure to enjoy the time out of the house. 
7. Try out ice fishing 

Spending the day at the lake in the middle of winter? You bet. Get your biggest catch of the year during ice fishing season. Bring some friends, some gear and some really warm clothing, and you're good to go. There's nothing more memorable than a day spent on the lake. Plus, you can even attend Jig's Up Ice Fishing Contest. Feeling confident you could take home the gold? 
8. Play a game of winter kubb 

You think Eau Claire could go all winter long without a game of kubb? Of course not. The great thing about kubb is that you can just set up a game right on the snow and start playing. 
9. Catch a show at Pablo Center at the Confluence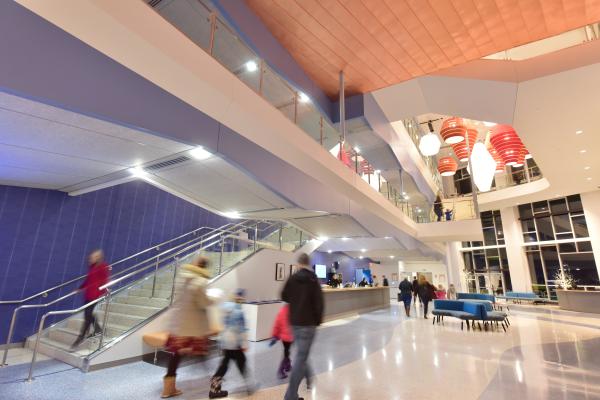 After a day of outdoor fun winter activities, slow things down by catching a show at Pablo Center at the Confluence! From local bands to traveling Broadway shows, the extraordinary Pablo Center at the Confluence houses it all. Head over to the event early and try a local drink from one of the multiple bars within their lobby. An evening here will be one that leaves you wanting to come back for more.
Well, there you have it. A list of must-do winter activities in Eau Claire. Have fun exploring the city, getting outside and making memories.