Experience a piece of Italy right here in Eau Claire with the area's masters of wood-fired pizza! Get a slice of the wildest pizza topping combinations, cooked to perfection in brick ovens, at breweries, wineries, bars, farms, and food trucks all throughout the Chippewa Valley. Find out all the best places to get wood-fired pizza in Eau Claire!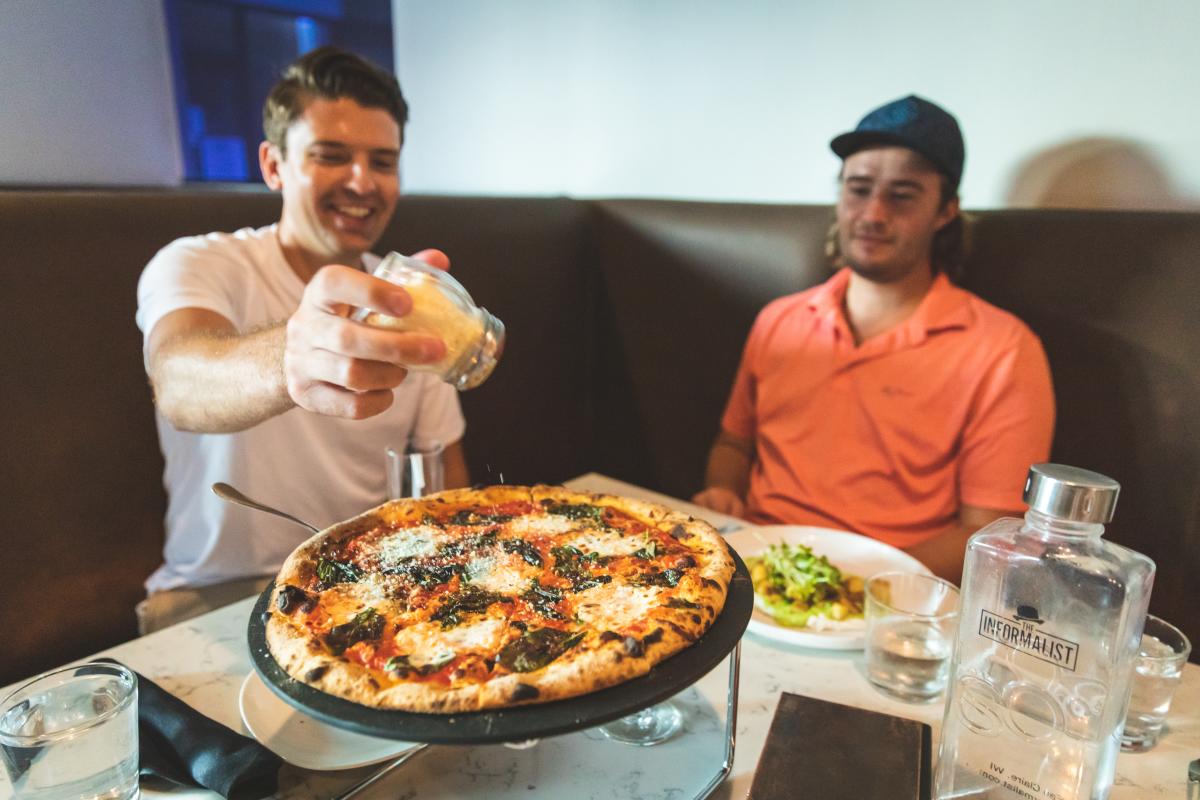 Eau Claire
There's no such thing as "too much pizza" at this new pizza shop in downtown Eau Claire. Cast Iron Pizza has a menu filled with unique, gourmet pizza pies with plenty of vegetarian, vegan, and gluten-free options. All of their cast iron pizza skillets are seasoned with roasted garlic and basil-infused oil, and many of their toppings and salad bar ingredients are locally sourced from area producers.
The husband and wife pizza-making duo at CoVizza have mastered the art of divine and one-of-a-kind pizzas. CoVizza offers pizza by the slice or the full pie, and they cook based on limited online orders. Try their delicious and unique weekly specials, pizzas permanently on the menu, and even their vegan pizza option!
The Informalist is known for their wide variety of seasonal and house specialty pizza orders! When staying in downtown Eau Claire at the Lismore Hotel, grab a nice dinner at the Informalist for some of the best pizza and drinks in town.
For a sports bar environment, check out Northern Tap House for amazing stone-fired pizzas! All of their pizzas are hand stretched to about 12 inches and use the freshest ingredients. Build your own pizza masterpiece, or select an option off the menu like the Garbage Pizza, Spicy Bourbon, Brussels Sprouts & Bacon, and more. Stop in on Wednesdays for wood-fired pizza specials at Northern Tap House!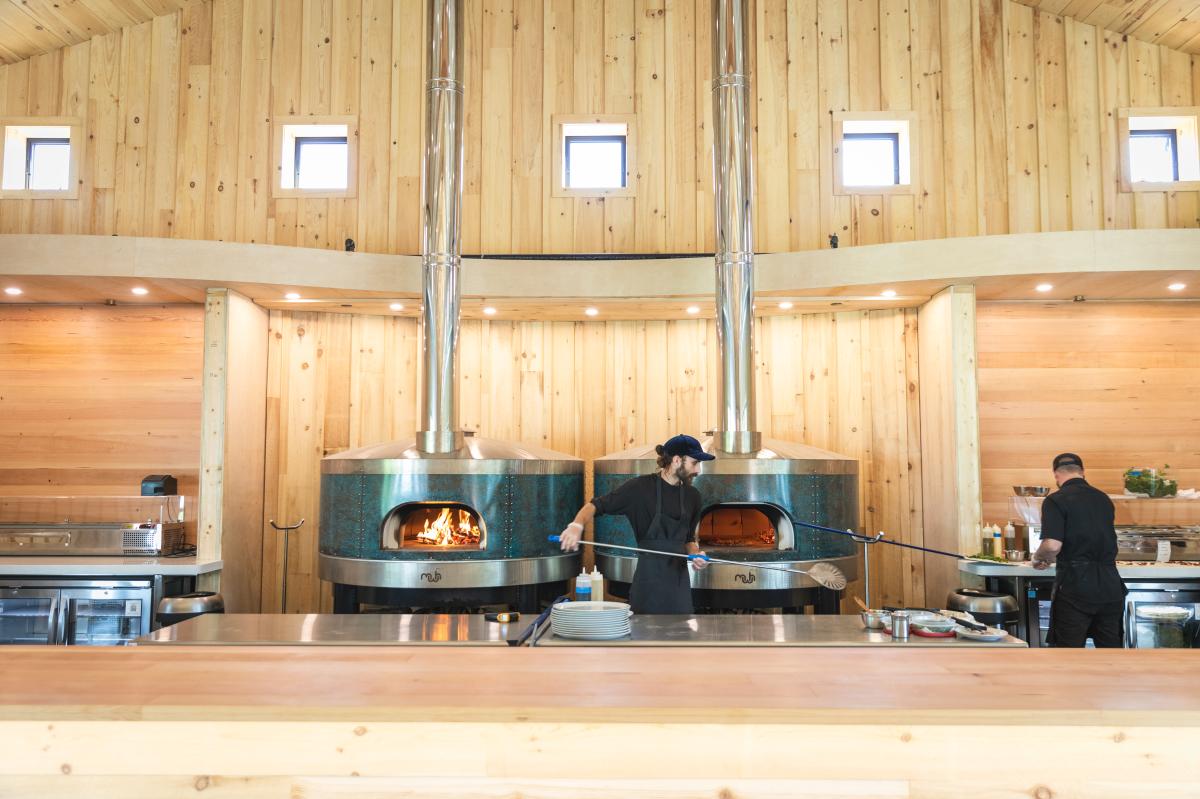 Beyond Eau Claire
The Barn Again Lodge is located outside of Mondovi, WI, and it is truly an outdoor sanctuary. Every Wednesday from mid-May through the end of September, gather at the barn for pizza night and live music! The Barn Again Lodge is a family-friendly, dog-friendly, and accessible environment with some of the tastiest pizzas in the area and the most memorable summer evenings. 
This pub is located right across the street from the famous Leinie Lodge in Chippewa Falls, WI, and we're not kidding when we say you'll have some of the best pizza ever here! After you've had a taste of Leinenkugel's beer flavors, stop over to the Blue Marble Pub for dinner at this prohibition-themed restaurant. 
Take a drive through Mondovi, WI, to experience a pizza night at Dancing Yarrow + Farm to Fork Retreat. Every Thursday throughout the summer, get a taste of delicious wood-fired pizza made with fresh, local ingredients, and enjoy live music on the lawn. This rustic pizza barn doubles as an event venue and is a little slice of paradise in the hills of Buffalo County!
On your day trip to Osseo, WI, be sure to make a pitstop just off of I-94 at Foster's Fireside for some of the best wood-fired pizza in the area. At the right seat, you can get a full show of the pizza dough being tossed in the air, and ingredients being sprinkled on, and you can even see it cooking right in the oven! They have a pizza for everyone whether you're a pickle lover, Big Mac enthusiast, Alfredo-obsessed, or just want the basic meats & veggies.
Get your beer and pizza fix at Lucette Brewing Company in Menomonie, WI! This place is special to us, not only because they create incredible pizza flavors, but their brewery is named after the iconic Paul Bunyan's past lover, Lucette. While you're getting your pizza grub on, be sure to check off Lucette Brewing Company on your Eau Claire Brew Pass!
The wood-fired pizza artisans of the 715 can be found at The Stone Barn in Nelson, WI. While the drive is about an hour from Eau Claire, the pizza and backroads views are totally worth the adventure. Choose from a variety of specialty pizza combinations and a gluten-free crust option. Say hello to the goats on the farm, and top your dinner off with ice cream for dessert!
Experience the charming Vino Cappuccino Artisan Bistro, just outside of Eau Claire in Elk Mound, WI. Not only can you choose from various wood-fired pizzas, but they're also known for their coffee drinks and wine sampling (hence the name, Vino Cappuccino). Enjoy the laid-back atmosphere on the grounds at Vino Cappuccino during the summer months, and catch some art, music, and history of the Chippewa Valley!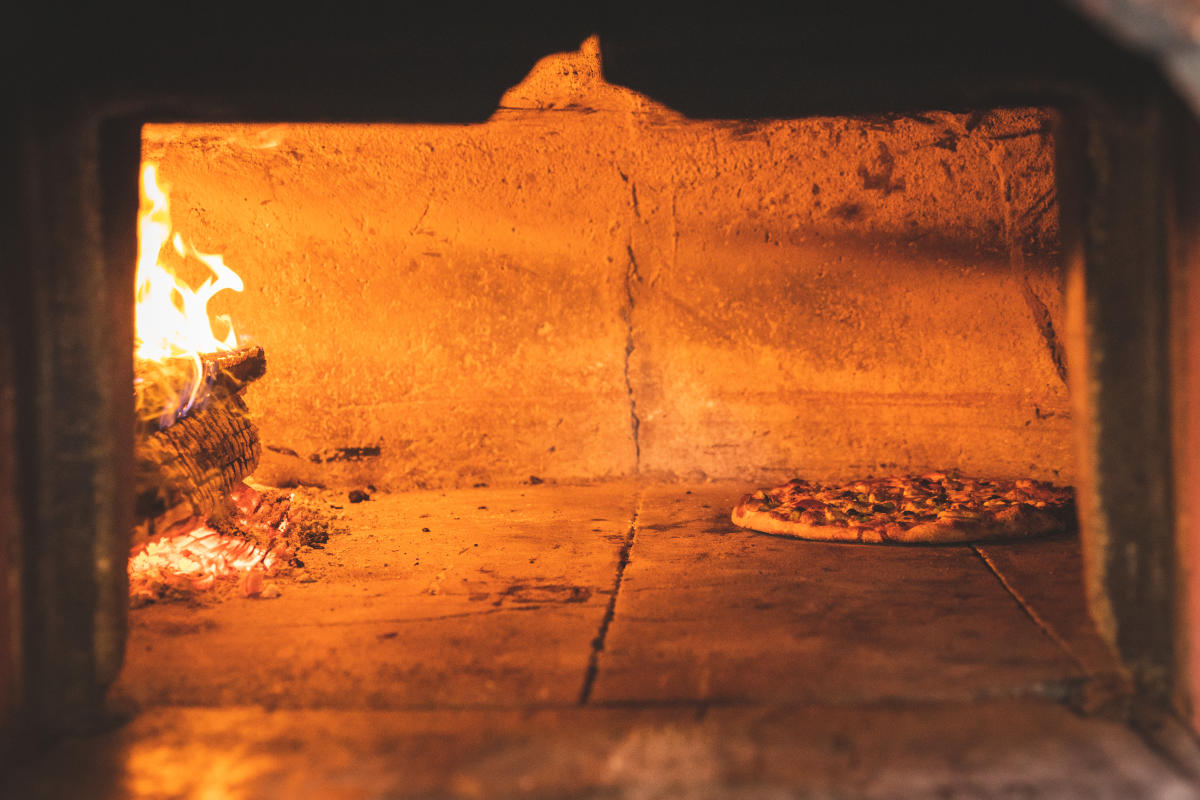 Food Trucks
Big Ash Pizza is based out of Menomonie, WI, and you can find them at many breweries throughout the summer in Eau Claire. Click here to see their schedule of events!
See an actual stone oven on wheels with Dolce, Ragazzi Wood-Fired Pizza around Eau Claire! Catch them at breweries, parks, and more throughout the summer. Click here to see their tour dates!
Catch Kyes Guys Pizza around the Chippewa Valley serving delicious, personal-sized wood-fired pizza for events of all kinds! You can even see your pizza prepared right in front of you at Kyes Guys' setup.
Get a slice of Hawaiian paradise with a pizza from Ohana Pizza Company. Choose from more than 10 pizza flavors, and be sure to try their Hawaiian Shaved Ice for dessert. Click here to see where to find Ohana Pizza!
That's Amore! Share your slice using #CaptureEC!