Get out your smartphone and make sure Instagram is downloaded because we have some spots in Eau Claire that will brighten up your profile.
Murals have been popping up throughout the community in recent years. So we decided to make a list of the pieces with their locations that will create an awesome photo adventure for you and your friends on a sunny day. Be sure to use the hashtag #CaptureEC when posting your rad pics so we can see what you come up with!
1. Sanctuary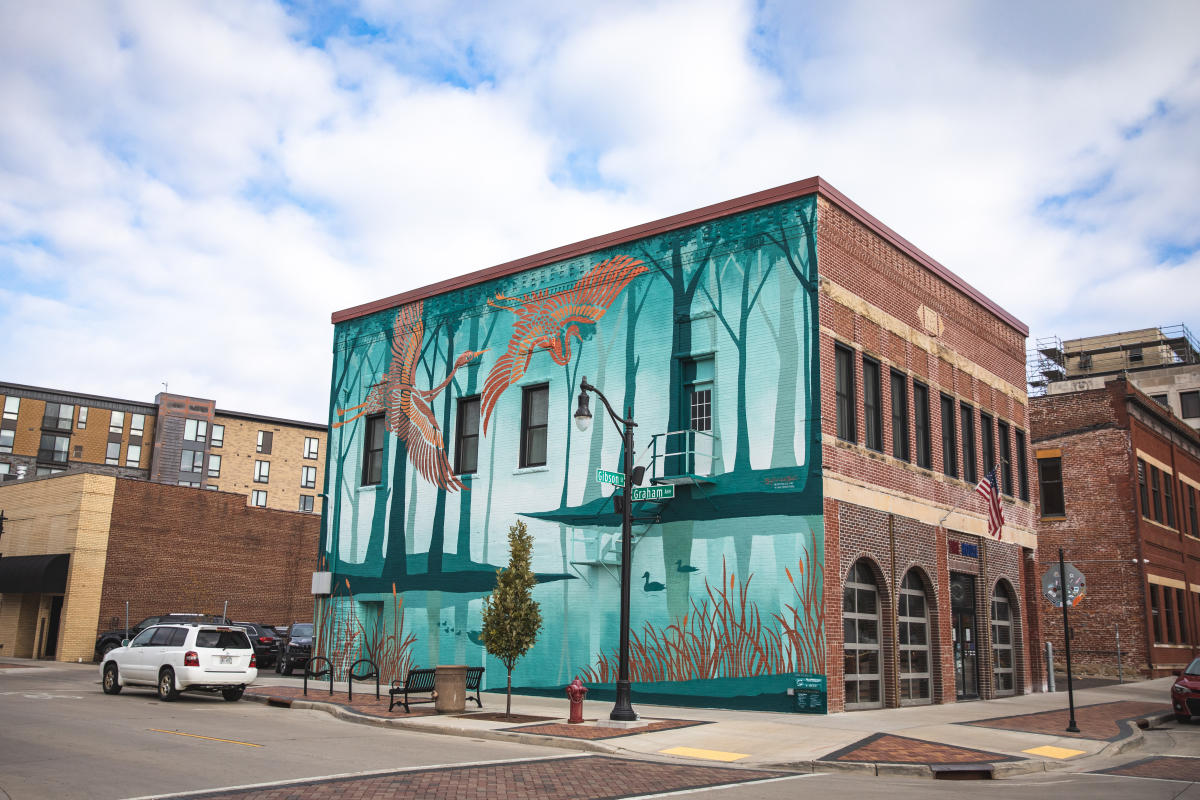 This big, bold, and beautiful mural is located on the side of the Fire House, right at the corner of Gibson St. and Graham Ave. across from Pablo Center. You can't miss it. This magnificent creation by Madison-based artist, Sylvia Annelise Hecht (@sylviaesol.art on Instagram) can even be seen from the Grand Avenue bridge. It's truly a sight to see for nature lovers, art lovers, well, actually... everybody!
2. Color Block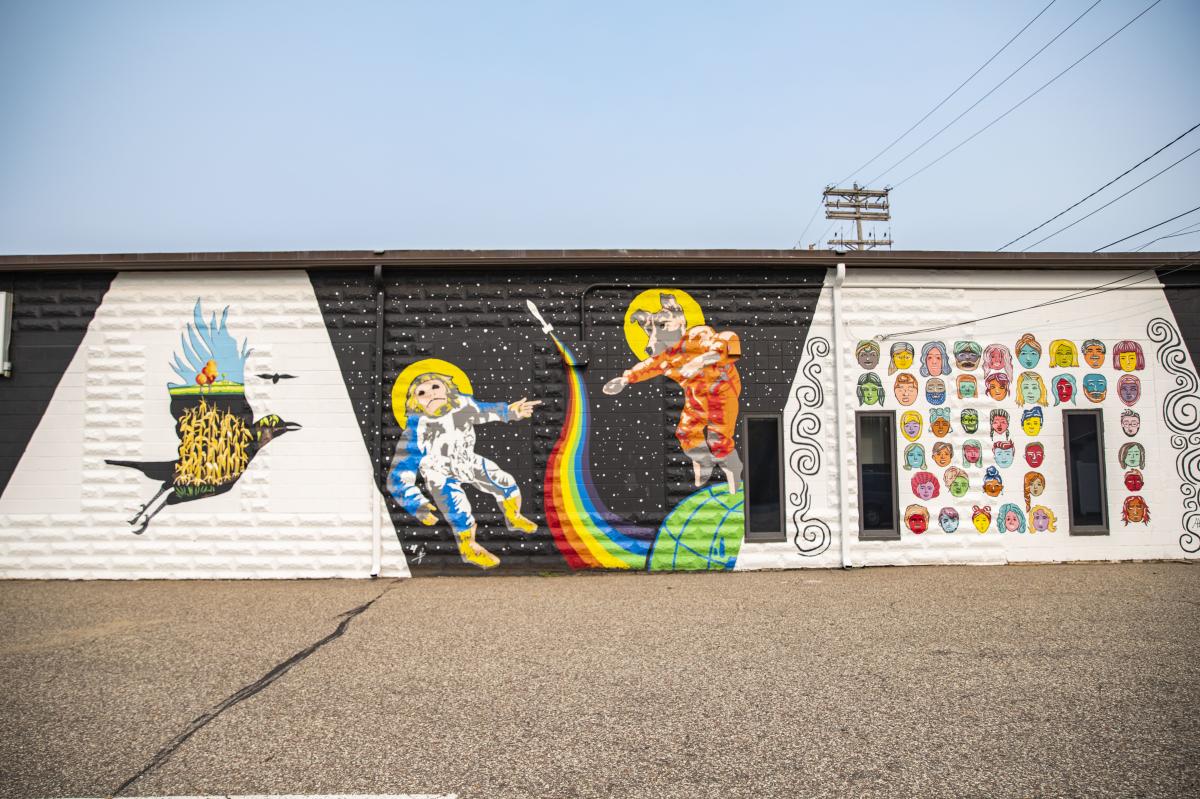 If you want one great mural, how 'bout you check out these five stunners! Located on the 600 block of South Barstow and Grand Avenue, vibrant colors and funky murals are the ones you need to stop by. Local artists from the Eau Claire area have pitched in to inspire creativity, unique thinking, and appreciation for local art. To get a more in-depth glimpse at the murals in Color Block, check out the "Color Block: Montage of Murals" blog post to know exactly what you will get when visiting. 
The murals below are also part of the "Color Block" project and were completed by several different artists. These can be found in a little alleyway that is tucked away behind SHIFT Cyclery and Coffee Bar. 
In 2022, the Color Block program expanded into the city of Altoona! You can find more (and lots of them) Color Block murals on the outside of the Altoona Public Library and the County Shop building (2000 Spooner Ave, Altoona, WI 54720).
The Color Block program expanded once again in 2023! New murals were painted in the summer and can be found near Banbury Place right along Galloway St. and on the back side of 1st. Ave Mini Storage (1128 1st Ave, Eau Claire, WI 54701) accessible via the Chippewa River State Trail.
3. "TBP Mural"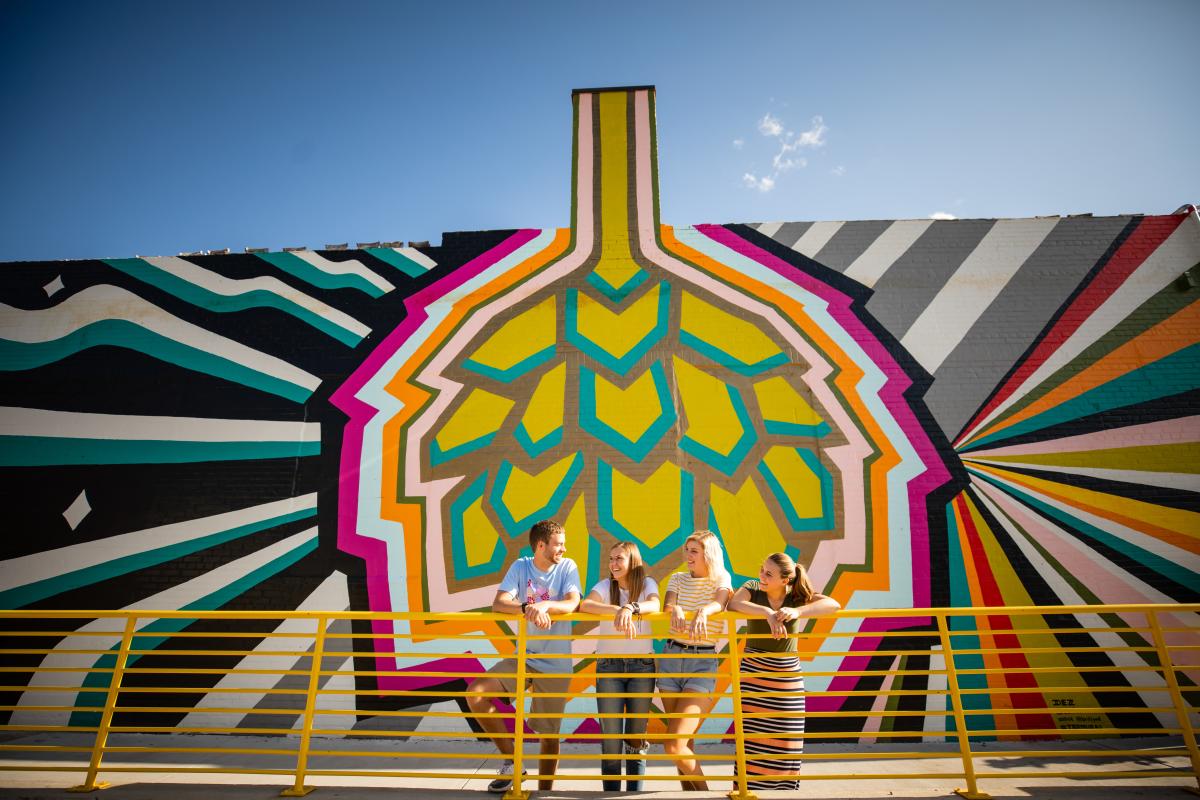 Photo provided by Travel Wisconsin
Completed in June of 2019, this spunky mural is the most recent addition to the "street-art" scene of Eau Claire. Located on the north-side of The Brewing Projekt, the mural features a hop seed cone, natch, with colorful rays radiating from the hop. It was created by local artist Dez Lezotte who also happened to be a "beertender" at Brewing Projekt in years past. Dez tagged the mural with the hashtag #TBPMural for you to use when sharing her awesome work.
4. Mural on Skin Prints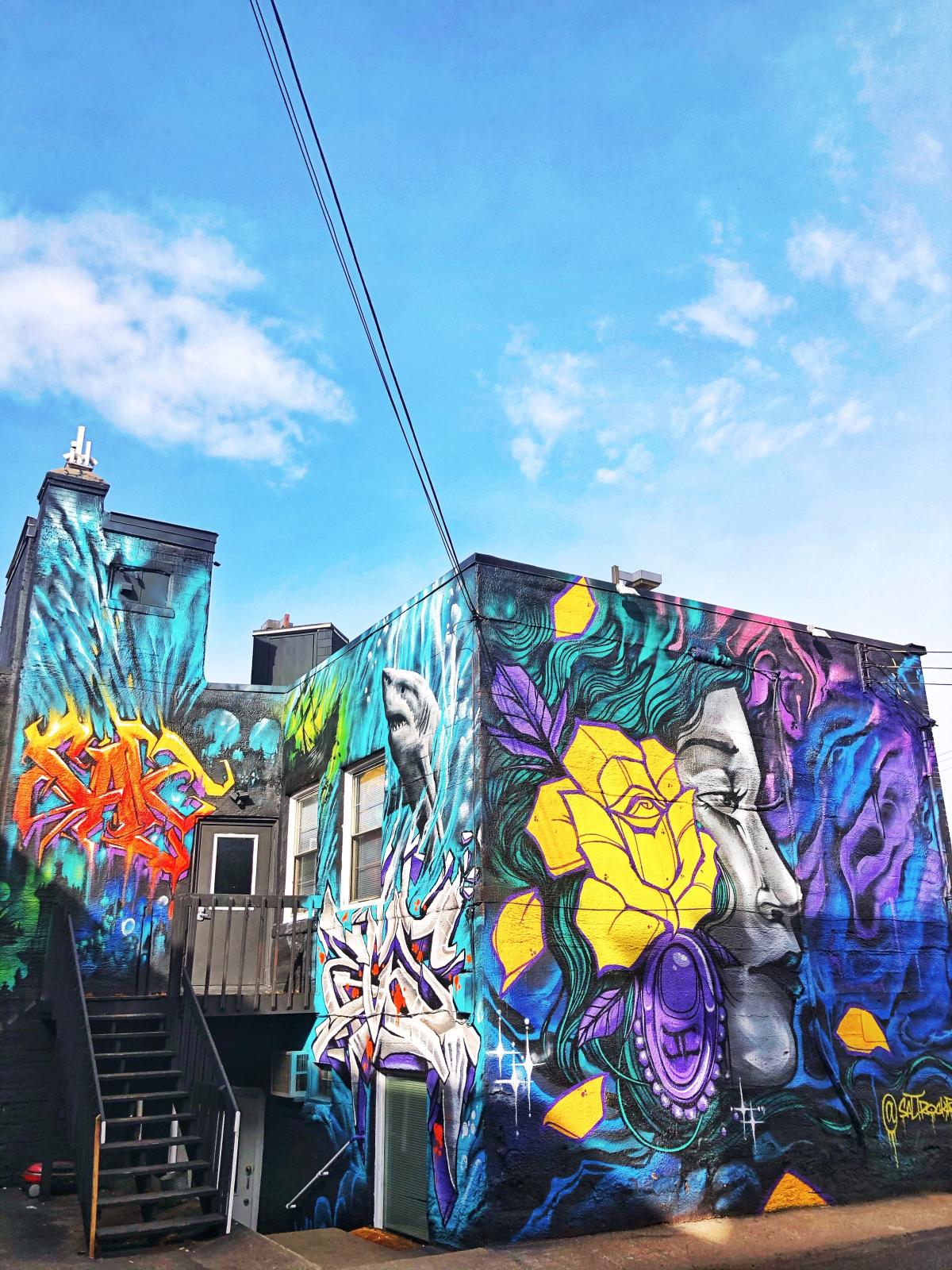 This beautiful lady with a hidden shark can be found on the back of Skin Prints tattoo parlor in Downtown Eau Claire. An artist known as Salt Rock and Eric Schultz of the Skin Prints team were the creative minds behind this colorfully edgy masterpiece. Being completed in the Fall of 2019, view the skillful work yourself by taking a trip downtown today! 
5. Mural on Ju's Taekwondo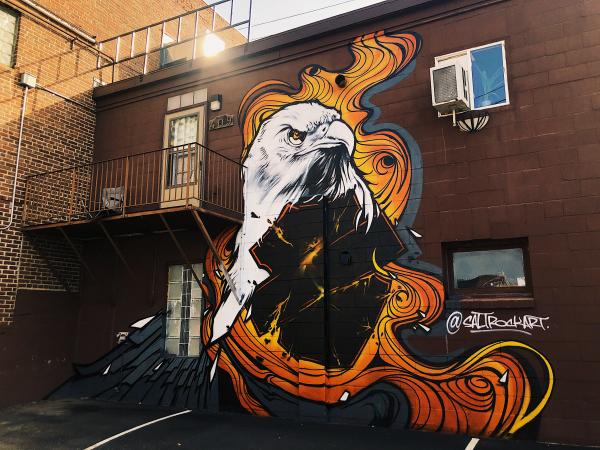 While visiting the mural on Skin Prints, go around the corner to see the giant mural of an Eagle by the same artist, Salt Rock. Found on Ju's Taekwondo, this eagle has awesome colors of orange and red that will be sure to pop on a sunny day. Get out and grab a pic in front of it! 
6. "Cascade"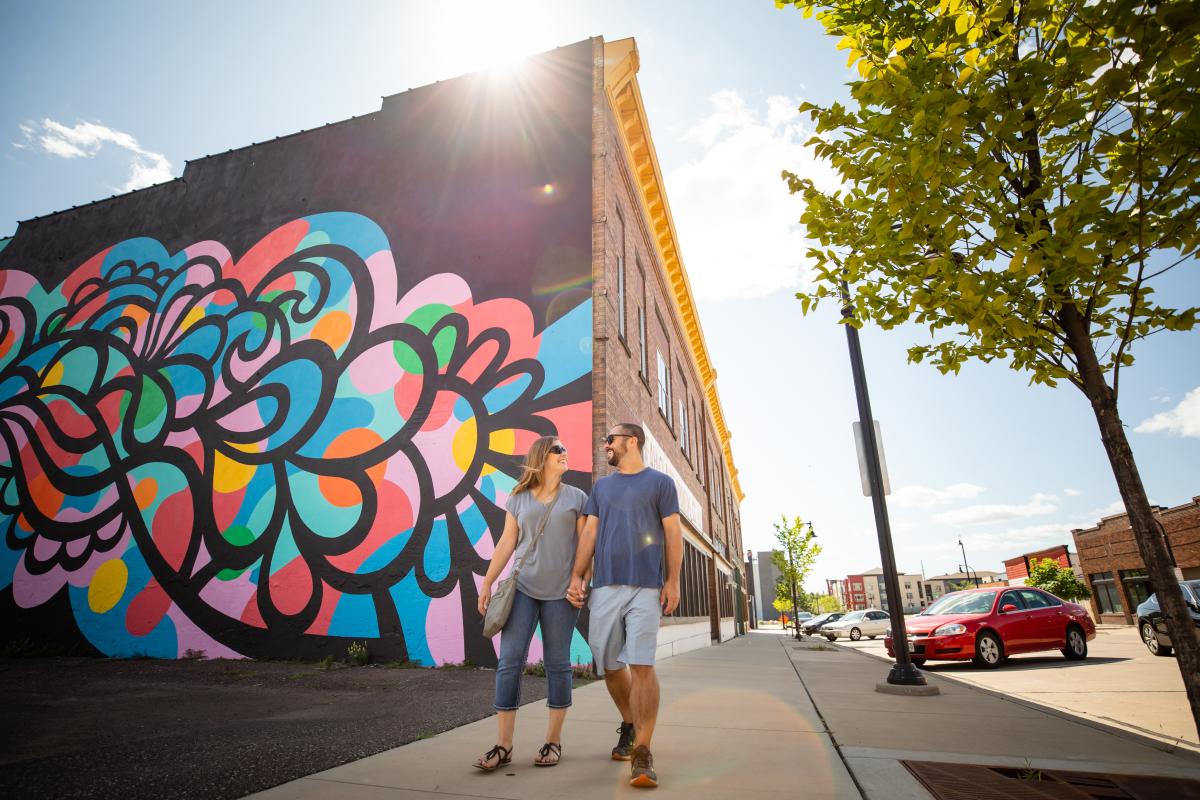 Photo  provided by Travel Wisconsin
This bold and beautiful mural was completed in 2018 and was noticed very quickly by the customers of Ramone's Ice Cream and the Oxbow Hotel. Chicago artist and digital designer, Molly Z was the creative mastermind behind this colorful wall. So grab a friend and some ice cream and make your way to the intersection of Farwell St. and Galloway St. to capture your own vibrant photo in front of this mural.
7. Black Lives Matter Mural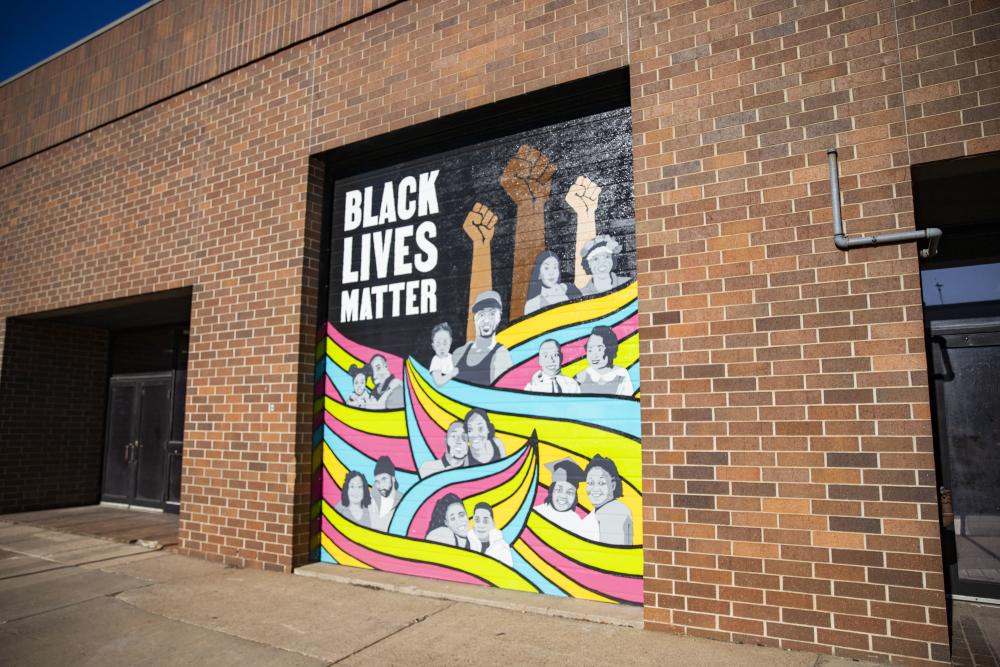 Another brightly colored mural that appeared on a garage door on the back of Lismore Hotel showed up from the artist, Brittany Tainter. The mural includes people who have been victims of different types of discrimination. The Eau Claire community welcomes the mural as a sign of solidarity with the Black community. See this wonderful mural for yourself on E Grand Ave in downtown Eau Claire.  
8. "Love is the Key"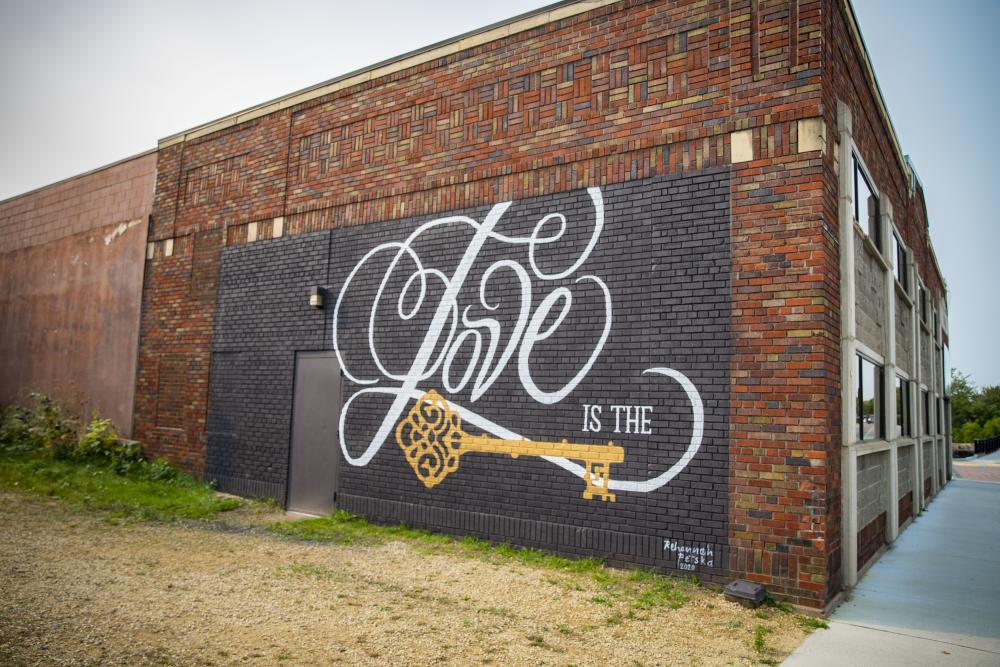 Calling all lovers! This is the mural for you. Artist, Rehannah Petska brought this mural to life with the idea that love is the answer to everything. You can find this romantic mural on the back of The Metro on the corner of Lake St and Graham Ave. Grab the person you have heart-eyes for and take them for a stroll downtown so you can capture a pic of your romance in front of this lovely piece of art. 
9. "Bon Iver 22 a million"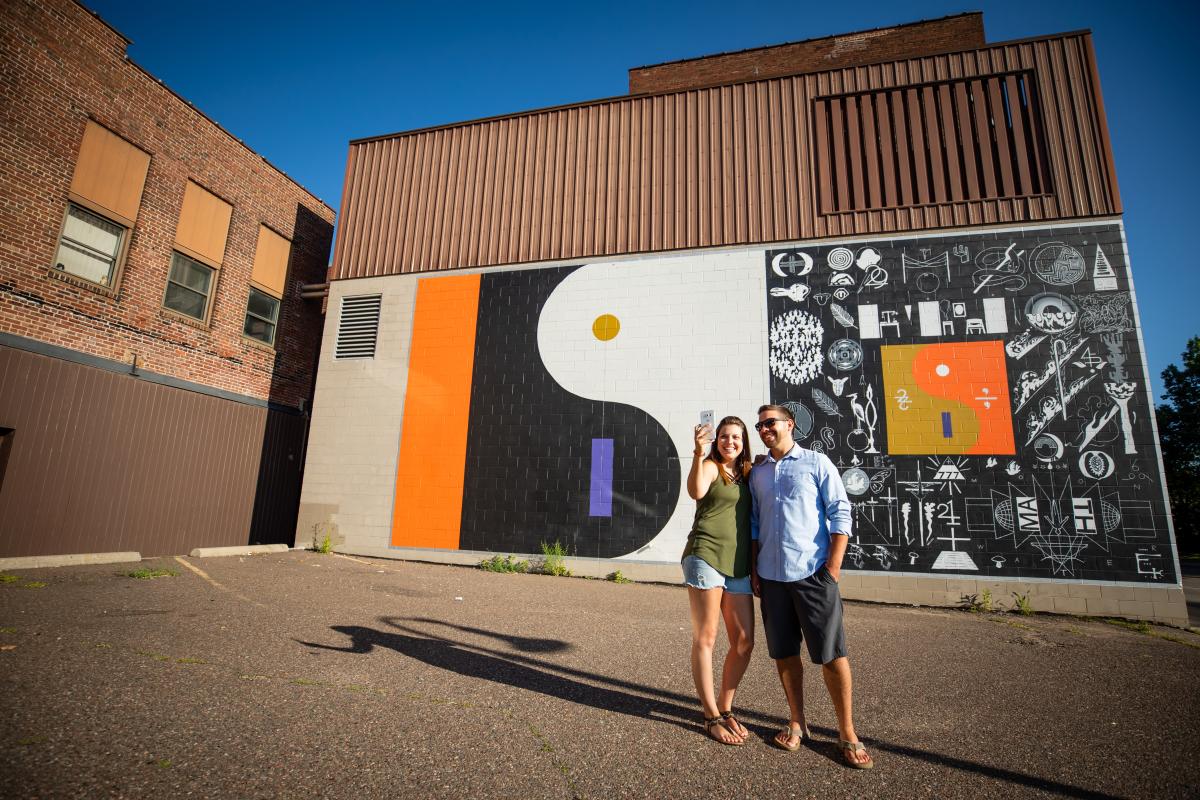 Photo Provided by Travel Wisconsin
Visit Eau Claire is no stranger to the musical work of Justin Vernon and Bon Iver. So it is no surprise that we had to add this mural to the list. Completed in 2016, this mural was the leader in a series of Bon Iver murals that appeared in other cities such as Minneapolis, London, and New York City. Express your musical tastes by posting a picture in front of this free-spirited mural, located on the corner of Eau Claire St. and Farwell.
10. Artisan Forge Studios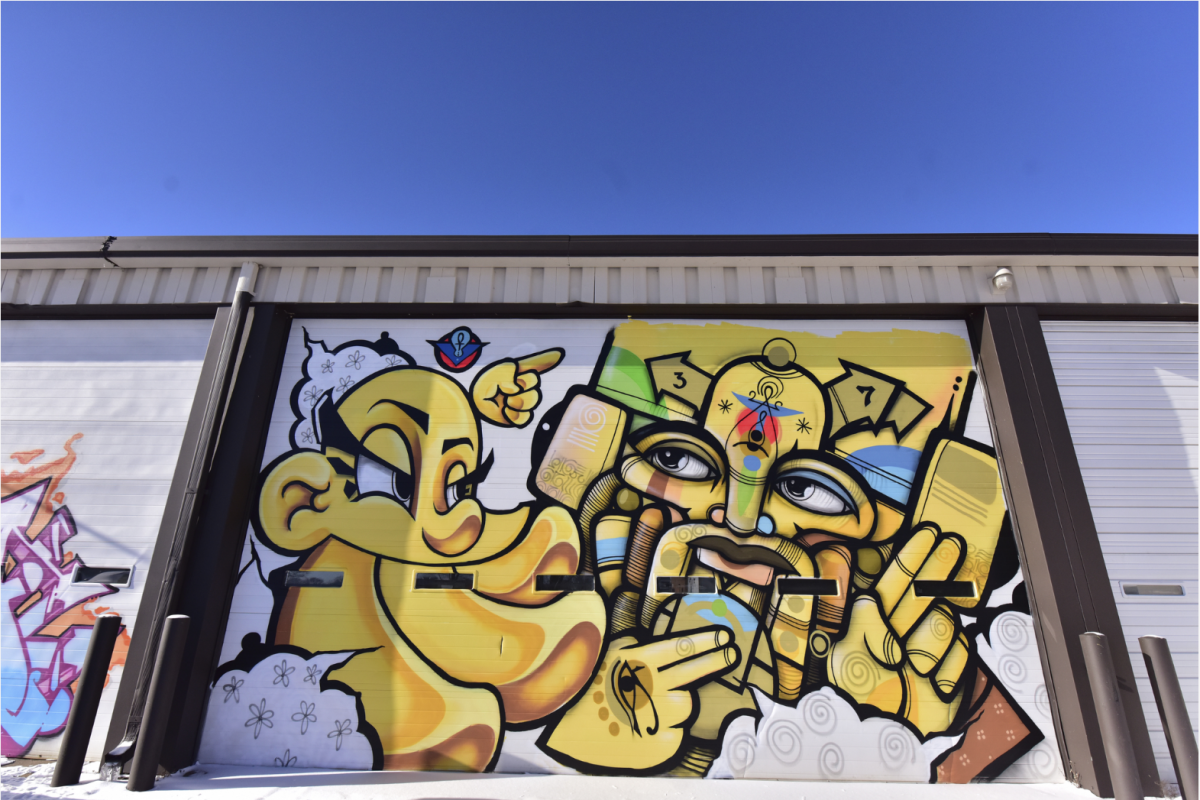 Since acting as a home to an art gallery and studios of more than 50 artists, Artisan Forge Studios masterfully decorated its exterior to capture the creativity that is held inside. These one-of-a-kind garage door murals are ones that you will want to share with all of your followers.
11. Birch St. Mural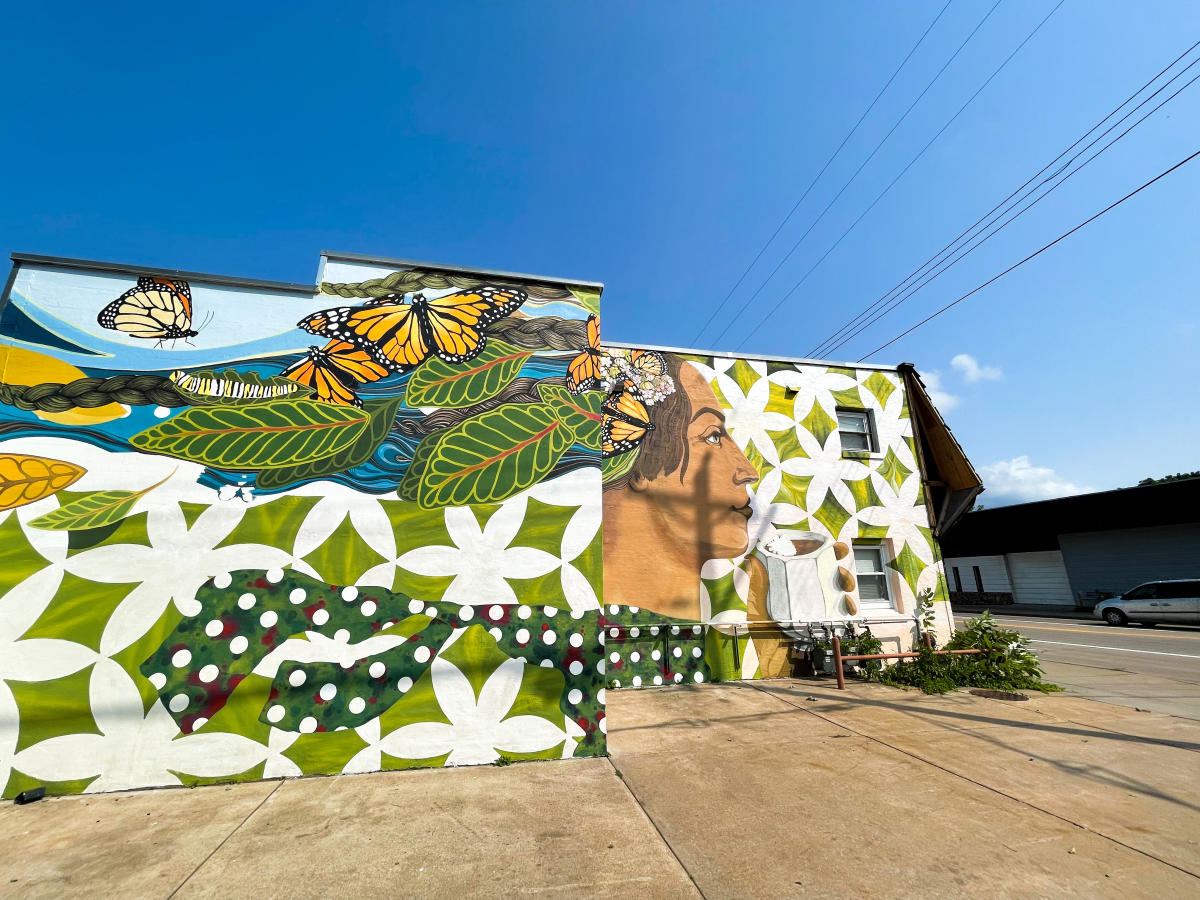 This bright and wonderous mural, titled "Contemplations of Pollaiuolo's Woman in Green and Crimson, is located on the back of the Next Step Energy building on Birch St. It was created by Lori Chilefone and carried out with the help of some Eau Claire community members. Staring at this just makes you feel some type of way, doesn't it?
12. Charging Troop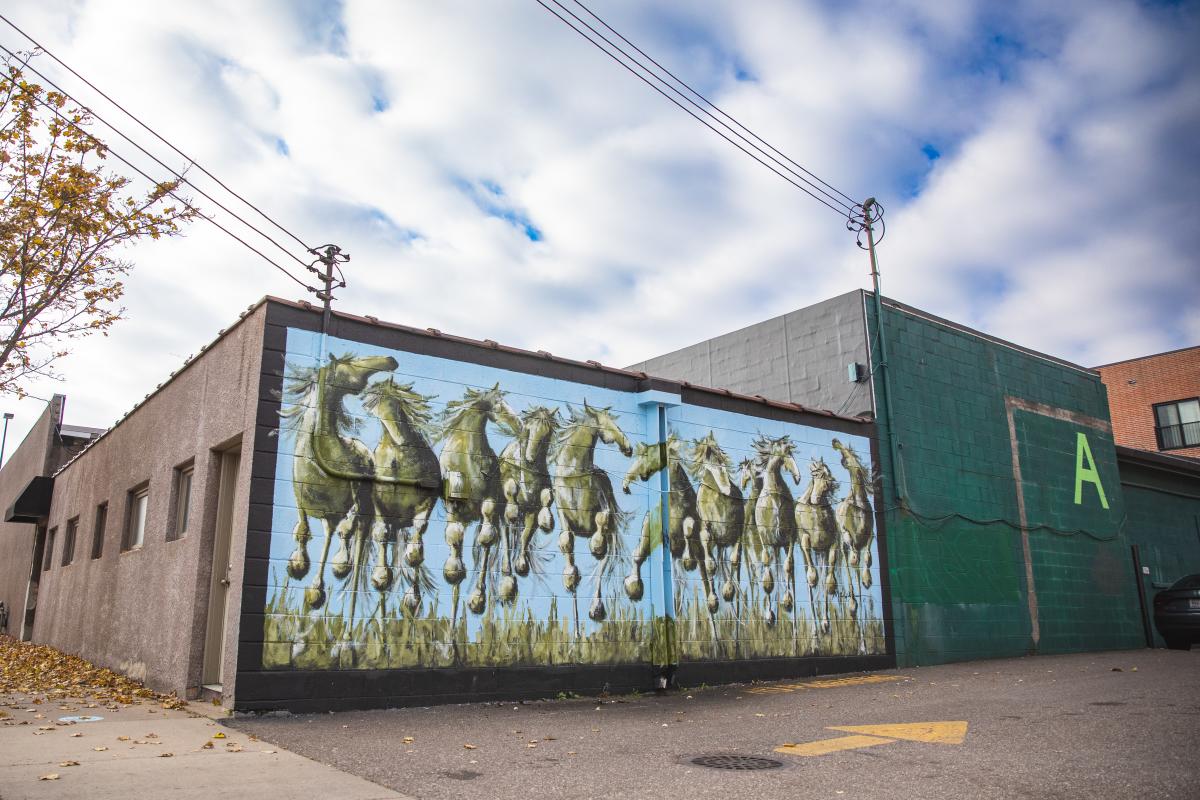 Quit horsin' around and go check out this mural! Located behind Details on Water St., this mural was created by Terry Meyer as a project from the Kickstarter campaign. This campaign's goal is to use funds to foster more murals by local artists throughout the city. This one definitely gets a "Yay" (instead of a "Neigh") in our book! 
13. River Prairie Murals

All kinds of birds can be seen at River Prairie, but these three birds are here to see anytime. Art on the left is done by Wisconsin Artist, Joe Maurer, the mural in the middle was completed by Jan Killian of Woolyfrog Arts and on the right is by Jason Anhorn. Before taking a pic with this amazing art, learn more about the process and inspiration behind the work by watching this video by Joe Maurer on his series called "Joe's Easel", along with a video by Jason Anhorn that shows the progression of his mural, and lastly, a video featuring the mural work of Jan Killian. 
14. Token Mural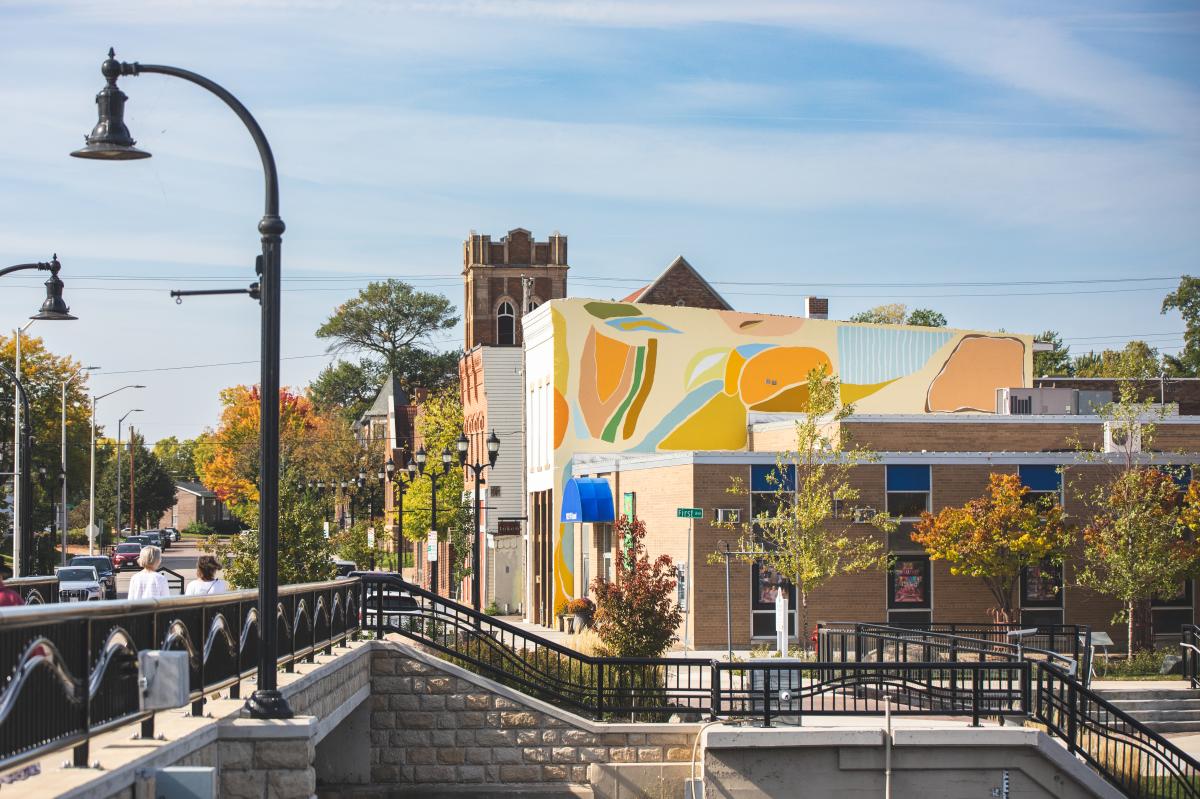 The Token jewelry store is bringing the Grand Avenue district of downtown Eau Claire a pop of color! Their mural, created by Codie O'Connor, can be best seen from the Grand Ave. bridge.
More Outdoor Art in Eau Claire
Now that the mural portion of your photo tour is complete, keep the vibe of street art going by checking out these bonus outdoor art exhibits found in the downtown area.
1. Eau Claire Sculpture Tour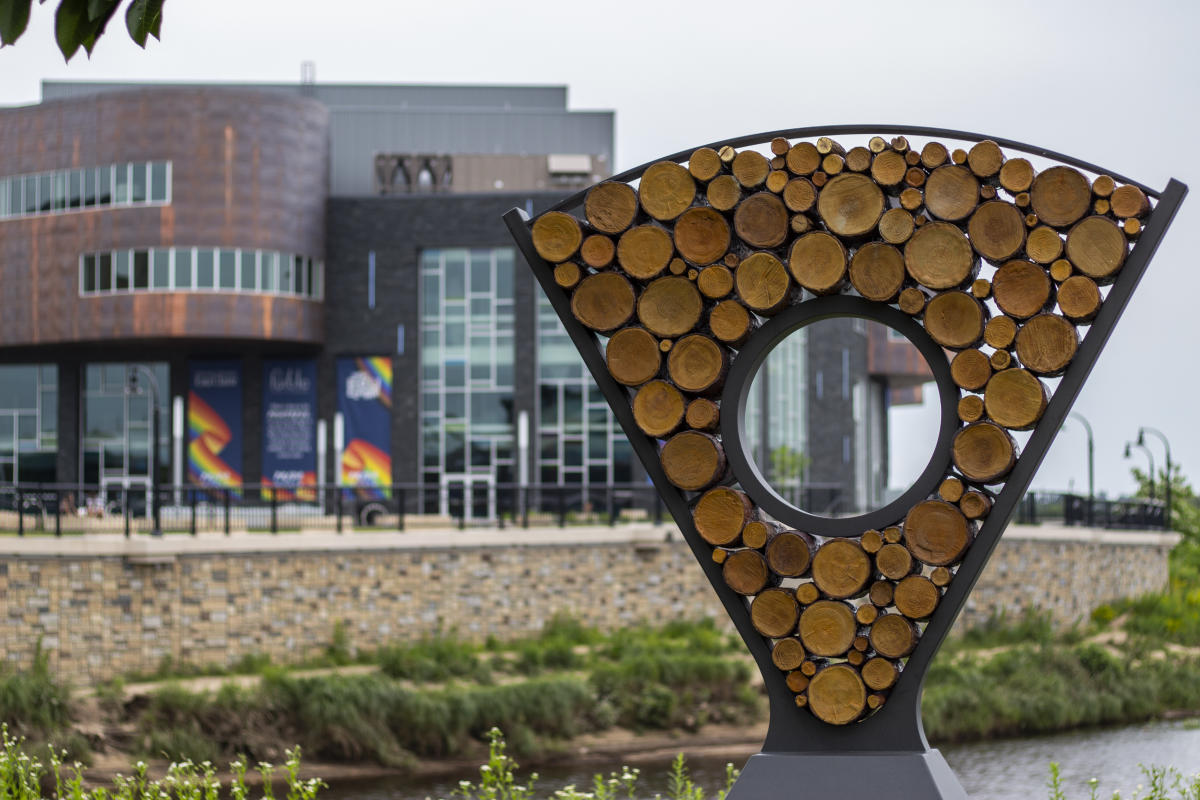 This 24-7 outdoor public art exhibit resides along the streets of downtown Eau Claire. With over 70 sculptures from local and international artists, it's the largest outdoor sculpture tour in the nation!
2. Mona Lisa's Portraits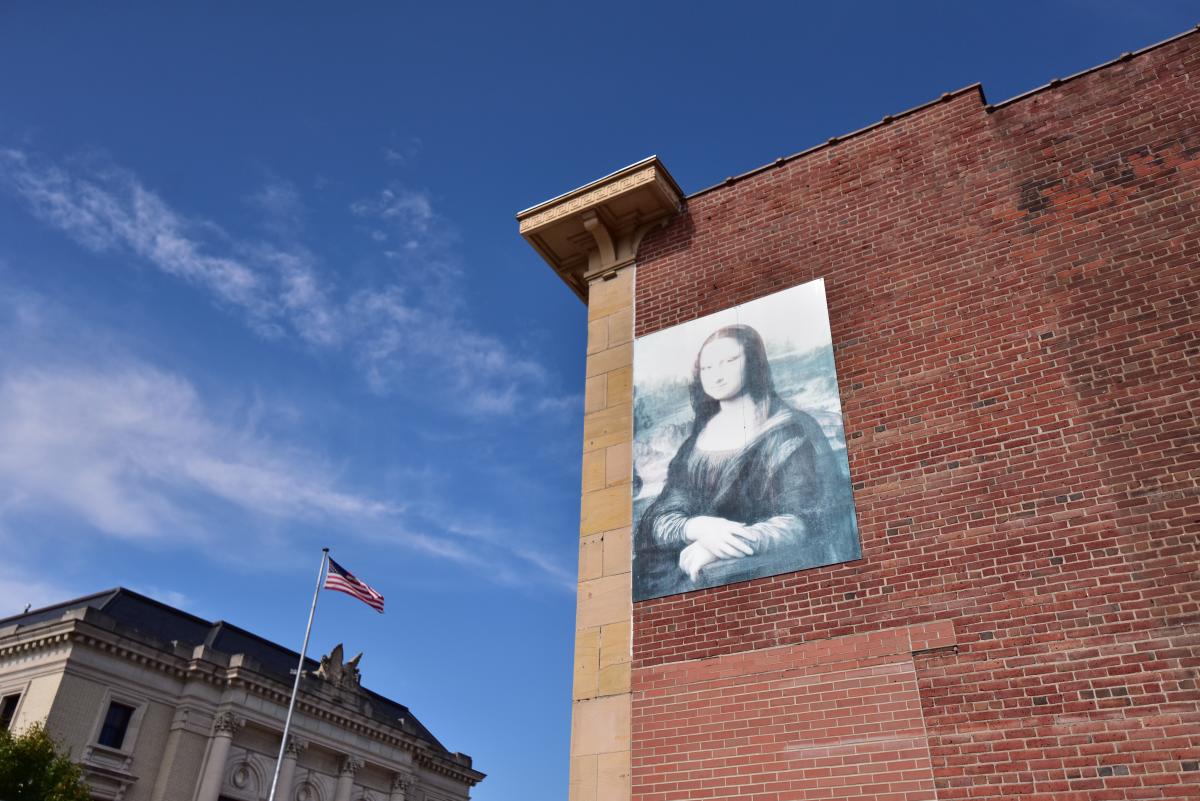 When the famous Mona Lisa's restaurant opened in 1994, the owner thought of a creative way of advertising: pasting the portrait of Mona Lisa on buildings around Eau Claire. Since then, these portraits have become iconic to the community and seem to be found wherever you go in downtown Eau Claire.
We weren't kidding when we said "Insta-Worthy"...
#captureec #eauclairewi #visiteauclaire