Forget the big-box stores this season, and shop small in Eau Claire, Wisconsin! Eau Claire's local shopping scene has a little something for everyone on your list including the thrift shoppers, the trendsetters, the bookworms, the home decorators, and the DIYers. Support hardworking, local businesses this holiday, and shop small in Eau Claire at these one-of-a-kind stores!
Note: This list does not include all small businesses in the Eau Claire area. To view a complete list, please visit our shopping page!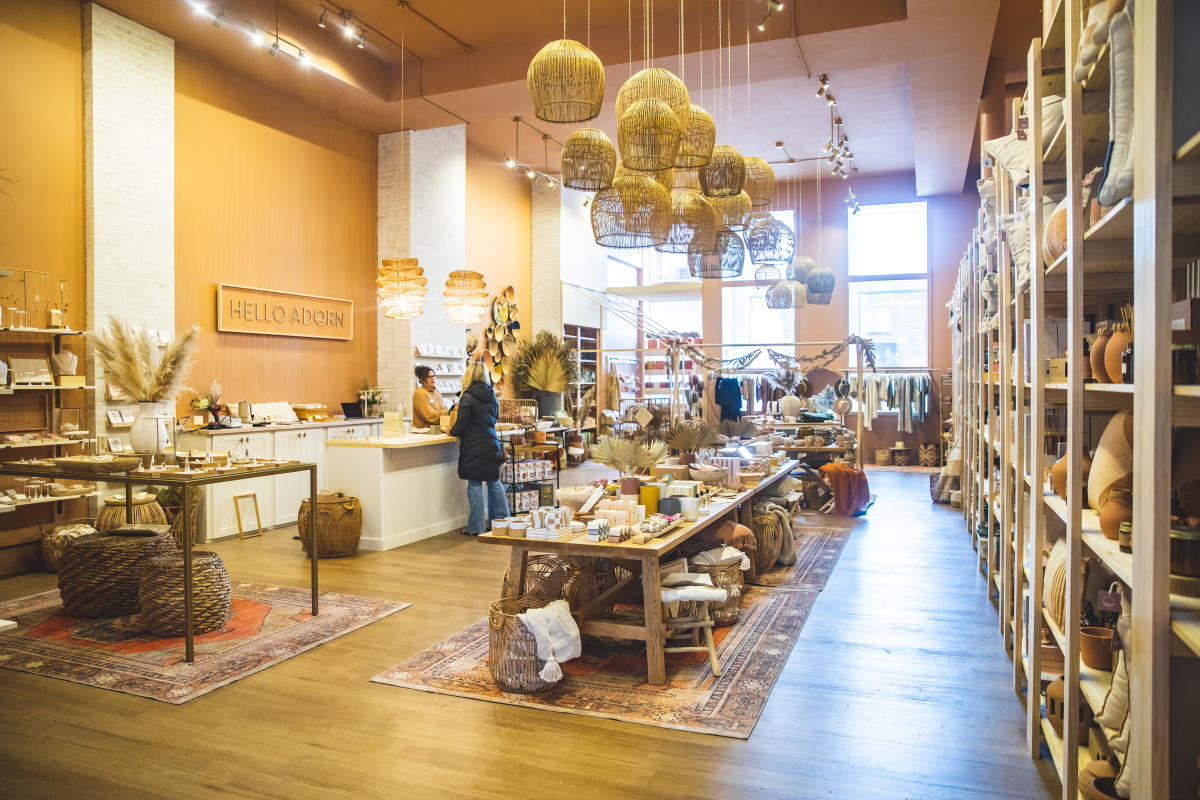 For the Fashionistas
What once started as just a salon, ADC Boutique brings their clients modern fashion pieces, home decor, and even serves fresh coffee daily! Shop at this little boutique on Water Street for women's clothing pieces and accessories this season.
Shop at this small-town boutique with a southern flare in Osseo, WI. The Classy Cactus offers trendy women's clothing, shoes, jewelry, and other accessories, and they provide farmhouse-style home decor and household items. Check out their monthly hours on their Facebook page!
Add to your jewelry collection with a shopping spree at Hello Adorn in downtown Eau Claire! This shop was once just a jewelry store, but they've expanded to offer so many more beautiful and trendy gifts like candles, clothes, planting materials, tableware, notepads, greeting cards, and more goods from small sellers!
The Mustard Seed Boutique is part of the clothing-coffee-plants trifecta at Down to Earth Garden Center. This award-winning boutique is known for its high-quality men's and women's clothing selection, jewelry from local makers, shoes, handbags, and other accessories. Here at the Mustard Seed, you can shop for a new outfit, order a hot coffee and lunch, and browse through the greenhouse at Down to Earth.
Even kids can be fashionistas when visiting Eau Claire! Planette Kids is here to offer fun and vibrant yet sustainable children's apparel. Along with clothing, the shop also offers kids' accessories, backpacks, toys, and more. Check out this new shop in downtown Eau Claire!
Stock up on stylish dresses, tops, jeans, handbags, and even home decor at Slate Boutique! This shop sells popular styles throughout every season and is the perfect one-stop-shop to find gifts for the style experts you're shopping for.
Find jewelry that stands the test of time at Token Jewelry in Eau Claire. Token handmakes their jewelry on-site and creates some of the city's most beautiful necklaces, bracelets, rings, and even permanent jewelry.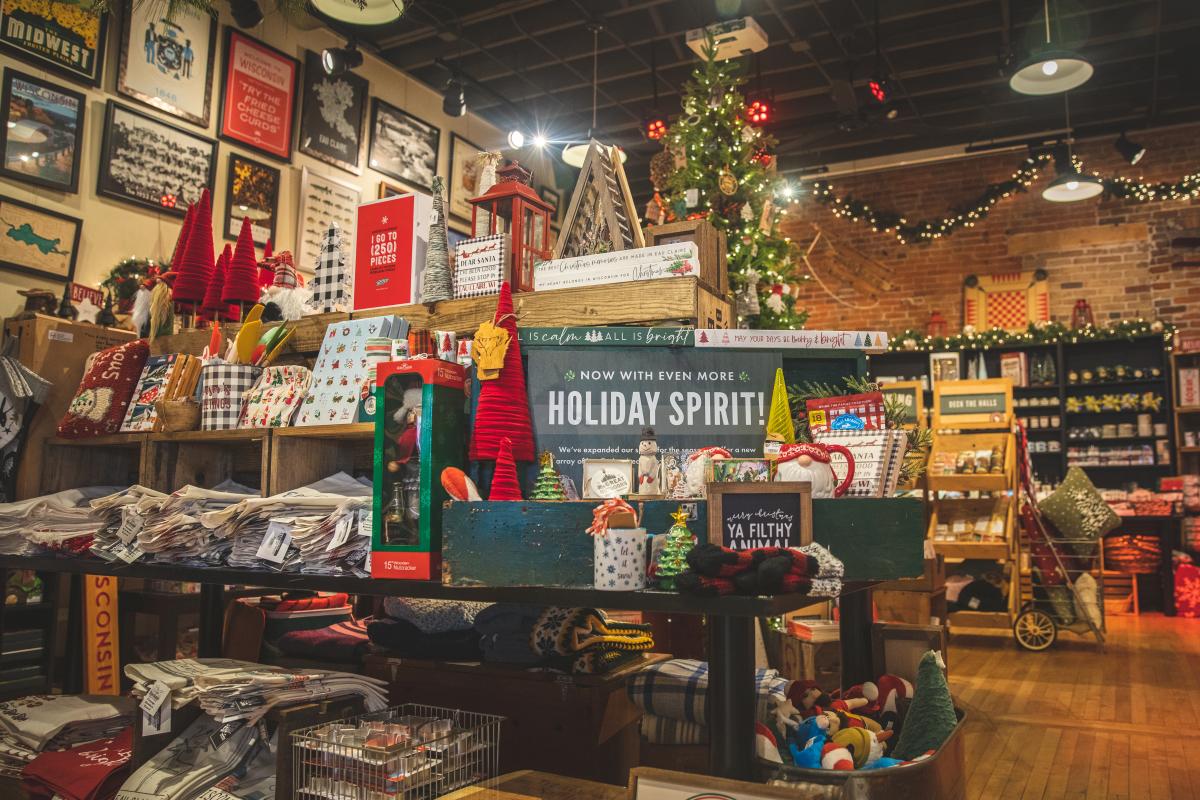 For the Gift-Givers
This Eau Claire, Wisconsinesque store has a little something for every visitor! Find stylish Eau Claire tops and hats, mugs, wall art created by local artists, cheese, beer, games, woodwork, books, jewelry, stickers, and so much more. Give the gift of adventure with electric bike and scooter rentals from The Local Store in Eau Claire!
The Raggedy Man is an eclectic gift shop selling unique and quirky goods in downtown Eau Claire. Shop for wall art, kitchen goods, candles, and so many more home details that you have to see for yourself!
Wisconsin Makers Market is a little shop in downtown Eau Claire that sells handmade products from more than 100 Wisconsin artisans. Find everything from clothing to keychains, candles, jewelry, glassware, hats, soaps, decorative signs, and more!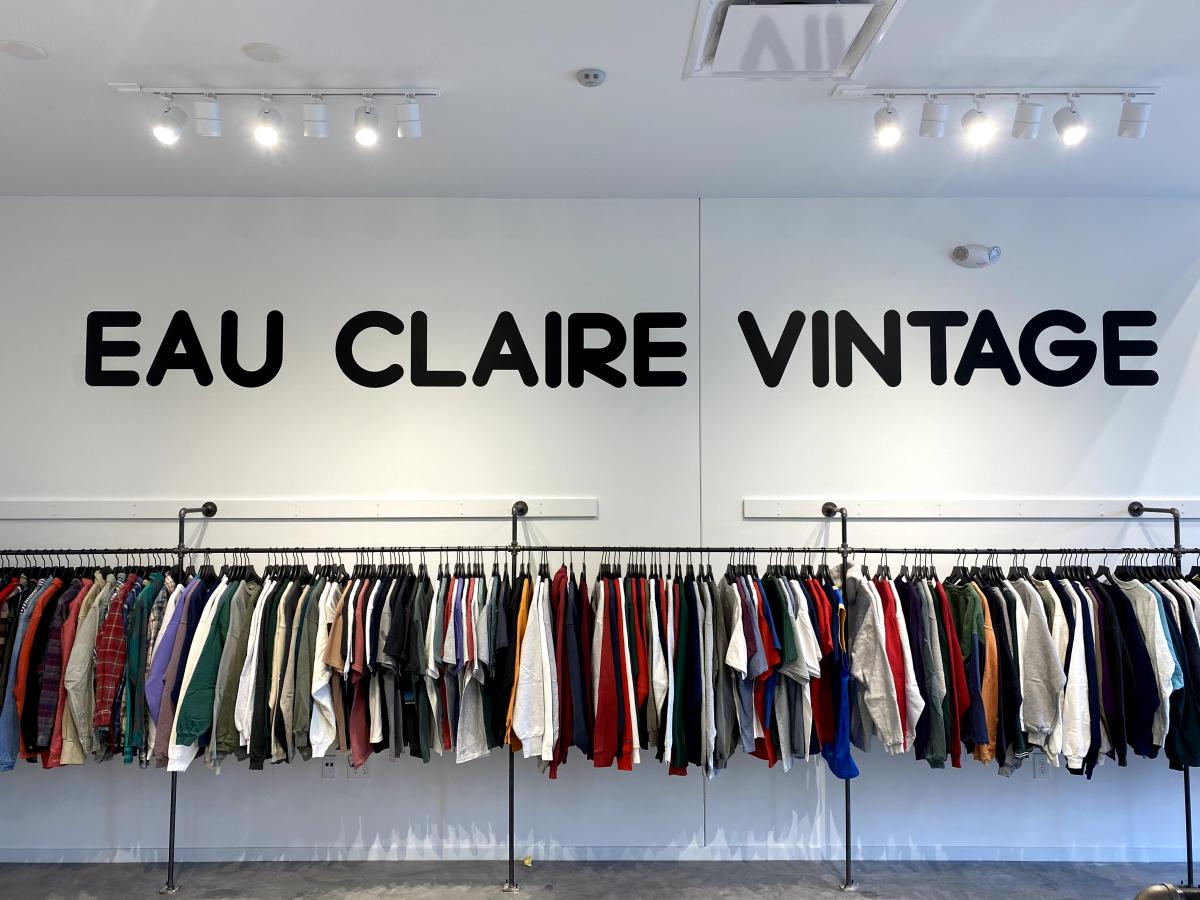 For the Vintage Lovers
What started as an online thrift shop, Eau Claire Vintage has curated a vintage collection big enough to go storefront in downtown Eau Claire. Here at Eau Claire Vintage, you can shop for the coolest pieces from decades ago and build an entire outfit with vintage tops, pants, shoes, and accessories.
Lot 3 Mercantile is a new shop in Eau Claire that offers a mix of vintage and modern pieces for the home. The inspiration for this shop came from the owner's favorite beach access in North Carolina, and even in Wisconsin, you can shop through the coastal home pieces that brought this shop to life!
Take a drive to Osseo, WI, and get a taste of antique shopping at the Osseo Nickel Barn. This barn not only offers antique books, art, photography, and endless decor, but it also doubles as a coffee shop with latte flights! Sip on your seasonal coffees on the patio, and shop around for treasures in the barn in Osseo, WI.
Another iconic shop in downtown Eau Claire is Seven Suns Vintage filled with handpicked vintage clothing pieces. Not only is their selection incredible, but their shop is stunning, too! Browse through endless name-brand clothing dresses, outerwear, boots & shoes, and so much more.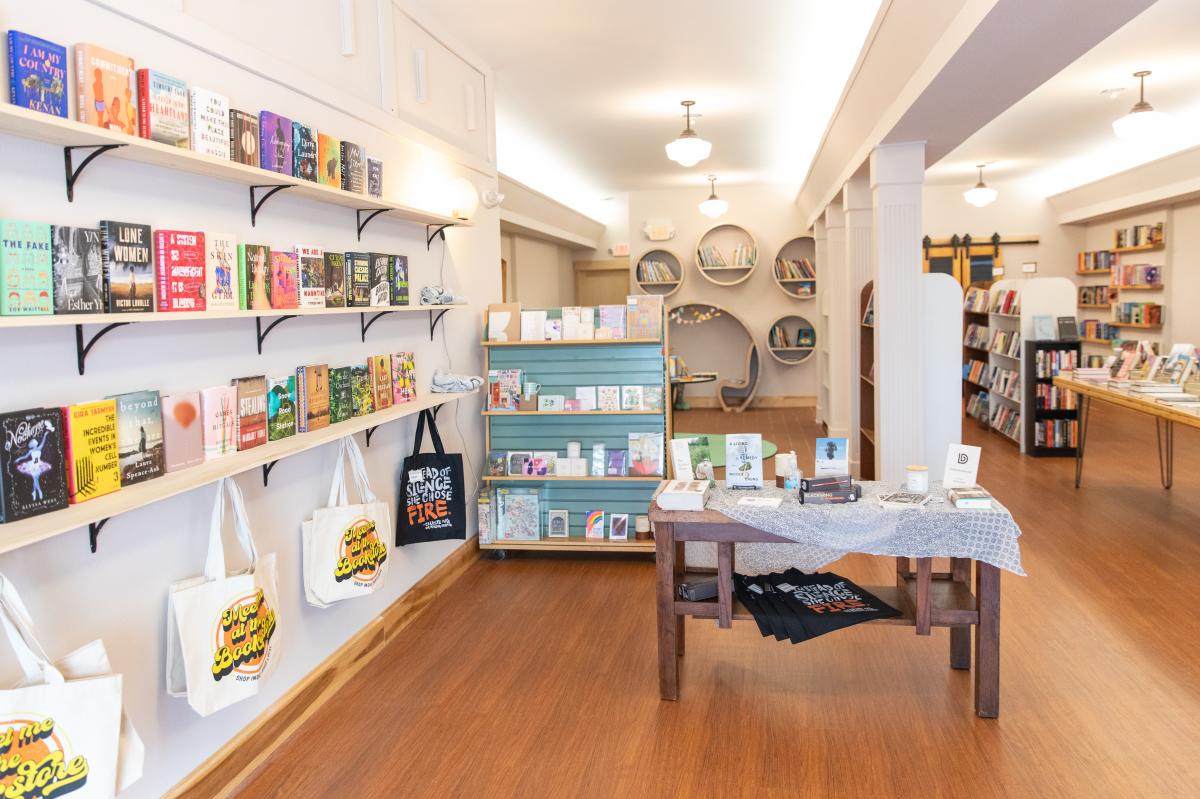 For Your Hobbies
Game lovers unite at Boards & Bricks in Osseo, WI! This family-friendly hobby store carries incredible Lego building sets, Pokemon, Brio sets, board games, puzzles, and more.
As a city that hosts the Eau Claire Marathon, Blue Ox Running takes care of their local and visiting runners by providing top-of-the-line running shoes and gear. Blue Ox Running is located in downtown Eau Claire and is open year-round to serve those with a constant runner's high!
Dotters Books is a woman-owned, independent bookstore in downtown Eau Claire. They have all the books to add to your book club's reading list, as well as novels by local authors, short stories, and a plethora of children's books!
For the music collectors visiting Eau Claire, Revival Records can hook you up! Located in downtown Eau Claire, Revival Records has been providing vinyl records for decades and has been a hot spot for music lovers who visit the city.

For the Home
Garnish the interior and exterior of your home with plants and garden decor from Down to Earth! This greenhouse and garden center expanded to Eau Claire in 2010, and since then, the business has added the Five & Two Cafe and Mustard Seed Boutique to their daily operations. It's one of the trendiest, happiest places in Eau Claire!
While Four Seasons Floral has become one of Eau Claire's expert florists, their recent shop renovation now offers trendy yet timeless pieces to add to your home! Shop through table and glassware, pillows, seasonal decor, and more precious pieces to add to your home.
This Menomonie native floral shop has recently brought its business to a shop in Eau Claire, and the vibes of this store simply cannot be missed! Step into Hive + Hollow in downtown Eau Claire filled with fresh and dried florals, candles, jewelry, kitchen goods, books & print items, and so much more. It's the perfect place to find gifts during the holiday season!
Check out the art that represents Eau Claire and the Chippewa Valley through wall prints, stickers, shirts, games, greeting cards, and so much more at Tangled Up In Hue. If you're looking to surprise someone with a locally created gift, you'll be able to find something for everyone at Tangled Up In Hue in downtown Eau Claire.
Find all the seasonal decor for your homes at West Rowe in Eau Claire! This shop offers stunning and high-quality home goods, accent furniture, pillows, throws, rugs, and many more farmhouse details.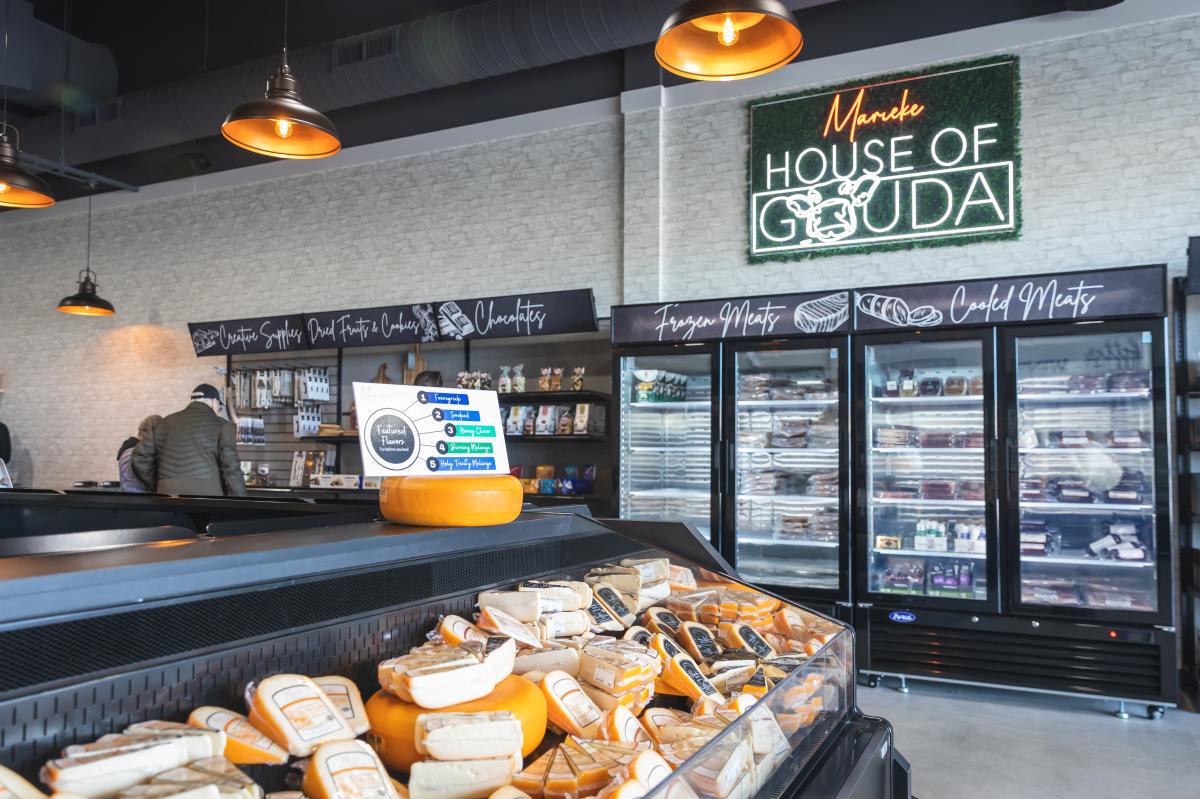 For the Foodies
Black Kettle Tea is located in downtown Eau Claire and provides natural, herbal remedies with a spooky flare! Find a variety of tea recipes with different benefits, and even shop for teapots and infusers at the Bootique. Give the gift of tea this season!
It wouldn't be Eau Claire without a store dedicated to cheese! At House of Gouda, you can shop through Merieke Gouda's finest cheeses, sample trending flavors, and purchase other ingredients to build the perfect cheese board for the holiday season!
Gift the wine enthusiasts in your life with a bottle of River Bend wine! Visit the stunning winery and vineyards outside of Eau Claire in Wheaton, WI, and purchase bottles of various red or white blends that are delicious across the board.
Purchase some of the area's finest meats at Rump's Butcher Shoppe. This cute little shop is located in Altoona, WI, and they offer some of the best local meats, cheese, domestic and craft beers, wine, spices, and so much more!
Show us where you shop small in Eau Claire using #CaptureEC!