Ultimate Foodie Tour from Milwaukee to Eau Claire
"What's a 'Foodie'?" you may ask. This modern-day term is defined as, " a person with a particular interest in food." If that's you, or if you're just someone who loves to eat, this road trip from Milwaukee, WI to Eau Claire, WI is for you! As you embark on this foodie road trip, you'll pass by some restaurants that are considered to be true treasures to the cities they serve. Our itinerary for this foodie tour was created with careful research and development to make sure the food you taste on this trip is like nothing you've tasted before. So, grab your bags and start the car; you're going on a foodie road trip to Eau Claire! (Click here for the Milwaukee ➡️  Eau Claire Foodie Tour map)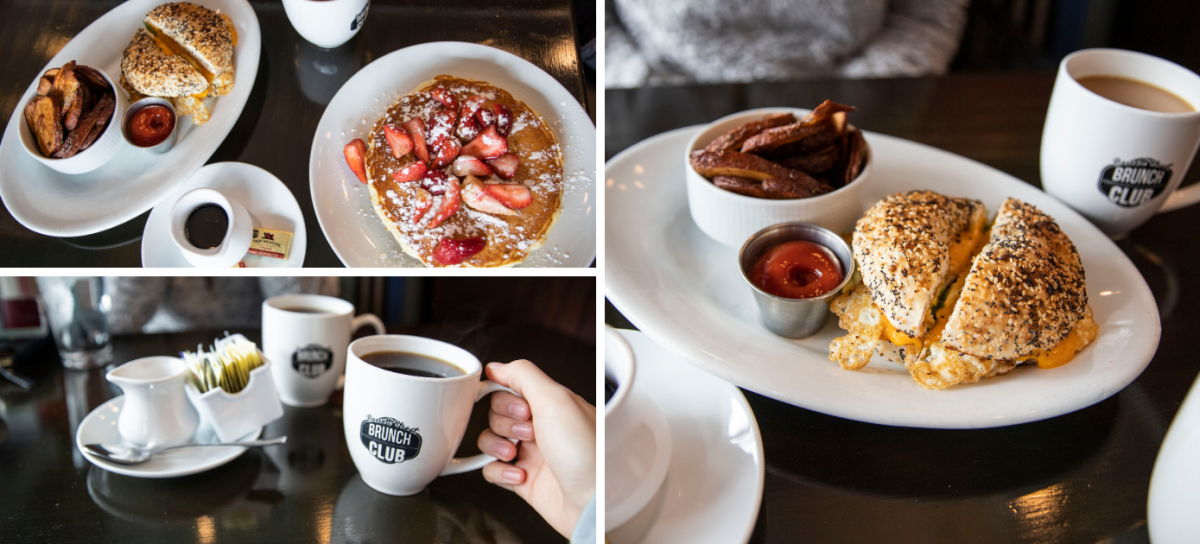 Basset Street Brunch Club in Madison, WI
You can't kick off a long road trip without some breakfast food to fuel you along the way. That's why Basset Street Brunch Club is the first stop on this list! Located in the very heart of Madison, WI with the university nearby, this place is popular amongst many age groups. The reason why is plain and simple: they serve some darn good brunch food. Their menu is extensive, but we recommend their breakfast staples. The Buttermilk Pancakes are nice, fluffy, and thick... meaning you'll fill up quickly! If you want to spice them up, you have the choice of adding strawberries, chocolate chips, or better yet... both! One delicious vegetarian option on their menu is the Breakfast Bagel Sandwich. It is a toasted "everything" bagel topped with a fried egg, avocado, cheddar, and pesto aioli. The pesto aioli is what completes this dish. As soon as you bite into this sandwich, there will be a burst of flavor in your mouth. You have choices for your side but we seriously recommend their breakfast potatoes. Man oh man... they are perfectly cooked and seasoned and are not some ordinary potato side you've had somewhere else. Do we need to remind you to order a cup of coffee? You'll need it for the ride you have ahead! 
If you like this, check out The French Press in Eau Claire!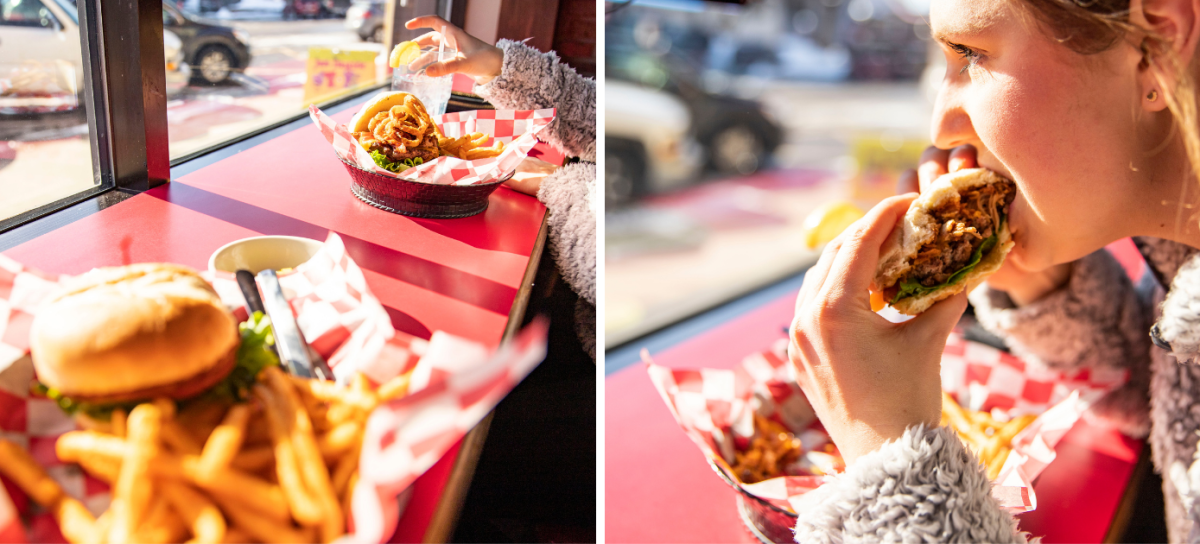 Baraboo Burger Company in Baraboo, WI
Your next stop calls for burgers! Right before you reach the Wisconsin Dells, stop at the Baraboo Burger Company. Their burgers consistently beat expectations. When you ask them what's popular to order here, they will list off quite a few of their burgers. That's because they all are seriously that good! We asked that same question and decided to order the Wild West Burger. It's topped with pulled pork carnitas, jalapeño bacon (talk about a game-changer), cheddar cheese, crispy onion straws and chipotle BBQ sauce. You're going to have to take BIG bites because burger joints like this place never go small. This sports bar is the perfect place to stop for eats, drinks, and maybe even to catch a game you didn't want to miss while you're out on the road.
If you like this, check out Cowboy Jack's in River Prairie (short drive from downtown Eau Claire)!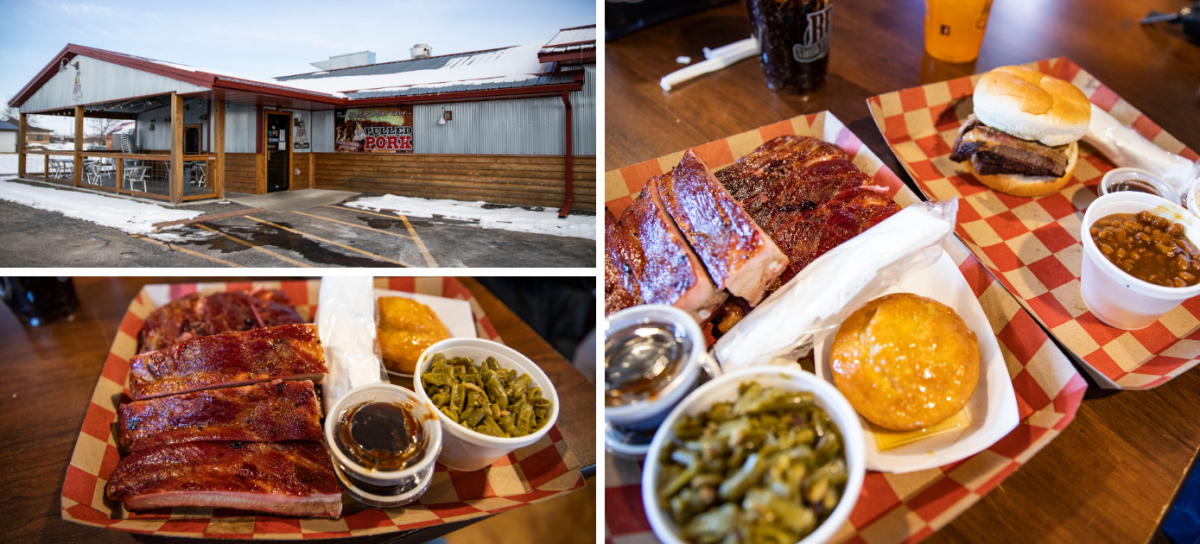 BP Smokehouse BBQ in Tomah, WI
Who doesn't love a good BBQ?! BP Smokehouse BBQ is located in Tomah and they have ribbons and awards for their sauce that prove just how good they are. This place started out as just a smoker and a trailer on the go competing at BBQ championships. Now it's a physical restaurant that has served BBQ lovers from near and far for many years. The main thing you want to get a taste of here is obviously their BBQ sauce. Their smoked meat pairs perfectly with their sauce and their sides help tie the meal altogether. We tried their ribs and beef brisket... chef's kiss. The unexpected show stopper here was also their cornbread muffin. Let's just say you'll be pleasantly surprised. Apart from the delicious food, the staff and management here are top-notch. Their passion for BBQ shows and they will make you feel like you're right at home once you walk through the door.
If you like this, check out Karl's Bar-B-Q Express in Eau Claire!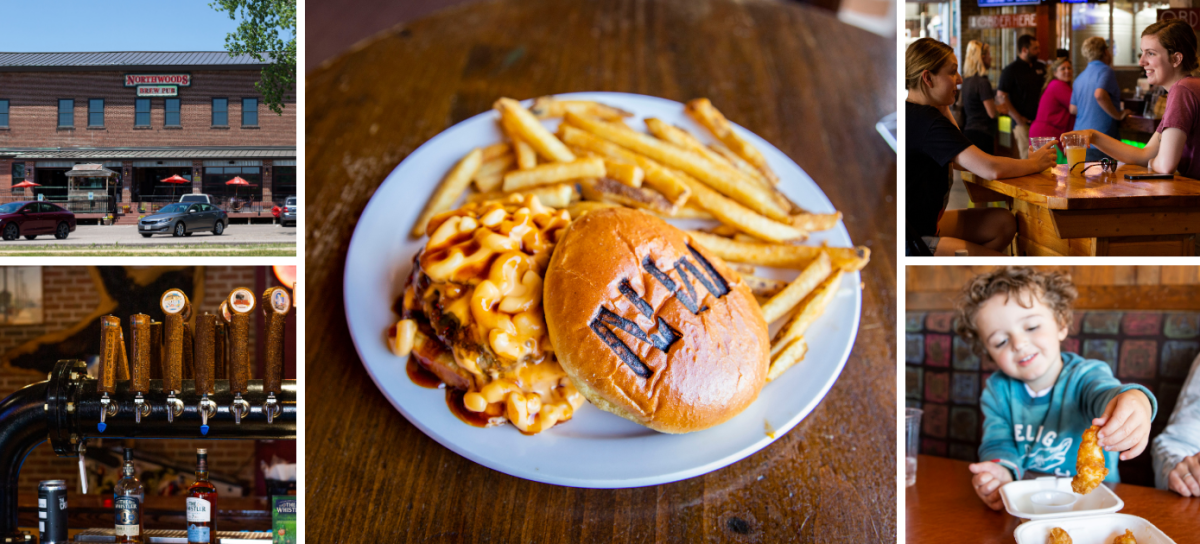 You've almost made it to Eau Claire, but before you put down the form and knife for the day, you must take an exit off the highway to Northwoods Brewpub in Osseo for one of the 7 most unique burgers in the state of Wisconsin. Seriously! Their Bacon Mac & Cheese Burger made that list of special burgers by Travel Wisconsin! Made with locally sourced meat, topped with sizzling bacon, creamy mac & cheese, and finally drizzled with a sriracha bourbon sauce, this burger will send your taste buds on a TRIP. Northwoods is also a local brewery! It's about time for a beer! They also have bar games inside as well as an amazing outdoor patio to enjoy your meal on during the warmer months making for the perfect atmosphere to gather with your close friends and family.
If you like this, check out Valley Burger in Eau Claire!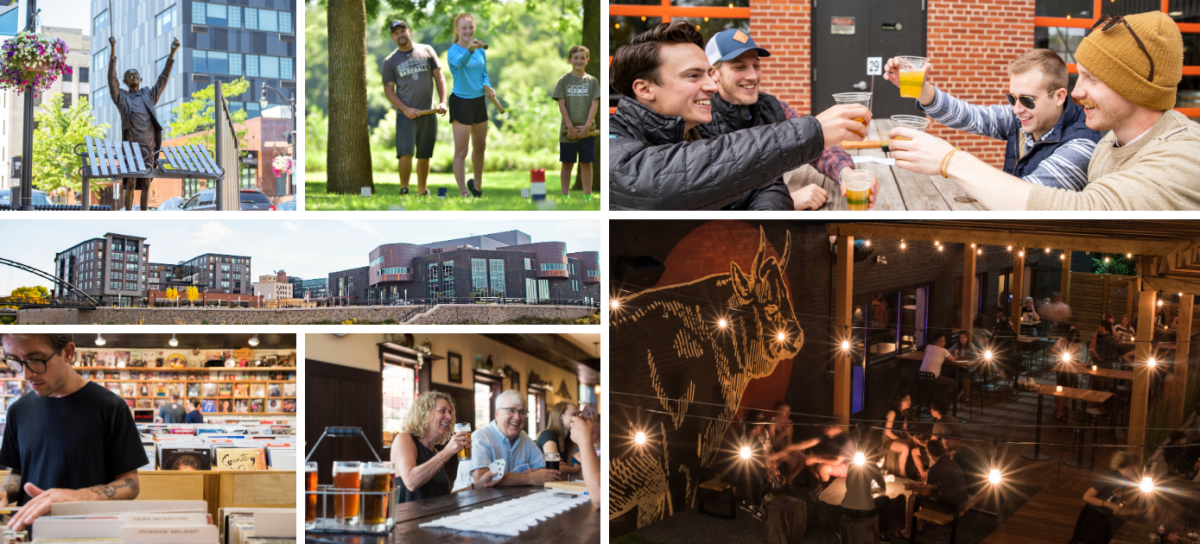 You've arrived to Eau Claire, WI!
You made it! Welcome to the land of originality! Your foodie adventure is far from over. In fact, it has just begun! Eau Claire is home to many restaurants that will cook you food you'll always want to come back for and treat you with unmatched hospitality. From crispy fish fries to one-of-a-kind supper clubs, from international flavors to Wisconsin traditions like cheese curds, from sweet to salty, Eau Claire has something for every palette from appetizers to dessert. Simply browse through our list of restaurants or use our 3-day Foodie Itinerary below to make sure you're not missing any of the dishes that are iconic to Eau Claire. As far as things to do once you get here, we have that covered for you too. You can take in the natural wonders of the great outdoors while exploring our trails, or maybe walk through the streets of downtown hunting down the sculptures and murals that breathe life into our city. If it's a family affair, then there's much for you and the crew to do too! What're you waiting for? Eau Claire and these delicious plates await! 
More to See On Your Way to Eau Claire
Begin Planning Your Eau Claire Experience