The Antique Emporium is located on Water St. in Eau Claire and offers one of the largest selections of old etchings, wood engravings, lithographs, and paper ephemera in the Midwest. Explore their diverse and eclectic goods the next time you're itching for something old yet something new. 
Prepare to be wowed when you walk into The Attic. This store is one of the largest consignment stores in western Wisconsin and boasts 8,800 square feet of home goods and unique items you never knew you needed. Spend hours browsing and see what may catch your eye!
EC Vintage: the place where trendy meets vintage and style is created! This business is located in downtown Eau Claire, and they seek out the most stylish yet timeless, name-brand clothing items. Shop for classic graphic tops, high-quality pants and jackets, and shoes that are hard to find!
If you're on the hunt for antiques and collectibles, plan a visit to The Shed in Altoona, WI! Their shop has been consistently voted as one of the best antique stores in the Chippewa Valley by our locals. They have aisles upon aisles and shelves upon shelves filled with vintage wares that you'll be dying to bring home with you.
One important thing to know right away: Mabels is cash-only. The owner of this incredibly unique shop in downtown Eau Claire has either collected or created all of the items that live here. Trust us, from the moment you walk through the door, you will feel like you've stepped into a whole new world!
Looking to update your wardrobe with swanky vintage attire? Stop by Seven Suns Vintage in downtown Eau Claire! Their clothing and accessories are from the 1990s and earlier, but you'll see a huge emphasis on the '70s in their collection. 
People that have visited Jean's Antiques & Collectibles have claimed that they have not been able to find the one item they have been searching for until they've come here! From the outside, Jean's may look itty bitty, but believe us when we say there's so much to browse through once you're inside.
Dear Prudence is a thrift boutique in downtown Eau Claire that sells anything from clothing to furniture and home decor. Peruse their goods and see what you can find! 
Bonus!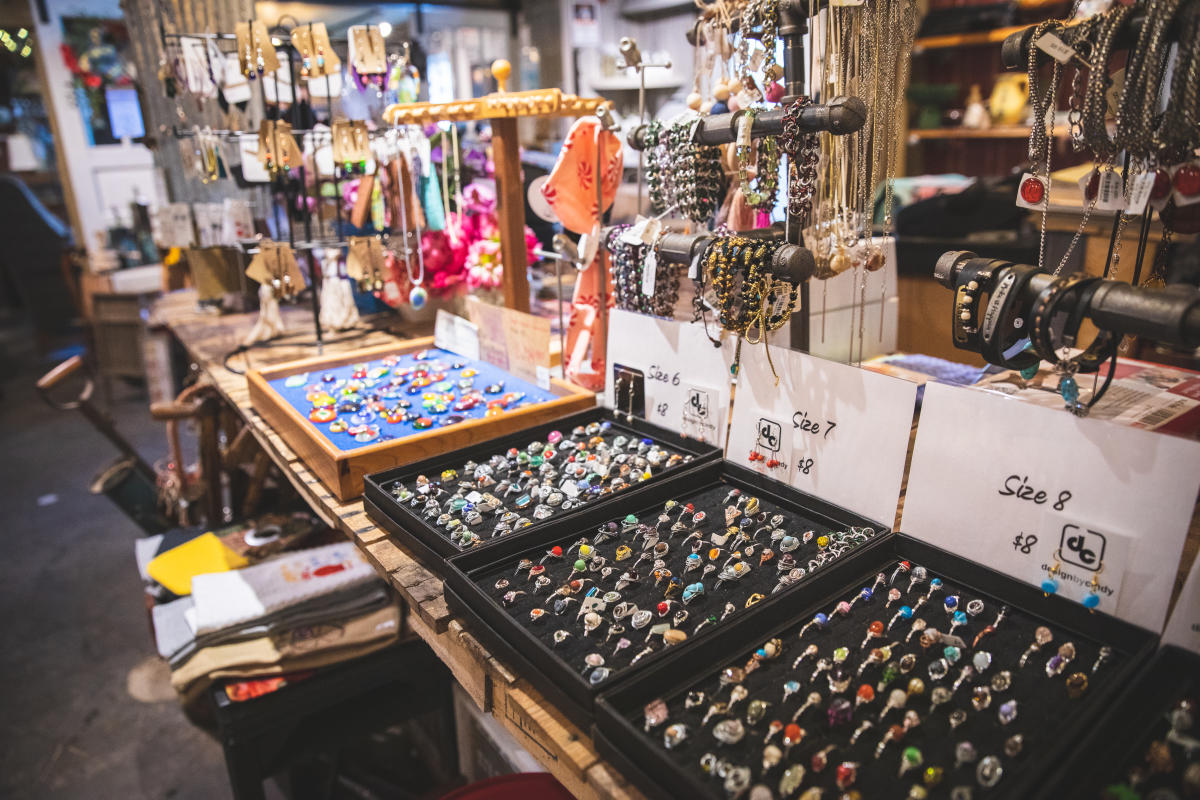 Just a short 25-minute drive south of Eau Claire is the lovely little town of Osseo, WI. Right off I-94, you may spot a large red barn with the word "antiques" on it. This is the Osseo Nickel Barn & Coffee Shop and it is a must-stop if you enjoy shopping for antiques. While you're here, pair your treasure hunt with a cup of joe from their coffee bar!
Get a closer look at Antique & Thrift Stores in Eau Claire!