Soup season is upon us in Eau Claire! When the weather starts to get colder, the days get darker earlier, and the seasonal changes start to put you in your feels, these soup places will warm your bellies and your hearts. Check out places to get soup in Eau Claire on a cold day!

Shop through Eau Claire's finest cheese and deli selection at Eau Claire Cheese & Deli, and take a bowl of the daily soup special to-go! Choose from seasonal soup flavors that will warm you up like Chicken Wild Rice, Broccoli Cheddar, Chicken Tortilla, and more.
If there's one thing that the locals love about Brackett Bar, it's their mastered soup menu. Each week, find flavors like French Onion, Tomato Basil Bisque, White Chicken Chili, and warm flavors that are sure to warm you up!
Order some of the best Chinese and Japanese dinners in Eau Claire at Shanghai Bistro! If you're looking for a hot bowl of soup, choose from multiple miso soup ramen bowls, pho, and a huge list of sushi rolls, nigiri, and sashimi.
ECDC in downtown Eau Claire has the perfect cafe menu, including daily soup options! Order a bowl to go with their Northwoods Wrap, Smoked Turkey Pesto Panini, or Grilled Cheese, and sip on a coffee for a delicious and cozy lunch at ECDC.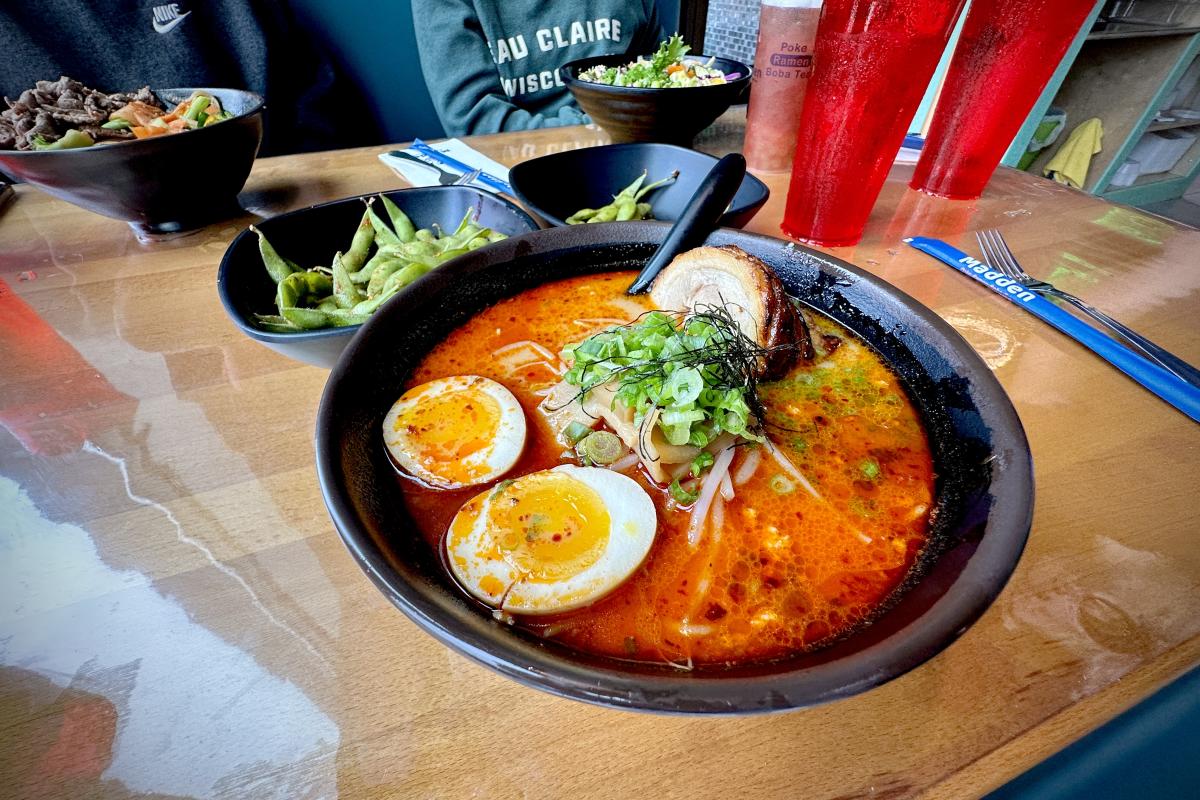 Madden opened in downtown Eau Claire in the summer of 2023, and they serve some of the hottest ramen bowls in town! With a wide variety of base and broth flavors, protein options, and additional garnishes, Madden has a little something for everyone. Check out their menu to see more entrees like Poke Bowls, Curry Bowls, Rice Bowls, and more.
Hangar 54 may be in the running for the best soup in Eau Claire, especially their perfected French Onion Soup created fresh in-house. The locals are constantly raving about it! Order salads, sandwiches, and other shareables to accompany the soup of the day at Hangar 54.
For more fabulous Asian cuisine options in Eau Clare, head downtown to Thai Orchaid. Try some of their delicious Thai soup options like Hot and Sour Soup, Coconut Soup, various noodle soups, and more tasty, authentic dishes!
At Randy's Family Restaurant, you'll find a menu filled with comforting, home-style food, and even what the locals would call the best Chicken Dumpling Soup in Eau Claire. Stop in for lunch at Randy's, and put the dumplings to the test!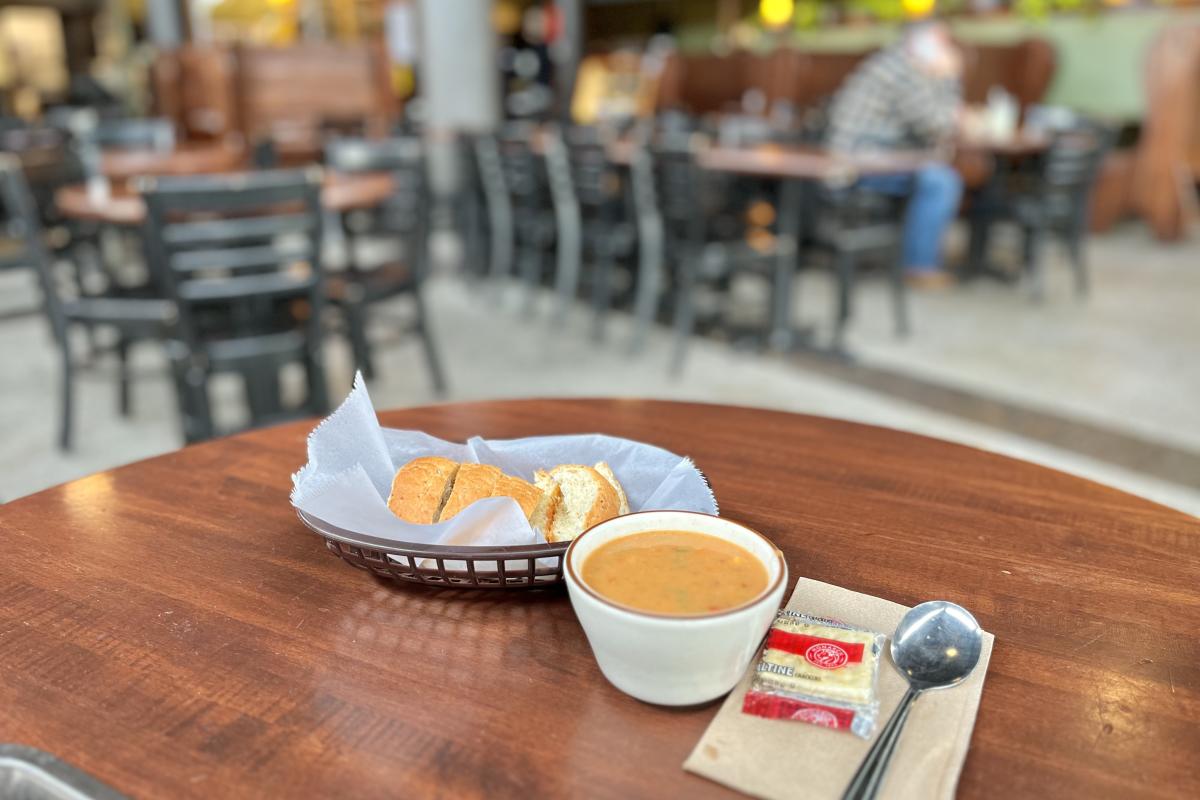 For some of the coziest cafe vibes in Eau Claire, put in your orders at Acoustic Cafe. This downtown restaurant serves a selection of daily soups like Texas Chili, Split Pea & Ham, Veggie Black Bean, Chicken Pot Pie, and so much more. Pro tip– pair your cup of soup with one of Acoustic Cafe's famous hoagies for the ultimate comfort food meal!
Try another contender for the best French Onion Soup in Eau Claire at Houligans. This steak and seafood pub has a menu filled with impressive dinner options with chicken, salmon, pasta, beef, salads, and, of course, scratch soups!
There's no doubt you'll leave Norske Nook without a full belly and a warm heart, no matter what you order! Their menu covers everything from burgers, salads, slow-cooked roasts, and sandwiches that "taste like Grandma's." Pair a bowl of soup with one of Norske Nook's comfort meals, but be sure to save room for their glorious pie!
When staying at the hotel at 29 Pines, know you're in good hands with their restaurant's huge menu with all sorts of heart-warming dinner options. All of their soups are homemade and go perfectly with their salads, sandwiches, wraps, and other homestyle-favorites dishes!
Try out the beloved Court'n House for tasty burgers, pizza, fish, or better yet, a sandwich to pair with the soup of the day! Stop in to see what seasonal flavors are being offered each day at Court'n House.
More Ways to Warm Up in Eau Claire