CHRISTMAS IN EAU CLAIRE, WI
It's officially the most wonderful time of the year, and Eau Claire is bursting with excitement. When walking around the streets, you'll see lights illuminating the streets, local shops and restaurants decorated to a T and you'll even hear Christmas music playing in the streets of downtown. Whatever Eau Claire does, it does it big, and the holidays are no exception at our destination. We promise there will be no lack of spirit this holiday season.
While the holidays are always a blast, we also understand they can bring on some stress, especially during the year that has been 2020. There is shopping to be done, plans to be made, family to entertain and a million other things happening at once. It is important to remember that the circumstances of this year require us to do all of these things with safety at the top of mind. While you travel for the holidays, always be sure to wear a mask, practice social distancing, and sanitize regularly to help stop the spread of COVID-19. It's holiday cheer that we want to spread instead. Here is what you can expect this holiday season in Eau Claire, WI. 
HOLIDAY EVENTS IN EAU CLAIRE
WINTERTIME IN THE CITY 
Kick off the holiday season at Wintertime in the City! The celebration will take place throughout Phoenix Park in downtown Eau Claire on Saturday, December 5th from 1pm-6pm. There will be socially-distanced photos with Santa, a decorated tree in Haymarket Plaza, holiday lights in Phoenix Park and along South Barstow Street, along with a mile-long winter loop that will feature hot chocolate, cider stands, and ice sculptures. Not to mention, the local businesses throughout downtown will be ready to welcome you through their doors for some holiday shopping.
Why not enjoy the holidays with a beer in hand?! Each Saturday and Sunday from November 21st through December 13th from 1-4 PM, the Leinie Lodge will be hosting their Holiday Markets. You can expect live music, snacks, gift wrapping, and special deals on Leinenkugel's merchandise. Plus, the best part... Leinenkugel's Beer!
WINTER FARMERS MARKETS
Who says farmers markets are just for summers anymore? This winter you can find winter farmers markets at a couple of locations. The Lismore Hotel will host an indoor winter farmers market on the second Saturday of each month until April 2021 from 9 AM-12:30 PM. You can find a wide assortment of local meats, fish, baked goods, coffee, beeswax candles and more while also supporting our local economy.
The Down To Earth Garden Center will also be hosting a winter farmers market but instead, this one will take place on the first Saturday of every month until March 6, 2021 from 9 AM-2 PM. Head over to Down To Earth for not only some winter greenery but other local produce like honey, beef, pork, veggies, fruit, and of course we can't forget our Wisconsin staple: cheese!
GET IN THE SPIRIT IN EAU CLAIRE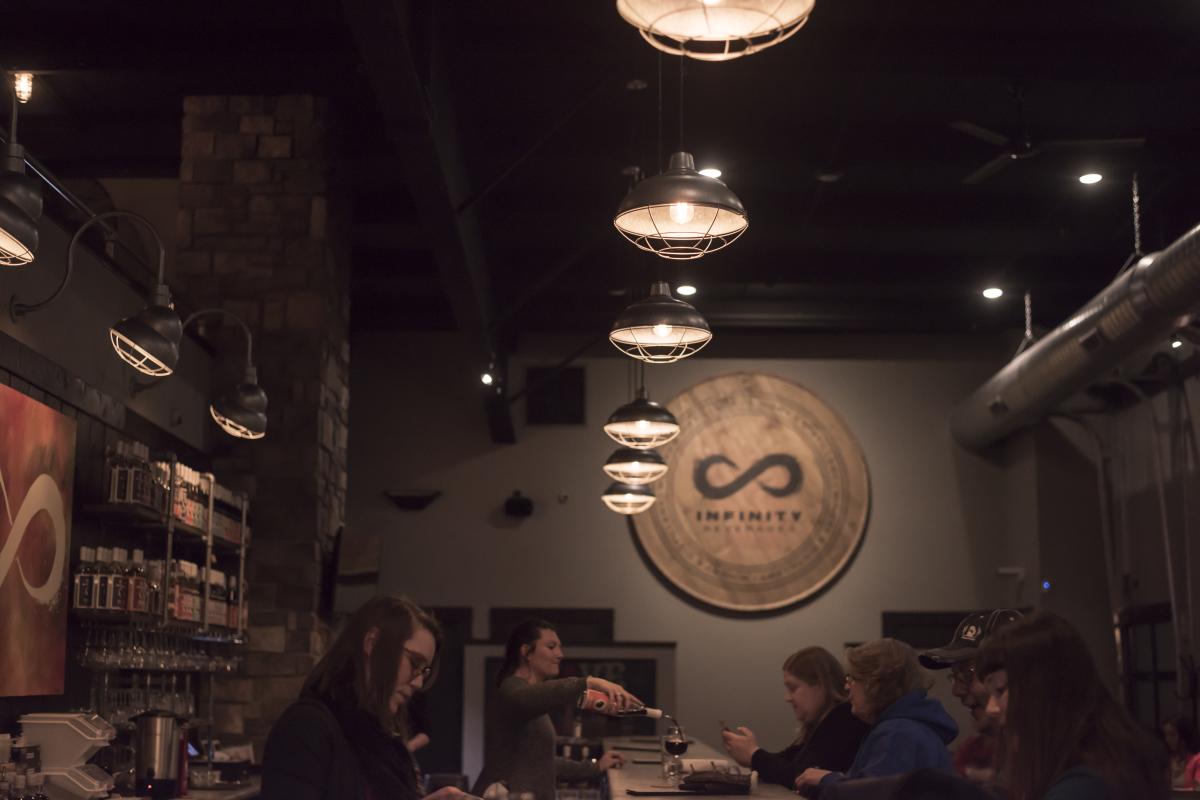 STROLL THROUGH CHRISTMAS VILLAGE
Christmas Village is an impressive light display over at Irvine Park in Chippewa Falls, WI. The park gets lit up with over 60,000 lights and creates Christmas scenes that will make you feel like you've been transported back to the Victorian era. You can put on your snow boots to walk through the park by foot or cozy up with a warm cup of hot cocoa and Christmas music in your car to drive through the park. The Christmas Village is free, but donations are always appreciated to help keep this lovely tradition alive in the Chippewa Valley.
PICK OUT YOUR CHRISTMAS TREE
There's something about picking out that perfect Balsam Fir, strapping it onto the rooftop of your car, and bringing the fresh smell of pine through the front doors of your home. Look no further than Curvue Hideaway & Trees for a tree farm that will have just what your living room needs this season. They have 10-acres worth of trees for you to browse through including ones you can cut yourself or pre-cut trees that will save you some sweat. Then, do some rockin' around the Christmas tree and have a happy holiday!
JAM OUT WITH HOLIDAY CONCERT STREAMS
Skip the Spotify or Apple Music playlists this year. While Pablo Center at the Confluence can't host an in-person show, they can bring the stage to you! Oh, the power of the internet! Tonic Sol-Fa and Top 5 Billboard artist, Shaun Johnson & the Big Band Experience, will be on their "I'll Be Home For Christmas" Virtual Tour to help bring some holiday cheer to your home safely on Saturday, December 12 at 7:30 PM. Only 200 tickets are available ranging from $10-$95 making it a "pay what you will" VIP event. A portion of the proceeds will benefit Pablo Center after what has been an immensely challenging year.
This next option isn't exactly a "concert" stream but, it is also brought to us by Pablo Center! Pablo Center will host a virtual showing of Moscow Ballet's Great Russian Nutcracker. Sit back with your family or friends and experience the full performance captured on stage along with a close-up look at some behind-the-scenes! Get in on this magic for only $24.99 on Saturday, December 19 from 7-10 PM.
CHRISTMAS SPIRIT WITH SPIRITS
What are the holidays without seasonal, creamy cocktails and red wines? Infinity Beverages Winery & Distillery has just the things to fill those needs. They serve their own house-made wines and spirits 365 days a year and invite you to come in for a memorable wine-tasting experience with your closest friends and family. However, each season brings fresh new flavors at this place. On December 12, Infinity will be hosting their winter open house that will feature $10 winter cocktails flights. Need we say any more? Sounds like it's going to be a "wine" Christmas!
HOLIDAY DINING IN EAU CLAIRE
DINE-IN
Let's be real; sometimes the holidays can get out of hand. All the cooking, and cleaning, and shopping... all you need is a night out! This holiday season, check out some of Eau Claire's local restaurants that serve dishes that put us on the map. While each restaurant's rules are different now due to COVID-19, make sure you call ahead and ask if reservations are required. Then, sit back and dive into an unforgettable, warm holiday meal.
TAKE-OUT
Some of Eau Claire's area restaurants have paused their dine-in operations due to COVID-19. But, they are happy to continue to serve you with their take-out and curbside pick-up options. Pick up some of your favorite comfort foods and make it a cozy night in with a holiday movie on the tv and your fireplace lit. 
DESSERTS
Don't think we forgot about dessert! The holidays are all about the baked goods. Craving French pastries? The Nostalgic Bean in Altoona is your place. Pie? Stop at Norske Nook in Osseo! Treats that pair well with coffee? Pick up something curb-side from ECDC! 
HOLIDAY SHOPPING IN EAU CLAIRE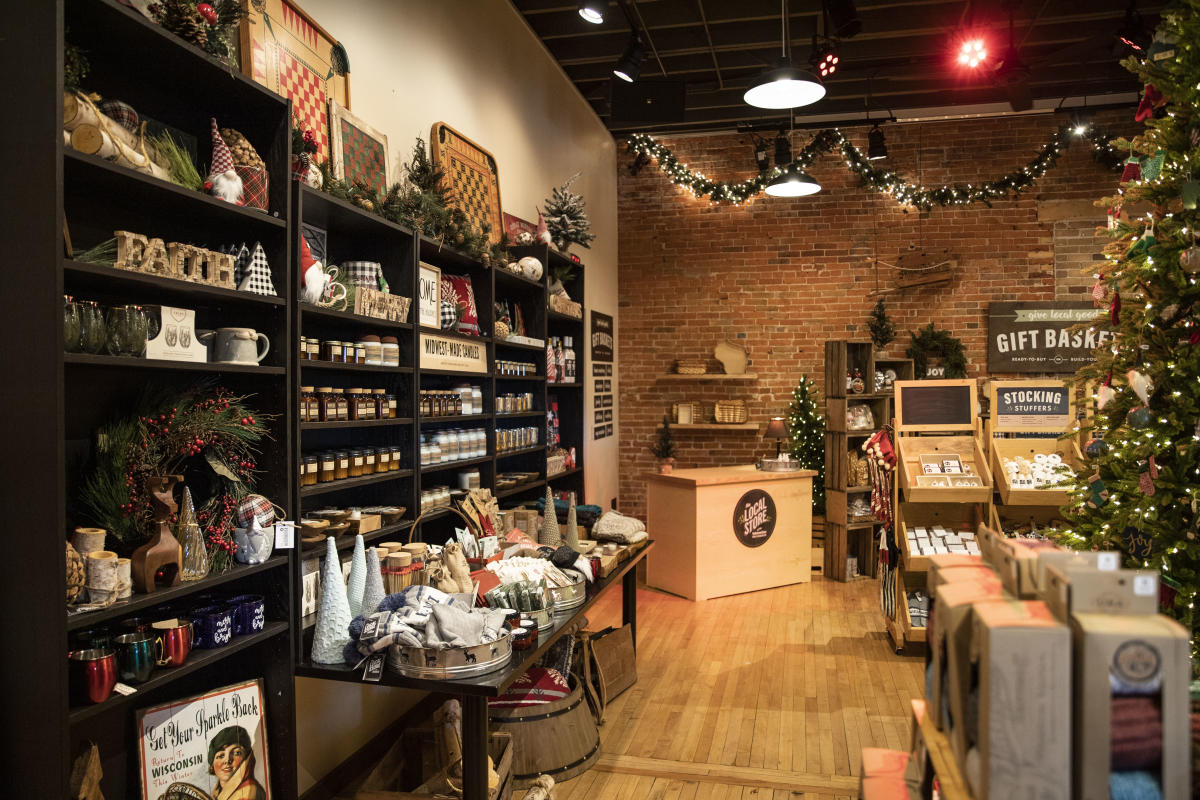 You either love it or you hate it: holiday shopping. On the bright side, there are so many unique and wonderful shops to browse through in our area. Along with the few picks below, check out all the stores in Eau Claire that will have just what you need to cross off those wish lists.
The Local Store has everything under the sun; apparel, art, books, music, food, home goods, gift baskets and much more. It just simply screams "Wisconsin" as soon as you step through the front door.
If you have any active runners in your life, Blue Ox Running is the ideal place to go for some running gear. They have professional employees, personalized analysis, and premium products that will make for one exciting unboxing moment. 
Odd Humyns carries an assortment of unique apparel, art supplies, and so much more. They pride themselves on being a place that is inclusive, accepting, and collaborative; here everyone is welcome and loved. You're bound to find a gift for any and everyone here. They are closed for in-person shopping, but they are happy to serve you online offering shipping and curbside pick-up options.
We can't forget our beloved furry family members this holiday season. When you want to spoil the heck out of your pets this year, head over to Pet Food Plus. They have treats, toys, and other goodies that will have your animals overjoyed. 
Give the gift of art this year! Artisan Forge Studios has galleries and a gift shop filled with art made by local and international artists that would look great in someone's home. 
Over in Osseo, WI, you can shop at the Nickel Barn for some gifts that have that antique charm. Their store is a unique consignment and retail shop that has items and pieces that will be a home's next treasure.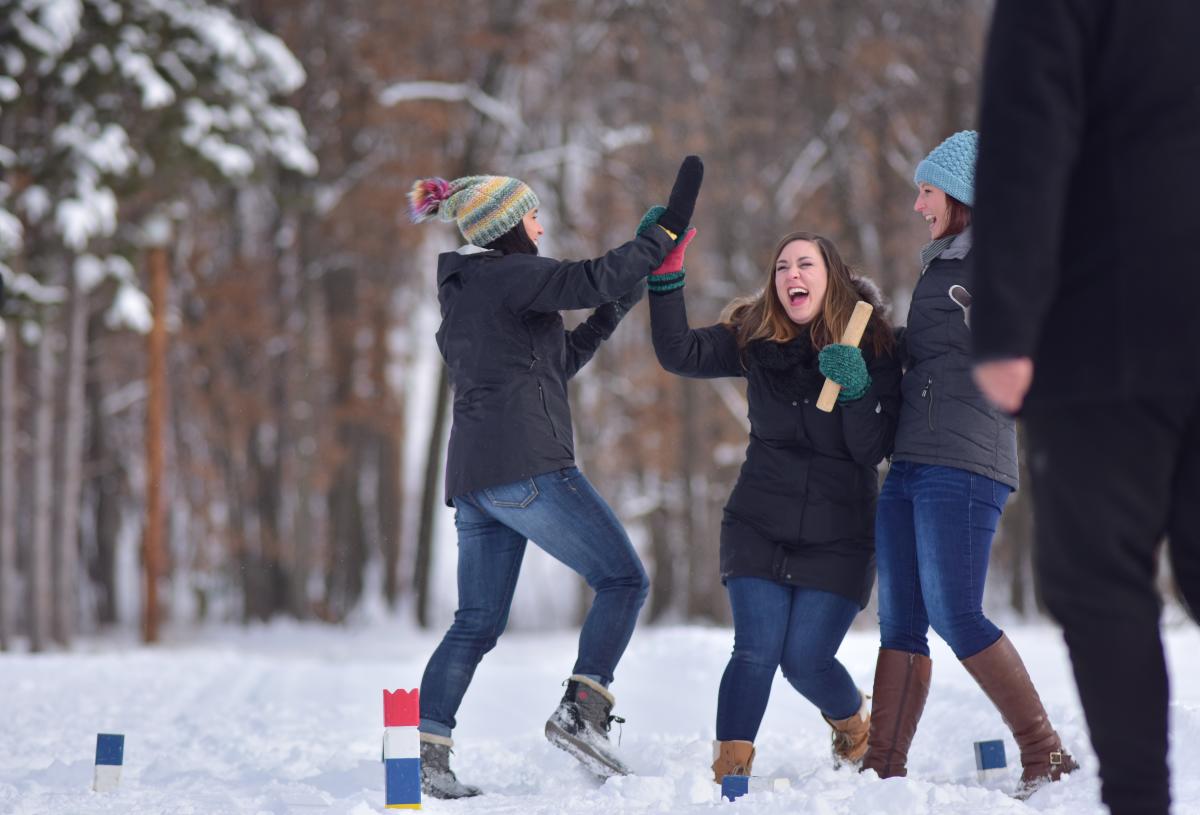 Where there is a hill and a blanket of snow, there are sleds racing down the slopes in Eau Claire! Grab your snow pants and sleds and enjoy a winter afternoon of pure snowy fun! >> Sledding Hills 
CROSS COUNTRY SKIING & SNOWSHOEING
Skiing and snowshoeing, oh my! Eau Claire has plenty of trails that are made just for winter recreation. You can glide through Tower Ridge on your skis or put one foot in front of the other with your snowshoes on at Lowes Creek. Wherever you go, enjoy the beautiful snowy scenes that winter brings to Eau Claire.
FAT TIRE BIKING 
Eau Claire offers miles of bike trails year-round. When winter comes to town, some trails are groomed and ready for the fat tire biking enthusiasts out there. Get outside and get your rush of adrenaline this winter!
It's no secret that Kubb is Eau Claire's favorite lawn game. After all, Eau Claire is the Kubb capital of North America! So, who's to say some snow is going to stop us from playing this game? Grab a group of friends and lay out your kubb pitch at some of our favorite parks like River Prairie, Pinehurst Park, or Phoenix Park!
Share all your Eau Claire holiday moments and memories with us with #eauwinter!
Happy Holidays from Visit Eau Claire to you!