Valentine's Day in Eau Claire
You either love it or you hate it: Valentine's Day. If you're looking for ways to spend the day in Eau Claire, we've got you covered no matter what side of that spectrum you may be on. From date spots to things to do for your Anti-Valentine's Day celebration, we have a list of ideas that we think you are bound to fall in love with. (Pun intended here and throughout the rest of this page.)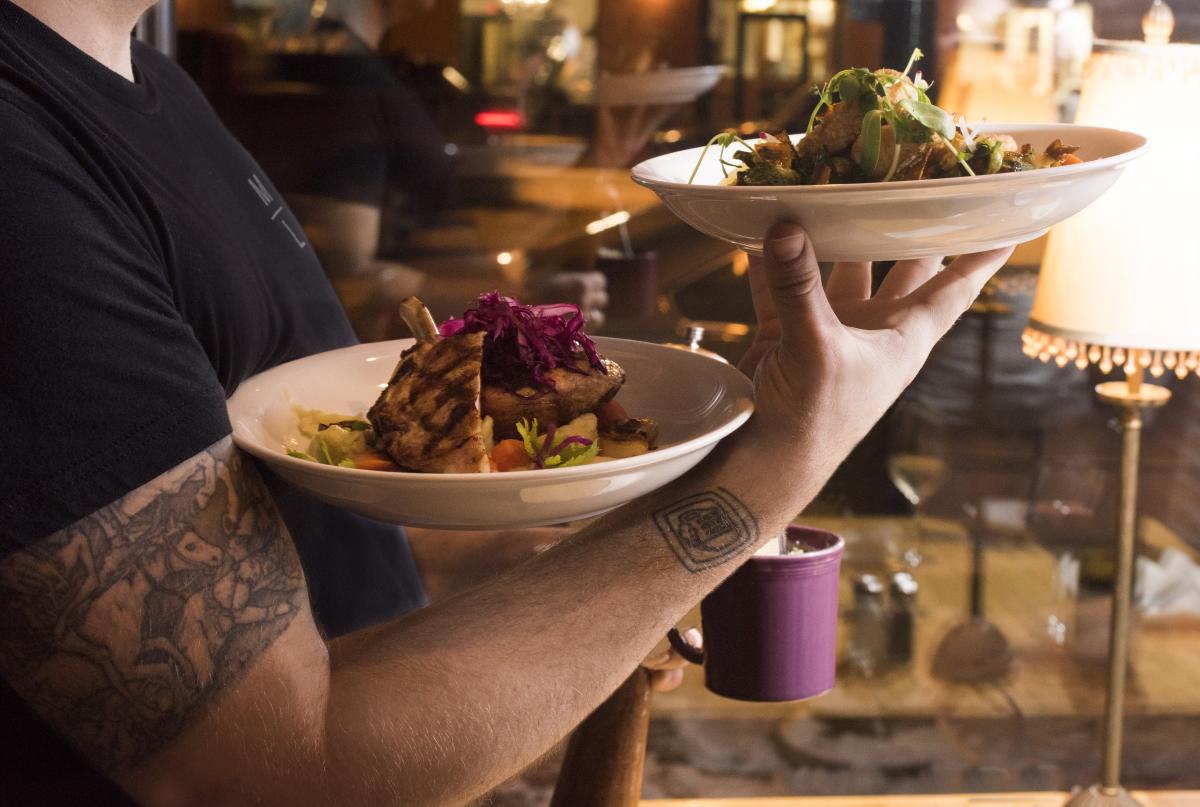 Places to Eat
Johnny's offers one of the most classy and upscale restaurant experiences in Eau Claire. The atmosphere is private and mystical created by the dimmed lights and soft music making it quite the setting for a romantic dinner. From the starters to dessert, everything you eat here is guaranteed to be *chef's kiss*.
Another place for an exceptional fine dining experience is Mona Lisa's. With food that will easily please your palate and a unique atmosphere, you can't go wrong picking Mona Lisa's for your Valentine's Day dinner.
If your heart is calling out for hibachi on Valentine's Day, do it a favor and make your dinner reservation at Tokyo Japanese Restaurant. The talent behind the hibachi is so good that some even say you get dinner AND a show at Tokyo!
The Livery is described to be the perfect in-between of fine and casual dining making it the ideal destination for Valentine's Day dinner. The atmosphere here is unmatched; the second floor of the restaurant is decked out with pool tables, dartboard, and many other arcade games so after you eat, you can play too! 
Couples that like cajun-influenced food will enjoy Stella Blues. Customers consistently rave about how flavorful the food is here, so give it a shot on Valentine's Day! If we haven't convinced you yet... Stella's also has the largest selection of Martinis, Mojitos, Margaritas, and draft beers in Eau Claire.
Houligans makes this list of places to go when you want to wine and dine your partner on Valentine's Day being that is an all-time favorite of many locals. Don't get confused by the word "pub" because inside you get more of a supper club vibe. Not to mention, the food is what all the fuss is about here; you never hear a bad review!
This one is for couples that like to play and get competitive! 44 North is located over in River Prairie in Altoona and is an ideal place to take your date if you want something that's a little more laid back and casual. You can top off dinner with ice cream from 44 Below which happens to be right next door. Everything you need for a perfect date is right in one spot!
Thai Orchid is dubbed as having the best Thai food in town. Treat yourself and your partner to some international flavors this Valentine's Day. Even if you don't want to go out and get some take-out, this might be the perfect option! They also have vegetarian and vegan options.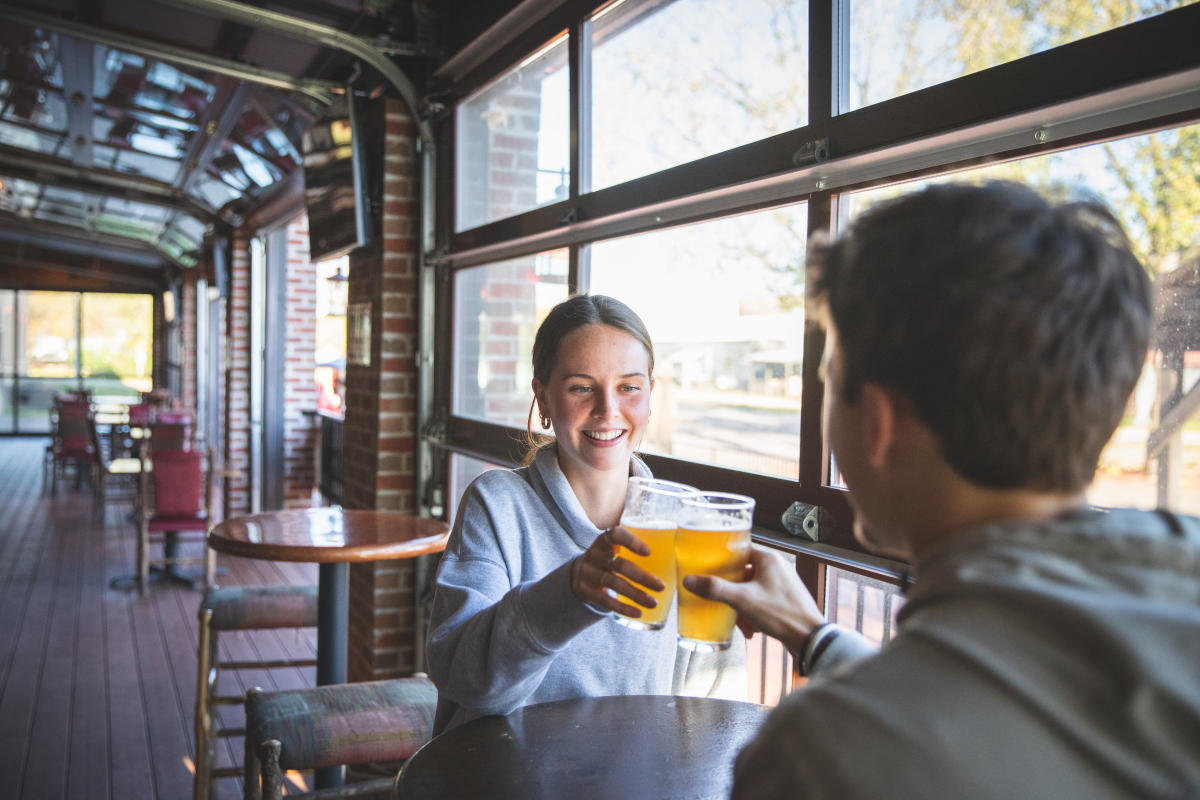 Things to Do
Spend Valentine's Day brewery hopping throughout the Chippewa Valley together! Our Brew Pass is FREE and simple to use. All you do is visit the participating locations, check in, drink beer, and earn free prizes for doing so! 
What's Valentine's Day without a little bit of wine? Make your way over to Infinity Beverages Winery & Distillery and stop and smell the rosé! Not only do they have a wide selection of hand-crafted wines but also a variety of cocktails too. 
Are you falling for someone this Valentine's Day? Why not take them on an ice skating date and literally fall for them out on the ice? Grab your skates and head over to Boyd Park's outdoor rink. If you don't have skates of your own, you can rent them for free with Eau Claire Wintermission's Gear Share program. 
They say that all you need is love on Valentine's Day, but a little bit of chocolate won't hurt either. Want some of the best homemade chocolate in Eau Claire? Sweet Driver Chocolates is the place to get it. Located inside Artisan Forge, this little shop will deliver when you're looking to get your sweetie something sweet.
If you're already at Artisan Forge for the chocolate and art is your love language, then stay a little longer. With several artist studios and galleries located throughout this building, you and your partner can explore the art of different artisans all in one spot. 
Surprise Your Partner with Flowers
Love is blooming today! Get out and buy your partner a bouquet of their favorite flowers to show them that you love them! Florists like Eau Claire Floral or Brent Douglas and shops like Hive & Hollow know how to put together a mean floral arrangement that'll make your partner's heart flutter when they receive it.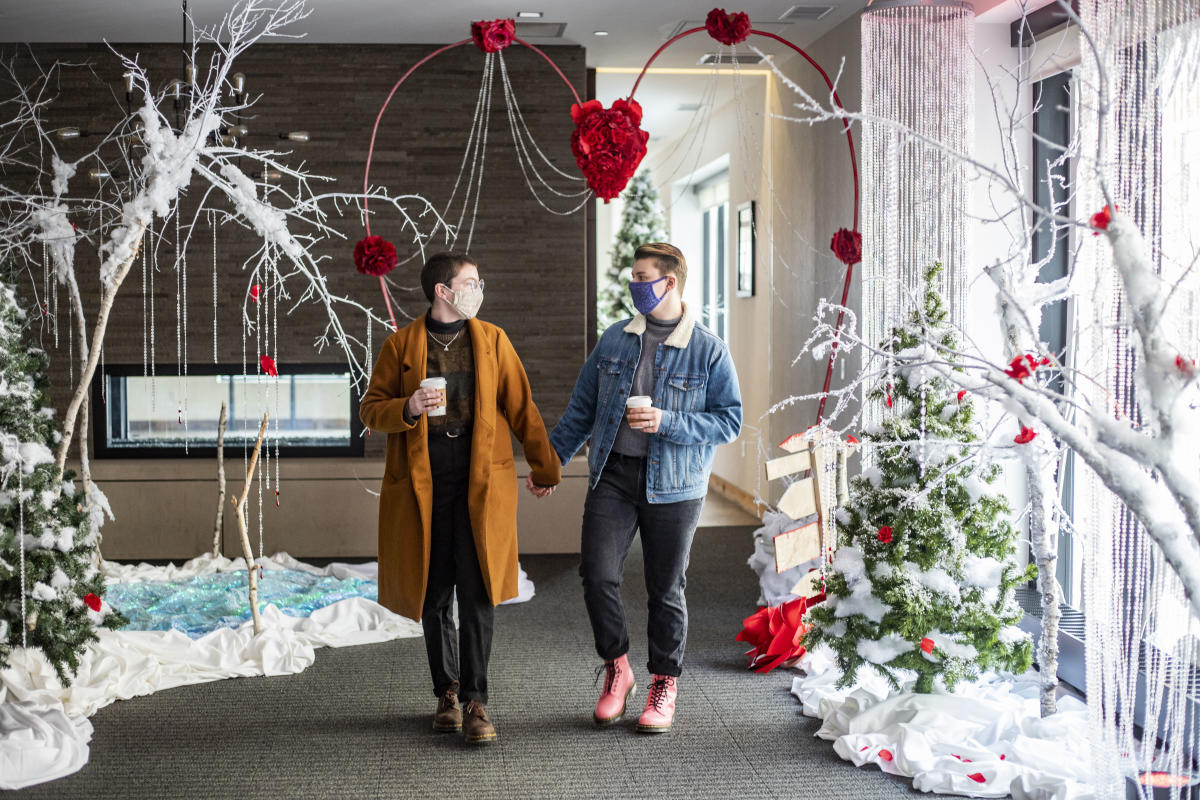 As you continue to plan your Valentine's Day for you and your partner, make The Lismore Hotel a part of your trip. The Lismore will not only be a good place to lay your head and get some rest, but your room will also deliver some dreamy winter views of downtown Eau Claire through your window. The Lismore is also home to The Informalist, an upscale restaurant with a unique menu, and a rooftop bar, The Dive, that makes for the perfect destination for after-dinner drinks in a romantic ambiance.
Otter Creek Inn is the place to go when you're looking for a place to stay that just screams romantic.  Equipped with fireplaces and jacuzzis in each of the rooms, offering breakfast in bed, and being beautifully decorated, the Otter Creek Inn will be the perfect place for you and your honey.
If you want to kill two birds with one stone, meaning having a place to stay that's also conveniently close to an exceptional place to eat, consider booking your overnight stay at Holiday Inn South. Not only will you get a warm and welcoming hotel room, but Johnny's Italian Steakhouse is also located right on the first floor. Planning a Valentine's Day excursion has never been so easy!

IF YOU'RE ANTI-VALENTINE'S DAY...
If there's no one out there that has a "pizza" your heart, you might as well give that piece to Foster's Fireside over in Osseo, WI. Their wood-fired pizzas are to die for and they will not only fill your heart with love but fill your stomach with satisfaction. Note: Foster's Fireside is typically closed on Mondays and Tuesdays in the winter and closed on Tuesdays in the summer. They will be open this Valentine's Day from 4-9 PM with a special menu and wine flights. 
We know - this day could be hard on some, but believe us, it doesn't have to be! Revel in your single status with a sweet treat!  Pick up pints of ice cream from Olson's to bring back to your hotel room or home and feel no shame as you dig in straight from the pint. Then, change that status to "In a Relationship with Ice Cream". 
The person you need to give the most love to today is yourself. So, schedule an appointment at Lotus Spa for whatever you may need - a facial, a massage, or even a manicure/pedicure - to make you feel like you've reached the highest level of relaxation. 
Treat Yo' Self! Hit the streets of Eau Claire to do some shopping. Whether it's a new piece of handmade jewelry from Hello Adorn or a fun, locally-made piece of home decor that shows your love for Eau Claire from The Local Store or Tangled Up In Hue, it'll prove that retail therapy is a real thing. 
Plan the perfect date in Eau Claire, WI!
#captureec #eauclaire #visiteauclaire
More to do in Eau Claire with the ones you love...
Book Your Romantic Getaway!