Calling all college students! You may have less than average motivation to study but we've found some of the best study places so you can focus on finals.
Well, here we are again. Classes are winding down and we are one day closer to the dreaded finals week. After my years of school, I have found some of the best places to buckle down and focus on finals. And yes, these might be mostly coffee shops, but they are a lot cuter than the library.
ECDC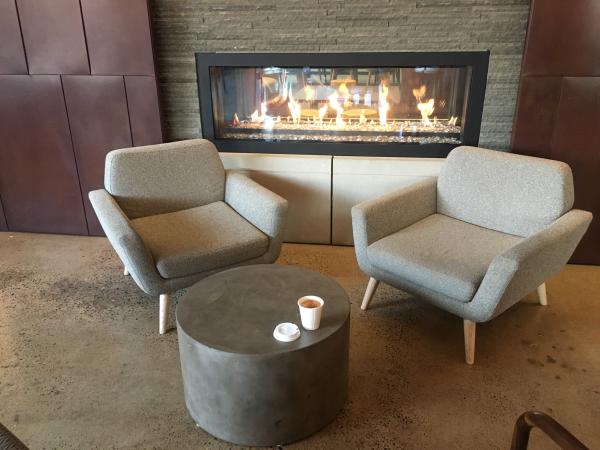 Let me start by saying, I only found this place last year and I immediately regretted taking so long. For those who have never been, ECDC is one of the trendiest and most modern coffee shops Eau Claire has to offer. With plenty of tables and many outlets, this is the ideal place to hone in on your work, charge your laptop and sip on a white chocolate mocha (my fav!). 
Insider tip: This place gets busy during the weekend, but, if you wait it out, the crowds rotate and you will surely find a seat. Also, the street parking nearby has a 2-hour limit, so if you foresee a long day of studying, check out the parking ramp next to The Lismore which has reasonable prices. 
The Cabin 
For UWEC students who live near campus, the Cabin is a perfect spot to focus on your last minute work. I spent my first two years tucked away at a high-top table or on the couches next to the fireplace. Although it does get busy, especially during weekday lunch hours, nights and weekends are a great time to enjoy the quiet and cozy atmosphere. They offer Caribou drinks to keep your energy pumping. 
Racy's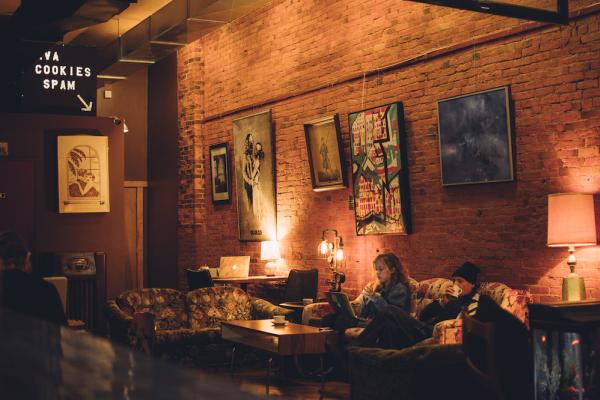 Racy's is a unique place that offers some serious "Friend's" vibes with the mismatched furniture and décor. It is another must-visit for all Eau Claire students. There are separate rooms for guests to enjoy, one cozier with couches and tables and the other with additional tables lit up by the many windows and view of the river. 
Insider tip: It is easiest to enter this place from the back-side entrance near the river. 
Acoustic Café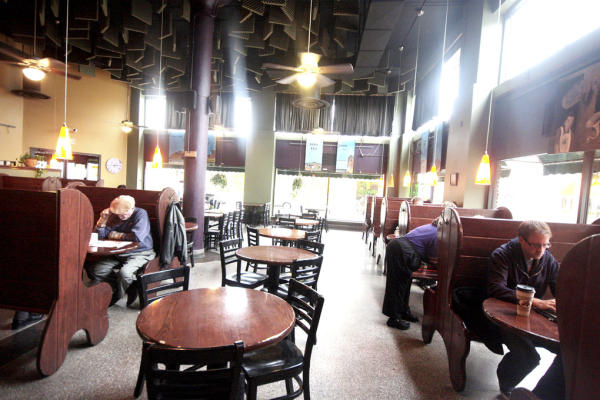 For those who are looking to grab a bite to eat in a cozy booth where you can study for hours, Acoustic Café is perfect for you. Not only do they offer great sandwiches and snacks, but there are also many seating options. There are a lot of people studying so you won't feel out of place. Since it is a café, the background noise from the kitchen is ideal for people who don't work well in complete silence. Not to mention, the booths comfortably seat four people making it perfect for group meetings. 

The Living Room Coffee House 
With 4 locations across Eau Claire, The Living Room Coffee House is a family-owned coffee house has lots of character and comfort to offer its guests. With reasonably priced drinks and great staff, this is another coffee shop to add to your list. Since it is further from UWEC, this is the ideal setting to escape to on the weekends. 
Now you know the best places to study this semester, and I look forward to seeing you there. I'll be the girl with "The Office" playing on one tab while sipping some chocolatey drink.  Best of luck, you've got this! 
Don't forget to take pictures of those Instagram-able drinks and share them with us using #CaptureEC.