From quaint little bakeries that give off that classic, small-town charm we all know and love to modern cafes that push creative boundaries, Eau Claire offers a tempting array of options for those with a sweet tooth. Prepare yourself for all kinds of sweet, irresistible delights and browse our list of pies, pastries, ice cream, and candy and pick where you'll get dessert in Eau Claire!

Pastries & Pies
Savor the taste of Scandinavian tradition at Norske Nook in Osseo, WI where pies take center stage! This iconic and charming establishment is renowned for its award-winning selection of pies and is guaranteed to wow your senses! 
The Nostalgic Bean isn't just a café in Altoona; it's a teleportation device because as soon as you walk in, you feel as if you've teleported to a little bakery in France! Their pastries are hand-made from scratch and each week, they feature a new, fresh menu. Expect to find croissants, macrons, tarts, shortbreads and so many other treats unlike anywhere else in the Eau Claire area!
While ECDC is a go-to for coffee lovers or travelers who are looking to awaken their senses, it's also a great stop for freshly made baked goods. Pair your cup of coffee with a cookie or scone and you'll be set to take on the day in Eau Claire.
Discover a harmony of flavors at Acoustic Cafe in downtown Eau Claire! Acoustic Cafe is widely loved for the way it marries its soothing ambiance with delicious dishes that cater to a range of tastes. This is a great spot to grab a cozy breakfast, study or work remotely, catch live music, or grab a quick and yummy dessert.
Looking for Mexican-inspired baked goods like Conchas, Churros, Rosca and more? Check out the Ice Cream and Bakery Shop! And you guessed it - they sell ice cream too!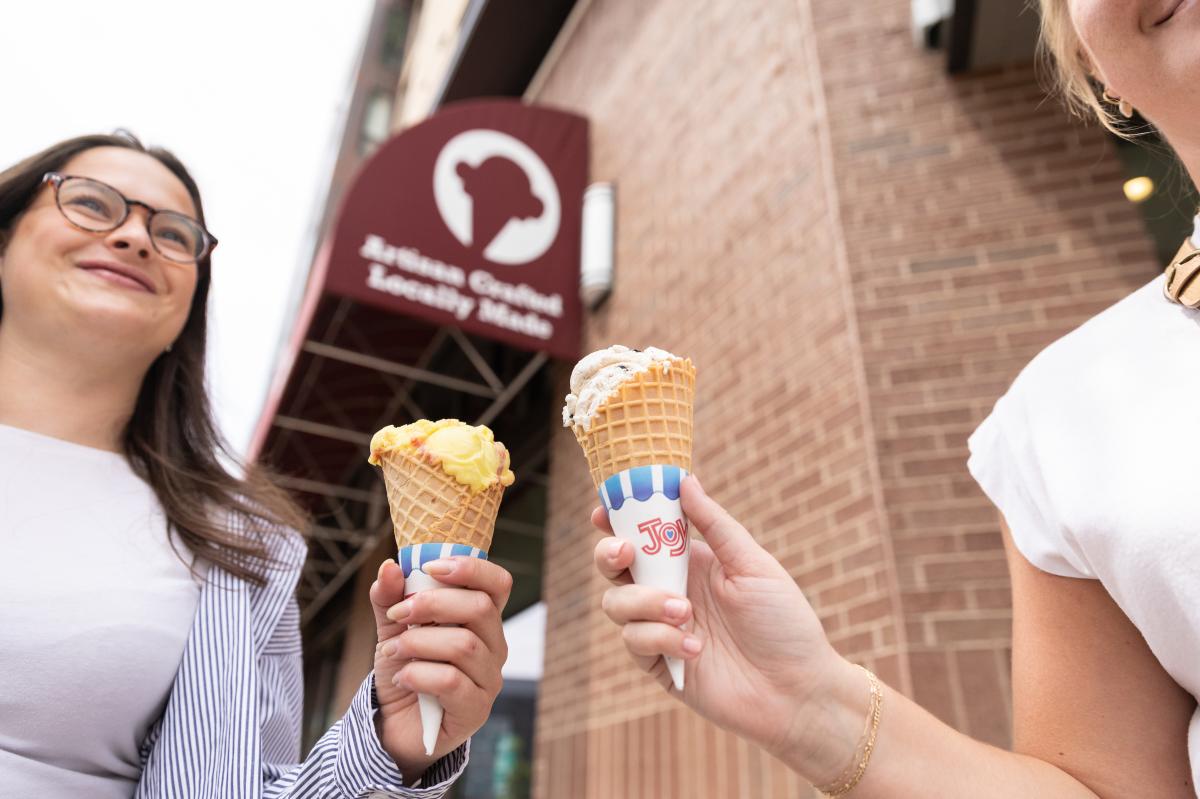 Ice Cream & Gelato
Need a scoop of pure joy? Make a stop at Olson's! This family business has been scooping cold, hand-made creamy goodness in the Chippewa Valley since 1944! Stick to classic favorites like velvety vanilla or rich chocolate or dive into something funky like black licorice!
When you scream for ice cream, Ramone's listens! This cute little ice cream shop is located in downtown Eau Claire and has an ice cream flavor for all kinds of cravings. They also offer gluten-free, non-dairy, nut-free, no-sugar-added, and vegan options as well! 
Venture over to the London Rd. area of Eau Claire and experience La Michoacana, a Mexican ice cream parlor! They serve over 100 cold treats like ice cream, popsicles, mangonadas, frescas and other tasty snacks! 
When you're out and about for a bike ride or a walk on the Chippewa River State Trail, make a little pitstop at Roadside! Roadside is located near Carson Park on Menomonie St. and is a little haven for hearty eats and tasty, cold treats! 
Did someone say GELATO?! Xavier Artisan, located inside the River Prairie Wellness Center, has a selection of scrumptious gelato flavors for the next time your sweet tooth flares up. 
Speaking of River Prairie! 44 Below is also located in the heart of the beautiful River Prairie Park in Altoona, WI right next to 44 North! Try a scoop of your favorite flavor or indulge in their specialty malts and floats!
Hand-dipped ice cream. Small batch fudge, Gourmet popcorn. Candy. Chocolate Dip. Find this all and more at Casey's Creamery on Keystone Crossing in Eau Claire! 
Find a full list of the best places to get ice cream in Eau Claire here!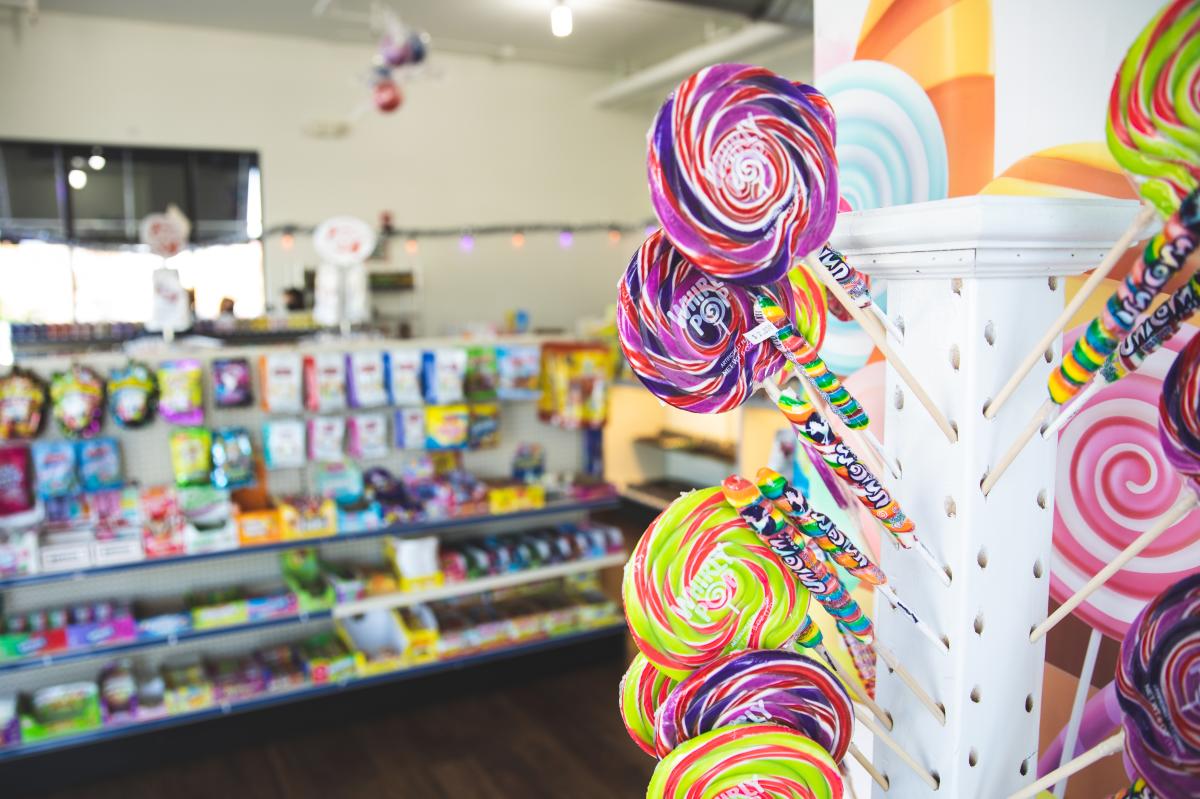 Candy
You don't have to be a kid in order to enjoy a candy shop. Downtown Candy in Eau Claire has something for all ages. They sell treats made locally and candy sources from all around the world and locally sourced wine! 
No matter what the question is, chocolate is the answer. There is no better place to get hand-crafted chocolate in Eau Claire than Sweet Driver! Their truffles are made by an award-winning chocolatier and are the perfect little treat when you're just wanting something sweet!

More Desserts Near Eau Claire
Augusta Bakery is an approximate 30-minute drive from Eau Claire and sells freshly baked bread, rolls, donuts, pastries and cakes. The locals claim this is the BEST place for donuts in the Chippewa Valley! Find more August day trip details here. 
You can find the Beez Neez Cheesecakes & Sweets food truck at a variety of local events like River Prairie's Kickin' It Country or Rock'n On The River music series. Explore their Facebook page to find their schedule or consider placing a catering order for your next event!
Chippewa Candy Shop in Chippewa Falls, WI is a must-visit for families visiting the Chippewa Valley, both for their treats and their hospitality. Their variety of unique sweets is sure to impress both kids and adults! Discover more Chippewa Falls day trip details here. 
Josef's Cheesecakes is an approximate 20-minute drive from Eau Claire. Visit their storefront and find homemade cheesecakes, macarons, hot chocolate bombs, sticky rolls, and much more. 
While Ellsworth Cooperative Creamery in Menomonie, WI is a great place to go for cheese, it's also ideal for a quick scoop of ice cream! While you're here, explore everything else the shop offers like wine, beer, hot food, souvenirs and other locally sourced goods. Find more Menomonie day trip details here!
Donut Sam's is far more than just your typical donut shop. They have a pretty neat mission. Donut Sam's goal is to be a resource to "UpSkill" individuals with special needs and assist in locating employment with other area businesses. What's better than a delicious donut that comes with a great cause?!
Another great candy shop in our area can be found in Menomonie, WI! C&J's in downtown Menomonie sells beloved brands like Nerds, Haribo, Tim Tams, Jelly Belly and many others. Not to mention, they have ice cream too! 
#CaptureEC #EauClaire #VisiteEauClaire