Things to Do in River Prairie
The first question people usually ask is, "What's River Prairie?". Let's just get that one squared away. River Prairie is a business district just three miles away from the heart of downtown Eau Claire located in Eau Claire's neighboring city, Altoona, WI. The second question people usually ask is, "What do you do there?". We can't answer that one in just one sentence. Discover the endless possibilities of things to do in River Prairie with the lists below!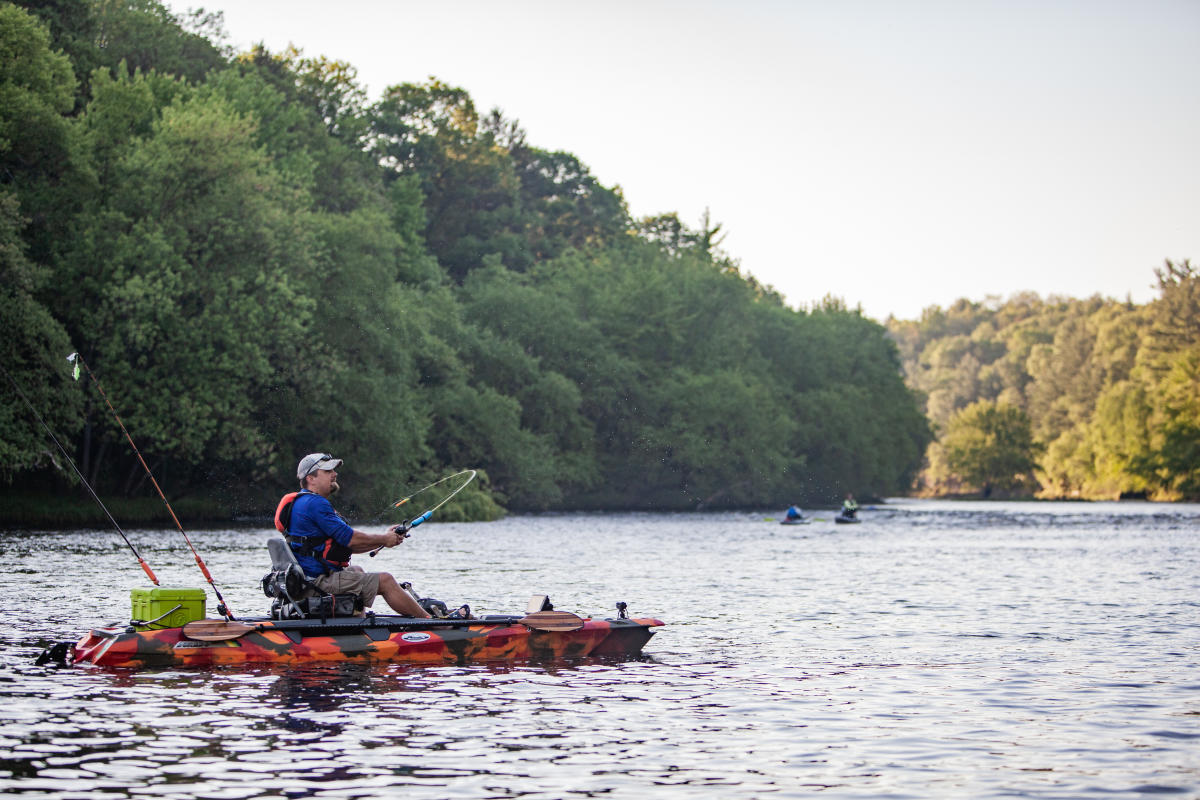 Outdoor Recreation in River Prairie
River Prairie is made for movers, shakers, and outdoor enthusiasts. There is a paved trail that surrounds the entirety of the park that also connects to other trails outside of the River Prairie business district. You can bike, walk, run, and even skate the trail while you enjoy the beautiful views found alongside the Eau Claire River. Grab your map and hit the trails!
Did you know that the city of Altoona and Eau Claire are both a certified Wisconsin "Bird City"? This means that our cities officially recognize the importance of birds as living components of a healthy community. Find a comfortable spot throughout the park to sit and see how many different bird species you can spot! People have spotted Eagles here, so make sure you keep your eyes peeled on the treetops! To celebrate River Prairie's value for birds, you can also find a few bird murals on the back of the public restroom building that is right across the street from 44 North in between the apartment complexes.
There are other ways to explore River Prairie/Eau Claire other than by foot! Why not do it by kayak? River Prairie has a canoe/kayak launch that is on the most northern side of the park and is located underneath the Highway 53 bridge. Plop your canoe or kayak into our clear water and paddle on! After a while on the Eau Claire River, you'll reach the confluence of the Eau Claire and Chippewa Rivers in downtown Eau Claire. You can either hop out here (in Phoenix Park) or continue your adventure down the Chippewa River all the way to Hobbs Landing. We're all about the fun, but always make sure to wear a personal flotation device and practice common safety precautions to make sure your float down the rivers is both enjoyable and safe!
This is only something available in River Prairie during the winters, but here's the cool thing... it's one of the only places in the United States that has this! Behold... Crokicurl! You may be wondering what exactly this is. Crokicurl is a game that is a combination of curling and a Canadian board game called "Crokinole". Everything else you need to know about what it is, where it came from, and how to play is right here.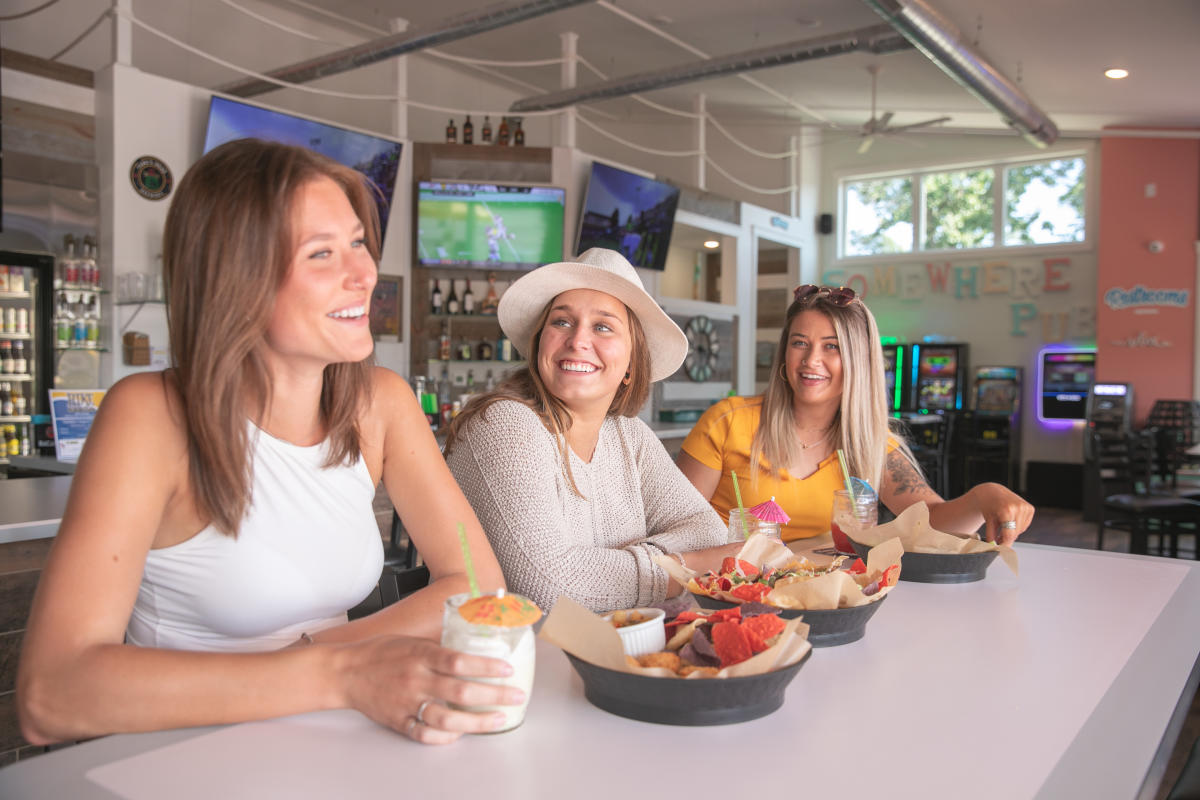 Food & Drinks in River Prairie
When you need a jolt of energy in the form of caffeine, whether it's in the morning or the mid-afternoon, Cabin Coffee will deliver. Their menu features a wide variety of coffee drinks that won't fail to perk you up and a long list of breakfast/lunch options to fill your stomach.
Speaking of outdoor dining, Cowboy Jack's is the ideal place to go when you want to enjoy a happy hour outdoors with some nice views in the background. They have an outdoor patio that wraps around the restaurant along with a deck that's enclosed and heated during the winter. It's also a great place to go when you just want to kick back inside and watch the game on a big screen. Basically, Cowboy Jack's is the place you go when you want a guaranteed good time.
44 North is like River Prairie's very own, local "Dave & Buster's". The first floor of the restaurant is a full arcade where you can play before or after you eat! The kids will go crazy for it. When it comes to the food and drinks, 44 North's menu never disappoints. Insider tip: you can get FLIGHTS (like beer flights) of Margaritas, Mojitos, and Moscow Mules here! Cheers!
When you visit The Island Parkside, you'll physically be in River Prairie, but mentally, you will be transported to the tropical islands of Turks and Caicos. Island Parkside's Caribbean-inspired cuisine along with its tropical drink menu are a game changer here in our midwest city. Once you come here, you'll never want to leave!
Helix is a wine, craft cocktail bar, and café located in the heart of River Prairie Park. Come grab a quick cup of coffee in the morning or sit down and enjoy a slow evening over a glass of wine and a charcuteries board with close friends. They also have an outdoor patio that is the perfect place to make some warm, summer memories.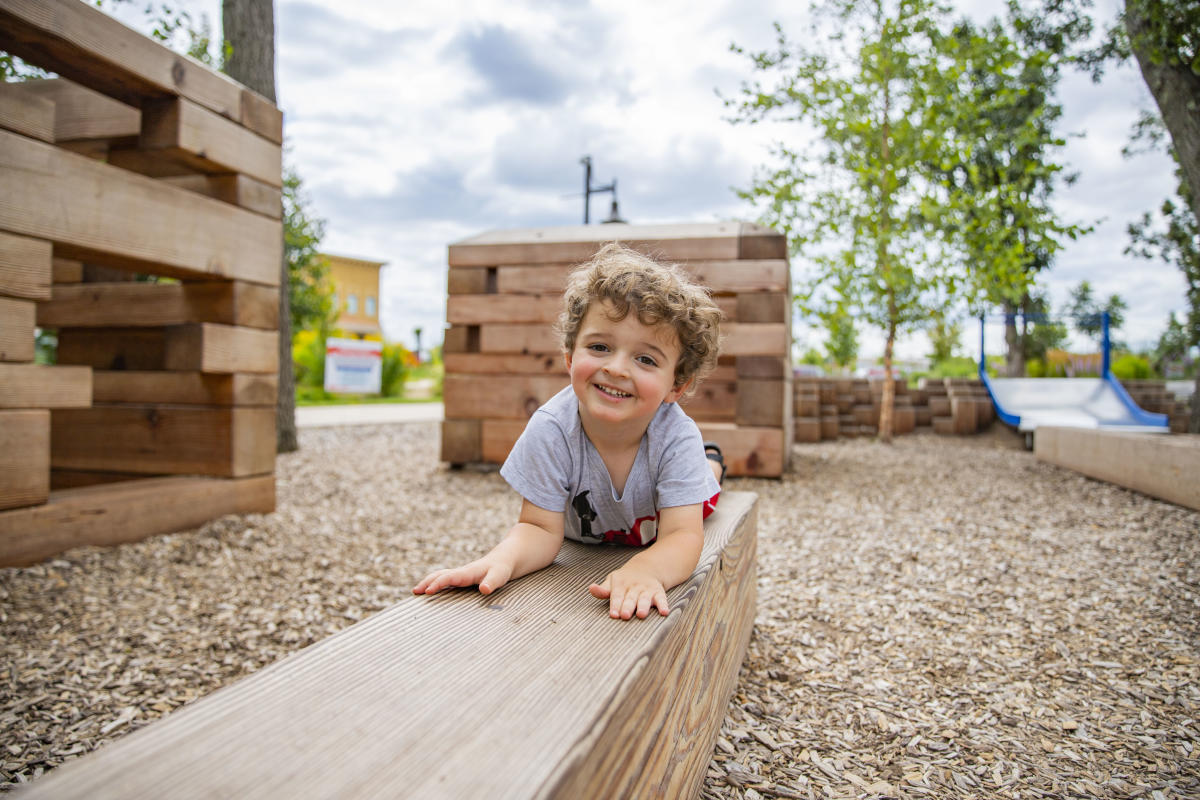 Family Fun in River Prairie
When we say "don't" wake the trolls, we really mean you should because they're super cool! There are three troll sculptures located in between Cowboy Jack's and 44 North. The mastermind behind the trolls comes all the way from across the world in Sweden! A studio there worked with Artisan Forge Metalworks (in Eau Claire's Artisan Forge Studios) and Solar Forma to bring these trolls to life. These solar powered trolls let out sounds and music when you touch certain tiles on them. See if you dare to wake them during your next visit to River Prairie!
Make a splash in the man-made stream and splash pad
When you need a place to cool off on a hot and sticky summer day, bring the kiddos over to River Prairie's man-made stream and splash pad! The stream winds and meanders throughout most of River Prairie Park and is great for kids to wade through safely when they just want do dip their feet in. We get it - some kids won't just want to dip their feet in; they want to run wild and get soaking wet! To the splash pad they go, then!
Indulge in a sweet treat
Satisfy the screams for ice cream at River Prairie too! 44 Below is located right beside the entrance to 44 North and offers a wide selection of ice cream flavors and other sweet treats like ice cream nachos (yes, you read that right - ice cream NACHOS). It's safe to say that those with a sweet tooth will be satisfied.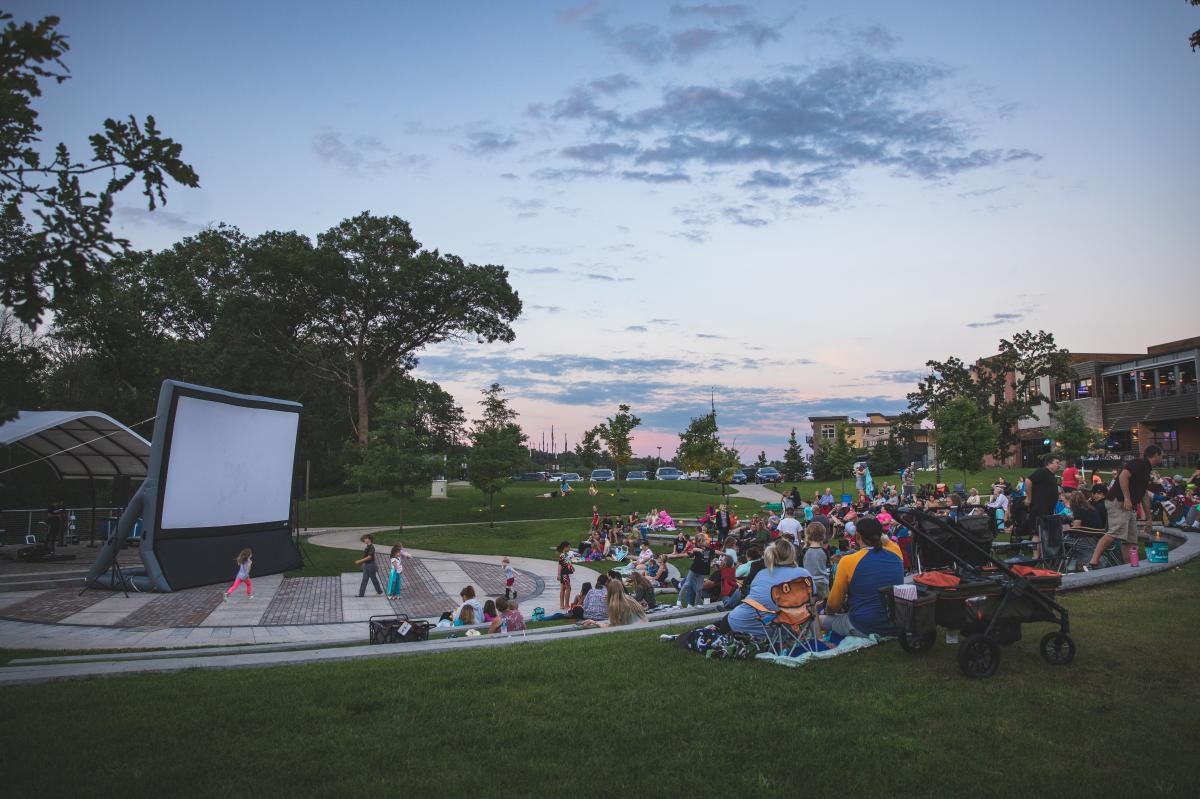 More in River Prairie
Visit the Veterans Tribute Trail
The Veterans Tribute Trail is located behind 44 North and is lined right along the Eau Claire River. The trail features legacy stones honoring regional veterans and three life-size bronze sculptures that depict a World War II soldier from the 32nd "Red Arrow" Infantry Division, a Gold Star mother, and a member of the United States Marine Corps.  Development of this Tribute Trail will continue as time goes on, but its purpose will always stay the same: educate everyone to know that freedom is not free. 
Enjoy the sweet sounds of summer at River Prairie's summer concert series
Each summer, River Prairie hosts their own outdoor Summer Concert Series every Monday and Wednesday night! There are two different series: Kickin' It Country and Rock'n On The River. Kickin' It Country is on Mondays at 6:30 PM, and Rock'n On The River takes over on Wednesdays at 6:30 PM. Who said weeknights can't be fun?! 
Check out the story below to see a summary of all the things to do in River Prairie!
EXPLORE #RIVERPRAIRIE
Tag us in your photos @riverprairie, @visiteauclaire, or use #RiverPrairie!
Things to Do in Eau Claire