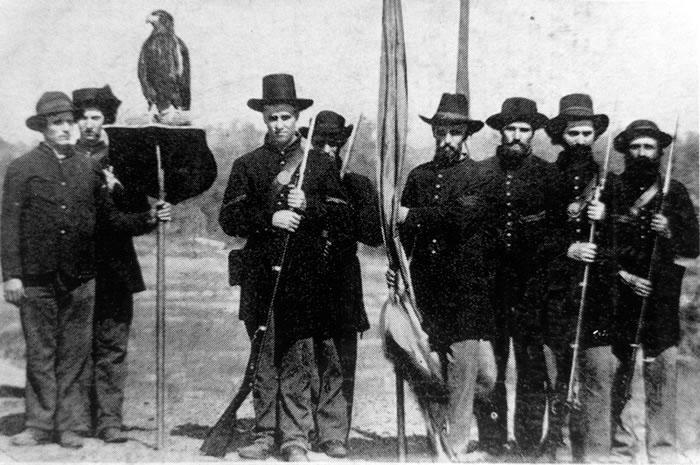 The Chippewa Valley's most famous Civil War veteran never fired a shot, nor did she – yes, SHE – ever stand at attention or march off to battle. In fact, she flew most everywhere and perched at attention instead.
The Wisconsin veteran whose name surpasses all others was Old Abe, the legendary "War Eagle" who accompanied the 8th Wisconsin Infantry Regiment into numerous battles, earning her the esteem of Union generals and the ire of Confederates, who tried – and failed – to shoot the screeching "Yankee buzzard" from the sky.
And Old Abe was hatched right here in western Wisconsin.
The Civil War may have ended 150 years ago, but its impact is still visible nationwide, notably through countless monuments. In the Chippewa Valley, several such memorials are dedicated to the feathered mascot of the 8th Wisconsin. Here's how to take a mini-Civil War tour to check them out.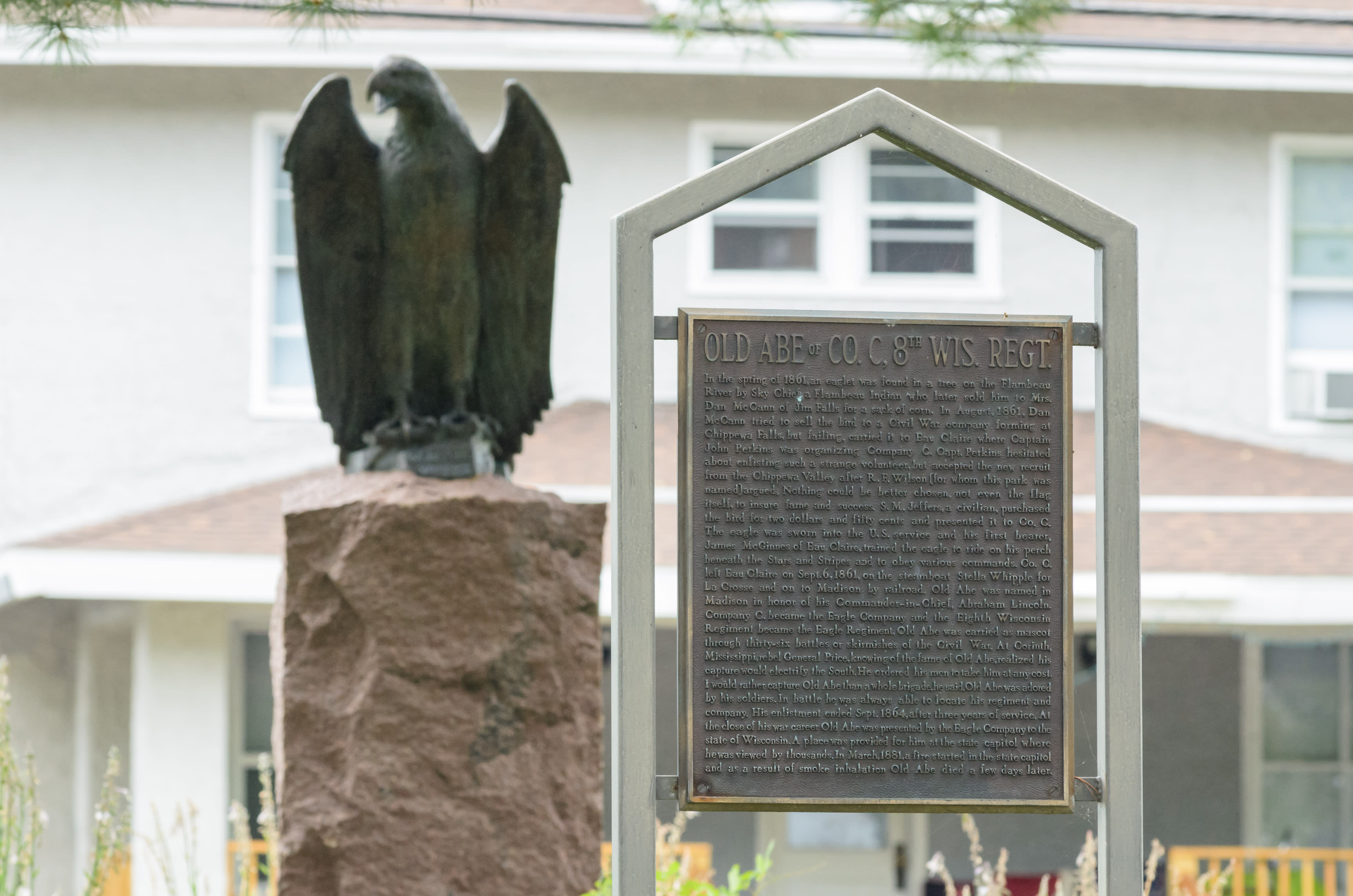 WILSON PARK
A good place to start your (relatively short) pilgrimage is Wilson Park, a small block of green between Farwell and Barstow streets in downtown Eau Claire. Not far from the fountain that is the park's centerpiece, you'll see a statue of Old Abe and a historic marker outlining the bird's history. In August 1861, it was Richard F. Wilson, a prominent local citizens and the park's namesake, who encouraged a newly formed company of Eau Claire volunteers to take the young eagle as its mascot: "Nothing could be better chosen, not even the flag itself, to ensure fame and success," he said.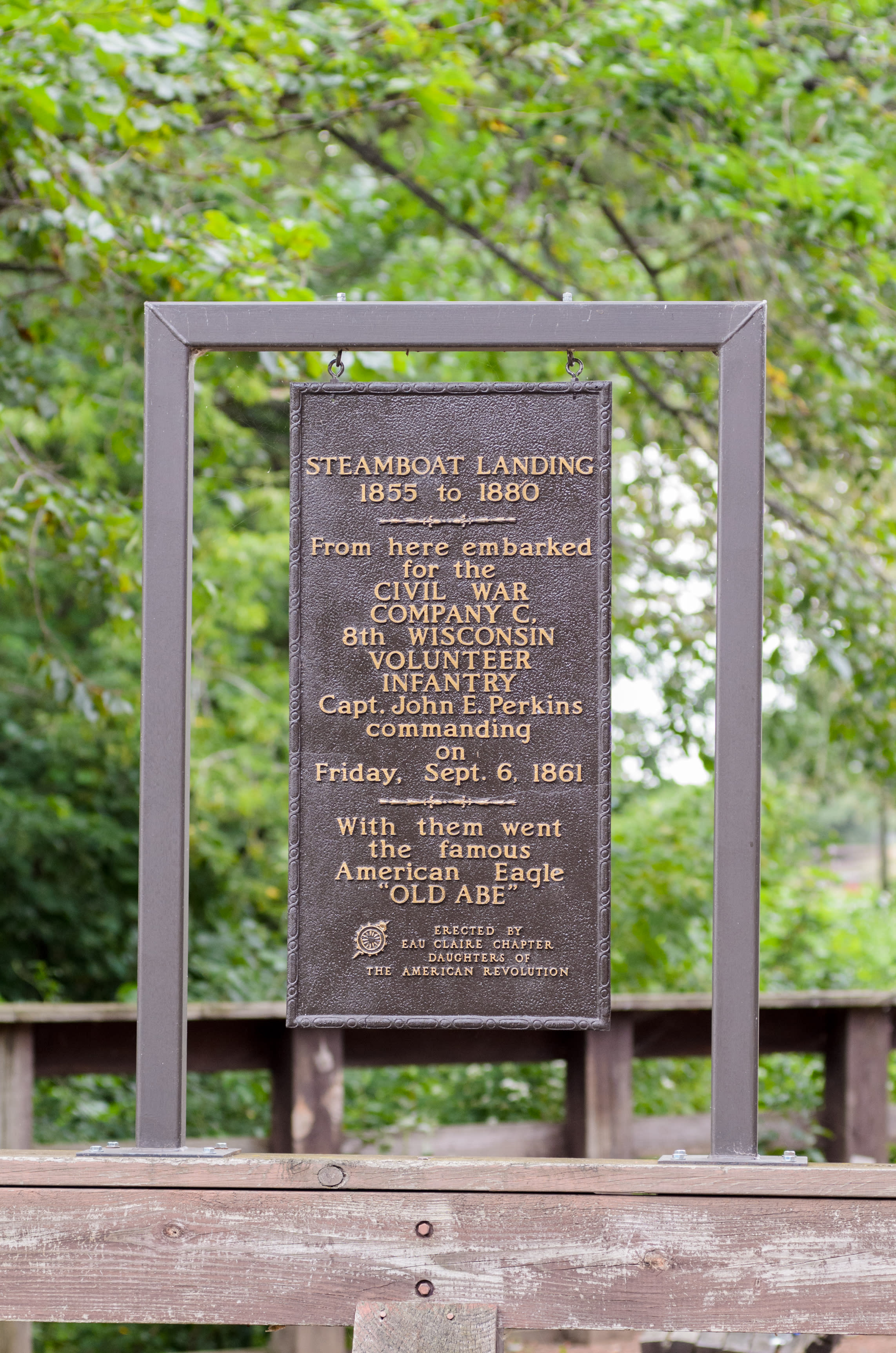 STEAMBOAT LAUNCH
After she was purchased for $2.50, the bird was mustered into the service, swathed with red, white, and blue ribbons, and given a flag-bedecked perch. On Sept. 6, 1861, the company of volunteer soldiers and their mascot departed Eau Claire by steamship. A few blocks from Wilson Park, just down the riverbank from where Gray Street dead ends at Graham Avenue, a historical marker indicates the location of a 19th-century steamboat landing. The troops and their bird were bound for Camp Randall in Madison. It was there that the eagle was dubbed Old Abe – in honor of President Abraham Lincoln, naturally – and her company nicknamed the Eau Claire Eagles. (You'll find a statue of Old Abe atop the memorial arch next to the present-day Camp Randall Stadium in Madison.)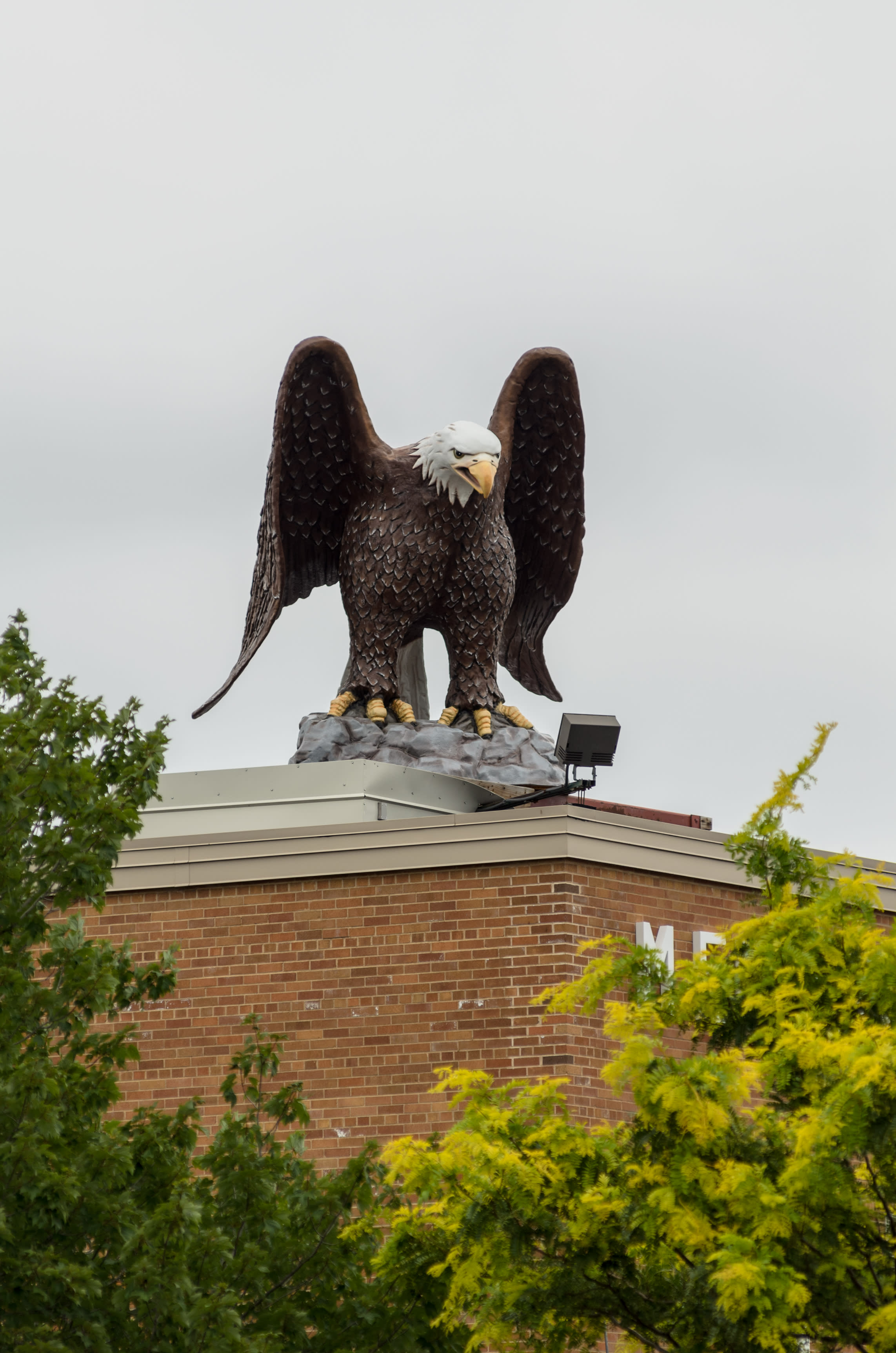 MEMORIAL HIGH SCHOOL
The so-called "Eagle Regiment" and its namesake soon traveled south and first saw action in the Battle of Fredericktown, Missouri, in October 1861. For the next three years, Old Abe continued to rally troops in dozens of battles throughout Mississippi, Louisiana, and Arkansas, including the Siege of Vicksburg. According to one postwar account (the author of which apparently was unaware of Abe's true gender), "The whiz of bullets and the scream of shells were his delight. As the battle grew hot and hotter, he would flap his wings and mingle his widest notes with the noise around him." While stories of her soaring above the battle may have been exaggerated, in at least one incident – during which Old Abe lost some feathers – a rebel bullet clipped the cord holding the bird to her perch, and she flew down the line of solders. It was such behavior in battle that made Abe an enduring hero. Even today, the eagle is honored at the mascot of Memorial High School in Eau Claire, where a statue of her stands on the roof at 2225 Keith St.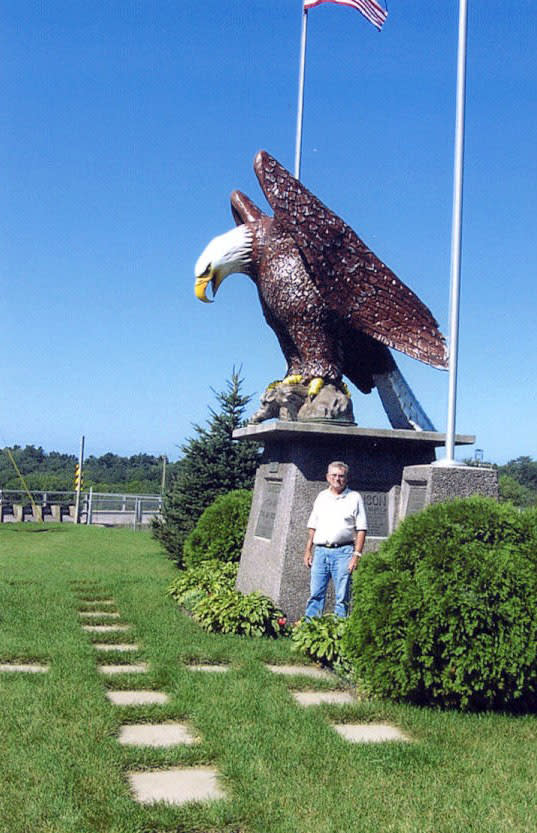 JIM FALLS
You'll find another statue of Old Abe in Jim Falls, a small community about 30 miles northeast of Eau Claire along the Chippewa River. It was near here in the spring of 1861 that Chief Sky of the Lac du Flambeau Ojibwe (Chippewa) tribe sold Old Abe – then just a recently captured eaglet– to the wife of farmer Daniel McCann in exchange for a bushel of corn. A few months later, it was McCann who sold Old Abe to the Eau Claire volunteer company.
Old Abe's story ends as it begins – in Wisconsin. The celebrated eagle spent her postwar years living in a special apartment in the Wisconsin State Capitol in Madison and was a popular sight in parades and veterans conventions nationwide. She died in 1881 after a fire in the Capitol, and her remains were displayed in the Capitol until it burned again in 1904.
While Abe is gone, her memory lives on, both in these Chippewa Valley memorials and in everything from military insignia (the U.S. Army's 101st Airborne Division, the "Screaming Eagles," still wear Old Abe on their shoulder patch) to corporate logos (Racine's J.I. Case Corp. used Old Abe as an emblem for many years). Just as the majestic bald eagle is a symbol for the United States, Old Abe is an enduring symbol of the Wisconsinites who fought so bravely to preserve the nation a century and a half ago.