March can arguably be the best month of the year for basketball lovers. Avid fans set their brackets, cross their fingers, and let the madness begin. The March Madness tournament just pairs a lot better with some cold brews and some good pub food. Put on your favorite jersey and head over to these bars and restaurants in Eau Claire because the drinks, the food, and the number of TVs hanging on the walls make these places some of the best for watching March Madness in Eau Claire. 

Nothing like catching the game at a tap house! There's never a shortage of beer at Northern Tap House nor delicious food. Their menu has a wide variety of offerings but you seriously can't go wrong ordering any of it. But while we're here, we might as well give you some recommendations. Try their cheese curds. They actually offer three different types; why not splurge and get them all! You're in Wisconsin! Plus, Northern Tap House is a featured location on our Curd Crawl. Yes - our city has its own Curd Crawl. Are you amazed? It's free and you can learn more about how to sign up here! Okay, we can talk about cheese all day, but apart from the cheese, their pizza and wings will hit the spot too.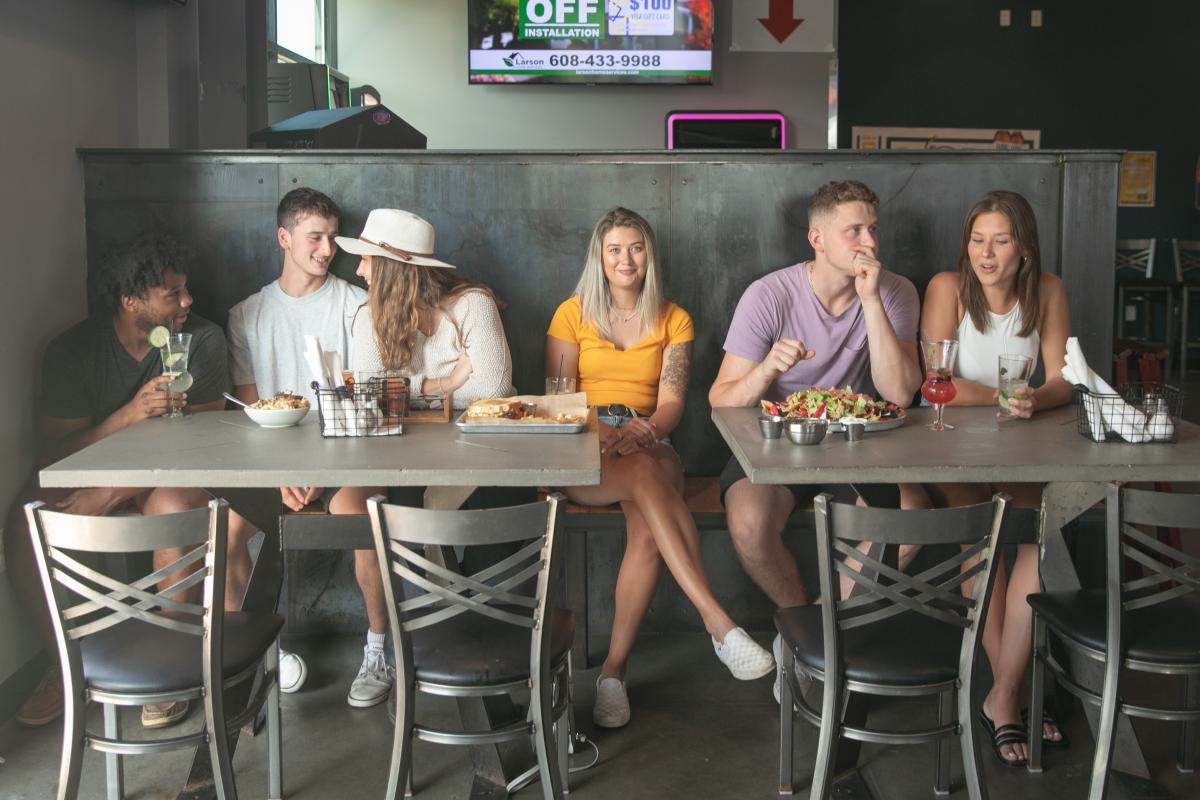 44 North is a super cool place. Let's give you the lay of the land. It's 2 stories; on the first floor, it's "44 Below" and on the second floor, it's "44 North". Both floors have TVs and outdoor seating options too, but chances of it being nice enough to dine outside weather-wise in the middle of March in Northern Wisconsin aren't high (hate to break it to ya.) BUT, nice thing for you to know if you find yourself here in the warmer months! The first floor also has.... wait for it... an arcade! This place is like a local version of a "Dave and Busters". Check it out for one of the March games!

Mogie's - great atmosphere, fantastic food, and conveniently close to downtown Eau Claire and the UW-Eau Claire campus. We have nothing but glowing reviews for this place. But, can we spend a moment shining a spotlight on the star appetizer on their menu? Behold (pictured above)... the Spuds O' Plenty. They are lightly breaded potato rounds that are... wait for it... stuffed with warm and gooey cheddar cheese. They are an absolute GAME CHANGER when it comes to appetizers. It would be a shame to come to Mogie's to watch the game and NOT order these.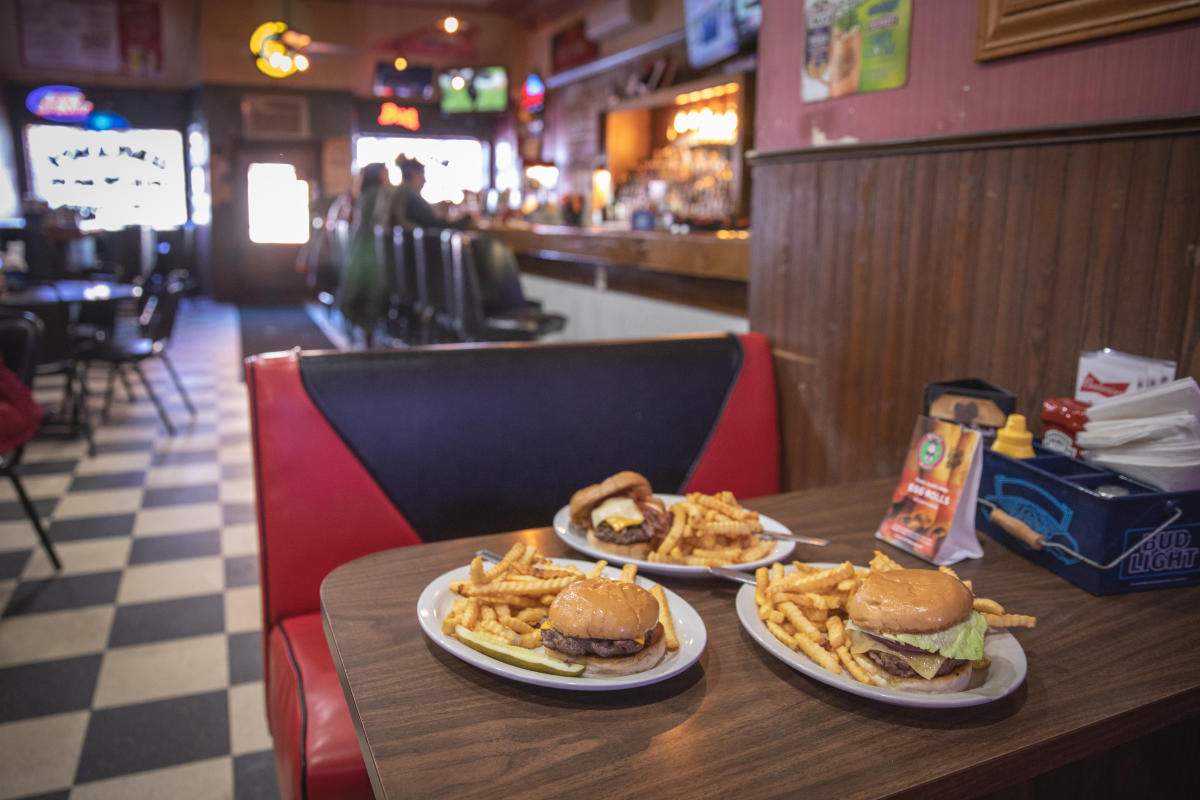 Court'n House is considered to be an Eau Claire staple, a true GEM. If this place ever ceased to exist, locals would argue that the world is ending (kidding). The moment you walk through the doors, you are 1) given a warm welcome by the bartenders/owners and 2) are greeted with the sweet, sweet aroma of some of the best burgers you'll ever have in your entire life. That part we definitely are not kidding about. Pull up a seat at the bar, order a Bloody Mary and a burger and take it all in.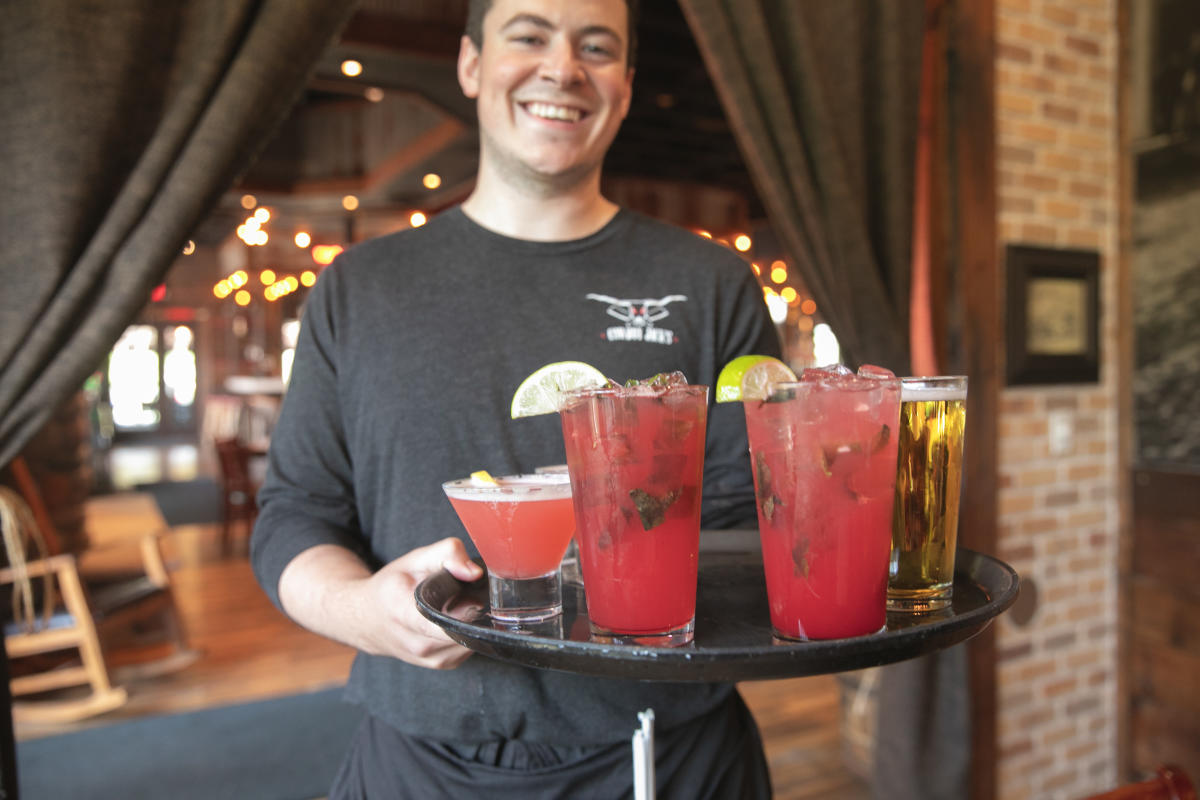 Cowboy Jack's is definitely the type of place you want to be when the team you're rooting for wins big. Cowboy Jack's not only has several TVs, but it has giant screens throughout the restaurant too! They also have a happy hour that's widely popular along with several different specials on big game days.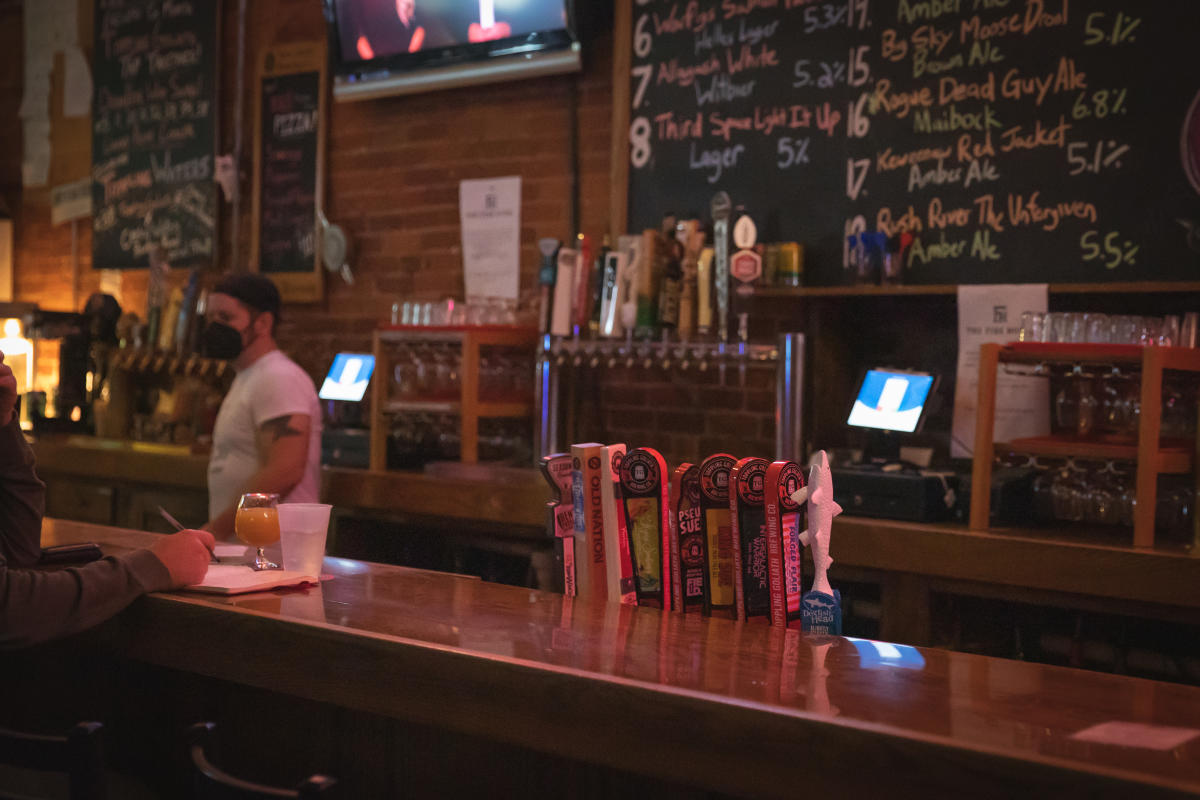 Speaking of drinks/happy hours... if you want a WIDE selection of craft beers, the Eau Claire Fire House is your place to go. They have over 38 rotating taps so you are bound to find something you like. We need to mention their popcorn machine. You may not even want the popcorn (it's free, by the way), but your hands will be reaching for the tray uncontrollably. 

Northwoods Brewpub is a brewery in Osseo, WI, just a short 20-minute drive south of Eau Claire. Apart from brewing up some tasty beers, Northwoods Brewpub also has a full kitchen and serves up some delicious food too. You can find TVs inside and on their outdoor deck. Remember a few places ago we mentioned our Curd Crawl? We essentially have the same thing but for beer! Our Brew Pass is a free mobile pass that allows you to check in at the 8 breweries in the Chippewa Valley. Northwoods is one of the stops! Learn more about this pass here and sign up!

Don't feel bad about screaming and cheering for your team; if anything, places like Wisco's encourage it! Wisco's is your classic Wisconsin sports bar with an extensive menu, daily specials, and a really fun atmosphere. You can even do some ax-throwing while you're here! Maybe if your team loses that can be a way to (safely) get some of the aggression out?!

Dooley's! This little Irish pub on Water St. always makes a big splash with its customers. It's located near the UW-Eau Claire campus, so don't be surprised if you're seeing quite a young crowd. They have several TVs throughout their restaurant, both downstairs and up, so you are bound to find a good seat in the house to watch the game. This place has Irish flare on its walls and throughout its menu, but you can also expect to find some classic American pub eats too that will make for some good grub while you have your eyes peeled on the score.

Welcome to the oldest bar in Eau Claire! Amber Inn is a mom-and-pop business that has some serious history flowing through its veins. If you come here to watch any March Madness games, take a load off, grab a cold one, and just sit back and enjoy the ambiance. Wisconsin bars like this one have a certain magic to them. You can't go wrong with coming here for a game or two and some burgers!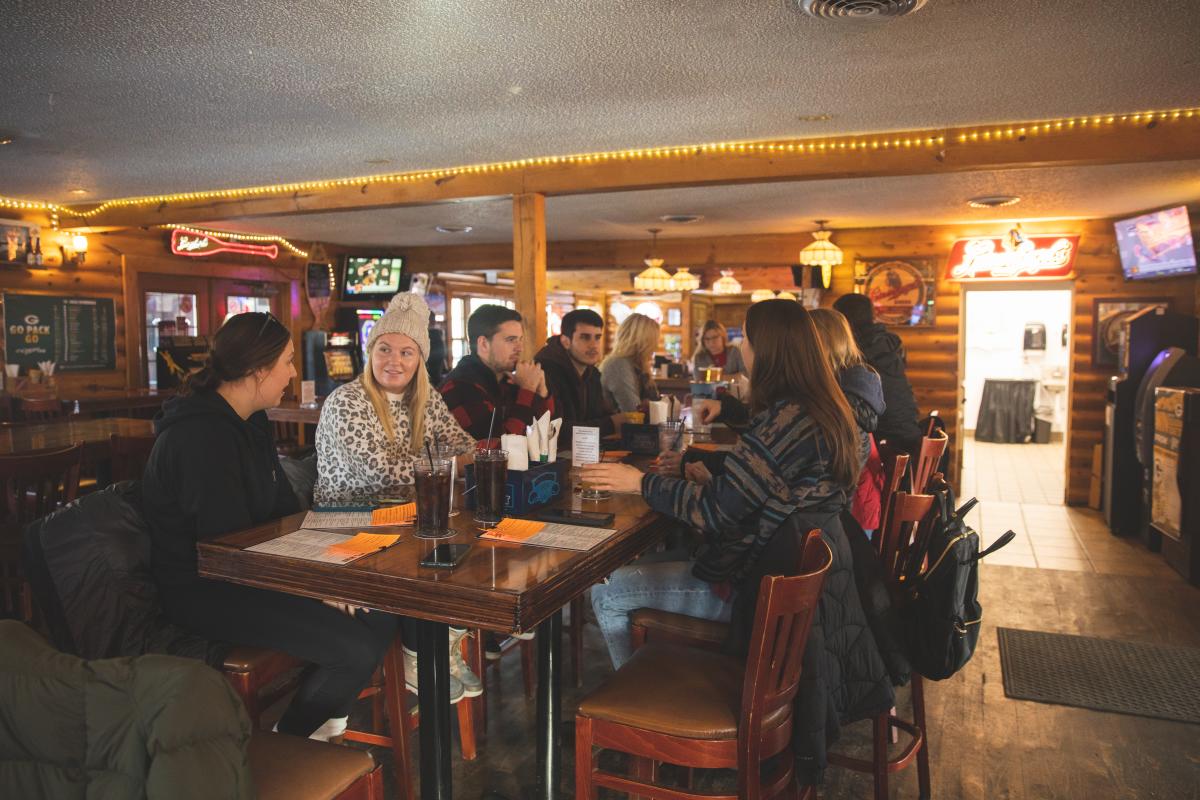 For the ultimate northern midwest vibes and feel-good hospitality, head to Loopy's in the Town of Wheaton! They'll have plenty of appetizers and drinks to keep you full and satisfied through each game on the tv. Keep this place at the top of your mind for the summer too! Loopy's offers river rentals for you to float down the Chippewa River and has an incredible outdoor tiki bar too.
Honorable Mentions
We can't forget some of the chain restaurants that we all know and love. If you want TVs everywhere you look, check out Monk's and Milwaukee Burger Company for TVs galore, good grub, and fun sports bar vibes.