If you're looking for your classic Bloody Mary, great service and a welcoming Wisconsin environment, this is the place. The Bloody Mary's speak for themselves; however, if the drink is not up to your standards, the servers will make sure that it's made just the way you like it. Not to mention their incredible burgers...elastic waistband recommended anytime you frequent Court 'n House. With the regulars stopping in, tv sets above the bar to watch sports games, and great conversation with servers and bar tenders, a visit here will make you feel just like a local with the classic Wisconsin bar vibes. 
2. Ray's Place
That mustard tho...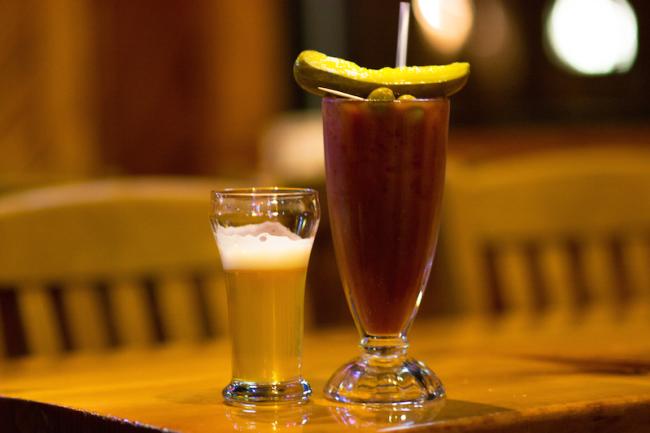 Get settled in at Ray's Place for a thick Bloody Mary and some darn good hot beef and cheese sandwiches. You will want plenty of extra napkins and hey, take it easy on the mustard (you'll be glad you did).  
3. Amber Inn
A Bloody, eh?

Amber Inn is about a Wisconsin as it gets. Insider tip: pair this Bloody with their Jalapeño Cheese Curds. Seriously. Yum. 
4. VFW
Go Snack Go? 

If you're stopping to VFW on a Sunday, you surely won't be disappointed. Football, Bloody Marys, oh and we hear they make a mean breakfast. 
5. Big T's Saloon
Yes, that's a Laffy Taffy

Essentially Big T's Bloody Mary is a lunch buffet on a stick with a side of alcohol! Can't be missed and it's arguably the best in town. Sundays at Big T's are a hoot; the bloodies are only $5 so the small but mighty bar fills up quick. You can expect locals and visitors gulping down food and drinks daily, but football season at Big T's is the real party. Bloody Marys taste good at every hour of the day so get there early and pull up your seat at the bar for a good time!