When we think of breakfast, we think of fresh fruit, sweet crepes, savory skillets, and delicious coffee at the Nucleus and Racy D'Lenes. This iconic restaurant and coffee shop duo have been serving Eau Claire for over two decades and are constantly raved about by the locals and visitors. When planning your trip to Eau Claire, be sure to add this stop on Water Street to your Eau Claire bucket list. The fresh flavors, vintage charm, and incredible hospitality will leave you coming back for more. Go into your experience at the Nucleus and Racy D'Lenes like a pro with these five tips when visiting one of Eau Claire's best brunch spots!

1. Go on a weekday.
The locals have voted the Nucleus as the best breakfast restaurant in Eau Claire, so it's no wonder this little cafe is a hot spot! We'll be honest— the tables fill up quickly at the Nucleus, especially on the weekends. But once you get a taste of their signature crepes and breakfast skillets, you'll totally understand why everyone loves them so much! Our piece of advice: avoid the rush, and work your stop at the Nucleus and Racy's into a weekday if you can. The Nucleus is open Wednesday through Sunday from 8 AM to 2 PM. While we totally believe it's worth the wait, we know that there is so much to do in Eau Claire with so little time. Make your visit earlier in the week, and still experience one of Eau Claire's longtime favorite cafes!

2. Order your coffee at Racy D'Lenes first.
After you've checked in at the hostess stand and are waiting to be seated, get a head start on your order, and head back to Racy D'Lenes to get your coffee order! Racy's has a full coffee, tea, and smoothie menu, and some say they have the best coffee drinks in Eau Claire. The baristas have also mastered the latte art that is almost too pretty to drink! It will be pretty easy for you to get cozy with your drinks at Racy's as it is decked out in retro and vintage decor. This coffee shop is just the beginning of your meal at Racy's and the Nucleus, but don't get too full on coffee— there are still mimosas waiting to be ordered at your table at the Nucleus!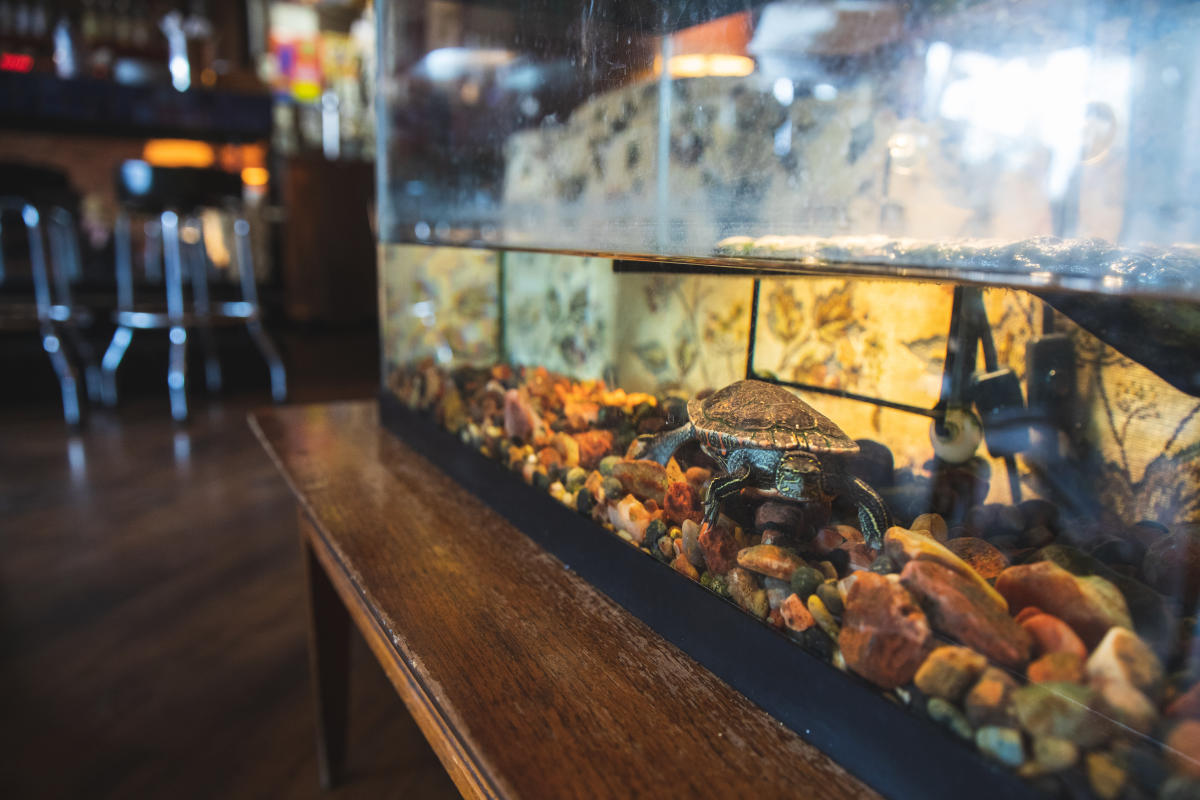 3. Visit Earl the turtle while waiting for your order.
The Nucleus and Racy's have been in Eau Claire for decades, and Earl has resided there for a good chunk of that time! Earl is a turtle that sits in Racy's next to the lounge areas and is the perfect little guy to keep you company while you sip on your coffee. Kids that visit Earl love getting a chance to feed him and watch him swim in his tank, and it is the most relaxing way to wait for your table for breakfast. It wouldn't be a trip to Racy's without stopping to see Earl in his little coffee shop home!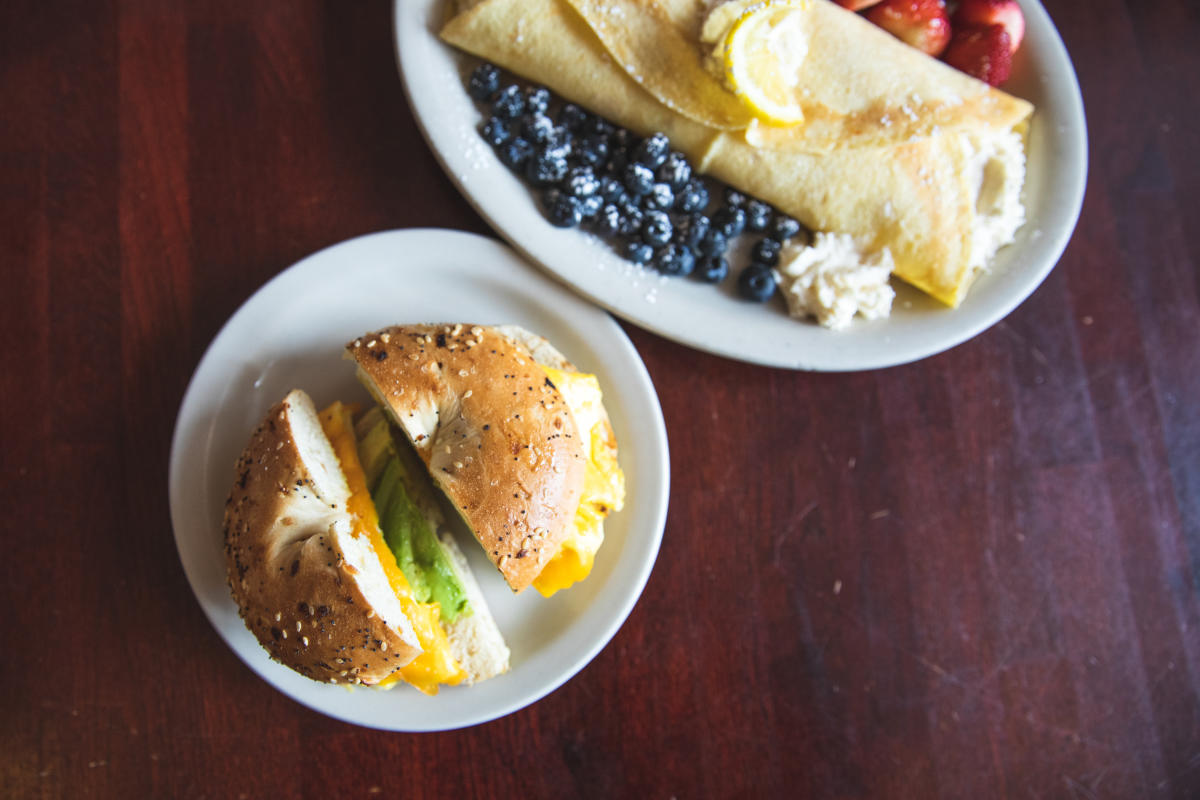 4. The menu is filled with sweet & savory options; order some of each to split with your party!
Don't worry, you won't have a problem finding something delicious on the menu at the Nucleus. However, you may have a hard time deciding whether to go the sweet or savory route. We'll tell you right now— you can't go wrong with either option! The Nucleus is known for their divine, fruit-filled crepes for a fun (and beautiful) brunch dish. Not only will the presentation make the perfect photo on your Instagram story, but the taste is just as good as it looks. If you're feeling something a little more on the savory and protein-packed side, you won't be disappointed with the omelettes, skillets, and breakfast sandwiches at the Nucleus. You can also find incredible vegan options at the Nucleus like crunch wraps, bagel sandwiches, and even vegan bacon. We know, all of these delicious options don't make your decision any easier, so order a little of both to split with your crew! The portions are perfectly sized — not too much, not too little — so order on both ends of the salty/sweet spectrum! (It's all about balance.)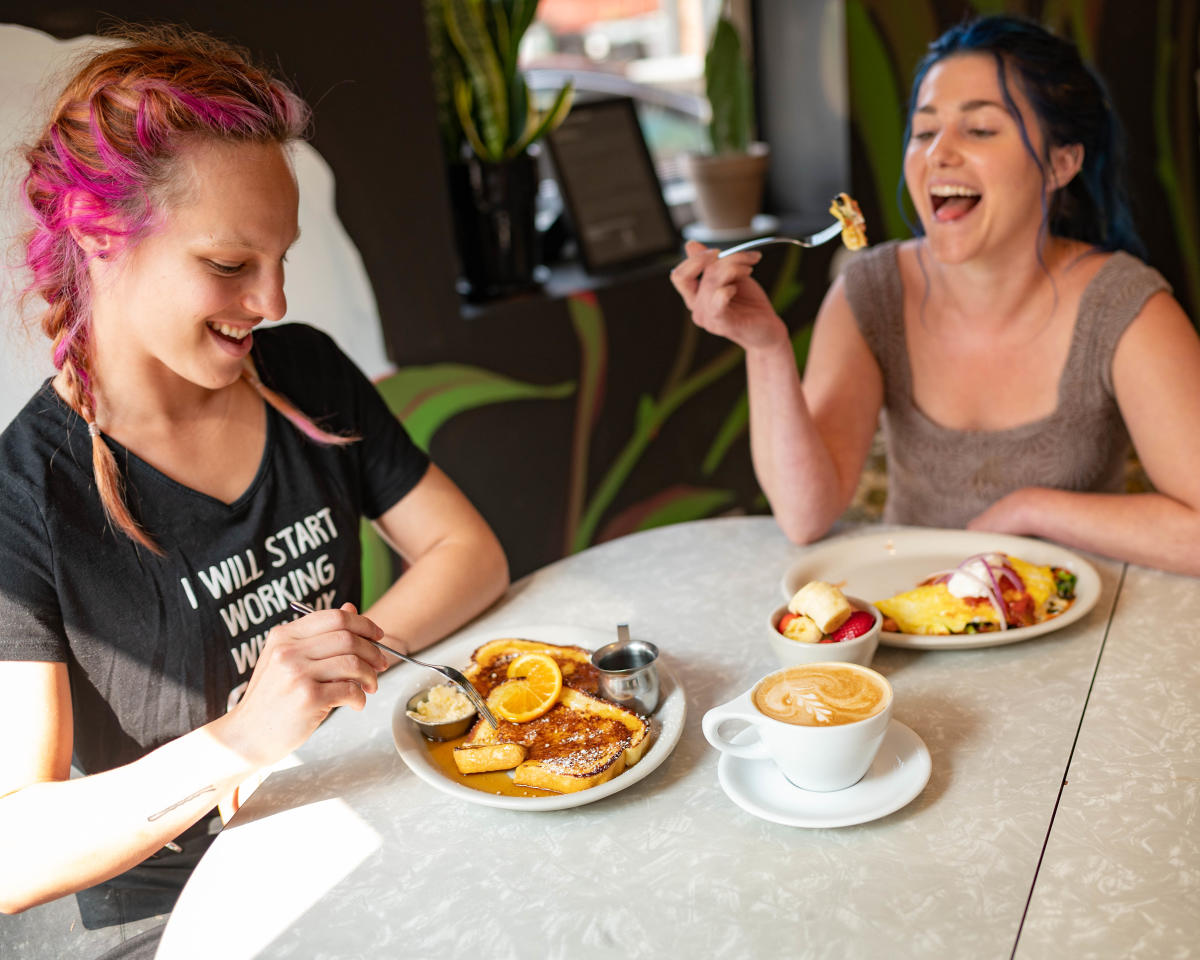 5. Order your meal online and take it to go.
We absolutely love the charm and character that the Nuclues and Racy's bring to Water Street, and it's one of our favorite places to spend the mornings in Eau Claire. However, the Nucleus makes it easy to order your meals online and take them to-go so you have more time to explore the rest of Eau Claire! Next time you are in town looking for a delicious breakfast, order your crepes and sandwiches for pickup and take your food to one of the parks in Eau Claire for a breakfast picnic. The Nucleus and Racy's are located right along the Chippewa River State Trail, making it an easy spot to stop on your morning ride or walk. For the ultimate Eau Claire vibe, bring your breakfast to Phoenix Park, and lay out a blanket along the Chippewa River for the most beautiful views of downtown Eau Claire! Click here to see all the perfect places to picnic in Eau Claire.
What's your order at the Nucleus Cafe & Racy D'Lenes? Show us using #CaptureEC.