Ultimate Family Road Trip from Quad Cities to Eau Claire
As they say, time with family is worth every second, so why not make it fun and memorable? Keep the American tradition alive by gathering your family, jumping in the car, buckling your seatbelts and cracking your favorite classic tunes! It's time to take the ultimate family road trip to America's Dairyland! About 270 miles Northwest, in your neighboring state, you will find the beautiful and happenin' city of Eau Claire, Wisconsin, also dubbed "Playful City USA" in 2016 and 2017 and you're about to find out why. Known as being a creative hub with a hip and homegrown music and arts scene and a booming entrepreneurial culture, your whole family will head back home with authentic experiences and unforgettable adventures that will keep you telling stories for decades to come. 

To ignite excitement, help make the trip a breeze, and to keep hearing the classic "Are we there yet?" phrase to a minimum, this Ultimate Family Road Trip itinerary was created for wiggly kids and venturesome parents. Follow this step-by-step guide with mini-stops showcasing the Midwest's beauty, long-standing traditions, and fun adventures along the way.  We can't wait to welcome you to Eau Claire, Wisconsin!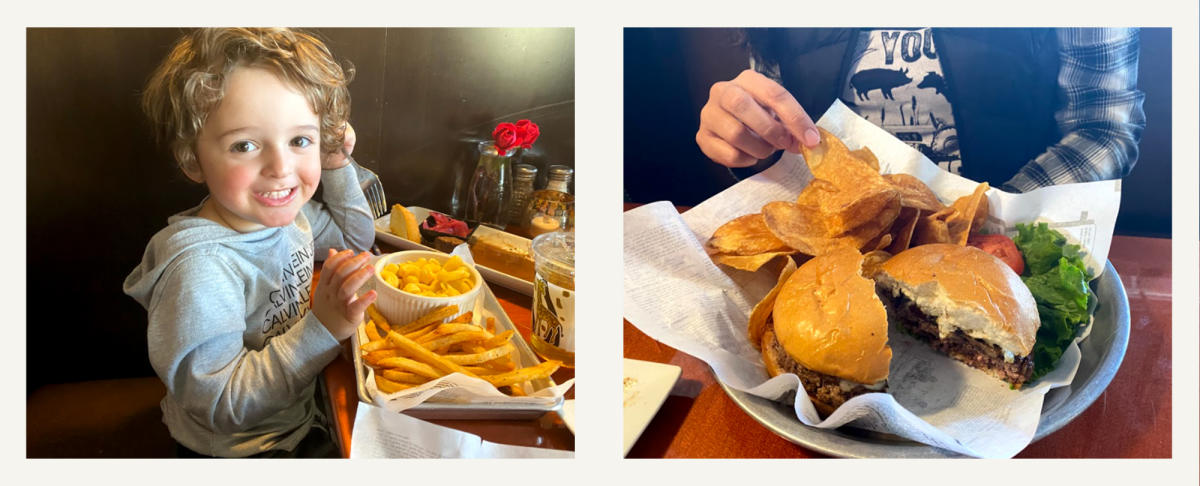 After a little over an hour on the road, it's time for your first family adventure --Dubuque, IA. Here, we encourage you to stop at the Copper Kettle for a bite to eat. This place is an easygoing, lively bar & grill offering elevated pub fare & craft beers. Full bellies mean a happy family! Next, head over to the National Mississippi River Museum & Aquarium. Here, your kids could be entertained for hours featuring several aquatic animals and interactive exhibits.
If you like this, check out 44 North in River Prairie (short 3-mile drive from downtown Eau Claire)!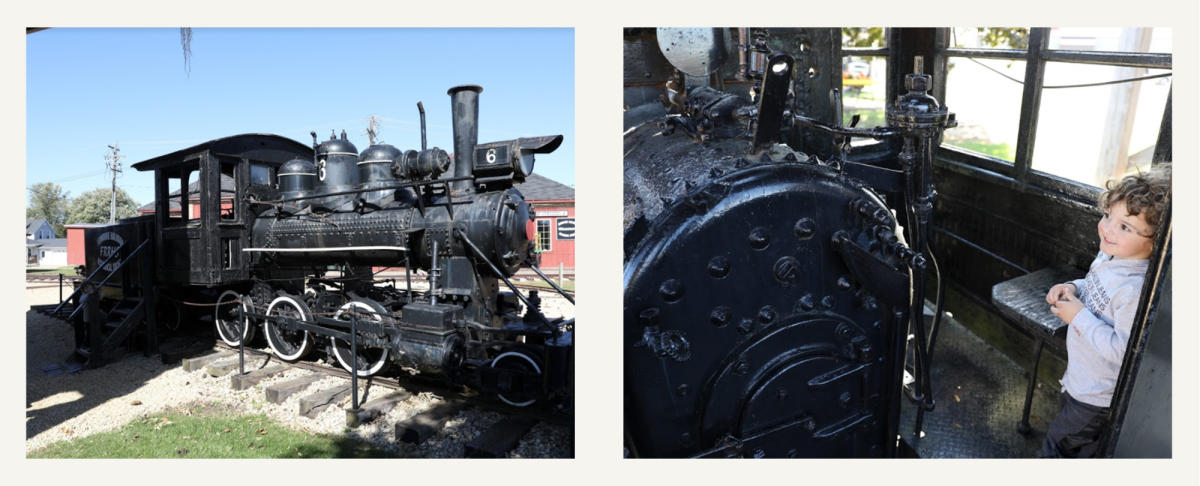 Next, as you head north into the state of Wisconsin, you will go through a quaint town of 2,500 people--Fennimore, Wisconsin. Right along Highway 61, sits the Fennimore Railroad Historical Society Museum. The kids will love this place! They have a mini-train that the kids can ride with the purchase of dollar tickets per ride. Due to Covid-19, those traveling a long distance are encouraged to call ahead to confirm operations are open as normal.
If you like this, check out the Chippewa Valley Railroad at Carson Park in Eau Claire!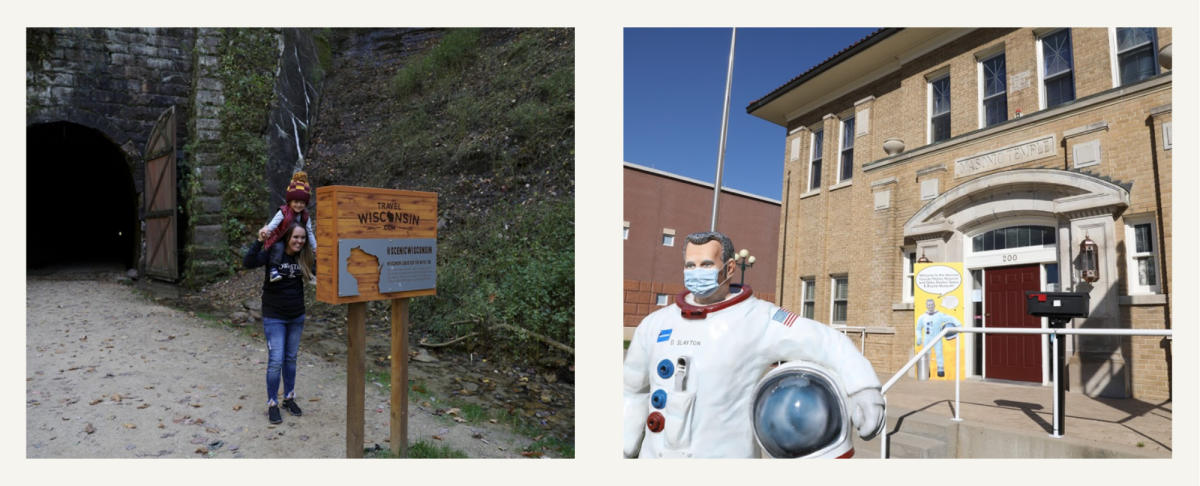 Get ready for a premium family vacation photo op! The next stop is the Elroy-Sparta State Trail Tunnel 3. This tunnel features an official Travel Wisconsin Selfie Stand that will allow you to capture your family's smiles along the state trail. This is the perfect stop for you to stretch your legs, take in some beautiful scenery and get in a quick hike before your next adventure at the Deke Slayton Memorial Space and Bike Museum in the city of Sparta! This place features over 90 bicycle displays and showcases Wisconsin's only piece of moon rock! Sparta is the Bicycling Capital of America with the first Rails to Trails Program in the country in which old railroad tracks were converted into bike trails.
If you like this, check out Putnam Park Trail & the Chippewa Valley Museum in Eau Claire!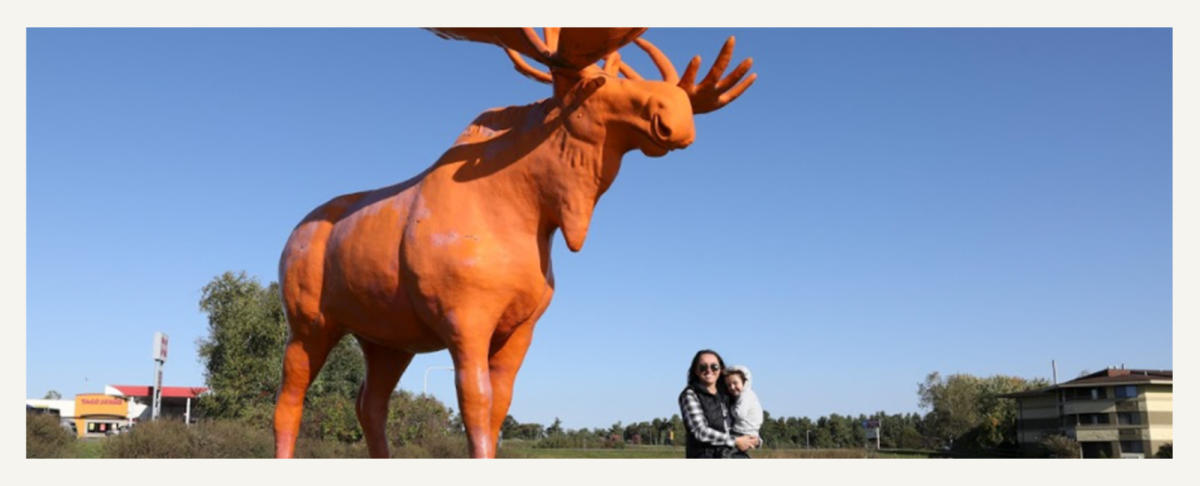 4. Orange Moose in Black River Falls, WI
Time for another photo op! Right off of I-94 in Black River Falls you will find a large orange fiberglass moose that is the perfect silly photo op for the entire family.
If you like this, check out Paul Bunyan and Babe the Blue Ox at the Wisconsin Logging Museum in Eau Claire!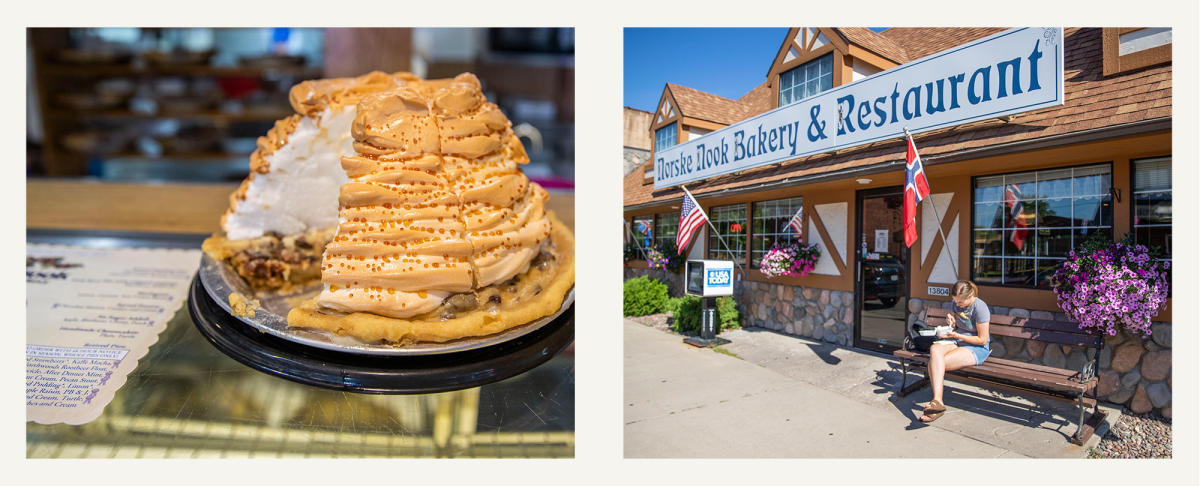 Ok, your last (but certainly not least!) photo op before your final destination. It's time for a little dessert. Known for its world-famous pies, Norske Nook in Osseo, WI is the perfect place to satisfy your sweet tooth! We recommend ordering their 2019 National Pie Winner, Blueberry Lemonade!
If you like this, check out The Nostalgic Bean in Altoona, WI (short drive from Eau Claire)!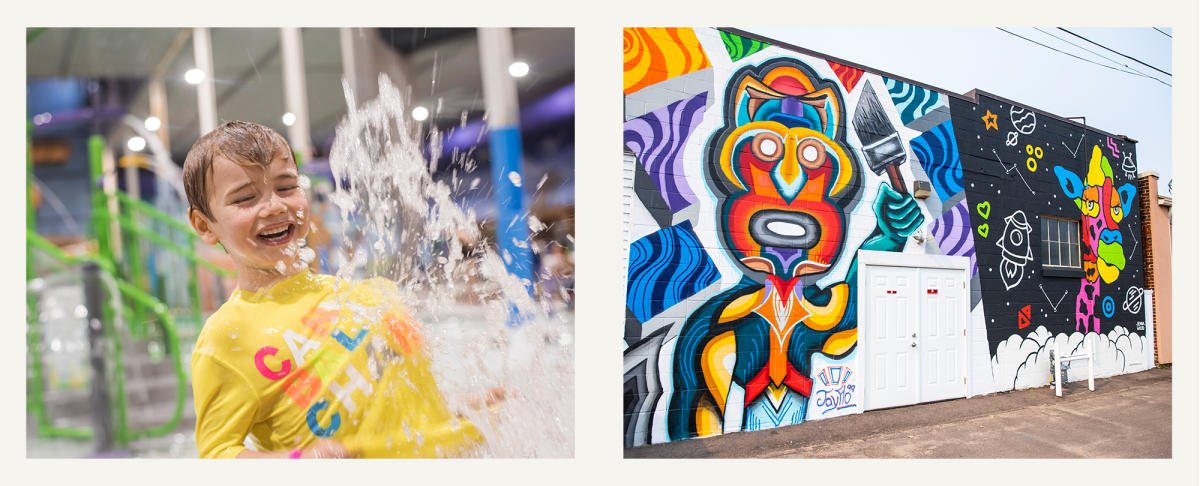 The fun doesn't end! You've made it to your final destination—Playful City, USA! Whether a self-guided sculpture tour is calling your name, go karts or axe-throwing are racing through your mind or Insta-worthy murals are on your bucket list, this family vacation will create nostalgic memories for years to come. For inspiration, browse the favorite places to play and events that you won't want to miss while you're visiting. If you have any questions or would like some additional recommendations, call us at 715-831-2345.
After spending a few days in Eau Claire, this family road trip will leave you longing for more time in America's Dairyland. Make it a family tradition by jumping in the car and coming to Eau Claire every year. We can't wait to welcome you back!