Dog-Friendly Eau Claire
You don't need to worry about who let the dogs out in Eau Claire because here, they are always welcome. If you're planning a trip to Eau Claire with your fur baby, here are some tips on where to stay, where to eat, and what to do. Who's ready for a doggone good time?!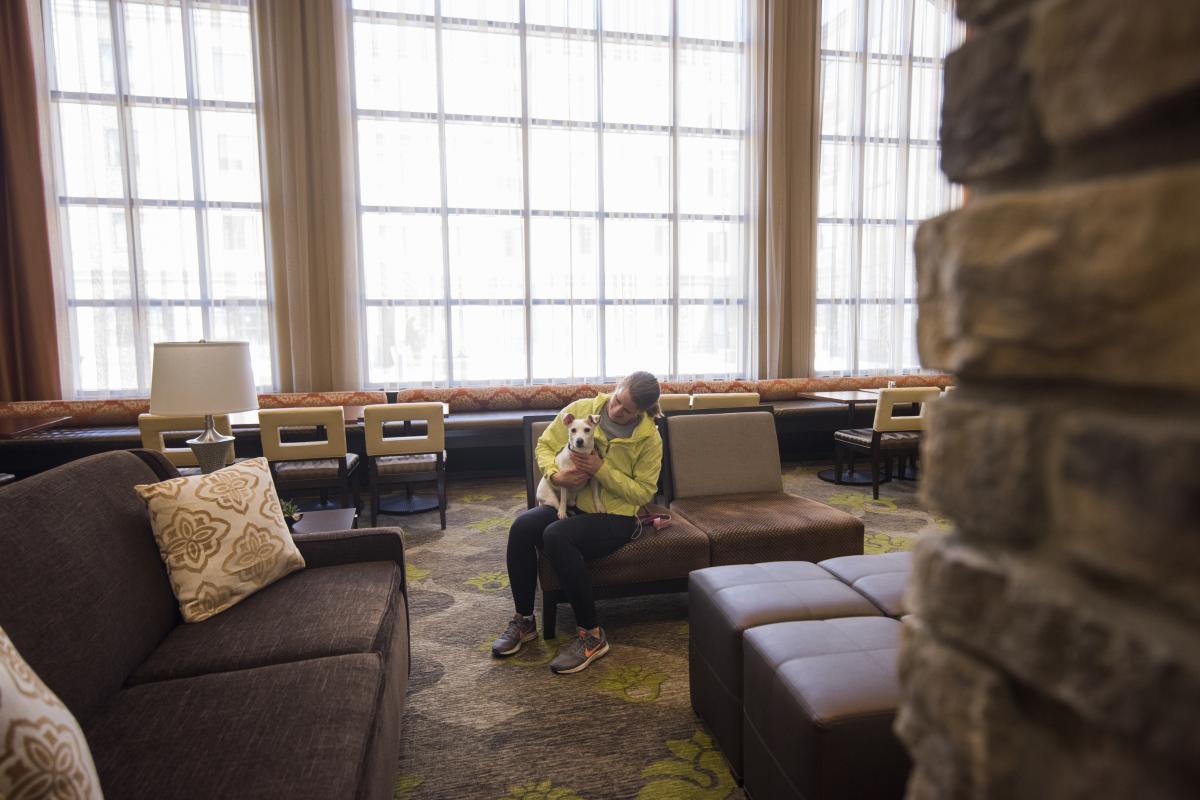 Located right in the heart of downtown Eau Claire, the Oxbow is a place where both you and your dog will love to lay your heads for a good night's rest. Plus, it's so close to many of the places you'll want to bring your buddy while you both explore Eau Claire together.
If you need more outdoor space for your dog to roam, Staybridge Suites it is! It's located at River Prairie in Altoona and is within walking distance to trails, the Eau Claire River and River Prairie Park. There are even a few restaurants nearby.
Metropolis Resort is a great pet-friendly hotel for the entire family to stay at. Lowes Creek County Park is accessible right behind the hotel and there's a water park and adventure park for the kids. 
Treat you and your pup to a luxurious stay at  Holiday Inn Express & Suites West! When you're not out together exploring the coolest parts of Eau Claire, you can kick back on the fluffy beds and get some well-deserved relaxation and rest while your dog gets some serious pooch pampering.
FOR A FULL LIST OF PET-FRIENDLY HOTELS IN EAU CLAIRE, CLICK HERE!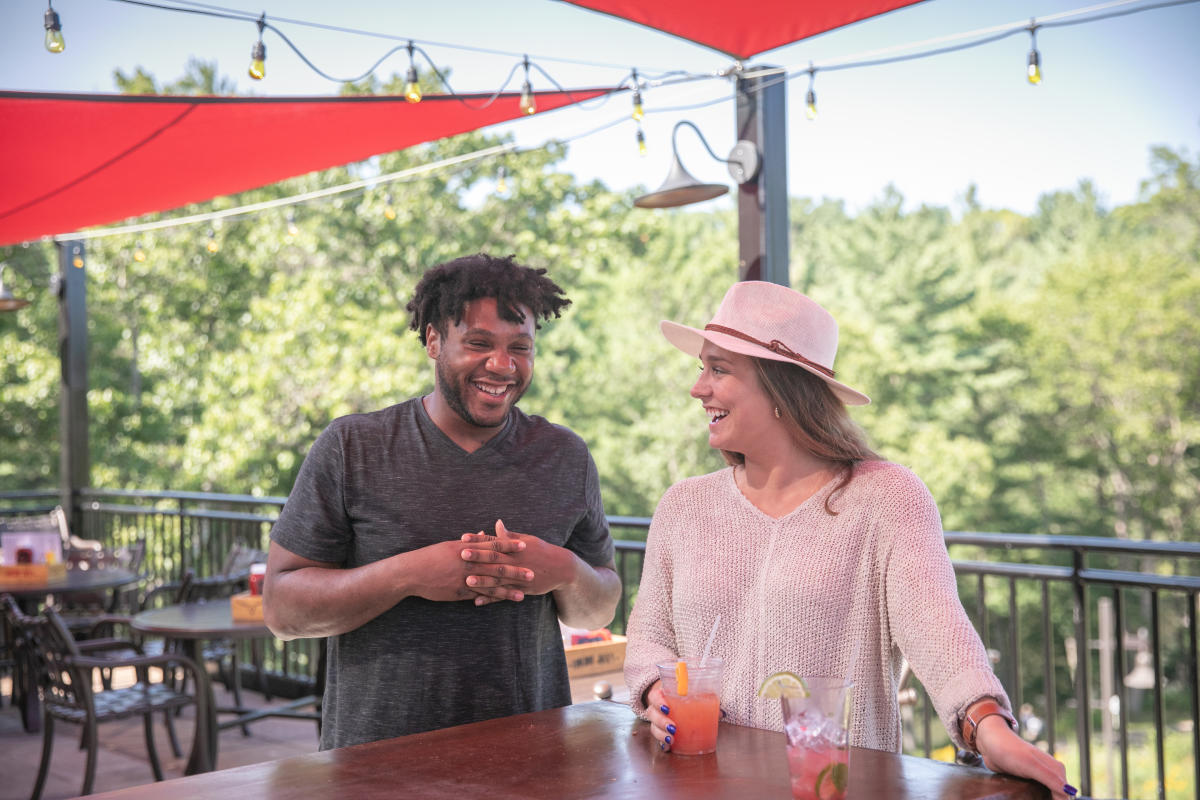 Where to Eat
You and the pup can enjoy a laid-back morning or afternoon at Racy's together. Their coffee and sandwiches and pastries will be a real treat for both you and your trusty four-legged sidekick.
This café offers sidewalk seating for you and your pooch to enjoy a mouth-watering hoagie together. We also recommend getting a taste of the Acoustic's yummy root beer floats!
SHIFT doesn't exactly sound like a coffee shop, but it is! You probably guessed this from its name, but it's also a bike shop! There is outdoor seating both in the front and in the back of this popular coffee spot. Bring your pup here for cool hangs but stay for SHIFT's waffles - you'll be blown away.
This is for the humans that love the taste of pizza and the doggies that raise their noses in the air to get a good sniff of the smell of pepperoni. Foster's Fireside has outdoor picnic-styled seating for both you and your dog to enjoy your night out for some wood-fired pizza in Osseo, WI.
The outdoor patio at Cowboy Jack's in River Prairie that is widely popular with humans is also widely popular with dogs! Their outdoor seating options welcome pups to come and dine with you and maybe even enjoy a laid-back happy hour together.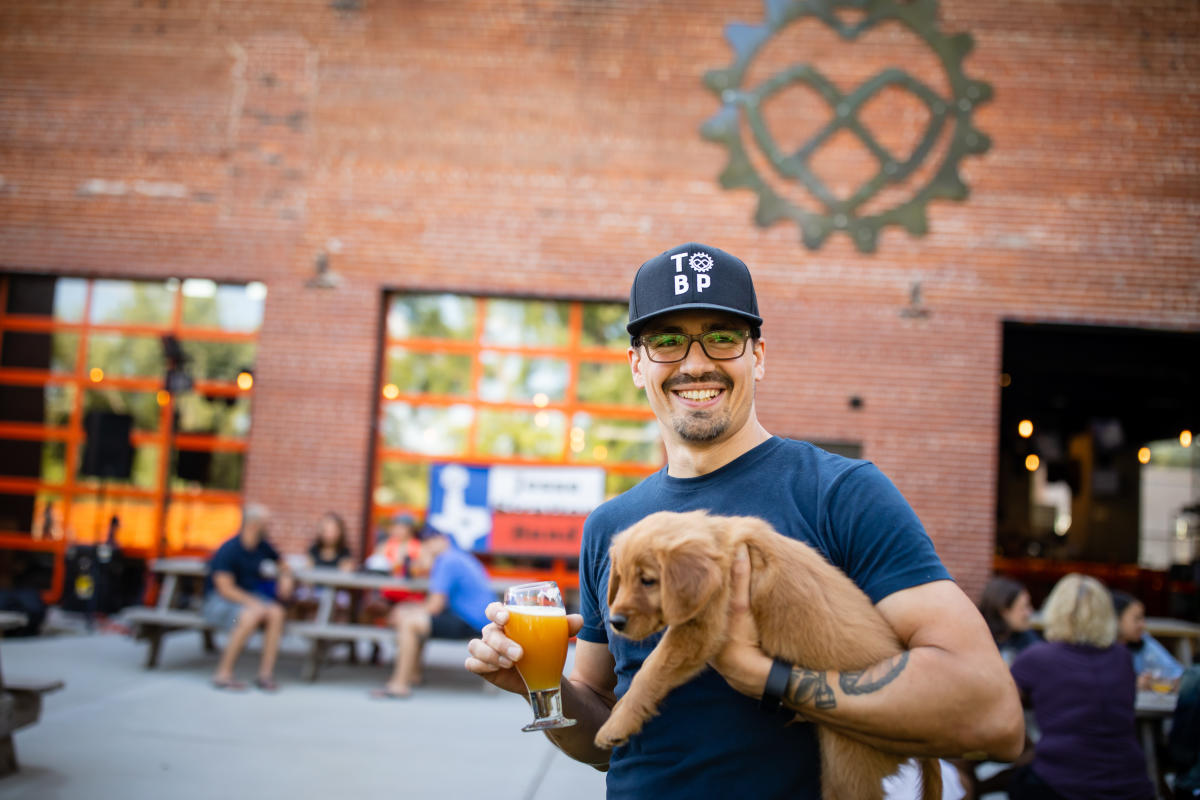 Photo Credit: Travel Wisconsin
Where to Drink
Beer in one hand and your dog in the other... what get's better than that? Take your dog to the Brewing Projekt for a chill and kicked back time for the both of you.
Located in the historical Water Street District, The Joynt is the place to go if you want to bring your pooch along for a pitcher of beer. Bars that allow dogs are automatically cool, right?
Lagers, IPAs, Ales, and pups oh my! K Point is another brewery in Eau Claire that allows dogs to hang out on their outdoor patio. Get those paws over here!
Lift up your pint and cheers it with your pet pal at Lazy Monk! Their outdoor patio is a great space for dogs to enjoy some time in the shade while you refresh with a nice cold one. 
In nearby, Altoona, WI, venture out with your dog and check out Modicum's rotating tap list of 12 beers! Who knows, maybe you'll try something new and love it and your dog will be ready to go as soon as you say, "Wanna go for a ride?!"
Ombibulous located in nearby Altoona, WI also welcomes puppers and doggos on their outdoor patio. Sit back under their pergola and enjoy their mouth-watering brews.
While you're at the Chippewa River Distillery, in Chippewa Falls, WI, you and Fido will want to get a nice view of the Chippewa River. Their rooftop patio will be the place you'll want to grab a seat and leash up your pup so you can enjoy some crisp beer and tasty cocktails.
Just north of Eau Claire, in Chippewa Falls, WI, the patio outside at the Leinie Lodge welcomes dogs of all kind. Bring your furry friend and maybe some human friends for a fun evening at this well-known brewery.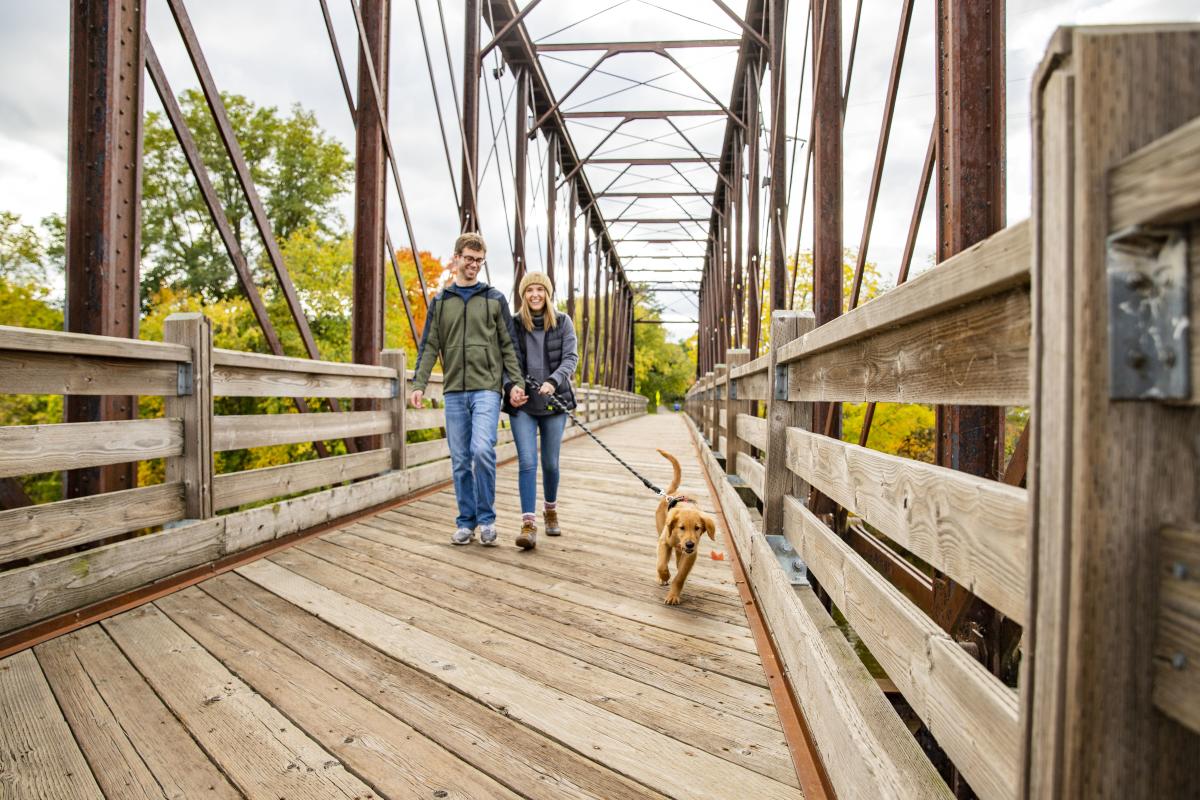 Things to Do
Sundet Off-Leash Dog Park
Time for some doggy social time! This dog park offers 9 acres of fenced-in play space along with walking trails. You'll be happy seeing how happy your fur baby will be running around through this park.
Happy Tails Dog Park
Out in Chippewa Falls, the Happy Tails Dog Park has over 50 acres for your dog to get some exercise at. After a few hours of play here, the little/big guy/gal will definitely need a nap.
Let your well-behaved dogs off the leash here and let them fly through the air as they run and play in the open field here. You and your dog will both go home with smiles afterward.
To treat your dog for being such a good boy/girl during your time in Eau Claire, check out Pet Food Plus. They are sure to have something for your dog that will leave them licking their mouth and giving you lots and lots of kisses!
If you happen to need to leave your dog somewhere safe while you explore some other parts of Eau Claire, Dogtopia has you covered!
Watch for proof that Eau Claire is a doggone good time!
Eau Claire Hotels for Paw Parents