Dig out all things "green" from your closet, leave the leprechaun traps at home, and plan a day/night out at Eau Claire's bars and restaurants to celebrate this St. Patrick's Day accordingly! Save your time looking for where to find the pints of Guinness or the traditional Irish fare. We've scoped out the local bars and restaurants that have some sort of Irish flare on their menus and where you can go for a shamrockin' good time.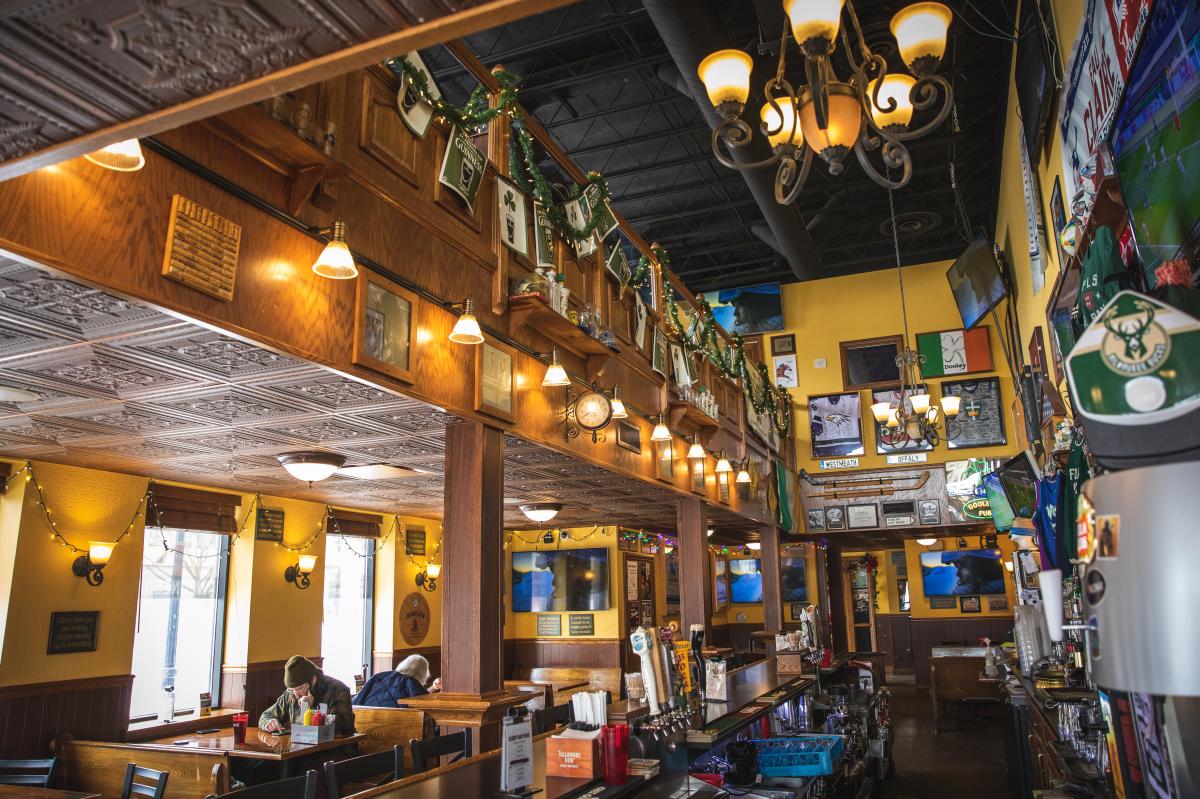 Where to go for traditional Irish fare
The chances of catching a leprechaun in Eau Claire? Probably highest at Dooley's Pub on Water St. This Irish pub has "Irish" written on its menu, on its bar and on its walls. Dooley's serves a wide variety of traditional Irish Fare including Scotch Eggs, Corned Beef & Cabbage, Fish & Chips, Irish Stew made with Guinness Gravy, Shepherd's Pie and Bangers Mash. This is the closest to "Ireland" you can get in Eau Claire, WI!
When it comes to consistent raving restaurant reviews, Houligans seems to always be mentioned by both visitors and locals. This Irish-influenced supper club has some of the best Irish Whiskey Sirloin Tips you'll ever have. They also have an Irish Whiskey Burger and their Houligans Famous New York Cheesecake topped with Irish Whiskey Sauce, pecans and cashews. YUM!
How about trying your luck at bowling while also getting dinner?! Wagner's is not only a place to go eat, but a bowling alley as well. Try their "Luck of the Irish Signature Flatbread" made with mac sauce, mozzarella cheese, cheddar jack cheese, corned beef, kettle chips and green onions or their Coned Beef Philly made with pressure smoked corned beef, sauteed onions, peppers and topped with Swiss cheese!

Places to get a mean Reuben sandwich
We perused through several menus to find what restaurants in the area dish out a mean Reuben. Here are a handful of restaurants that have their own variations on this sandwich made typically on rye bread with corned beef, sauerkraut, swiss cheese, and thousand island dressing. If luck wasn't on our side and we didn't catch them all, find a full list of Eau Claire area restaurants here. 
Randy's is one of those places that is just the epitome of the midwest: good food, even better people and an amazing family atmosphere. Grab the whole fam and make St. Patty's Day lunch/dinner easy on yourself.
After you eat your sandwich, make your way over to 44 North's first-floor arcade for some fun and maybe a little competition depending on who you're with. 
While it may be all about the food, Cowboy Jack's is also all about the atmosphere. You can dine in their indoor dining area, at the bar, or on their very popular outdoor heated deck. 
Johnny's may have "Italian" in its name, but don't cross them off your list quite yet. No matter what type of food Johnny's is cooking up, Italian or Irish, it's going to shamROCK your world as soon as you take that first bite.
Eating at The Livery will make you feel luckier than a four-leaf clover. Their food is delicious and their atmosphere...picture perfect. 
If you have a reason to be at the Chippewa Valley Aiport on St. Patrick's Day or, you do now - Hangar 54 Grill's Reuben sandwich should be placed in the pot of gold at the end of the rainbow. That's how tasty it is.
Find all area restaurants here!

Where to get a pint of Guinness (or any beer)
It sounds Irish because it is Irish. Clancy's is an Irish Parrot bar (interesting combination, yes we know) in downtown Eau Claire. Their list of Irish-influenced drinks is unlike anywhere else in Eau Claire, so consider this bar at the top of your list of places to go for Guinness, Irish Whiskey or a Dublin Donkey!
Also located in downtown Eau Claire is the Dive. This bar sits on the rooftop of the Lismore Hotel and never ceases to disappoint when you're looking for somewhere special to go for a night out.
The Eau Claire Fire House
You may be able to find Guinness at the Eau Claire Fire House, but if you don't, don't sweat it. This place has over 38 rotating craft taps! You're guaranteed to find something that'll have you raising your glass in the air.
There is no such thing as being sad at Happy Hollow. Head over to this iconic joint in Altoona and find your happy place with a glass of beer. 
Making a choice on a beer can be a tad difficult at The District; they have 30 beers on tap! Did we mention you can get some delicious grub here too?
Okay, so you obviously can't get a Guinness beer at the Leinie Lodge. But, how do you feel about GREEN beer?! Yes - Leinie Lodge will be celebrating St. Patty's Day all day on March 17, 2023, with green beer and giveaways!