Sure, the Chippewa Valley has plenty of paved recreational trails and hundreds of miles of streets, roads, and byways where you can pedal to your heart's content. But what if your heart isn't content with smooth asphalt and cement? What if you want to steer yourself off the beaten path and into the dirt? Well, the Valley's got great places to do that, too. At the center of the scene are groups like the Chippewa Off Road Bike Association (CORBA) and the Menomonie Area Mountain Bike Association (MAMBA), organizations that build and maintain trails and otherwise promote mountain biking in the region. With the help of these groups, we've compiled a list of the best places to rip it up off-road, from better-known tracks like the ones at Lowes Creek County Park just outside Eau Claire to the mysterious Area 178 near Chippewa Falls – so check the trail conditions, then strap on your helmet and get pedaling.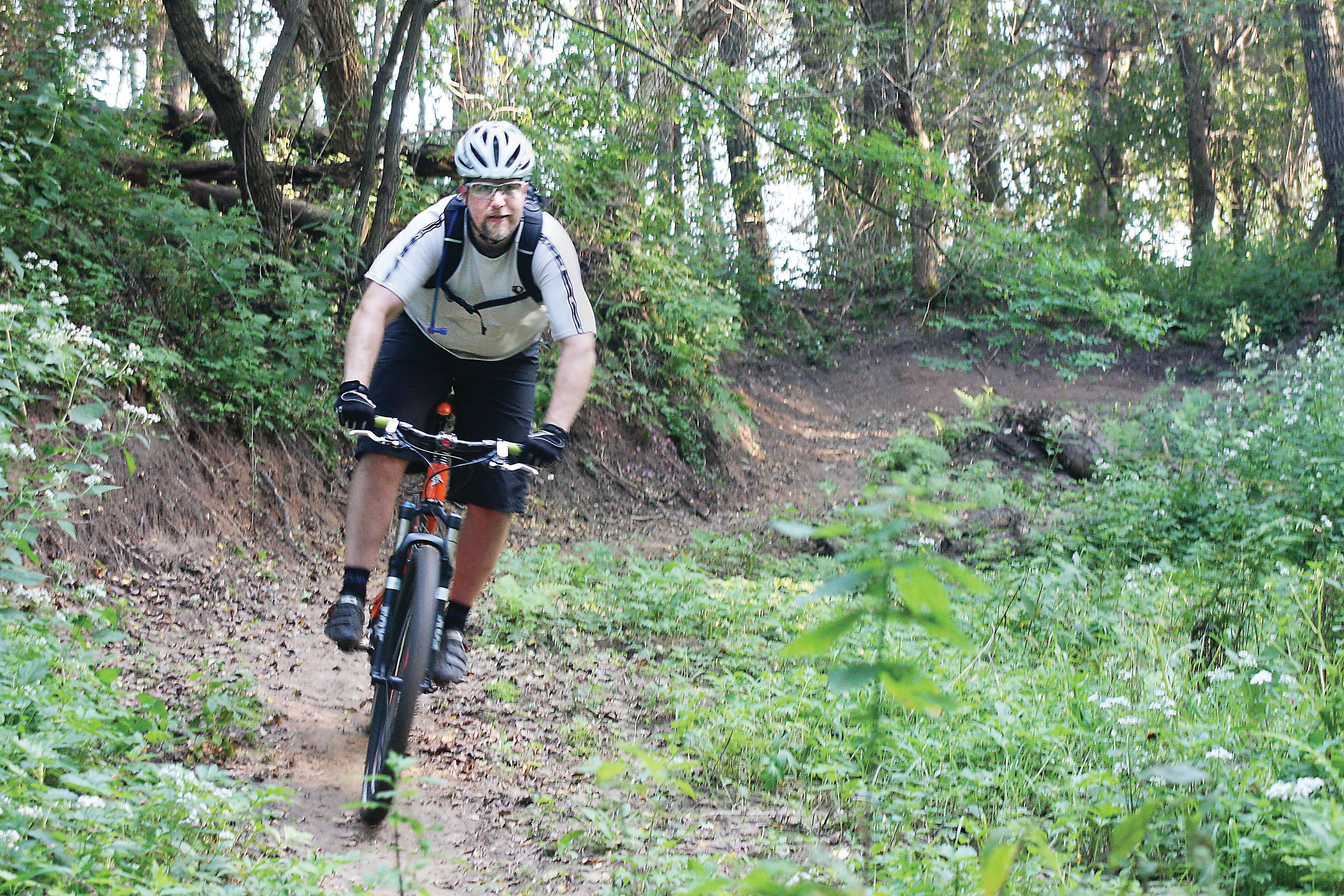 1. LOWES CREEK COUNTY PARK
5238 S. Lowes Creek Road (west entrance), 5530 Fairview Drive (east entrance), Eau Claire
Clearly a hiking/biking fan favorite, and it's no wonder why. This 250-acre park located just south of Eau Claire offers multi-use trails that appeal to hikers and especially mountain bikers. Bikers with varying levels of skill will revel in the six miles of double track (which are also cross-country ski trails) and the 13 miles of challenging, twisting single-track trails with names like Twister, Jekyll, and Hyde, and Sarah's Revenge, all created and maintained by CORBA. The single track takes riders to all four corners of the park, winding through pine forests, crossing creek beds, and cruising along ridge lines. The single track trails are also open in the winter to bikers and snowshoers (who are asked to stay off the groomed ski trails). For a fun workout besides the biking or hiking, check out the Parcourse workout stations along the path. The park also features a reservable picnic shelter, a trout stream, cross-country ski trails, and pit toilets. Parking pass required. Detailed maps are available on the CORBA website and at the park itself.
2. NORTHWEST COMMUNITY PARK
650 Van Es Parkway, Eau Claire (near the intersection of Jeffers Road and the North Crossing)
This relatively new, little-known 120-acre park on the northwest side of Eau Claire is a great place for mountain biking. Over the past few years, CORBA volunteers have built about seven miles of single-track trails, which are particularly appealing to winter fat-tire bikers or any off-road biker looking for a challenge. There are also two miles of a double-track ski trail. While the trails are well-developed at this park, other amenities are not, although the city has big plans for additional recreational opportunities in the future. Maps are available on the CORBA website, but not at the park.
3. OTTER CREEK TRAILS (CENTENNIAL PARK)
2955 Spooner Ave., Altoona
Just south of Spooner Avenue on Altoona's far west side, you'll find Centennial Park, a wooded 38-acre plot along the winding banks of Otter Creek. About 2.6 miles of trails are open year-round to mountain bikers, hikers, runners, and snowshoers. Enjoy 14 trails, from the easy, mile-long Creek's Edge to the short-but-difficult Freefall, Surrender, and Make It Stop. In the coming years, the city of Altoona will be adding more amenities to the park, likely including a parking lot, a playground, pavilions, and bathrooms. There is a map at the trailhead on-site, or you can find maps on the CORBA website.
4. HICKORY RIDGE TRAIL
225th Avenue (Bob Lake Road), Bloomer
If you're looking for trails that are (literally) off the beaten path, check out Hickory Ridge, located within the Chippewa County Forest about 12 miles northeast of Bloomer and 20 miles north of Chippewa Falls. The terrain is rocky and full of hills and valleys, and trails meander around numerous glacial lakes. CORBA has helped create 14 miles of single-track bike trails at Hickory Ridge. In the winter, the single-track is open to snowshoers and fat-tire bikers, while the Friends of Hickory Ridge also groom 27 kilometers (about 17 miles) of cross-country ski trails for both traditional and skating-style skiers. No fee, but donations are appreciated. No dogs allowed on groomed ski trails. Maps can be found on the CORBA website; maps available at Hickory Ridge are somewhat outdated.
5. AREA 178 (aka RIVERVIEW RESERVE TRAIL)
Accessible off Highway 178 (Seymour Cray Sr. Blvd.) just north of the Chippewa River or along Beach Drive, Chippewa Falls
This mysterious area on the edge of Chippewa Falls is a recreational diamond in the rough with seven miles of trails. For years, trails for non-motorized recreation have wound their way along the Chippewa River on either side of Highway 178 on property owned by the city of Chippewa Falls, Chippewa County, St. Joseph's Hospital, and Xcel Energy. CORBA is in the process of working with these landowners to "develop these trails into an off-road, recreational jewel for hikers, bikers, geocachers, or almost any other foot or pedal-powered propulsion standard-issue humans can handle." Learn more at chippewaoffroad.org/trails/classified.
6. MENOMIN PARK
Red Cedar Street/Domain Drive, Menomonie
The Menomonie Area Mountain Bike Association maintains eight miles of single-track and four miles of double-track trails in Menomin Park, a county-owned park on the shores of Lake Menomin. (There's no entrance sign to this county park, but you'll find it on the north side of Red Cedar Street/Domain Drive just west of its intersection with Stokke Parkway.) The trails traverse every part of the park, giving riders a glimpse of water, woods, wildflowers, hills, and fields, and the chance to brave obstacles from log piles to steep climbs. The park also features flat trails for new riders and a "pump track" – a small, bumpy, looping trail where you gain momentum by "pumping" your bike. Menomin Park is dog-friendly.
7. BJORNSON EDUCATION-RECREATION CENTER
N6945 160th St., Knapp
This 443-acre forest has been owned by the Menomonie Area School District since the 1970s, and it is frequently used for school field trips. In 2014, the Menomonie School Board granted permission for the Menomonie Area Mountain Bike Association to use the 2-plus miles of existing hiking trails for off-road biking. The group plans to build a parking lot and trailhead in 2015. To reach the site, drive about nine miles west of Menomonie on Interstate 94 and take the Highway Q (Knapp) exit north. Turn right (east) on 700th Avenue, and you'll see the forest on your right.
LEARN MORE
To learn more about the off-road biking scene in the Chippewa Valley, visit their website or the Menomonie Area Mountain Bike Association Facebook page.