This one is for all the fur baby parents out there. Sometimes a vacation or quick getaway doesn't feel right without your pup by your side. You'll be happy to hear that Eau Claire, WI is an incredibly pet-friendly destination and your dog will be able to tag along for all your dog-friendly adventures. However, your trip to Eau Claire begins with a place to stay. Discover a handful of Eau Claire hotels that allow pets and start planning your dog-friendly getaway. To see a FULL list of pet-friendly hotels in the area, click here.
The Oxbow in Eau Claire is a boutique hotel near several downtown attractions, trails, events and local establishments. Dog guests are more than welcome here and are guaranteed to love their stay as much as their humans will.
Candlewood Suites is conveniently located right off I-94 and is near other popular and dog-friendly Eau Claire areas like Otter Creek Off-Leash Dog Park, Kahvi Coffee House and Lowes Creek County Park making it another great option for you and your pooch. One other perk at this property: room service from Johnny's Italian Steakhouse is available here!
Home2 Suites welcomes dogs as well, so expect to feel like you're at your home away from home! This hotel is located near Oakwood Mall and is near a long list of restaurants too.
Have kids? We started out talking about fur babies, but now we're talking about your human babies. Metropolis Resort is the ultimate hotel for a family getaway. It's home to Chaos Water Park and Action City. This is a place that both your human kids and your fur kids will absolutely love. 
Located on the north side of town and right off Hwy 53, Residence Inn is another Eau Claire hotel that allows dogs at their property. The hotel's proximity to the highway makes traveling to different areas of the Chippewa Valley widely accessible. Whether you're traveling to the southern parts of Eau Claire or want to explore Chippewa Falls for the day, both areas are no more than 15 minutes from this hotel.
Staybridge Suites is located right in the River Prairie district. There are several dog-friendly attractions within walking distance of this hotel. Grab a coffee with your dog on the outdoor patio at Cabin Coffee or get lunch at Cowboy Jack's. Scroll down to read more ways to explore River Prairie with your pup!
If you're looking for more of a camping experience, check out Stoney Creek Resort in Osseo, WI! Osseo is just a 25-minute drive south of Eau Claire but their sweet little city has a lot to offer. Dogs at Stoney Creek must be kept on a leash no longer than 6 feet when outside of RVs or tents. However, pets are not allowed inside their cabins. Dive deeper into Stoney Creek's website to learn the details about their pet policy. 
BROWSE ALL PET-FRIENDLY EAU CLAIRE HOTELS HERE!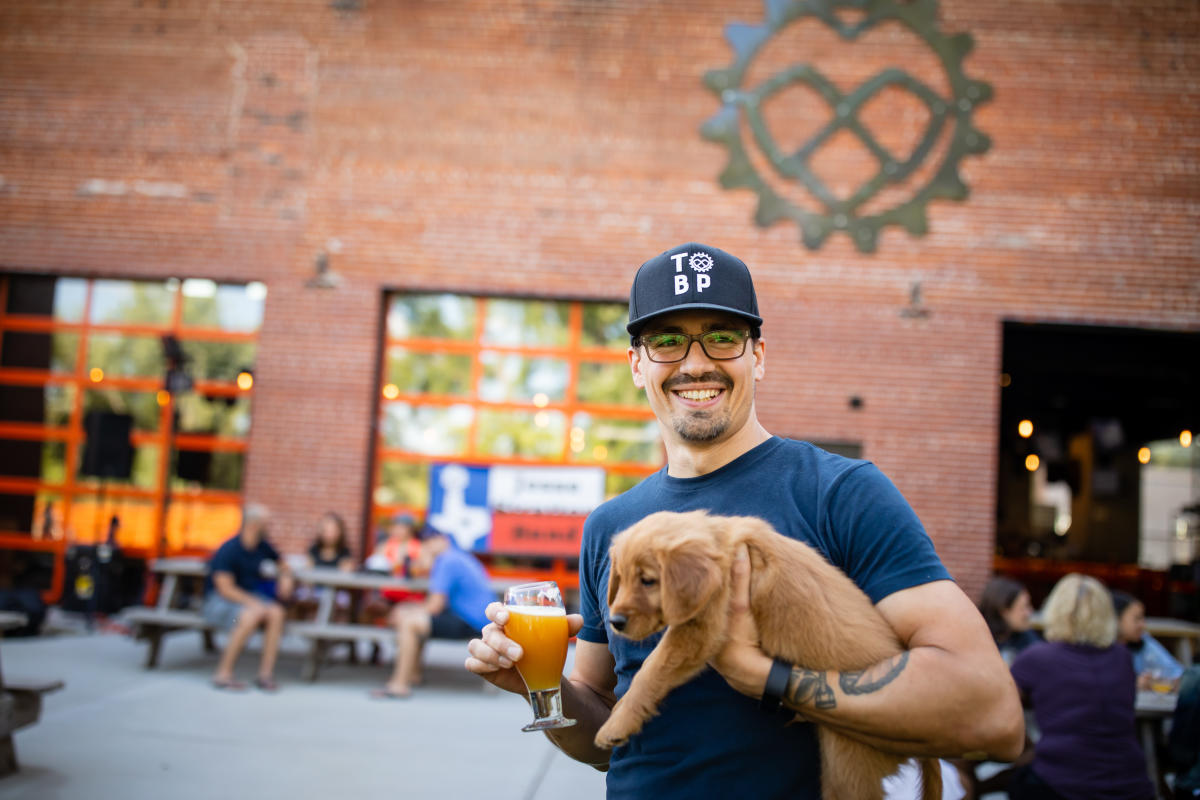 Photo Credit: Travel Wisconsin
Things to Do With Your Dog in Eau Claire
Looking for dog-friendly things to do in Eau Claire? Here are some options that will help kickstart your trip plan! For more inspiration, check out our Dog-Friendly Eau Claire Instagram Reel!
Take your dog to River Prairie in Altoona, WI for all kinds of tail-wagging fun! River Prairie Park is less than a 5-minute drive from downtown Eau Claire and has a whole lot to offer. There is a paved trail that loops around the park which makes for the perfect place to take your dog for a walk. Cowboy Jack's, a restaurant located inside the park, has a dog-friendly outdoor patio that is widely loved by the locals. There's even some open grass space for you and your dog to lie down, relax, and catch some sun!
Just 20 minutes north of Eau Claire stands the historic Leinenkugel's Brewery. While your pup can't come on a brewery tour with you, they are welcome on their outdoor patio! During the warmer months, Leinie's regularly hosts their Paws & Pints events and has food trucks on-site during the weekends. Keep up to date with what's going on at the Leinie Lodge on their Facebook page or our event calendar!
A handful of Eau Claire coffee shops have outdoor patios that welcome dogs. Find outdoor seating at coffee shops like SHIFT, Kahvi, and ECDC. 
Order a Local Pup Cup
Dog owners know how great the feeling is of seeing their dogs happy. If your dog's ears perk up when they hear "pup cup", take them to Olson's Ice Cream in downtown Eau Claire. Although your pup can't come inside, you can order them a pup cup that comes with a scoop of dog-friendly ice cream and a few milk bones on top. All good doggos deserve a treat!
Eau Claire is home to the #1 largest Sculpture Tour in the nation! It's only right that your dog comes with you to explore all the different pieces of art that line our streets. There is one sculpture that's definitely a dog favorite... the "High Five Dog" in Phoenix Park! While you're out strolling our downtown streets, see how many murals you can spot too!
#CaptureEC #EauClaire #VisitEauClaire