You know what they say… "Work hard, play harder." Here in Eau Claire, we make it easy to do just that. Say hello to CoLab, the co-working community space in downtown Eau Claire where remote working is welcomed, encouraged, and celebrated. CoLab has made it easy for business professionals to take their work with them on the road and operate in an environment that motivates productivity, all while being located in a city full of exploration.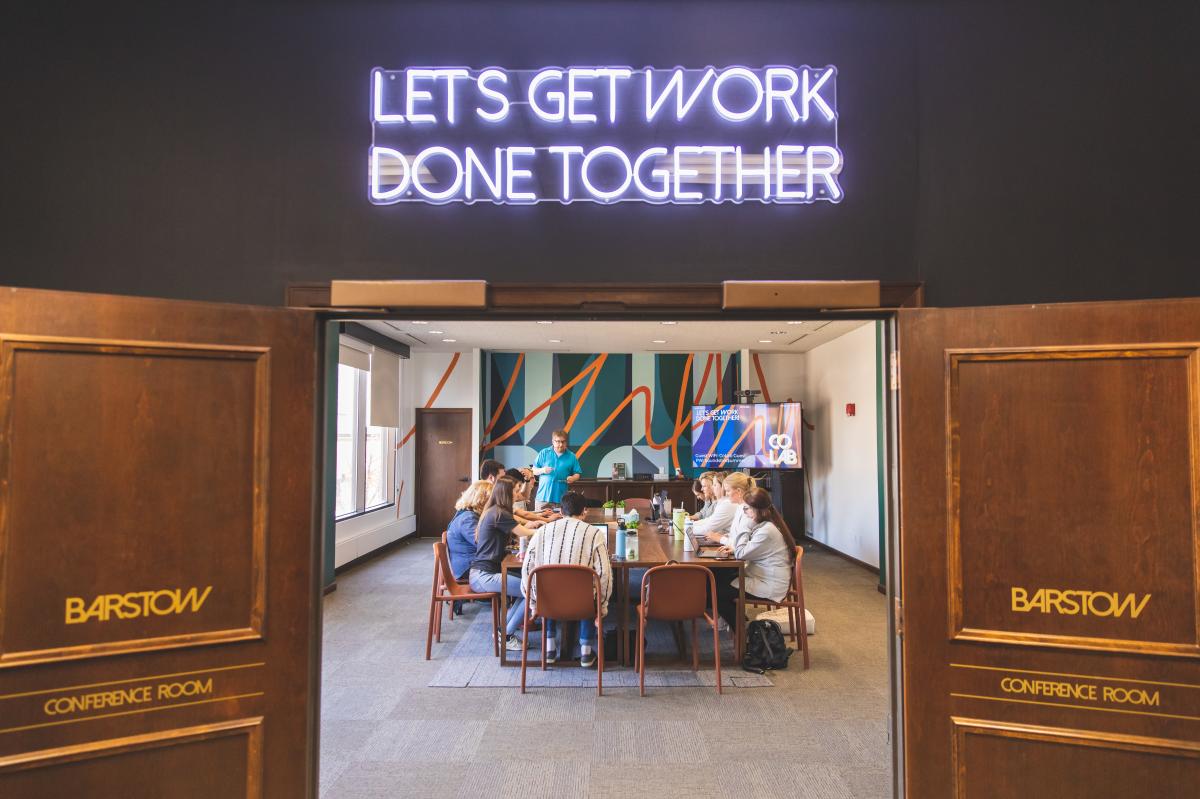 Discover the CoLab Story
CoLab was started with two types of business professionals in mind: startup companies and entrepreneurs. Upon opening their first location in 2019, the idea behind the community workspace was to provide a space to tackle your business's day-to-day tasks without worrying about the operational costs of maintaining an office building. This workspace offered the Chippewa Valley a low-risk, cost-saving option to begin building on your business's dreams while still having the perks of an office environment. Once COVID-19 struck, the entire world of in-person work changed and shifted the possibilities of community co-working spaces. CoLab expanded its offices and relocated in June 2022 now offering more space and new amenities, and they are now able to welcome more business professionals working remotely to accommodate the changing workflow patterns. CoLab now hosts more than 40 businesses and 85 members consisting of entrepreneurs, startups, nonprofits, freelancers, students, and more.
Given this community workspace, professionals have discovered new networking opportunities within the offices and even experienced the possibility of traveling to Eau Claire and continuing their work while on vacation. CoLab provides visitors an opportunity to take their work with them when in Eau Claire to see family or friends and still have an environment to feel motivated, productive, and involved in downtown Eau Claire.

Pick a Workspace That Fits You
CoLab believes in having options for your work environment, and they encourage you to "choose your own adventure for your workspace." CoLab's community workspace is divided into subsections depending on various business needs, focus levels, and interactions desired. Their membership system allows you to choose your ideal workspace package depending on your individual business styles and what you need to succeed.
Starting with the overall layout of the office space, CoLab is designed into separate focus areas with noise levels in mind ranging from places appropriate for open conversation to spaces meant for quiet and confidential matters. The main common space welcomes individual and team work styles and is considered a space for collaboration and networking. You'll notice that the background music is loudest here and sets the tone for inviting conversations among business professionals.
As you work to the middle of the office space, you'll reach the desk space meant for quieter interactions and more options for individual, focused work. You'll also find noise-canceling phone booths in this section that allow you to take your calls in a quiet, private, and confidential matter.
Towards the back of the office, you'll find personalized spaces for professionals that choose to use sit-to-stand desks and personal storage. This section is meant to be the ultimate "focus space" with the cubical layout and white noise background sound.
If you find your business needing more space that can accommodate multiple team members, CoLab holds private offices for groups of 4 or more people that need a place to keep projects private. These spaces allow teams to really make their space their own but still allow members to take advantage of the rest of the common space. There is also access to multiple conference rooms throughout the office to work on collaborative tasks with little distraction, and they can be booked in advance for your team.
CoLab offers members shared kitchen access with a dishwasher, microwave, refrigerator, dishes, and more. The staff provides freshly brewed Wonderstate coffee daily, and you have access to their sparkling water station with multiple flavors! CoLab supplies a printer and copier for members to use, as well as other supplies like paper, pens, and other office essentials.
When you're needing a break from work responsibilities, CoLab provides a wellness room for a private space to reset, recharge, and take care of personal matters. This space is welcome for nursing mothers, meditation and prayer, or any activities that let you focus on your mental health during the work day. 
As you reach points throughout your work day where you're needing some refueling, we'd recommend checking out some of the downtown area's local coffee shops and restaurants for some grub! Find delicious coffee, smoothies, and other cafe options right next door at ECDC in downtown Eau Claire. For some tasty lunch options, take a stroll through downtown Eau Claire to Acoustic Cafe for their popular hoagies or The District for wings and pizza! Check out the locals' favorite restaurants in Eau Claire, here.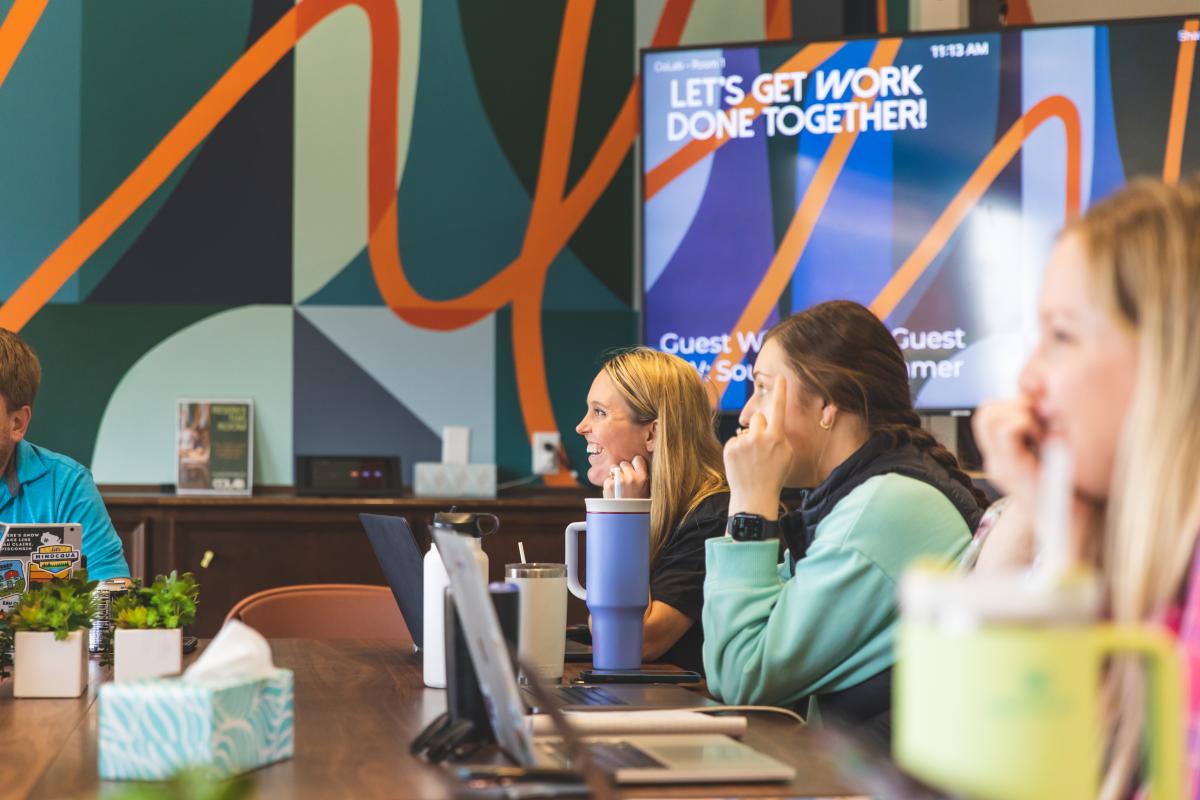 How to Start Co-Working
Starting at $50 per month, you can select the flex package which grants you access to the common areas in the workspace that are not up for reservation possibilities. This also includes the booking of conference rooms and phone booths, printing, fresh coffee, and more.
With the dedicated membership, you've earned your own powered sit-to-stand desk with lockable storage. Dedicated members also have all the perks of a flex member, as well as 24/7 key fob access to create your own work schedule. Whether you're more productive late at night or early in the morning, you have the flexibility to create your work zone!
With CoLab's virtual office feature, you can use CoLab's address for your business and mailing addresses, and you're able to check your mailbox from anywhere. This membership also offers you access to 3 day passes and one hour in a conference room each month, as well as access to CoLab's social channels and exclusive events.
CoLab also offers day passes to business professionals to use the common spaces and find networking opportunities. You can even plan business events and are welcome to bring in your own catered food to celebrate your business successes!
Eau Claire is filled with entrepreneurial personalities and business ideas that are eager to get started! CoLab can be the start of your business endeavors with its space to be creative, start conversations, get inspired, and make connections. Take advantage of the cost-saving perks of operating out of a community co-working space where you don't have to worry about operational costs, expensive equipment replacements, and even hiring additional members to manage your office. Instead, allow yourself to focus on the goals and missions of your brand's business, and enjoy the added benefits of flexibility, collaboration, comfort, and an inviting environment at CoLab's community co-working space!
For more information on CoLab's services, click here!