The frosty pastime is growing in popularity nationwide, and no wonder: Whether you're a veteran trailblazer or tender-footed novice, snowshoeing is great exercise (you burn more calories snowshoeing than walking or running the same distance) and an even better way of exploring Wisconsin's wintry beauty. So strap a pair of the aluminum or wooden contraptions onto your feet and check out some of the best places to snowshoe before your chances melt away.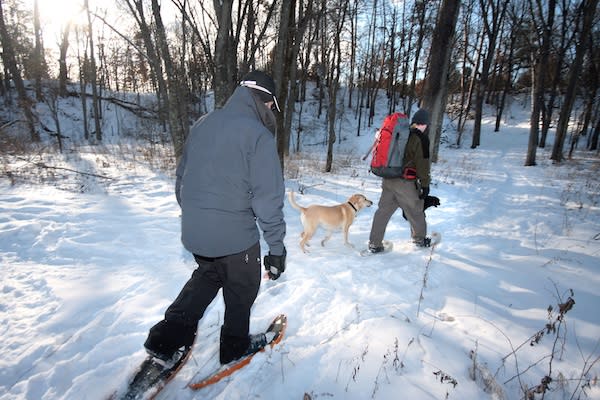 LOWES CREEK COUNTY PARK
5238 S. Lowes Creek Road (west entrance), 5530 Fairview Drive (east entrance), Eau Claire
Just minutes south of the city of Eau Claire, experience 250 acres of cross-country skiing, snowshoeing, and pet-walking bliss. Trails for snowshoers and skiers are adjacent but separate, and they offer many loops and shortcuts, giving you a wide variety of routes. Trails twist up and down hills, through creek bottoms and white pine forests, and they range from easy to difficult, so a trail map is a good idea for those new to the park. Vehicle passes required.
TOWER RIDGE RECREATION AREA
955 S. 82nd Ave. (County Highway L), Eau Claire
Don't let the weather keep you from exercising; Tower Ridge is a great place to enjoy the snow and work out. Like Lowes Creek, Tower Ridge offers snowshoe trails next to (but separated from) the lighted cross-country ski trails – giving you the tantalizing possibility of a romantic night outing amid the glowing snow. There are hilly and flat trails for all ability levels, as well as a chalet. Winter vehicle entry passes are required, and they can be purchased on-site.
S1 County Highway K, Fall Creek • (715) 877-221
A few minutes in your car and you can spend an entire afternoon in the quiet beauty of the hundreds of acres of woods at this environmental education and recreation center. Beaver Creek Reserve has a number of wooded, groomed trails for snowshoeing and cross-country skiing. Rental equipment is available there as well. Check the website for periodic guided snowshoe hikes as well as snowshoe-making classes.
HOFFMAN HILLS STATE RECREATION AREA
730th Avenue, Menomonie • (715) 232-1242
Don't overlook the 707 acres of preserved and restored wooded hills, wetlands, and prairie. It's a great place to hike, and during the snowy season there are nine miles of groomed ski trails (which snowshoers should avoid) and several miles of snowshoe trails (which snowshoers are invited to tackle). Stride through the snow while feasting your eyes on spectacular views of the surrounding countryside. Vehicle admission stickers aren't required, but skiers over 16 years of age must have a state trail pass.
GUETTINGER WOODS AND WILDLIFE AREA
Sandberg Road off Highway 37, Eau Claire • (715) 839-4783
This little-known Eau Claire County Park has been called a "hidden gem." You'll find it about seven miles southwest of Eau Claire in the town of Brunswick. The 123 acres are open for snowshoeing, hiking, and wildlife watching, although there are no groomed trails.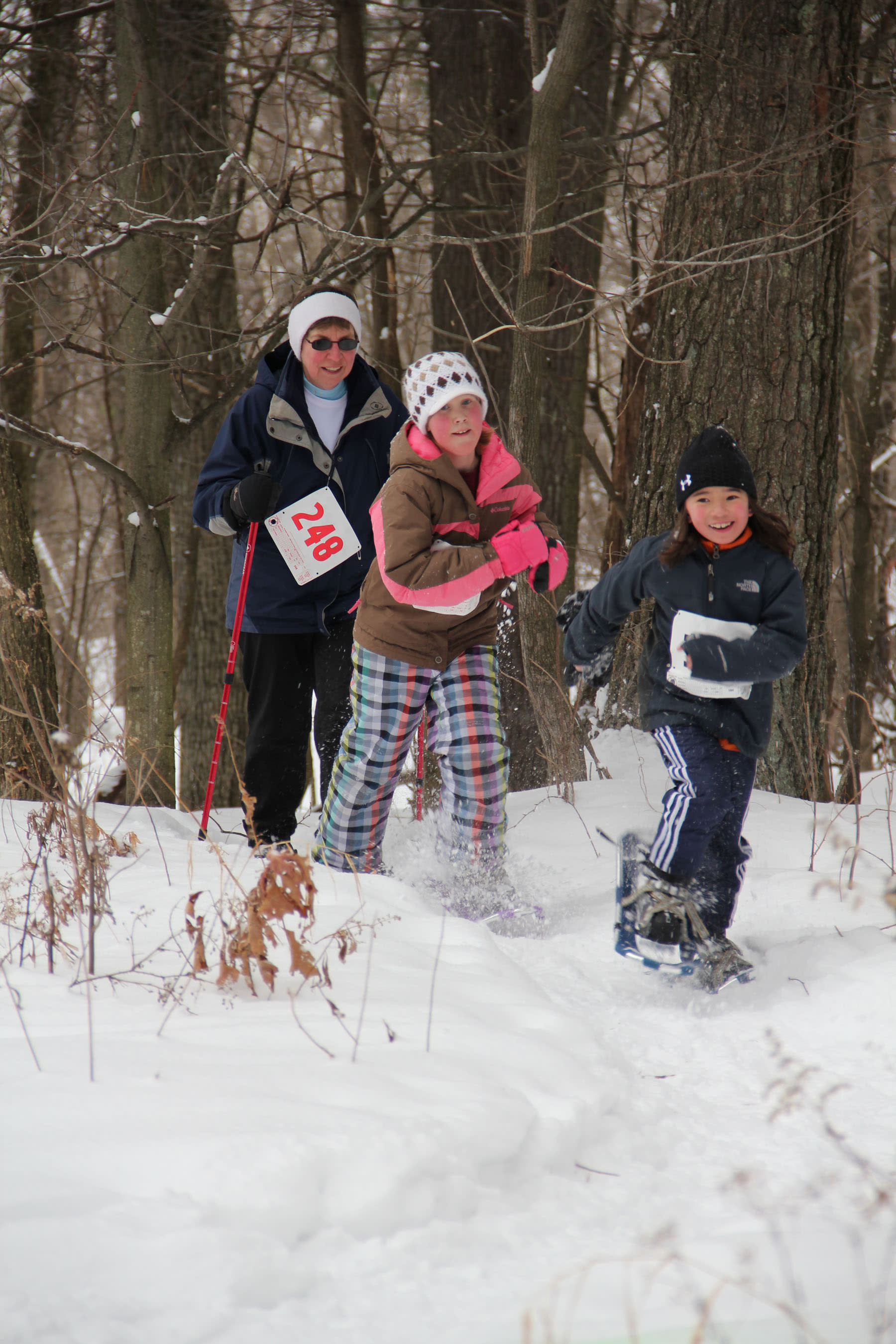 18127 County Highway O, Chippewa Falls • (715) 382-4574
The 1,000-acre state park on the shore of Lake Wissota includes 10 miles of snowshoeing trails. Park admission sticker required.
23125 255th St, Cornell • (715) 239-6888
There are more than eight miles of hiking trail in this state park, and they are perfect for snowshoers in the winter. In addition, there are 4.3 miles of trail groom for classic-style cross-country skiing only. Park admission sticker required.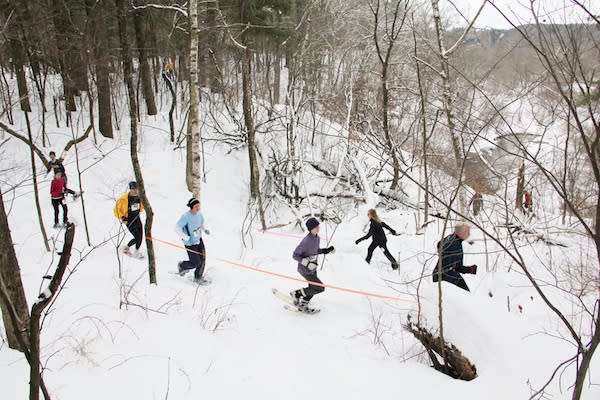 HICKORY RIDGE TRAIL
225th Avenue (Bob Lake Road), Bloomer
If you're looking for trails that are (literally) off the beaten path, check out Hickory Ridge, located within the Chippewa County Forest about 12 miles northeast of Bloomer and 20 miles north of Chippewa Falls. A 5K multiuse snowshoe and mountain-bike trail circles what is dubbed the "Great Swamp," offering great views of scenery and wildlife. The Friends of Hickory Ridge also groom 27 kilometers (about 17 miles) of cross-country ski trails for both traditional and skating-style skiers. No fee, but donations are appreciated. No dogs allowed.
CHIPPEWA MORAINE STATE RECREATION AREA
13394 County Highway M, New Auburn • (715) 967-2800
Located along the Ice Age National Scenic Trail about seven miles east of New Auburn, Chippewa Moraine features 23 miles of well-marked trails. While not groomed, they are open to snowshoeing, hiking, and cross-country skiing. Three self-guided trails beginning at the interpretive center will give you a look at kettle lakes, hummocks, and other glacial features. Vehicle admission stickers are required.