Tubers have likely been lazily drifting down the Chippewa Valley's waterways since the first pneumatic tire was invented in 1890. But it hasn't been until the last decade or so that tubing has blown up (pun definitely intended) as a go-to summer pastime for those who want to sit back, relax, and let our robust, watery roadways do the work. Why break a sweat paddling when the inexorable flow of the Chippewa River can get you where you want to go?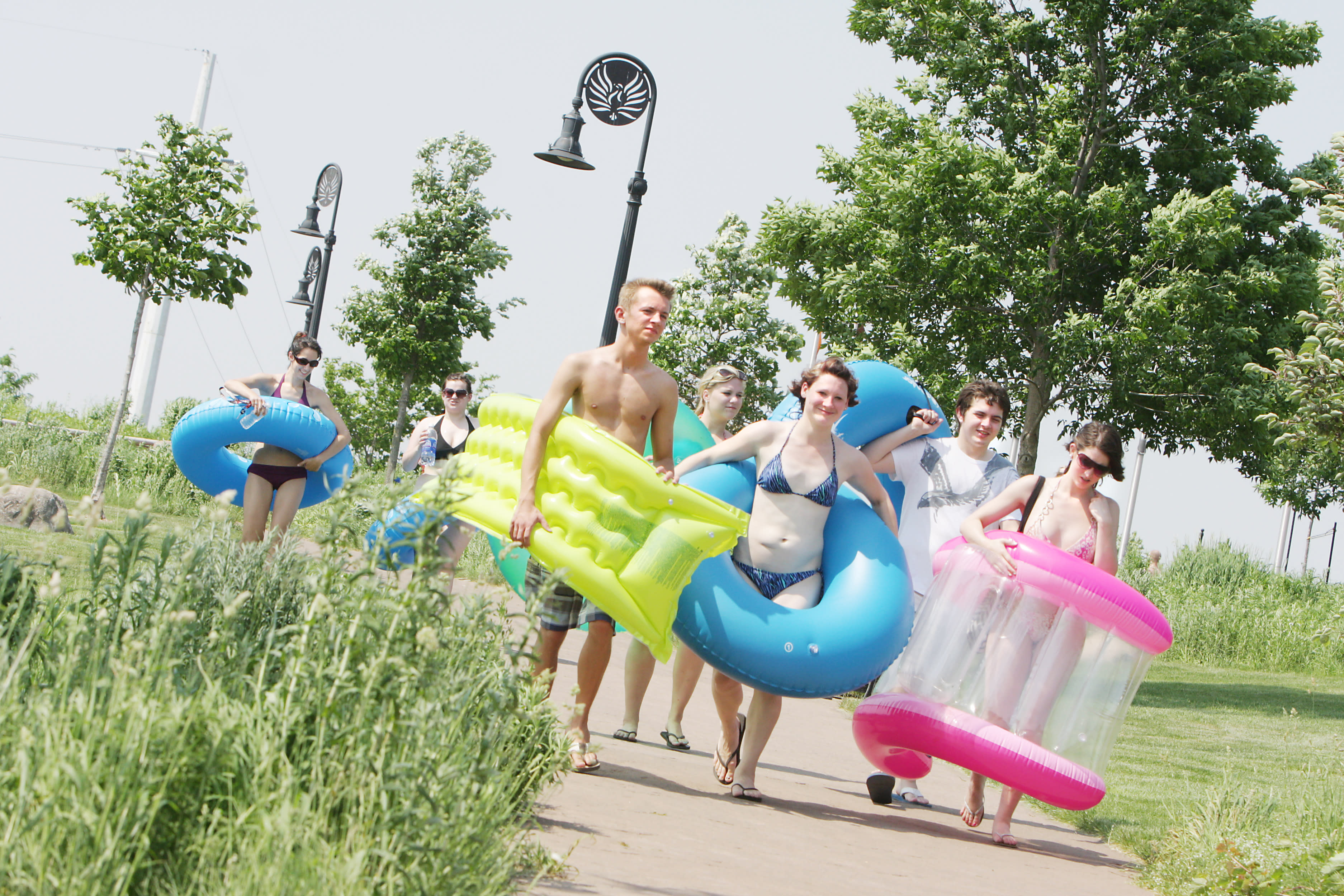 The concept is simple: When the summer heat starts getting oppressive, get together some friends or family, some seaworthy inflatables, and perhaps a cooler of beverages, and launch yourself into the Chippewa River. The most common route, at least inside the city limits, is from Phoenix Park (at the confluence of the Eau Claire and Chippewa rivers) to the boat landing behind Hobbs Municipal Ice Center. In roughly two miles, you'll travel beneath four bridges and past parks, homes, and businesses, where you'll be able to wave at all the unlucky landlubbers who didn't have the bright idea to take the afternoon off.
Tubing – or, if you prefer, paddling down the river – offers an otherwise unavailable view of Eau Claire. Even if you've lived here for years, looking up at the city from the shimmering surface of the water will give you a new perspective – figuratively and literally. You'll see sides of buildings, parks, and bridges you've never seen before. If you're of a historical bent, you'll get a renewed sense of what brought people throughout history – from Native Americans to French voyageurs to lumberjacks – to the Chippewa Valley in the first place.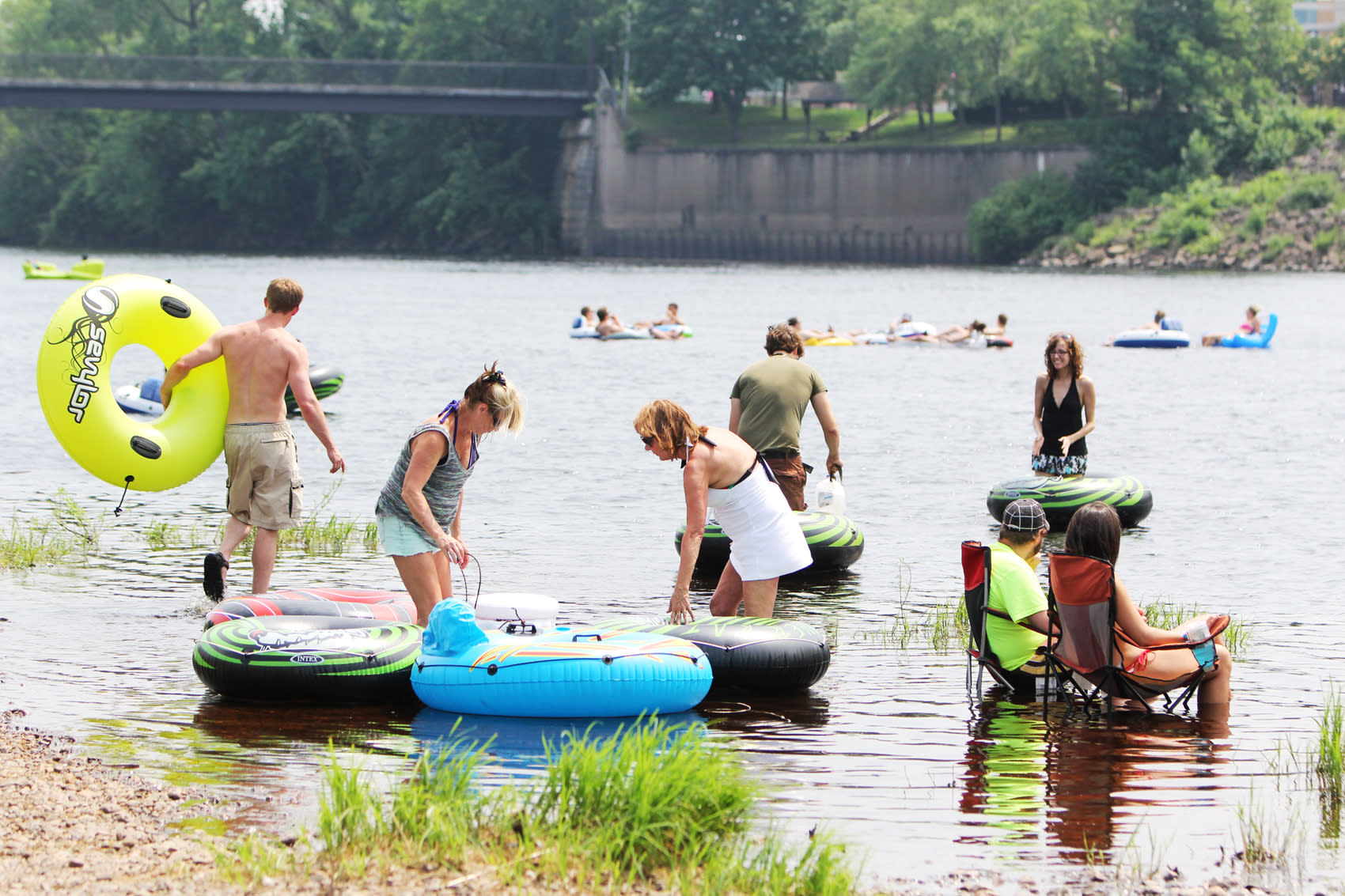 It's hard to point a finger at exactly what led to tubing's exploding 21st-century popularity. The creation of Phoenix Park on a former disused industrial site in the heart of downtown Eau Claire certainly gave tubers – as well as canoers, kayakers, and other river users – a convenient spot to ease their way into the Chippewa. Modern environmental awareness, which led to cleaner water, also played a role. (No one wants to float down a polluted river.) There's also the increased availability of tubes, for both purchase and rental, at area businesses, from bike shops to big-box stores. And there's the enduring popularity of the region's biggest anarchic river party, FATFAR – officially the Frenchtown Annual Tube Float and Regatta. What began as a simple tube float in 1977 now draws thousands of tubers – many with fabulous floating contraptions, including cars and small-scale football fields  – to the Chippewa River near Chippewa Falls for pub-crawl-style revelry each Fathers Day.
Tubing, of course, doesn't have to be synonymous with a water-borne beer bash. It's a democratic, comes-as-you-are activity, and on summer days in Eau Claire folks of all ages can be seen dangling their feet from inflated DayGlo donuts. Just remember your life vest, sunscreen, sunglasses, something to drink, and maybe your cellphone (sealed tightly in plastic bags, of course) so you can arrange transportation home – or maybe just back upstream for another leisurely float down the river.
Photo credit to Andrea Paulseth, Volume One.