Get the creative juices flowing.
The city of Eau Claire has no shortage of places to inspire creativity. Whether you're looking to relax in an airy atmosphere over a cup of coffee or admire a stunning art gallery, there's bound to be the perfect spot to get your creative juices flowing. This post is sectioned off by place categories to make it simple to identify the ideal location for your creativity boost!
Coffee shops
Who doesn't love exploring new coffee shops? They're all cozy in their own ways and offer tons of drink and treat options to fuel your creative mind.
1. Shift Cyclery and Coffee Bar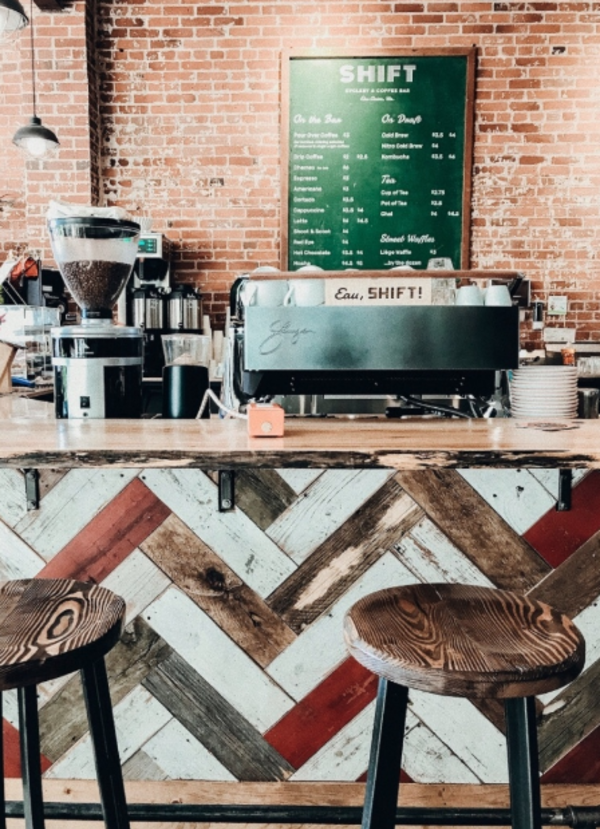 A combined bicycle repair and coffee shop, Shift is the place to be if you're looking for a unique yet inviting atmosphere. A combo of brick and artfully painted walls make the space quite aesthetically pleasing, not to mention the large windows allowing sunshine to stream in. It can also be fun to watch bikes be repaired while you're sipping your coffee. The concept of Shift is so creative, how could you not be inspired?
2. ECDC: Eau Claire Downtown Coffee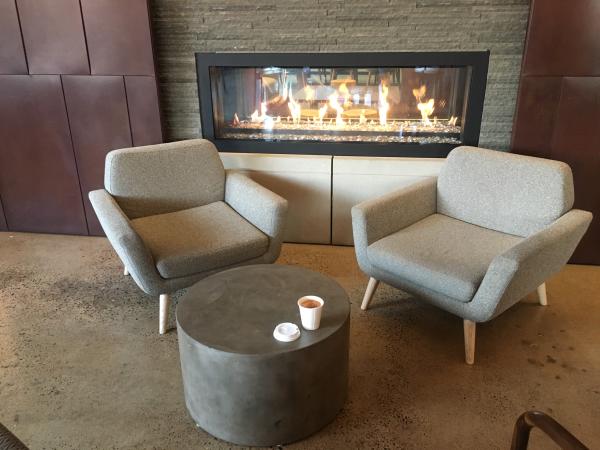 ECDC puts a modern twist on the typical coffeehouse scene. Located in the heart of downtown Eau Claire in the swanky Lismore hotel, ECDC gives off big city vibes. The sleek, modern atmosphere is made comfortable through fireplaces and plenty of natural light. There are also tons of different seating options to choose from, so whether you're looking for a seat for one overlooking the street or a spacious table for getting work done, ECDC is the place to be. ECDC seems to transport you and provides a whole new perspective on the city of Eau Claire.
Parks
Nature is the ultimate inspiration, so why not go for a walk, run or bike ride in one of the abundant, gorgeous Eau Claire parks? Listed below are two of my favorites that offer two completely different vibes.
3. Phoenix Park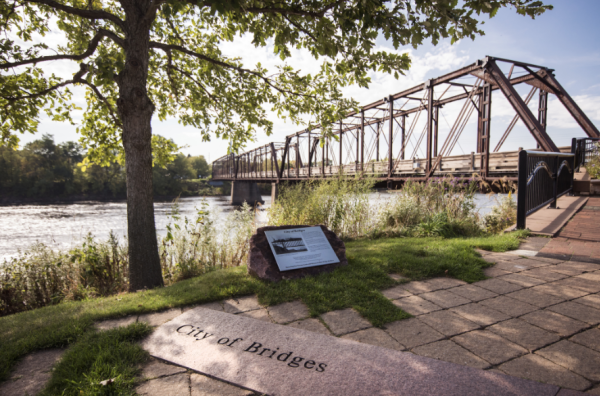 Phoenix Park is located just outside the downtown Eau Claire area and is home to many fun Eau Claire events. The park is nestled at the confluence of the Eau Claire and Chippewa Rivers, so it boasts stunning natural views and also the perfect view of the new Pablo Center. So, whether you're at the park attending the Farmer's Market or just stopping by to soak up some river views, it is a lovely location to let inspiration come to you.
4. Carson Park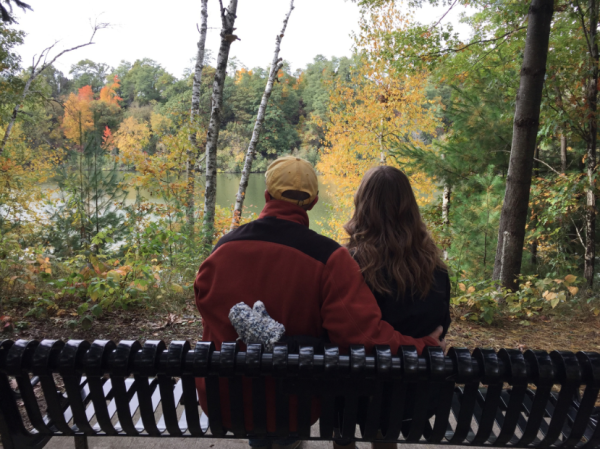 Carson Park is the place to be if you're looking for a relaxing trek through the woods. The park is home to football and baseball fields, but when there aren't games occurring, it creates the ideal atmosphere to clear your head and appreciate nature at its finest. The park borders Half Moon Lake, allowing for gorgeous views all year round and the perfect backdrop to let creativity find you.
Galleries and Stores
Sometimes admiring art or doing a bit of shopping is just what you need to give yourself a boost of creativity- the work of others can be so inspiring!
5. Pablo Center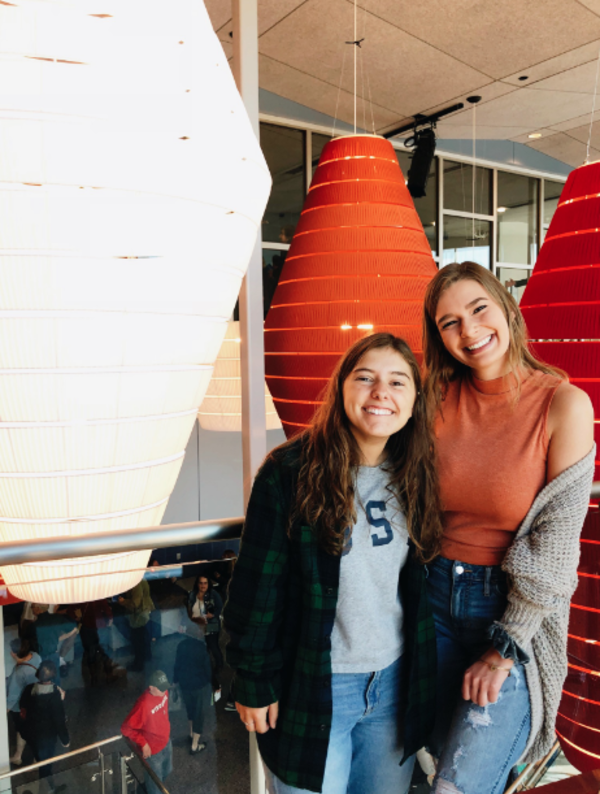 The brand-new Pablo Center at the Confluence is nothing short of breathtaking. Many of the walls of the building are essentially floor to ceiling windows, letting in tons of light to accentuate the funky décor and soothing earth tones. It is located at the confluence of the Eau Claire and Chippewa Rivers- the perfect location for grand views. While the building itself is a work of art, it is also filled with art! There are two year-round art galleries that are free and open to the public. The Pablo Center also hosts tons of different musicians, plays and other performances. There's truly no better place to get your art fix and instill some inspiration.
6. Artisan Forge Studios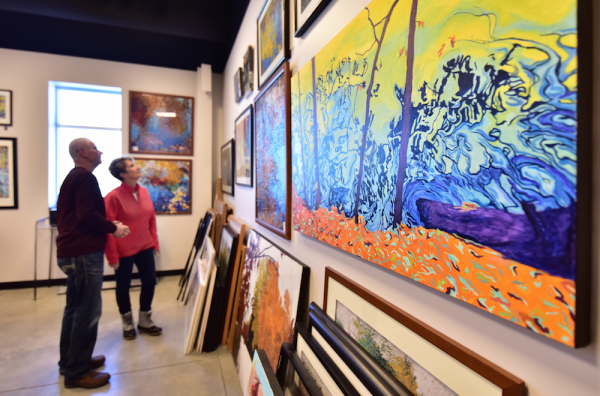 A giant industrial building is probably not the first thing that comes to mind when you think of an art gallery, but that's exactly where Artisan Forge Studios calls home! The unconventional and spacious building offers tons of room for a gallery and store open nearly every day of the week. Artisan Forge also regularly holds gallery exhibits, live music and other performances. It is a unique and enticing space that offers the perfect opportunity to harbor creativity.
7. The Local Store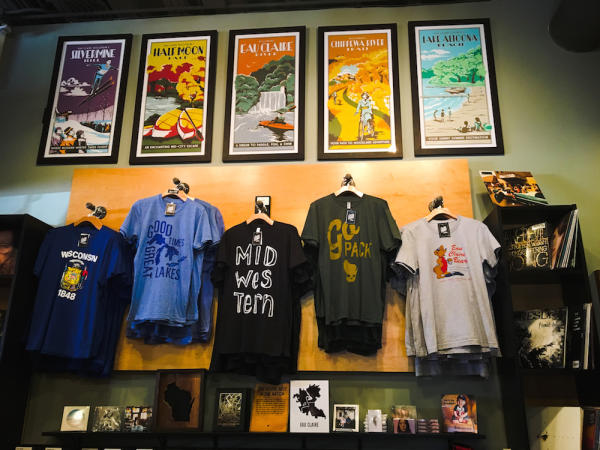 The Local Store is a cozy space packed full of locally made and inspired gifts, art and apparel. You could spend hours inside admiring all of the unique craftsmanship and fun ideas. Every time I visit, I have to buy something new! They also hold plenty of exciting events such as live music, book signings and tastings. Stop in, appreciate the local Eau Claire vibes and soak in the inspiration!
Creativity doesn't always come easily, but sometimes all it takes is a change of scenery to get back into the zone. Luckily, Eau Claire has all of the creative inspiration you could ever imagine! Simply start with visiting the locations on this list and watch the creative juices flow. 
While you're soaking up all of these places, make sure to use some of your newfound inspiration to snap some photos and share them with us using #CaptureEC.