Get into the holiday spirit with these 25 things to do and places to be in the days leading up to Christmas
Things to Do
1. Make a stranger's day by buying their coffee, leaving a positive note on their windshield, or simply by being a courteous driver this holiday season.
2. If you aren't already, start the tradition of "The Christmas Pickle," a fun tradition believed to come from Germany (though it is not practiced in Germany). Buy a glass pickle ornament and hide it in your Christmas tree; the first person to find the pickle gets a special gift.
3. Cook a meal and invite college students over. Serve festive foods or deserts like peppermint fudge, or drinks like eggnog.
4. Instead of sending traditional Christmas cards that sum up your year, send meaningful personal letters to friends or family which they can keep as a loving reminder.
5. Race your friends and family in the annual Run Santa Run 5k, "The Most Festive 5k Around". The fee is $20-40 per runner, and you can register online.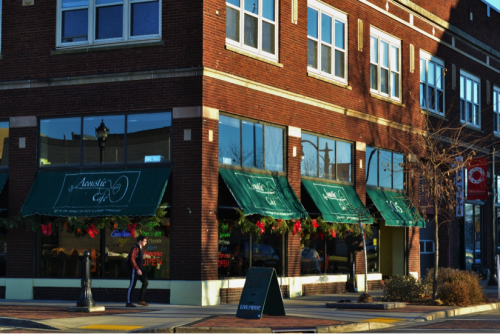 6. Catch up with an old friend over the holidays at the Acoustic Café downtown. Enjoy a meal, hot coffee, or ice cream. Local live talent often plays in the evenings on weekends. 
7. Bring the kids and train-lovers of all ages to Chippewa Valley Museum to enjoy the annual toy train display decorated for the holidays. Open all month of December, admission for adults is $9 and $6 for children which includes general admission to the museum; $2 a person for museum members.
8. Visit the UW-Eau Claire campus and attend the annual holiday concert put on by university students in the symphony, orchestra and choir. This tradition has been alive for over four decades. Tickets can be purchased online.
9. Get cozy inside and host a Christmas movie marathon.
10. Enjoy the snow and break out your sporty side at Pinehurst Park! Ski, snowboard, sled, skate, or snowshoe at the park north of Eau Claire.
11. Get into the Christmas spirit by taking friends, family, or neighbors to Irvine Park to walk or drive through the extravagant display of Christmas lights and decorations.
12. Listen to music and buy cookies by the pound at the annual Memorial High School Band Cookie Sale. Students will play holiday tunes all afternoon while other activities like a children's carnival, face painting, and ornament-making will be ongoing.
Donate Your Money
13. Offer an extra hand and give your time to places like the Beacon House who will be serving meals over the holidays and are always looking for volunteers. Salvation Army and St. Francis Food Pantry are also looking for volunteers over the holiday season (and year-round).
14. Donate money or unwrapped gifts for children to Toys for Tots. The distribution center is located at Alliance Energy Center and money may be donated online or by check sent in the mail.
15. Sponsor a family over the holidays through Spirit of Christmas of Chippewa County, Inc. Other families, individuals, businesses, clubs, churches, or entities may sign up to receive the gift wish list of the family they are sponsoring. Gifts may be dropped off at Zion Methodist Church. 
Donate Your Time
16. Offer to babysit and then build a gingerbread house with kids. Parents would like to have time for themselves before the busy holidays.
17. Encourage your neighbors, friends, family, or yourself to share talents with guests. Host a house party and invite people to play instruments, sing or share poetry, writing or art. Make a meal for your guests in return.
18. Having extra help while decorating can be nice – offer to help someone get their house or office ready for the holidays.
19. Prepare and donate baked goods to employees who work over the holidays. If you're out and about shopping, bring them with you to hand out at the check-out counter!
Go Homemade
20. Learn to knit and give your first product – a scarf is very simple – to a friend or family member as a gift.
21. Get crafty and create homemade decorations or donate decorations to one of the many local nursing homes.
Family-Friendly Places to Go
22. Attend the annual Clearwater Winter Parade which happens every December early in the month. The parade route is on 1st avenue and will have fireworks.
23. The Oakwood Mall will be hosting Santa Claus and invites people of all ages to come and sit on his lap for a photo at the Sear's wing.
24. Shop at and support small businesses in the community. Taking a stroll downtown is the easiest way to access a majority of festive, small-town shops (and enjoy the holiday music playing over the loudspeakers).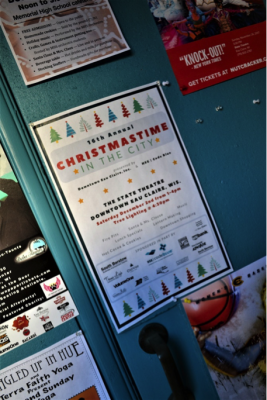 25. The holiday spirit will be all around downtown during the Christmastime in the City annual celebration. Visit Santa and Mrs. Claus at the State Theater, enjoy a holiday pizza at The Plus, rock out in karaoke and ride in a horse-drawn wagon on the corner near The Lismore Hotel. Finish the day off with the tree lighting ceremony. 
 
What are you doing this year to spread holiday cheer? Drop us a note in the comments section.