If your summer has been anything like mine, you are probably trying to understand where it went, and why it's leaving so incredibly fast.
A whirlwind of this and that, the chaos of summer life has stretched you thin and disconnected you from some people. It's time to schedule a break and unwind with some of those friends you've been neglecting. The perfect recipe for this plan is downtown Eau Claire and a couple of drinks. Where to go? I did the footwork for you, and I'm happy to report that downtown is filled with many wonderful options. Hit these places up. Relax. Enjoy some drinks. And be sure to soak in the fun outdoor spaces before our beautiful summer nights vanish for the year. 
The Livery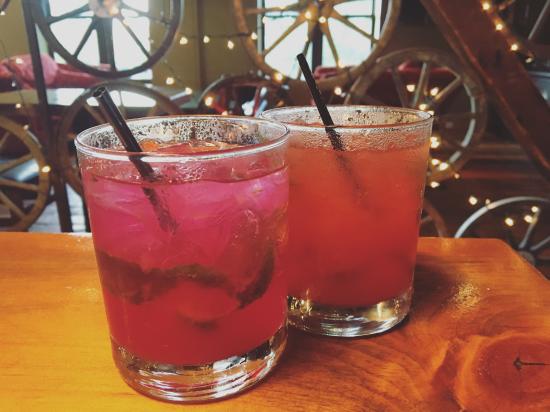 If you're looking for a place with some historic charm to enjoy your drink, this is your place. Its name is quite fitting, as the building was once an actual livery – a place that horse owners could board their horses and where people could rent a horse to travel between towns. While you won't see real horses here anymore, you can admire the tasteful remains of this beautiful two-story establishment while being served delicious drinks and food. Not only are the drinks delicious, they are quite pretty too. Order the prickly pear cactus mojito and you'll see what I mean. 
The Lakely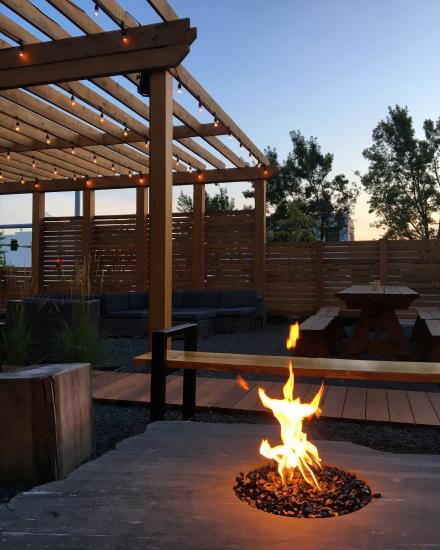 Outdoor drink hangs at The Lakely are a must. This place is fresh. This place is cozy. And its drink menu offers a variety of beer, cocktails and wine - something for everyone. The outdoor courtyard is magical, whether sitting under the lit pergola or gathering around the fire pits. The drinks available here embody the craft drink movement – go ahead, try something new and see where your adventurous self might take you!
The Dive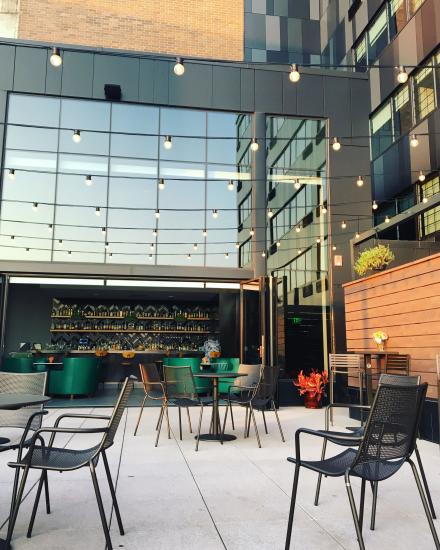 If you want a drink with a view, The Dive is a classy space for your next drink outing. Here you can sip away under the lights of the rooftop bar overlooking downtown Eau Claire. It may feel like a place with bigger city vibes, but rest assured it is a cozy hang space to catch up with your friends over a cocktail or glass of wine. There's something magical about this outdoor bar space and a must stop for a unique Eau Claire experience. Oh, and let's not forget, The Informalist is just downstairs, and they will gladly serve you their delicious wood fired pizzas while you drink. Yes, please.  
Mona Lisa's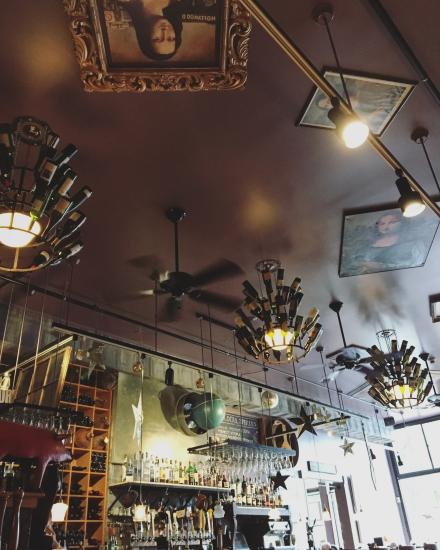 A piano full of bottles and Mona Lisas on the ceiling. If you haven't stopped at Mona Lisa's on Water Street for a fun place to wine and dine, head there soon. A large drink menu awaits you, especially a variety of wines to try out. All the while, Mona will smile down on you, literally. 
Lazy Monk Brewing
If you are looking for a space where you can bring your dog and enjoy some outdoor hanging, look no further! With a variety of craft brews available and a fun atmosphere to boot, be sure to check out the Lazy Monk. This place also hosts a variety of food trucks outside of the establishment throughout the month. BBQ, pizza, Mexican and so much more! Seriously – check it out!
In case you haven't gathered yet, there are plenty of wonderful options downtown waiting to serve you your next drink. The drinks are pretty. The drinks are fine. The atmospheres are all unique and inviting.  So head out soon and call up those friends you've been missing. It's time.