Don't be deterred by the line that forms outside the door.
In fact, the eager crowd of people waiting to get into Ramone's Ice Cream Parlor is a sign that this new-but-old-fashioned business in downtown Eau Claire is doing things right. Since it opened in late May, ice cream lovers have flocked to Ramone's to get hand-made waffle cones heaped with super-premium ice cream and a side order of nostalgia. We speak from experience that a short wait makes the creamy treat even more delicious.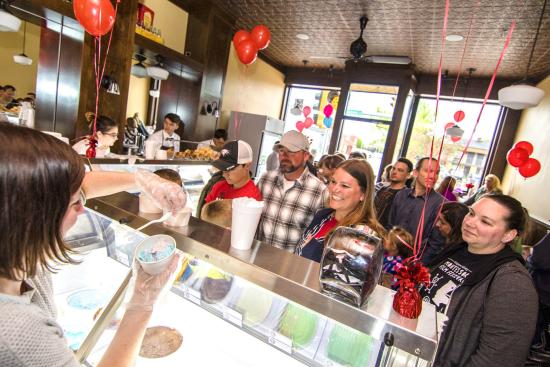 Owners Blayne and Kayla Midthun put plenty of hard work into completely restoring the first floor of the little building standing on the corner of Galloway and North Farwell streets. As Blayne explains, "We didn't want to hold back on anything during the remodel and really wanted this place to have an authentic feel."
Ramone's offers award-winning Chocolate Shoppe ice cream (made in Madison) in hand-dipped cones, sundaes, and malts. You'll find 24 flavors in their dipping cabinets (sample flavors: Birthday Cake, Fat Elvis, and Exhausted Parent) and even more in take-home containers. They've also got pies from Sue's Deluxe Bake Shop (of Eau Claire), Chocolates from Sweet Driver Chocolates (formerly Obsession Chocolates), Sprecher Craft Sodas, and Honest Roast Coffee (also of Eau Claire).
"It's been decades since we've had a true ice cream parlor," Blayne explains. "We're really hoping that we can bring a new flavor to downtown and piggyback on the many businesses and city developments that have made our downtown the place for families."
The Midthuns named the ice cream parlor in honor of Blayne's late father, acclaimed local woodcarver and artist Kevin Midthun. His father's work can be found in local churches and hospitals, as well as at UW-Eau Claire, The Stones Throw, and the Pioneer Tavern. He even made the state seal hanging in Wisconsin's Capitol building in Madison. "Ramone" was his father's high school nickname.
The red balloons you see in the Ramone's logo are an homage to Midthun's grandfather Maynard, a Lutheran minister of over 50 years who often used the symbolism of a red balloon in sermons, focusing on hope and love.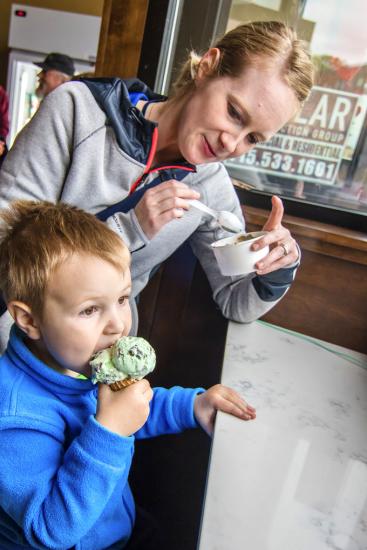 Midthun says, "My dad's ministry was through his gift of artistic ability and he chose to use his gift to touch others in brilliant ways. ... My father passed away in 2014 and my grandfather in 2010, but I, along with many others, had the benefit and privilege to see what true kindness, humility, and love looked like."
A large part of the Midthuns' vision for Ramone's stems from Blayne's childhood trips to Bayfield, which usually featured a visit to a candy shop. The ice cream dream grew stronger after Blayne and Kayla made multiple visits to Leo's Malt and Grill in Stillwater, Minnesota, where deluxe malts were their dessert of choice.
Blayne is quick to credit the support of his family and the surrounding community (such as help from Downtown Eau Claire, Inc.) in making Ramone's a reality. Comparisons to Olson's Ice Cream of Chippewa Falls – basically the granddaddy of local ice cream parlors – are easy to make. But Blayne wants to be clear on how the other shop has helped them out. He says, "Dan Hunt, the owner of Olson's was very helpful in answering questions and getting our business started. We continue to tell our friends and family to support their business. To me, our area is complete now by having one parlor in Chippewa Falls and another in Eau Claire."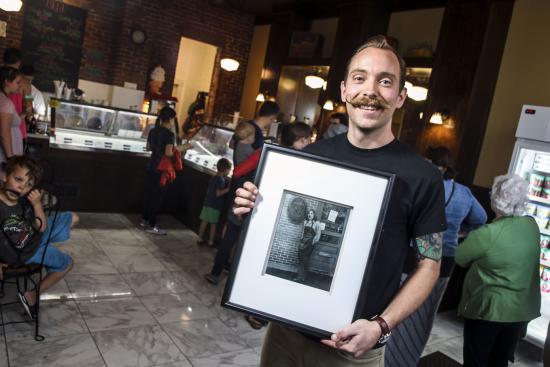 When simply asked "Why ice cream?" Blayne says he and his wife "both love to interact with people and want to make people smile. What better way than handing them an ice cream cone?"
Visit Ramone's for yourself at 503 Galloway St. in downtown Eau Claire, and learn more online at ramonesicecream.com or Facebook.com/Ramonesicecream.