Imagine this: the air is a crisp 55 degrees and you're finally wearing your favorite oversized flannel. Orange and yellow leaves crunch at your feet with every step you take. You're making weekend plans to pick apples and pumpkins or sip on local wines. But, you also make sure you leave enough time available to catch Sunday NFL football. There's no doubt that fall in the midwest makes for one of the coziest seasons of the year. With a cozy season comes cravings for hearty comfort foods. So, behold! We picked out some of the best comfort foods from the restaurants located in River Prairie. Browse this list and save it for when you have a hankering for something that just fulfills both the stomach and the heart.

*vegetarian option available*
Of course, Mac & Cheese is at the top of this list! What food can be more comforting than some warm, creamy, cheesy noodles? 44 North offers four different kinds of loaded signature macs: Chicken Bacon Ranch Mac, Nashville Hot Chicken Mac, Smothered Steak Mac, and Vegetarian Mac. You can't go wrong with any of these on a chilly, fall day.

Some may think that ice cream is more of a summer thing. Well, not to be harsh, but they're wrong! Ice cream goes down good no matter what season it is. The flavor to get this fall at 44 Below is the "S'Moreo". It's cookies and cream ice cream topped with cookie dough, graham crackers, marshmallows and chocolate syrup.

This is for you pumpkin spice latte lovers out there. Fall certainly isn't in full swing until you've got your hands on a fall-themed coffee drink. At Cabin Coffee, they feature a different drink each month. September's featured drink is the Pumpkin Palomino - white coffee with pumpkin and white chocolate. October's featured drink will be the Cabin Toffee Crunch - white coffee with dark chocolate, caramel and toffee. How can you not love this season with concoctions like that?!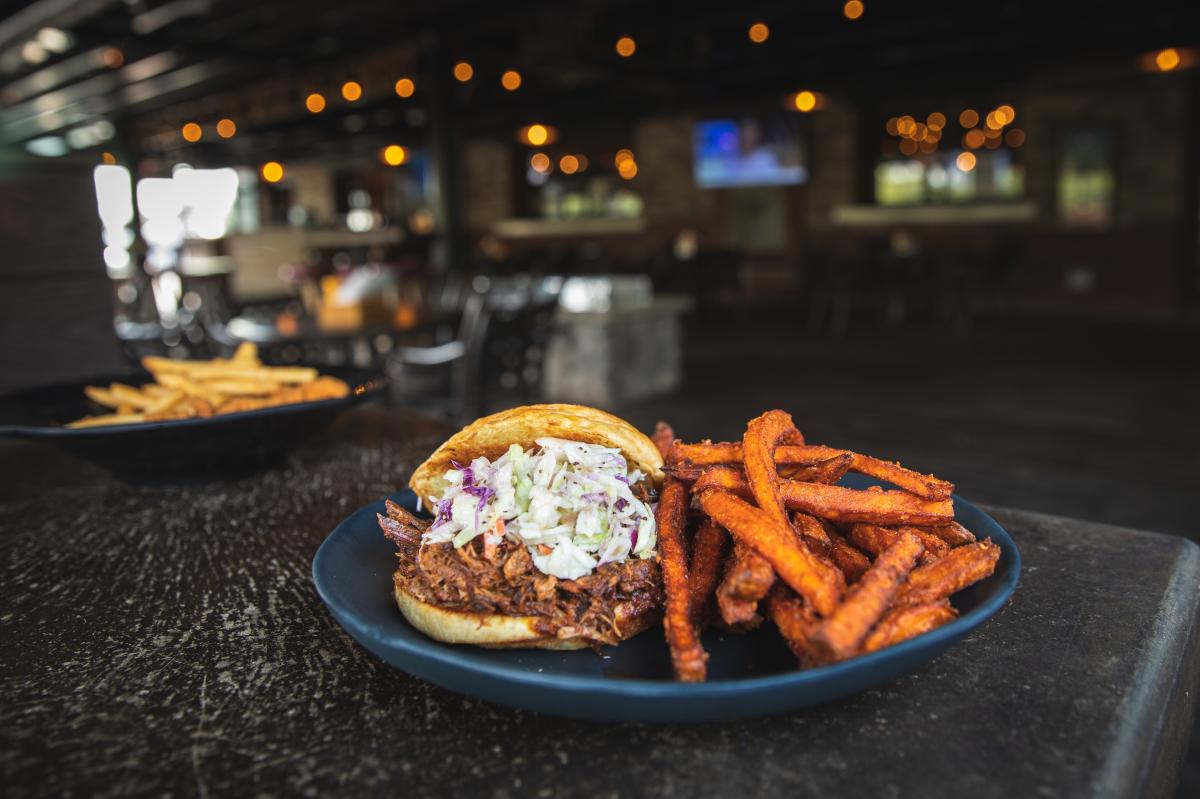 We're switching it up a bit here and moving from noodles and pasta to smoked meats! Cowboy Jack's in River Prairie serves up a mean Smoked Pork Sandwich. The pulled pork comes on a butcher bun and is topped with Cowboy Jack's BBQ sauce and coleslaw. Our taste buds are dancing just thinking about this sandwich. 

Some may find comfort in ignoring that it's getting colder outside and pretending like they're off somewhere on a tropical island. If we just described you, The Island Parkside will be your kinda place. This restaurant's food & drink menu along with its overall ambiance will make you feel like you're on your very own island getaway. Try their rice bowls for something a little more island-esque but equally delicious as the other comfort foods mentioned.

*vegetarian option available*
Xavier Artisan is River Prairie's newest establishment. It's located at the River Prairie Wellness Center and makes all its menu items fresh and in-house. The food we think will bring the most comfort this fall is The Xavier. It's a sandwich on Ciabatta made with smoked brisket, provolone cheese, cured onions, pickles, Dijon mayo, and Dijon mustard. The vegetarian option is goat cheese, almond pesto, roasted zucchini, spinach, onion, red bell pepper, and cracked bell pepper on Focaccia.