Finding the perfect gift for those you love can be quite a difficult task. Not to mention budgeting for the presents can cause some unnecessary grief. That's where we come in! During this holiday season, we are keeping small businesses in mind. Give your loved ones a small piece of Eau Claire by shopping at these local stores featured in our very own Eau Claire Holiday Gift Guide.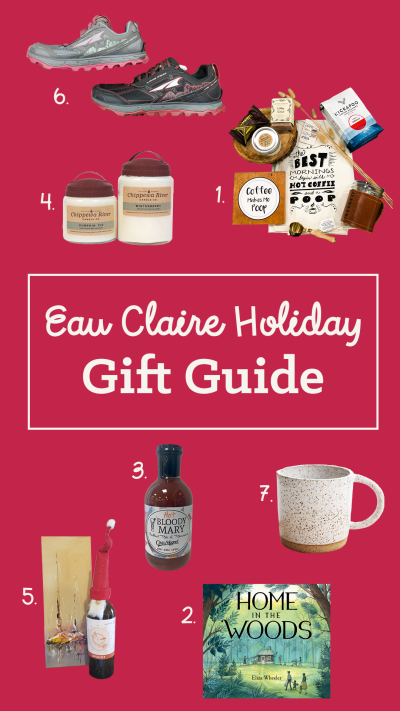 1. Tangled Up in Hue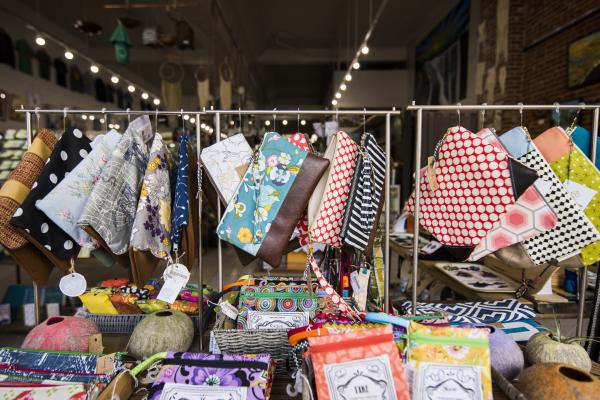 Located downtown, Tangled Up in Hue features an assortment of items that you can purchase for your hipster friends. These locally made items make the perfect presents that will spark joy and creativity in anyone that receives it.
Have any avid coffee fans in your family or friend group? Then the Coffee Lover Collection from Tangled Up in Hue is what you will want to snag. Feel the caffeine radiate off of each of the featured items included:
             - Square Sassy Plaque - $15
             - ​Vanilla Espresso Candle $5
             - Mayana mini chocolate bar Coffee Break $4
             - Kickapoo Coffee $15
             - Hot Coffee and a Poop dishtowel $12
             - Coffee Magnet $2
             - 2 Tablespoon coffee scoop $35
             - Coffee Scrub soap $5.75
             - Small Leather Mug $35
2. Dotters Books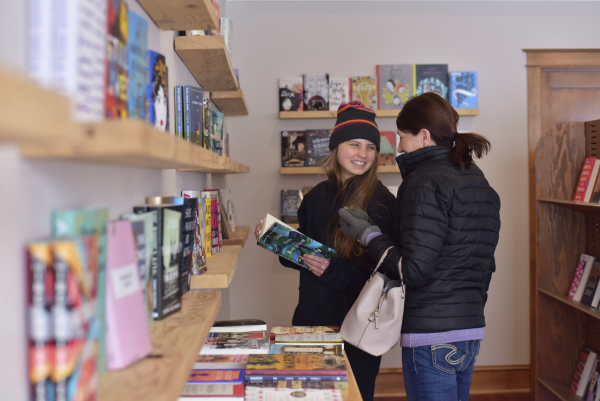 Dotters Books is located in the Eastside Hill District. A cute little getaway from the hustle of downtown or the mall. Spend 10 mins to entire day getting lost in books and stories. While you're there, you can maybe find a book to treat yourself with this Holiday season.
Struggling to find a meaningful gift for a child? Try the book, "Home in the Woods" from Dotters books. In the book, Eliza Wheeler, a Minneapolis-based writer and illustrator who went to school at UW-Stout, tells the story of her grandmother's childhood growing up during the Great Depression in the Northwoods of Wisconsin. This is a lovely story of family and the true meaning of home. 
3. Experience Center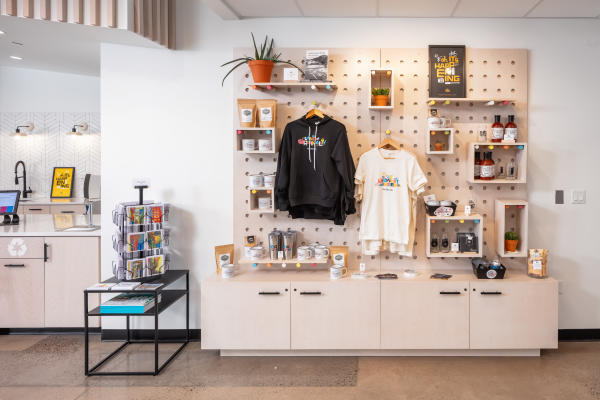 The Experience Center is located downtown in Pablo Center at the Confluence. With a cute merchandise, a small pop up shop and cool information about the city, you will be able to find something that captures the true essence of our Midwest city.
Know someone that can handle food/drinks that are hot, hot, hot? Stop in at our Experience Center and pick up some Chip Magnet Bloody Mary Mix. It's the perfect gift to give that they can enjoy as soon as they open it up.
4. The Local Store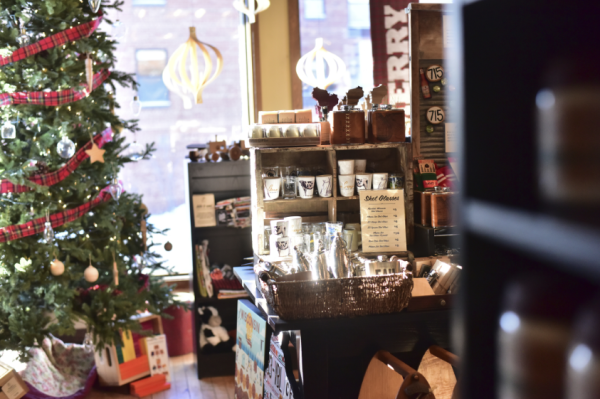 The Local Store, located on North Dewey Street is the perfect store to find anything Wisconsin. Not to mention, everything local. From cheeses to sweatshirts to décor, this local store has got it all. You can't forget the seasonal window displays that are always top notch. Stop down and check the store out yourself!
What's not to love about The Local Store's assortment of candles from Chippewa Valley Candle Co.? They are made naturally with soy wax so they burn 'clean' - not emitting toxins or producing unpleasant candle soot and they burn for up to 100 hours. With a scent for every candle connoisseur, The Local Store clearly has the best smelling candle selection in the Chippewa Valley.
5. 200 Main Art & Wine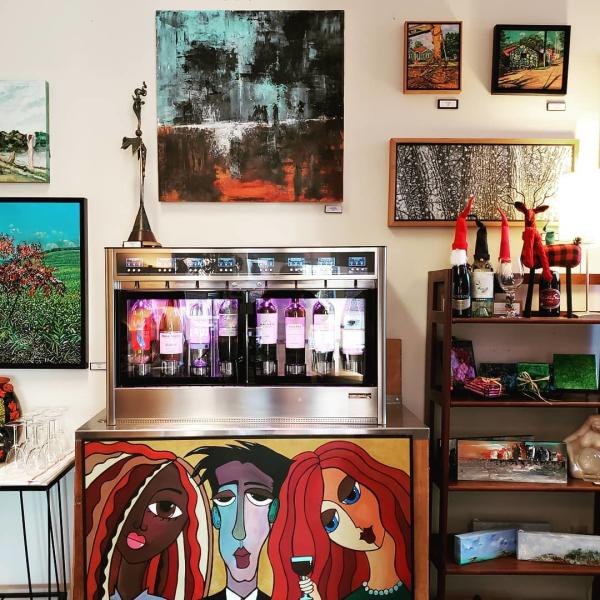 Picture taken from 200 Main
200 MAIN ART & WINE is the only Gallery in Eau Claire serving wine and beer! What better idea for the holidays than the gift of wine and art! They represent over 30 local and regional artist, and host events from author readings to music to painting demonstrations. Their gifts range in price from $5. up! Stop in to shop, relax with a glass of wine and view their beautiful fine art.
A Christmas themed bottle of wine along with a locally made work of art from 200 Main makes the perfect package for a friend or mother! Give them the gift of relaxation and balance to show that you appreciate they do throughout the year. They will cherish the art forever and until the very last drop of wine.
6. Blue Ox Running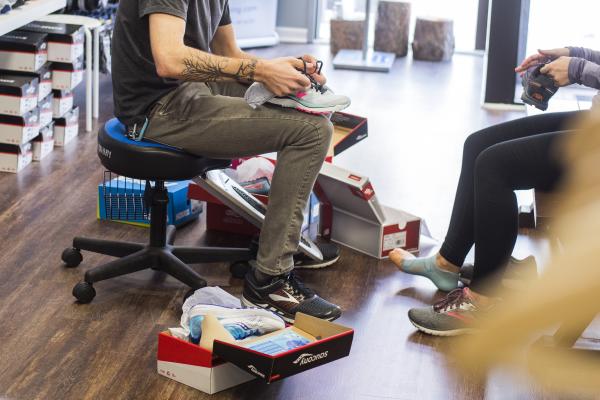 Stop into Blue Ox Running for anything you need for supportive and cushioned everyday, walking, and running footwear! Blue Ox carries many brands and categories of quality footwear including models like the Altra Lone Peak that are great for all seasons and terrain. A non-traditional wider toe-box and zero-drop put your foot at a balanced position for hundreds of miles of walking, running, and/or everyday use. They custom order, do custom footwear fittings, and have anything you need for apparel and gear!
Have a runner in the family? Get them a nice pair of kicks from Blue Ox Running. This favorite comes in many different models including a mid-boot and/or wind and water proofing - great for Wisconsin winters!
7. Red's Mercantile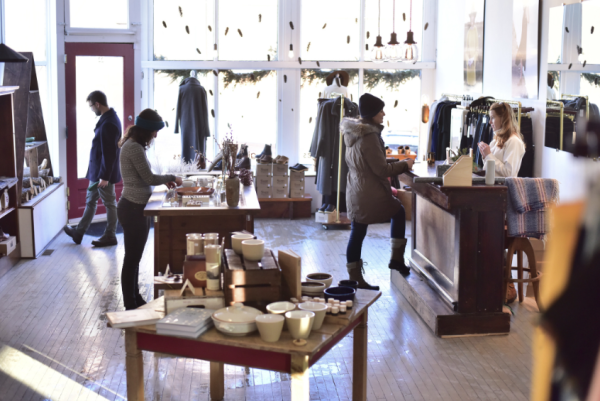 Red's Mercantile is located a block away from the Local Store! It's the perfect small store for a fashionista with modern taste. From vintage clothing to minimalist jewelry to small trinkets, Red's will have everything you didn't know you needed this holiday season!
Give your coffee loving friend/family member an added bonus with this White Speckled Ceramic Mug from Red's Mercantile. They are perfect for GIANT cups of coffee and starting mornings off slow. 
There you have it! A quick glimpse of local gifts you can give this holiday season. Now it's time to plan the trip and catch the deals of Small Business Saturday! Spread the Eau Claire love and capture each moment of joy and love with a picture. Share them with us by posting it with #CaptureEC. Happy shopping!