Finding the perfect gift for those you love can be quite the difficult task. Not to mention, budgeting for the gifts can sometimes cause some unnecessary grief. That's where we come in! During this holiday season, we are keeping small businesses at top of mind. Give your loved ones a small piece of Eau Claire by shopping at these local businesses featured in our very own Eau Claire Holiday Gift Guide.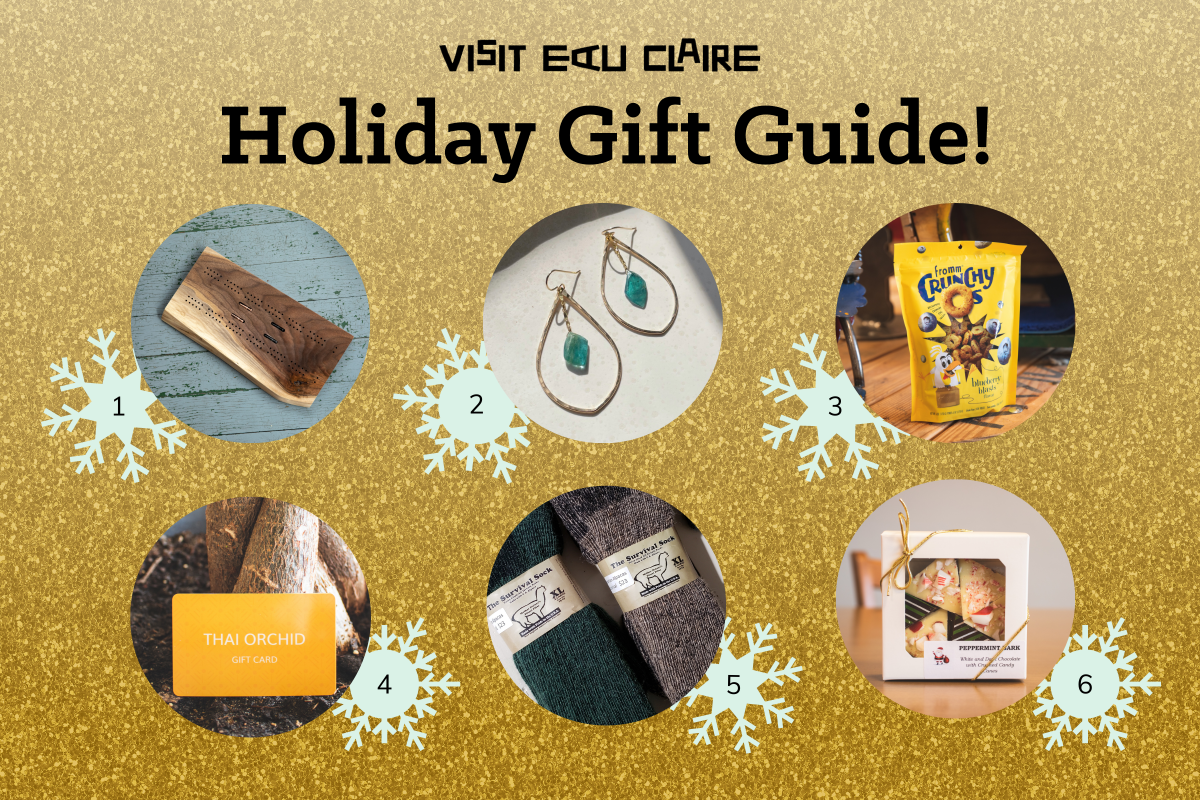 🎁 1. Live Edge Cribbage Board
Fact! After a great deal of complex research, local scientists have finally proven that Wisconsinites LOVE Cribbage. The Local Store has a great selection of local boards to choose from along with all things "Wisconsin". Created by a local woodworker, Tim Brundnicki and his team, these stunning cribbage boards are a great addition to any household. While you're here (or shopping online), check out the apparel, food, and other items The Local Store sells on behalf of local makers and artisans. You're bound to find SOMETHING for the special people on your list.
Where to find it: The Local Store
🎁 1. Island Hoop Earrings
Token's Island Hoops feature stunning teal Grandidierite Gemstones, one of the rarest gemstones in the world that's sourced in Madagascar. This gemstone's properties encourage a life lived heart forward and aid in opening up the throat chakra for compassionate communication. Scoop a pair of these limited edition hoops before they're gone forever!
🎁 3. Fromm's Crunch O's Blueberry Blast
Calling all pup parents! Plan a trip to Pet Food Plus and kick off the holiday season with a bang, or rather, a crunch with Fromm Family Foods. Fromm Crunchy Os is a collection of premium dog treats that feature eye-catching packaging, fun names, and a seriously big crunch that will have dogs begging for more. Every treat recipe features a blend of premium ingredients including meats & cheese or fruits & vegetables with an airy texture that delivers a truly unique and audibly entertaining crunch. Based in Wisconsin, Fromm Family Foods is a fifth-generation family-owned-and-operated company steadfastly committed to innovation and premium pet products. 
4. 🎁 Thai Orchid Gift Card
Give the gift of food this season! Thai Orchid in Eau Claire serves local, fresh, home-style Thai food that has the perfect harmony between sweet, savory, hot, and sour. Their dishes consist of traditional, fusion, vegetarian and vegan options. Dine-in and carry-out options are available!
5. 🎁 Alpaca Wool Socks
Alpaca is nature's finest fiber with wonderful qualities like wicking, odor eating, hypo-allergenic, extremely warm and super soft. Apart from socks, Justorian Alpacas also offers hats, mittens, gloves, scarves, blankets, rugs, yarn, dryer balls, and much more. These make great stocking stuffers for the whole family, What better gift than cozy feet! Find these lovely gifts in Osseo, WI!
6. 🎁 Peppermint Bark
The chocolates made at Sweet Driver are made from superb quality couverture chocolate and made in a European method that makes them delicate and super creamy. Each piece is exquisitely decorated and a real piece of "edible art" as chef and owner Rebecca Flynn calls them. Sweet Driver's Peppermint Bark is an assortment of white and dark chocolate covered with peppermint flakes. Pick yours up today!